Inbox: Will Rodon build on strong finish in '16?
Beat reporter Scott Merkin answers questions from fans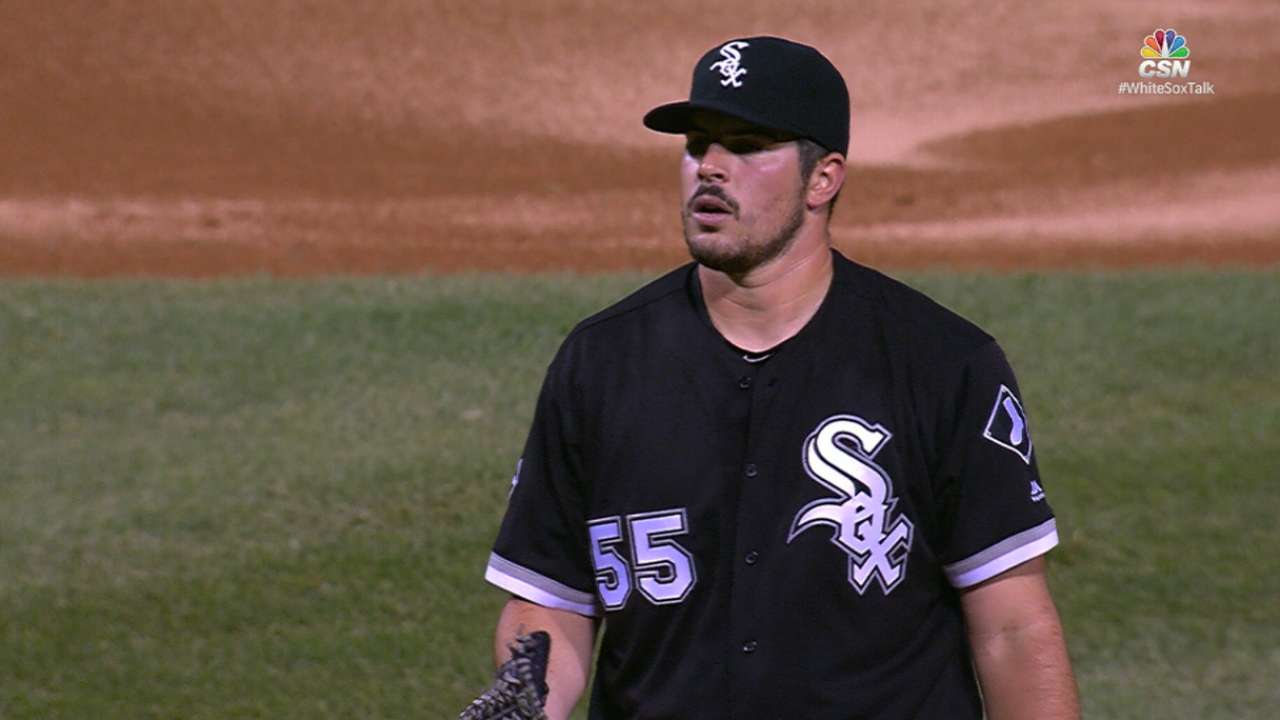 CHICAGO -- What is the offseason plan for the White Sox? Has Carlos Rodon turned the corner? Beat reporter Scott Merkin addresses fans' questions in the latest edition of the Inbox.
1. Reading between the lines of [general manager] Rick Hahn's postseason comments, it seems they will pursue a rebuild. Agree?
-- Rob, Connecticut
I agree. The White Sox have not announced whether they are rebuilding or going for it because it doesn't make sense to put forth such a statement. What if they don't receive what they want for players such as Chris Sale, Jose Quintana and Adam Eaton, as a few hypothetical examples? It then looks a little foolish to be in a rebuild and not make any big moves.
• Submit a question to the White Sox Inbox
If it's a rebuild, the White Sox will go all-in while trying to build up controllable talent to help them consistently win in what they hope is the not too distant future. But the rebuild doesn't all have to take place this offseason. The White Sox might make a few moves prior to Spring Training and make more at the non-waiver Trade Deadline as the situation dictates. Think Major League ready or close to Major League ready talent as returns.
Is Carlos Rodon's late-season success an indication that he has turned a corner in his development?
-- Ken, Crestwood, Illinois
One thing to remember about Rodon is that his development took place at the big league level, unlike many top prospects. The first taste of consistent failure during Rodon's baseball life came at the highest level of competition on the biggest stage. So there was a great deal for him to adjust to right from the outset.
Rodon had the same strong finish in 2015, but he was unable to carry it into the start of '16. I don't think that situation will play out again in '17. Rodon seemed to be more at ease and comfortable with each start, not to mention throwing his full repertoire of pitches, and formed a good working bond with Omar Narvaez, who will be in the White Sox catching situation next season.
Are the White Sox leaning towards tendering or non-rendering Miguel Gonzalez?
-- Erik, Dyer, Indiana
They will tender Gonzalez. He proved to be an excellent addition made by Hahn, not just on the mound but also as a clubhouse fit.
Any update on Charlie Tilson and does he have a chance to be the everyday center fielder?
-- Ricky, Chicago
Tilson is progressing nicely and remains on track to be without restrictions at the start of Spring Training per the White Sox. Tilson, who came over from the Cardinals in the Zach Duke trade at the Deadline, tore his left hamstring during his first game with the White Sox while trying to make a diving catch in right-center field at Comerica Park and then underwent season-ending surgery.
There's little doubt Tilson is in the picture regardless of the direction of the team. But he could be more of a featured player in center in a rebuild, with the White Sox letting their young core grow together.
Does anyone up there remember 2005 at this point? Some headlines I've seen seem to support "no"...
-- Randy, Norman, Oklahoma
Nobody forgot the amazing World Series championship run in '05, although it was somehow overlooked in a few graphics during the Cubs' incredible push to the 2016 title. I wrote a column a few weeks ago about this exact topic, in that both runs stand as historic accomplishments and neither one needs to be torn down to enjoy the other.
Scott Merkin has covered the White Sox for MLB.com since 2003. Read his blog, Merk's Works, follow him on Twitter @scottmerkin, on Facebook and listen to his podcast. This story was not subject to the approval of Major League Baseball or its clubs.