Inbox: Could Marte play CF for Bucs in '17?
Beat reporter Adam Berry answers fans' questions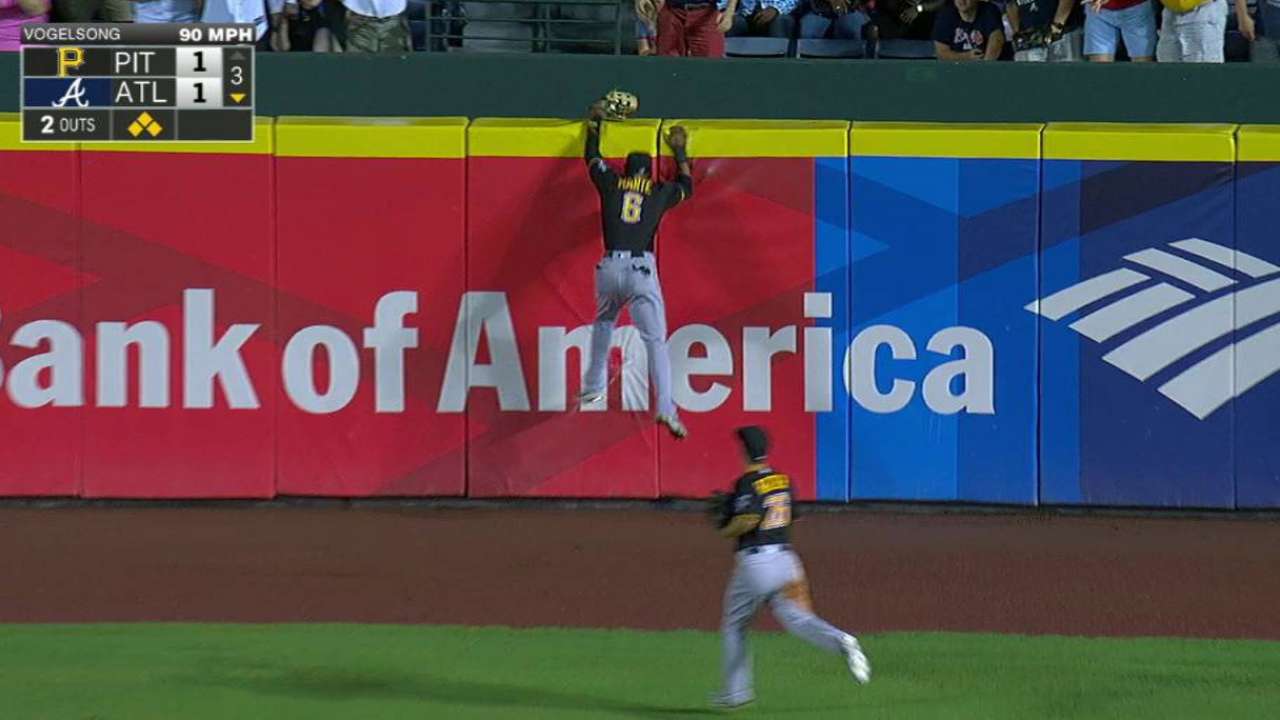 I think it's a good idea to put Starling Marte in center field. He's a Gold Glover. Could that happen next season? What would the rest of the outfield be?
-- Dave R., Erie, Pa.
At the General Managers Meetings, Neal Huntington said the Pirates are still "working to identify what is our maximum return in our outfield with positioning and positions." In other words, they haven't settled on anything yet.
The Bucs could keep Andrew McCutchen in center, shifting him deeper than he played this year and improving without any other changes. But they're evaluating their options to see if they can optimize their outfield defense rather than simply upgrade it.
The Pirates want premium defense in left because it's a massive space at PNC Park, essentially requiring a center fielder's range to play it well. Marte has proven to be an elite left fielder, and there's no doubt he'd thrive in center.
But it may not be as simple as swapping him with McCutchen, whose glove graded out below average this year according to advanced defensive metrics. If the Pirates move McCutchen out of center, why put him at the position where they also want a center field-caliber defender?
Gregory Polanco has the range to handle left, and his overall defensive consistency in right has improved over the past few years. Polanco has slid to left when Marte is off or playing center, and I wouldn't be surprised to see him there in this scenario.
That alignment would put McCutchen in right, where there's less ground to cover at PNC Park. McCutchen doesn't have the raw arm strength of Marte or Polanco, but it actually wasn't an issue in center this year. According to FanGraphs' ARM stat, McCutchen was only one-tenth of a run below average in terms of preventing runners from advancing.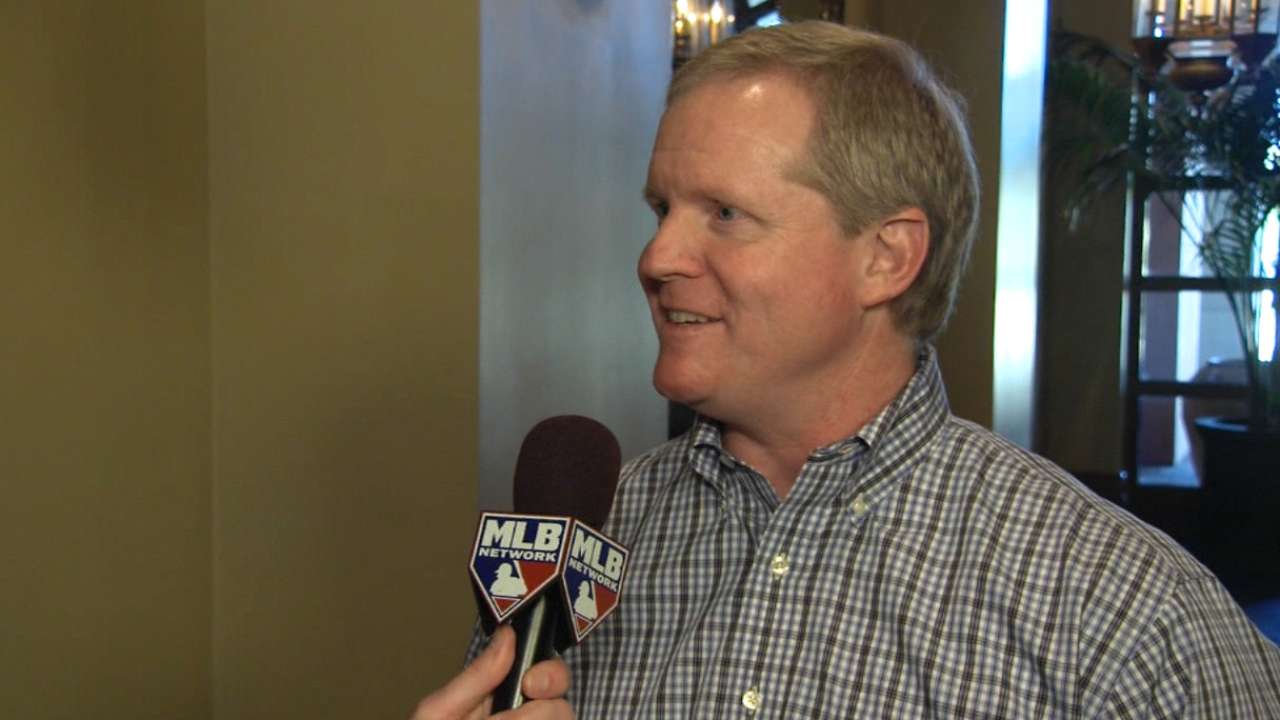 That's just one possibility, of course. The Pirates could determine McCutchen fits best in left and keep Polanco in right. If the Bucs trade McCutchen, Marte may move to center and Polanco to left while Josh Bell spends more time in right until No. 2 prospect Austin Meadows is ready. Stay tuned.
• Submit a question to the Pirates Inbox
What is up with Nick Kingham? He was almost ready a few years ago, and we could have used him this year.
-- Peter V., Bradenton, Fla.
Kingham, the Pirates' No. 10 prospect per MLBPipeline.com, made 20 starts for Triple-A Indianapolis in 2014-15 and indeed would have been in Pittsburgh's plans this past season if he were not recovering from Tommy John surgery.
Kingham, who just turned 25, made 10 starts in the Minors at the end of the season to complete his rehab, posting a 2.93 ERA in 46 innings. Bucs officials were pleased to see him log those innings so next April is not his first competitive action since early May 2015.
Kingham won't break camp with the Pirates, but if he stays healthy and pitches well in Triple-A, word is he could be ready for the Majors even earlier than Jameson Taillon was this year.
Will Bell be a full-time starter next year? Will he routinely play nine innings?
-- Arnold A., North Port, Fla.
I think those are two separate questions. Bell figures to be an everyday player next year, and he'll probably spend most of his time at first base. But he still may receive the Pedro Alvarez /John Jaso treatment, replaced for defensive reasons when the Bucs have a late-inning lead.
After Bell arrived for good this past season, manager Clint Hurdle said he trusted Jaso -- who quickly turned into a reliable defender -- to field first base in key situations. The same is likely true of David Freese, so even if Sean Rodriguez signs elsewhere, the Pirates still have options should Bell's defense remain a work in progress at first.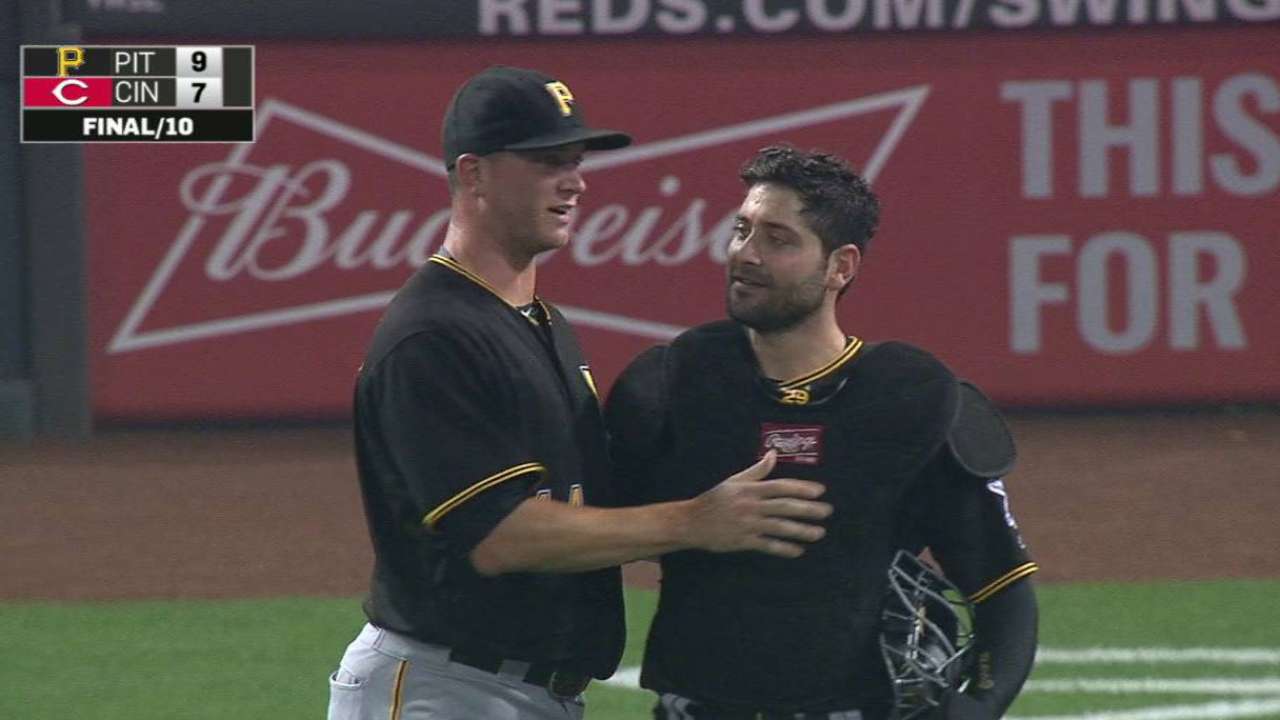 Is there any chance, now that he's available as a free agent, that the Buccos may take another chance at signing Alvarez?
-- Bill H., Waverly, N.Y.
I'm going to go with no. The former Pirates slugger put together a solid season at the plate in Baltimore, batting .249/.322/.504 with 22 homers in 109 games. Alvarez also barely played defense, which was the whole issue in Pittsburgh. The Pirates are set up well with Bell, Jaso and Freese at first.
Adam Berry has covered the Pirates for MLB.com since 2015. Follow him on Twitter and Facebook, read his blog and listen to his podcast. This story was not subject to the approval of Major League Baseball or its clubs.