MLB.com Columnist
Jim Callis
Inbox: Will A's Barreto move to second? Montas to 'pen?
Jim Callis answers fans' questions about baseball's future stars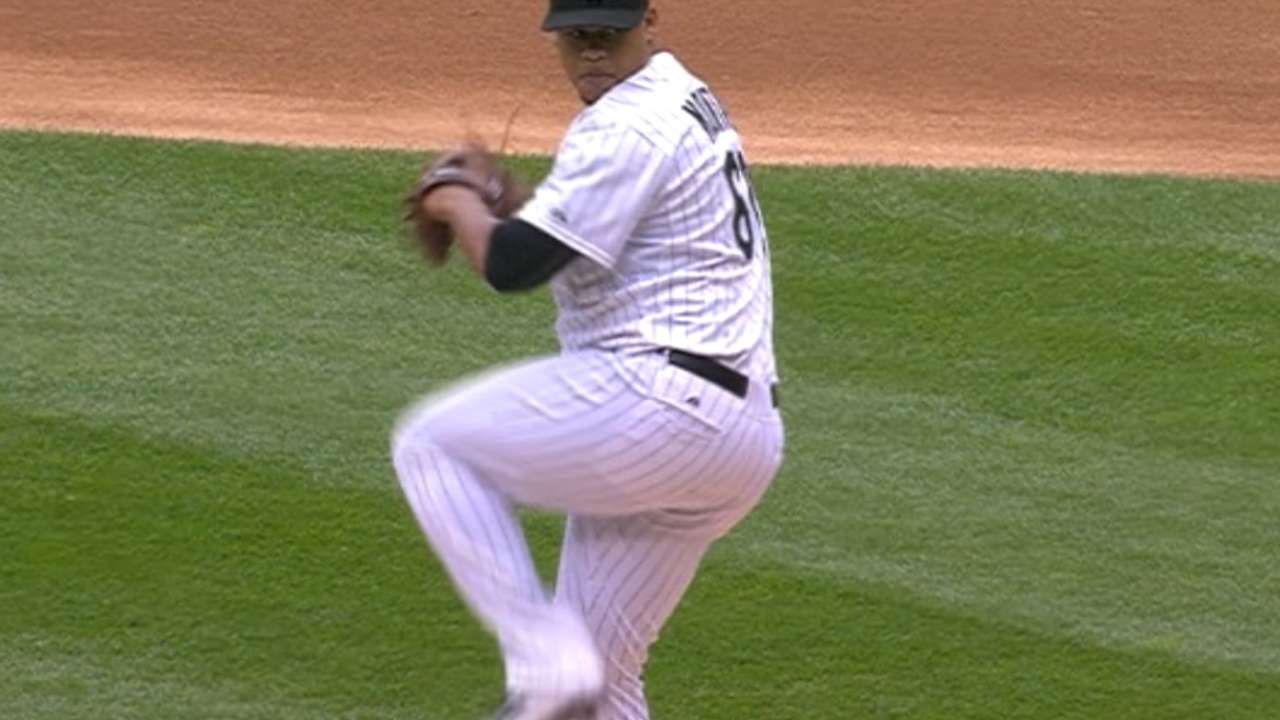 Going through game withdrawal? You can stave it off for at least another week with a pair of Arizona Fall League games.
On Saturday at 8 p.m. ET, MLB Network and MLB.com will broadcast the AFL's annual Military Appreciation Game, which this year features the Peoria Javelinas visiting the Salt River Rafters. The following Saturday, Nov. 19, at 3 p.m. ET, MLB Network and MLB.com will carry the AFL Championship Game. Roughly 60 percent of Fall Leaguers go on to play in the Majors, so each of those games will feature in the neighborhood of 18-20 future big leaguers.
Click here to submit an Inbox question
@jimcallisMLB @MLBPipeline Do you see Franklin Barreto playing 2B? What has Frankie Montas been doing to be so successful? Is he still a SP

— Sal Ferraro (@salferraro) November 9, 2016
I've seen a good deal of A's Nos. 1 and 10 prospects Franklin Barreto and Frankie Montas with the Mesa Solar Sox. Barreto isn't having a good Arizona Fall League, though his bat speed and line-drive approach (albeit one which could use more patience) are apparent. He's not particularly smooth or quick as shortstop, so he likely will wind up at second base, a position at which the Athletics don't have a clear-cut starter for the long term.
Montas has been one of the most impressive pitchers in the AFL. I saw him for the second time on Tuesday, when he worked three shutout innings while hitting 101 mph with his fastball. He hasn't allowed a run in 14 1/3 innings and has held opponents to a .116 average while sitting in the upper 90s with his heater and the upper 80s with his cutter/slider.
Scouts have been divided on whether Montas will wind up as a starter or a reliever since he was with the White Sox two trades ago. Oakland just acquired him from the Dodgers in the Rich Hill /Josh Reddick deal in July and is just worrying about getting him innings right now after he missed most of the regular season with rib issues. He doesn't have much of a track record of durability or control, which likely points him to the bullpen, but he has looked like a viable rotation option when he's at his best.
@jimcallisMLB @MLBazFallLeague @MLBDraft @MLBPipeline Do you think that Jorge Mateo makes the transition from SS to 2B/CF?

— Anthony Sinchi (@AnthonySinchi) November 8, 2016
Jorge Mateo, the Yankees' No. 3 prospect entered the season as one of the top shortstop prospects in baseball, but played second base almost exclusively after the Yankees acquired Gleyber Torres in the Aroldis Chapman trade in July. Torres stayed at shortstop after joining Mateo at Class A Advanced Tampa. The two youngest regulars -- and two of the better players -- in New York's big league lineup are Starlin Castro and Didi Gregorius, so there's a good chance Mateo's final destination could be center field.
Mateo's top-of-the-line speed would fit nicely in center, and his plus arm would be an asset at a position that lacks strong throwers in general. His stock has taken a bit of a hit after he batted .254/.306/.379 in Class A Advanced and got suspended for insubordination, but he's also just 21 and still has the tools that earn him comps to an in-his-prime Jose Reyes. The Yankees also have a lot of young outfielders with Aaron Judge having arrived in the Majors and Clint Frazier and Blake Rutherford (among others) on the way, but Mateo's talent should earn him a spot somewhere in New York.
@jimcallisMLB @MLBPipeline What does it say about the Phillies' plans for Hoskins & Cozens that they are playing in the D league, not AFL

— Scott (@zackdanielssr) November 9, 2016
To me, the fact that Dylan Cozens and Rhys Hoskins, Nos. 6 and 12 on the Phillies' Top 30 Prospects list, are in the Dominican Winter League rather than the Arizona Fall League is a sign that the Phillies are trying to expedite their development. The Dominican League will give them more at-bats (because of more games and more regular playing time) against better competition than they would get in the AFL. The caveat is that DWL teams put a higher priority on winning, so Cozens and Hoskins will have to produce to stay in the lineup.
Helped by a hitter-friendly park in Double-A Reading, Cozens led the Minors in homers (40), RBIs (125), extra-base hits (81) and total bases (308) while Hoskins ranked second in homers (38) and third in RBIs (116). Hoskins is performing better in the Dominican, batting .273/.385/.473 with three homers in 15 games for Cibao. Cozens is hitting .206/.296/.460 with four homers in 17 contests for Aguilas.
@jimcallisMLB @MLBPipeline who do you see playing 2B for the Dodgers in 2017, a prospect, player in roster or player acquire through FA?

— . (@ItsSalJr) November 9, 2016
Second base for the Dodgers is in a state of flux. Chase Utley has become a free agent, and Howie Kendrick just headed out of Los Angeles via trade. The Dodgers have a good farm system but no prospects ready to step in at second, so their 2017 starter very likely isn't a member of the organization at this moment.
The Dodgers' No. 4 prospect Willie Calhoun, who hit 27 Double-A homers in his first full pro season, is one of the game's best second-base prospects -- but he doesn't have the defensive chops to stay there and probably will wind up in an outfield corner. Los Angeles' best internal bet for a second baseman of the future is either Gavin Lux, a 2016 first-round Draft pick, or Omar Estevez, a Cuban defector who signed for $6 million a year earlier.
Jim Callis is a reporter for MLB.com. Follow @jimcallisMLB on Twitter. This story was not subject to the approval of Major League Baseball or its clubs.