Rockies confident in lefty-heavy outfield
System-wide adjustments pay off in batting approach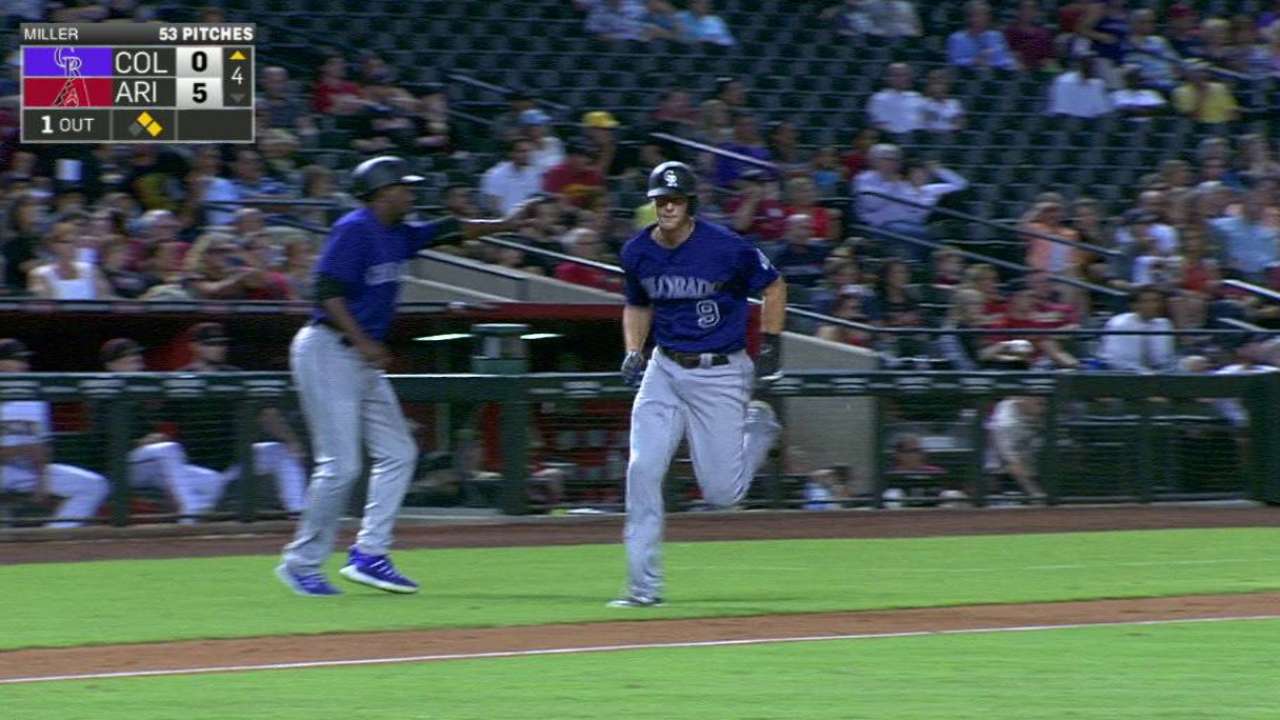 SCOTTSDALE, Ariz. -- If the Rockies had a game immediately, their 25-man roster would include five left-handed-hitting outfielders. But they don't see it as a problem.
Most rosters include right-handers to match up against star lefty pitchers, such as the Dodgers' Clayton Kershaw or the Giants' Madison Bumgarner, or pinch-hit against a tough lefty reliever.
"Our outfield is very left-handed right now, but we'd rather roll out four or five really talented left-handed outfielders than try to work something that decreases our overall talent on the club," Rockies general manager Jeff Bridich said.
Two key starters -- center fielder/leadoff man Charlie Blackmon and right fielder Carlos Gonzalez -- are coming off 2016 seasons during which they were rewarded for their left-on-left adjustments. Blackmon batted .331 with a .392 on-base percentage vs. lefties. Gonzalez was .273 and .294 vs. lefties (not career bests, but significant improvements over .195 and .222 in 2015).
Gerardo Parra will need to adjust to improve on his career numbers -- .235 average and .293 OBP.
The Rockies could bypass an outfield remake because of two prospects who debuted in 2016 -- David Dahl and Raimel Tapia.
Last year in 143 combined plate appearances at Double-A Hartford, Triple-A Albuquerque and in the Majors, Dahl bested lefties with a .315 batting average, .392 OBP and .488 slugging percentage, plus four home runs and 13 RBIs. In 159 plate appearances at the same stops, Tapia went .386/.430/.552, with three homers and 17 RBIs.
In the Minors, Dahl excelled in his two seasons not affected by injury -- 2012 in rookie ball at Grand Junction when he slashed .346/.414/.526, and 2014 at Class A Asheville, .335/.347/.557. Tapia arrived at Grand Junction in 2013 to post a .368/.394/.529, then went .313/,356/.446 at Asheville in 2014, and .387/.400/.599 at Class A Advanced Modesto in 2015.
Minor League hitting coordinator Duane Espy said the prospects had plenty of practice in the Minors.
"It seems to me at the Minor League level there's more left-handed pitching than I've seen in the past," Espy said. "So one thing we're doing is playing them against left-handers, so they get experience. And we don't pinch-hit for guys late in the game when there is a lefty matchup, especially at the lower levels.
"I recall one series where the other team started a lefty every game. You can't run from it."
Despite the different look, it turns out they are applying a principle commonly taught in the Rockies' system.
Against left-handers, Dahl uses mental cues to relax; the adjustment is invisible. Tapia sometimes attacks lefties with his patented two-strike crouch, a physical change that actually puts him roughly where he is after the hand movement and stride from his normal stance.
"You have to, mentally, for lack of a better term, concede that you're not going to hit it in the seats," said Rockies Double-A Hartford hitting coach Jeff Salazar, who worked with both Dahl and Tapia. "What that does is minimizes body movement, minimizes head movement, helps you see what you want to attack and make decisions on better pitches.
"You're trying to really make impact, and that's where the problem is created, because your body moves forward -- toward the pitcher. And every millimeter or fraction of a second is important. You have to make a decision 10 feet before normal, and either the ball hasn't started to spin, or you can't tell depth or sink or movement."
Salazar's principle illustrates Gonzalez's blessing and curse. Gonzalez's 10 left-on-left homers last year led the NL and were four fewer than his career high, 14 in 2010. Opponents may welcome him abdicating his power.
The Rockies have yet to hire a hitting coach for new manager Bud Black's staff. But the Minor League teachings and results suggest that big leaguers such as Parra or lefty outfield-first base prospect Jordan Patterson might find improvement through principles in place.
"It limits us to say our lefties can't hit lefties," Bridich said. "Some of it is incumbent on us to develop these guys and continue to help them adapt, adjust and be able to hit some of the better left-handed Major League pitching, especially if it's in our division."
Thomas Harding has covered the Rockies since 2000, and for MLB.com since 2002. Follow him on Twitter @harding_at_mlb, listen to podcasts and like his Facebook page. This story was not subject to the approval of Major League Baseball or its clubs.