MLB.com Columnist
Jim Callis
Twins' Garver, working on balance, belts way to AFL victory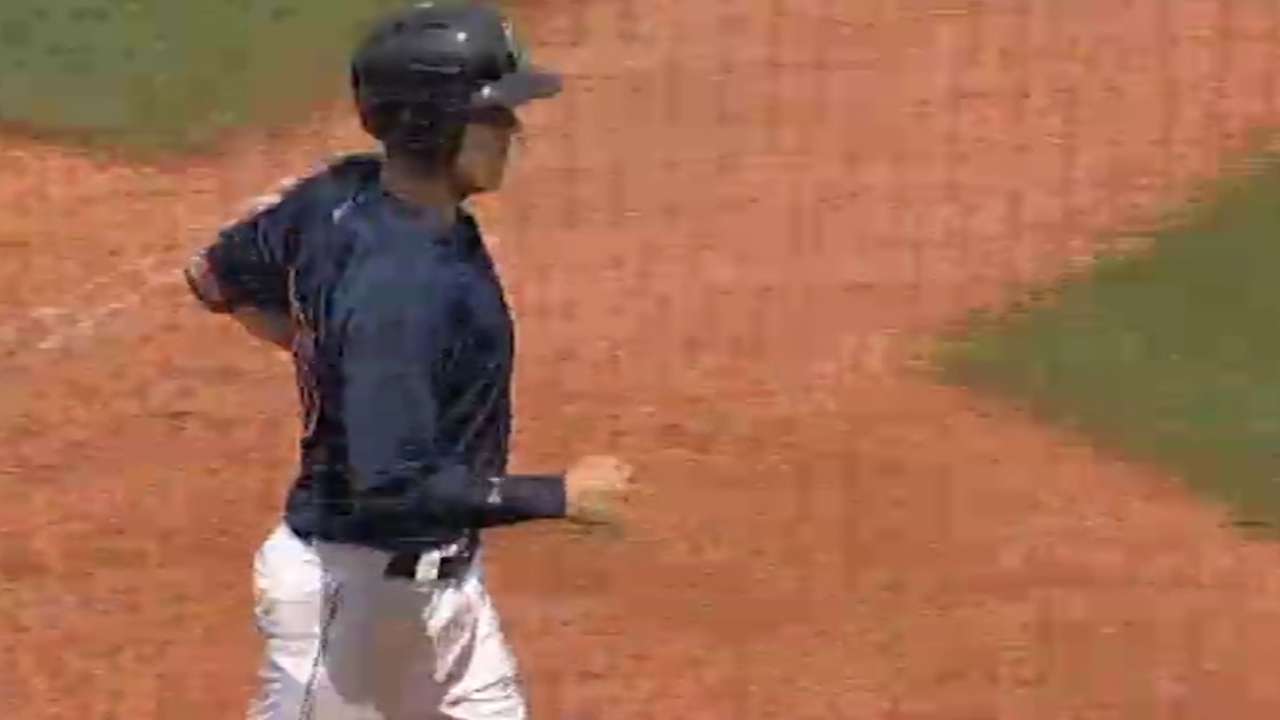 GLENDALE, Ariz. -- Mitch Garver has a reputation as an offensive-minded catcher. He's doing nothing to dispel that with his performance at the plate in the Arizona Fall League, though he doesn't like being regarded as one-dimensional.
"I do get tired of hearing that," said Garver, the Twins' No. 24 prospect who shares the AFL home run lead with four. "I take a lot of pride in my defense. If I can catch a win, that's a great day for me. It I get a hit, that's a bonus."
• Gameday
Garver DHed on Thursday afternoon and provided two hits as the Surprise Saguaros defeated the Glendale Desert Dogs, 3-2. He singled in a run as part of a three-run uprising in the top of the first inning that Glendale never could counter, and later added a double in the third. He's now hitting .259/.333/.537 in his return to the AFL after spending last fall winning a championship with the Scottsdale Scorpions.
He's not focused on his offensive numbers, however.
"I'm pretty pleased because I've improved a lot on defense," Garver said. "I've worked hard on my game-calling and running a staff. The offensive stuff, it's just a continuation from the season of refining some smaller points.
"The most important part of the league is trying to get 15 pitchers on the page with you. The first week or two, they have their own plan. Once they buy in that you have a plan, it starts gelling."
Garver, 25, was a ninth-round senior sign out of New Mexico in 2013. After slumping in Class A Advanced last year, he rebounded to bat .270/.342/.422 with 12 homers in 117 games between Double-A and Triple-A in 2016. He offers plate discipline and gap power.
Garver has the arm strength to catch -- he threw out 48 percent of basestealers during the Minor League season -- but it's his receiving skills that concern some scouts. He committed seven passed balls in 60 games behind the plate this year, and has one in nine AFL contests. If he can clean up his work behind the plate, he could make a run at Minnesota's starting job in the near future.
Nick Gordon (Twins) tripled to lead off the game and six of the first seven batters reached against Glendale left-hander Austin Gomber (Cardinals No. 19 prospect), who leads the AFL in wins but took the loss to drop to 4-1. Jose Trevino (Rangers No. 20 prospect) went 3-for-3 for the Saguaros.
Right-hander Tanner Anderson (Pirates) earned the win by scattering five hits and one run over four innings. Righty Jamie Callahan (Red Sox) earned his second save in as many opportunities, striking out Paul DeJong (Cardinals) to finish a 1-2-3 ninth.
The victory enabled Surprise (13-12) to stay within a game of the Peoria Javelinas for the West Division lead. Glendale (12-14) remained in last place, dropping 2 1/2 games behind.
Jim Callis is a reporter for MLB.com. Follow @jimcallisMLB on Twitter. This story was not subject to the approval of Major League Baseball or its clubs. This story was not subject to the approval of Major League Baseball or its clubs.