Verlander named Tiger of the Year for 3rd time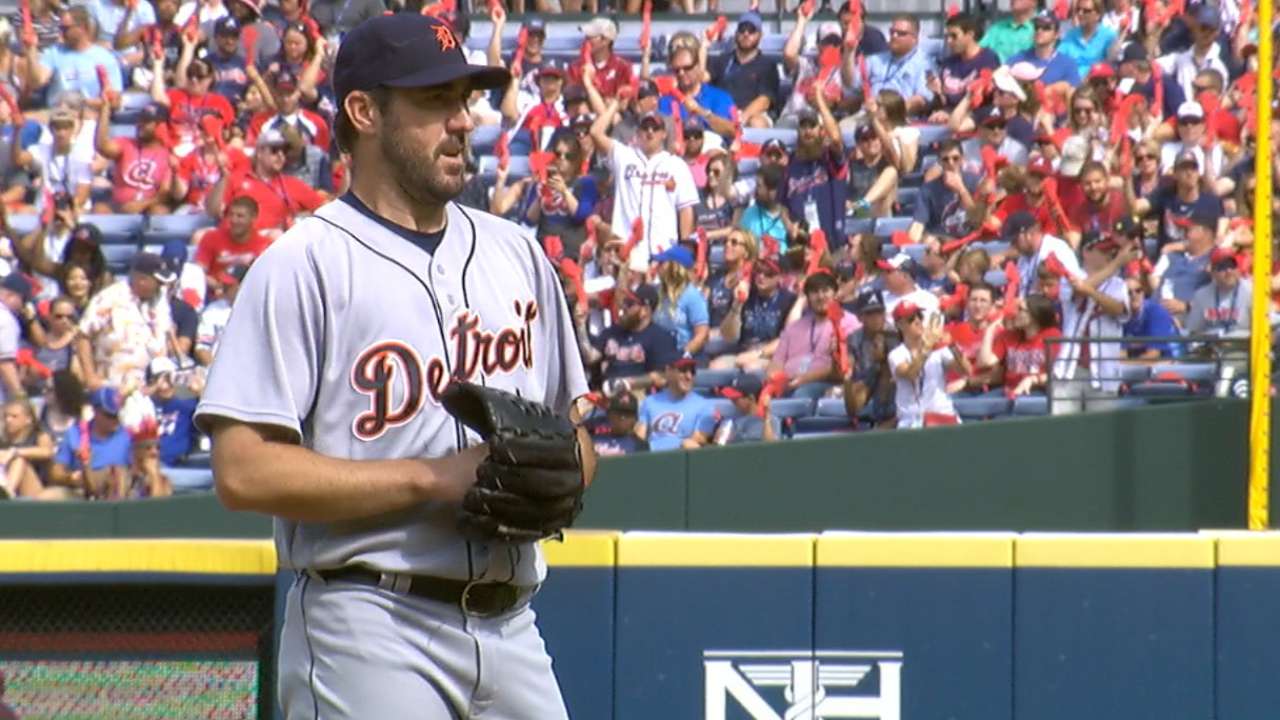 DETROIT -- While Justin Verlander awaits the results of the American League Cy Young Award voting, he now has a familiar award on his resume. The Detroit chapter of the Baseball Writers' Association of America voted Verlander as Tiger of the Year for the third time in his career.
It's the first such honor for Verlander since 2011, when he won AL MVP and Cy Young honors. Verlander also won Tiger of the Year in 2009.
Voting among Detroit BBWAA members was close, with one vote separating Verlander -- who received nine out of 22 possible first-place selections -- from second baseman Ian Kinsler. Miguel Cabrera received four first-place votes, while rookie pitcher Michael Fulmer received one.
In the end, what Verlander meant to the Tigers' fortunes in his 34 starts was that important, going well beyond his 16-9 record. From July 1 on, Verlander allowed three runs or fewer in 17 of his final 18 starts, going 9-3 with a 1.98 ERA and 81 hits allowed over 123 innings. Three of his wins on the season came in games in which Detroit scored three runs or fewer. Nine of his victories came in one- or two-run games.
Conversely, Verlander had several instances in which his stinginess went unrewarded. He was involved in three 1-0 losses, two of them over the final few weeks of the season. Ten times, he tossed seven or more innings with two runs or fewer allowed and didn't get a win out of it.
Verlander's 6.6 Wins Above Replacement, according to baseball-reference.com, led the team, a half-win higher than Kinsler and more than a win and a half over Cabrera. Though pitching WAR is obviously a different formula than the one used for position players, no pitcher led the team in WAR by half a win or more since Verlander in 2012, even though Cabrera won Tiger of the Year and AL MVP honors that season.
Verlander led all AL pitchers in WAR, along with posting 254 strikeouts and a 1.00 WHIP. He's one of three finalists for the AL Cy Young Award to be announced Wednesday, joining former Tigers teammate Rick Porcello of the Red Sox and Cleveland's Corey Kluber.
Jason Beck has covered the Tigers for MLB.com since 2002. Read Beck's Blog, follow him on Twitter @beckjason and listen to his podcast. This story was not subject to the approval of Major League Baseball or its clubs.