MLB.com Columnist
Mike Petriello
Trumbo grab: Who'll get claws on slugger?
47 HR this past season tied for most since Chris Davis had 53 in 2013
There might not be a more divisive free agent this offseason than Mark Trumbo. On one hand, his power is absolutely undeniable, because Trumbo led the Majors with 47 homers -- tied for the most since Chris Davis had 53 in 2013 -- and power always sells.
On the other hand, Trumbo comes with a ton of question marks. He's something of a one-tool player, since his on-base percentage has been below the league average every year of his career, and he's been worth -24 Defensive Runs Saved as an outfielder. As a result, despite Trumbo's homers, he was worth just 2.2 Wins Above Replacement in 2016, per FanGraphs, or about average. There is also this: He'll cost his new team a Draft pick thanks to the qualifying offer he received from the O's. It was just a year ago that Trumbo's value was such that he was traded to Baltimore for a third-string catcher, and his second half (.214/.284/.470) wasn't nearly as effective as his All-Star first half (.288/.341/.582).
Trumbo also has a bit of competition on the market. Edwin Encarnacion, Mike Napoli and Kendrys Morales are similar slugger types who profile best as designated hitters. Justin Turner, Yoenis Cespedes, Dexter Fowler and Ian Desmond offer more value on defense. Teams must also weigh Trumbo's individual homer surge against the rising tide that made 2016 a record-setting power year across baseball.
Of course, interested teams don't have to put Trumbo in the outfield, because he could DH or play first base, where he has plenty of experience, and power always gets paid. But with so many teams either set at the positions he can play or not in a position to spend on a free agent, it's harder than you'd think to find him a new home.
So where does Trumbo fit best? With apologies to decent fits in New York and Boston, here are four possibilities.
Rockies
Colorado doesn't usually swim in the deep end of the free-agent pool, but there's reason to believe this is a good opportunity to do so. We know the Rockies had previous interest in trading for Trumbo, and we also know they have an enormous hole at first base. Last year, Colorado went the off-brand version of Trumbo in Mark Reynolds, and by the end of the year, the Rockies were playing converted outfielder Gerardo Parra and 28-year-old rookie Stephen Cardullo there. Looking at FanGraphs' depth chart rankings, Colorado comes in at No. 30 at first base.
So the Rockies will do something there, and there's evidence that this is finally the time for them to make a move. A young pitching staff that includes Jon Gray, Tyler Anderson, Tyler Chatwood, Jeff Hoffman and Chad Bettis is probably the best they've had in years. In the lineup, Nolan Arenado is a legitimate superstar, and David Dahl and Trevor Story have arrived to join Charlie Blackmon, Carlos Gonzalez and DJ LeMahieu. First base is the one big hole, and if you'd like to use a small sample to dream on what he'd do at altitude, well, Trumbo does have nine homers in 12 career games in Colorado.
If there's an issue here, it's this: Colorado finished 75-87, one win behind the 74-88 Angels. That gives them the No. 11 pick in the 2017 Draft, and since Top 10 picks are protected, that means they own the highest possible pick that could be lost when signing a qualifying-offer free agent. It doesn't mean it can't or won't happen; it does give them something extra to think about.
Blue Jays
Toronto may or may not lose Encarnacion, Jose Bautista and Michael Saunders, so any Trumbo discussion starts there. If the Blue Jays lose two of the three, they need to bulk up on offense. If they don't, then they're probably not interested. Let's assume that they do -- particularly Encarnacion -- and go from there.
Right now, Toronto's first-base spot is manned by Justin Smoak. The Blue Jays don't have a DH. That's obviously not going to work. And while there's at least a compelling argument that they should rebuild rather than reload, it's not likely to happen. So they'll need offense -- probably a corner outfielder to stand next to Kevin Pillar as well as a 1B/DH option. Trumbo shouldn't be the outfielder, but he could be the first baseman -- and he'd replace Bautista well, as Trumbo's extra power would even out Bautista's superior on-base skills.
Rogers Centre is a good park for righty power. Using FanGraphs' park factors, Toronto rated as seven points above average for righty homers, with Baltimore coming in at six above. It's not the only reason Trumbo took a step forward -- he did hit 22 of his 47 homers on the road, after all. It's just a nice place for a hitter like that to be.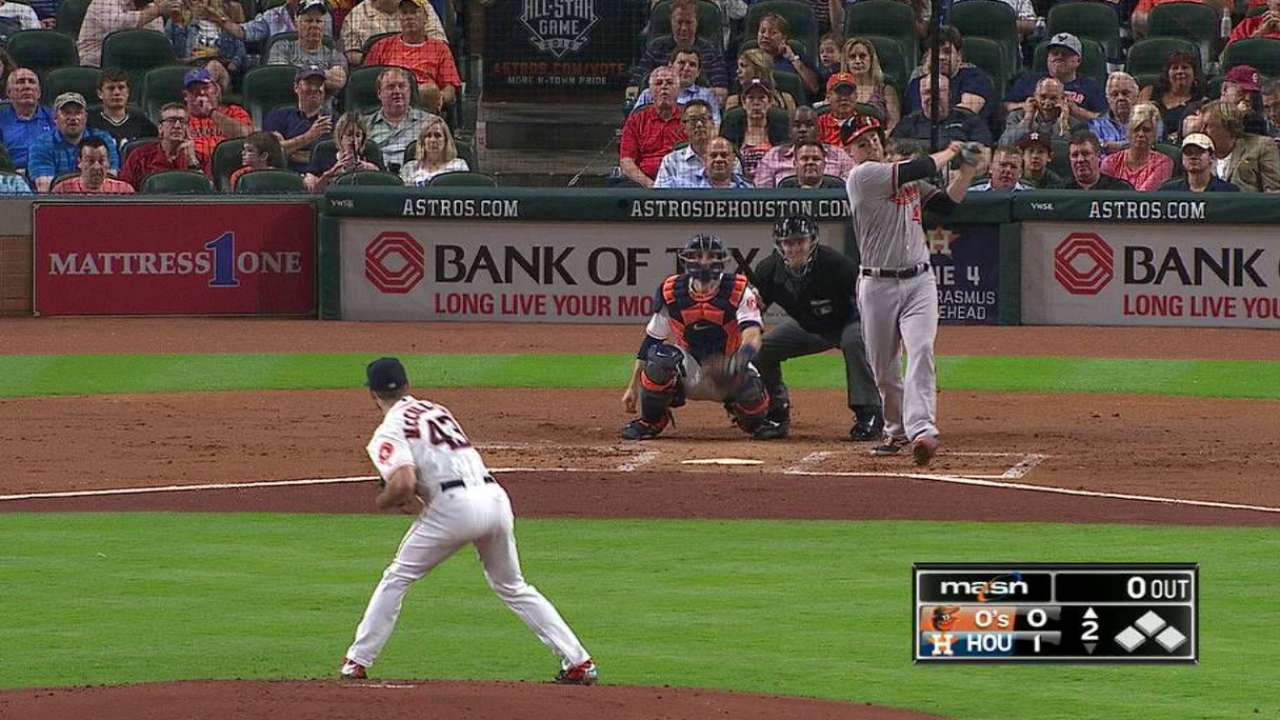 Astros
The Astros probably should be the offseason's most aggressive team, and all reports indicate that they will be. That includes first base, because Houston had baseball's 26th-best production at the position, with a .232/.299/.381 line mostly from the combination of rookies A.J. Reed and Tyler White and veteran Marwin Gonzalez.
While it's too soon to give up on the highly touted Reed, that's simply not going to be enough for a team that hopes to win in 2017. The Astros also need an outfielder and a catcher, and how they fill those spots may define how much time Evan Gattis takes at DH as opposed to behind the plate. Still, for a pull-hitting righty like Trumbo, it's easy to imagine just how fun it would be to see him take aim at the short porch in Houston.
For example, here's all of his fly balls and line drives of at least 250 feet from last year overlaid on Minute Maid Park. See anything there that might add home runs?
Mark Trumbo flies and liners overlaid on Houston's park. That's some target for him in left field. pic.twitter.com/5nTzEGPy1N

— Mike Petriello (@mike_petriello) November 10, 2016
Orioles
The best fit might actually be to not go anywhere at all. The Orioles wouldn't have to surrender a first-round pick to retain their own player (though they would forfeit the chance to get the compensation pick they'd receive if he left), and after four teams in four seasons, Trumbo may be happy staying put in a city and ballpark where he was successful. Last year's "power and bullpen" strategy worked reasonably well, and he'd be a big part of repeating it.
That said, Baltimore would need to find a way to keep him out of the outfield as much as possible, since the O's outfielders had the worst DRS score of any team, costing 51 runs. But if free agent Pedro Alvarez departs, there would be more room at DH, where Trumbo and Davis could share time while also sharing first base.
Now will the Orioles' front office turn last year's successful $9 million gamble into next year's $70 million (or thereabouts) contract? That's the question. Yet with the entire infield returning, plus outfielders Adam Jones and Hyun Soo Kim, this would take care of a big part of their offseason shopping in one move.
Mike Petriello is an analyst for MLB.com and the host of the Statcast podcast. This story was not subject to the approval of Major League Baseball or its clubs.