Dickey leaves Blue Jays, signs with Braves
Veteran knuckleballer, who spent four seasons with Toronto, says club's pitching remains strong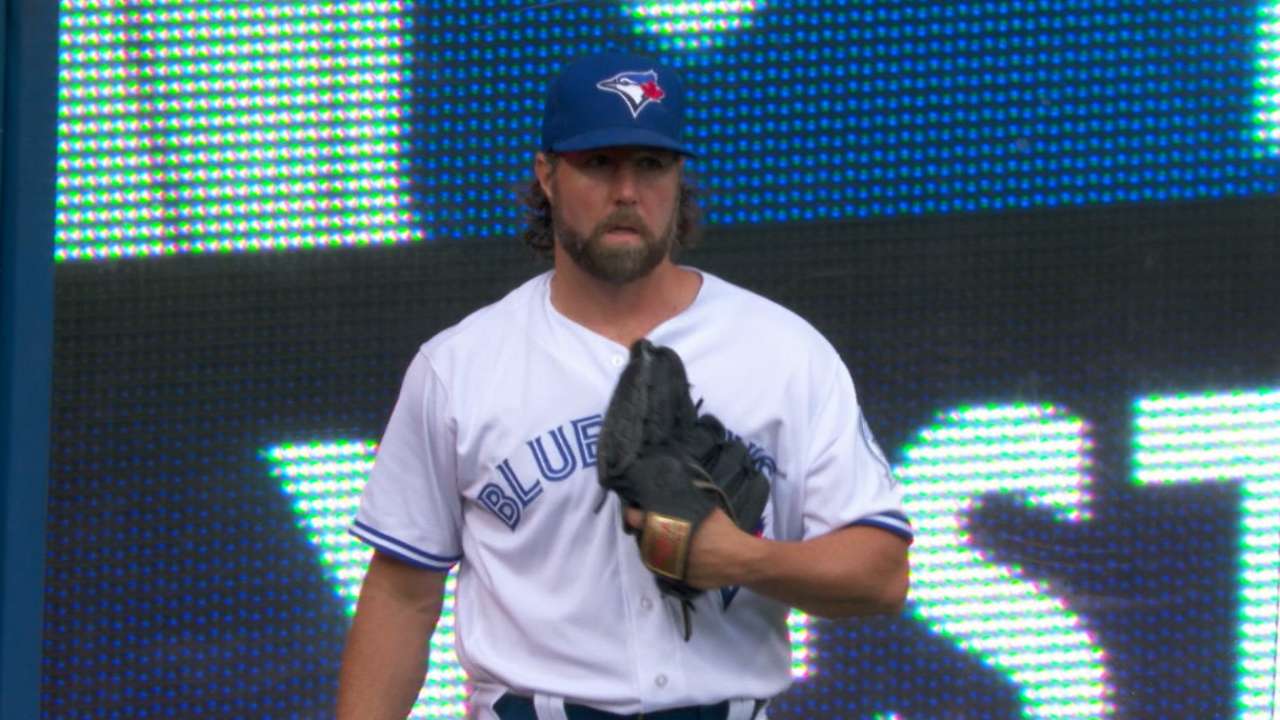 TORONTO -- R.A. Dickey's tenure in Toronto officially came to an end Thursday morning after he agreed to a one-year, $7.5 million deal with the Braves.
The contract includes an $8 million club option or a $500,000 buyout for 2018. The Blue Jays did not make an offer, which hardly comes as a surprise considering the team has five starting pitchers under contract next year.
Dickey's stint with the Blue Jays lasted four seasons. After winning the 2012 National League Cy Young Award, he joined the club amidst lofty expectations in a trade that sent catcher Travis d'Arnaud and right-hander Noah Syndergaard to the Mets.
At the time of the December 2012 deal, Dickey was supposed to be the final piece on a team with expectations of making the postseason. The move didn't really work out as Dickey and Toronto struggled during their first season together and fell well short of the playoffs.
Things got better in the following years as the Blue Jays made the postseason in 2015 and again in '16. Dickey made a pair of postseason starts during the '15 run, but he was left off the roster this year and did not pitch much down the stretch as Toronto went with a rotation of Aaron Sanchez, Marco Estrada, J.A. Happ, Marcus Stroman and Francisco Liriano.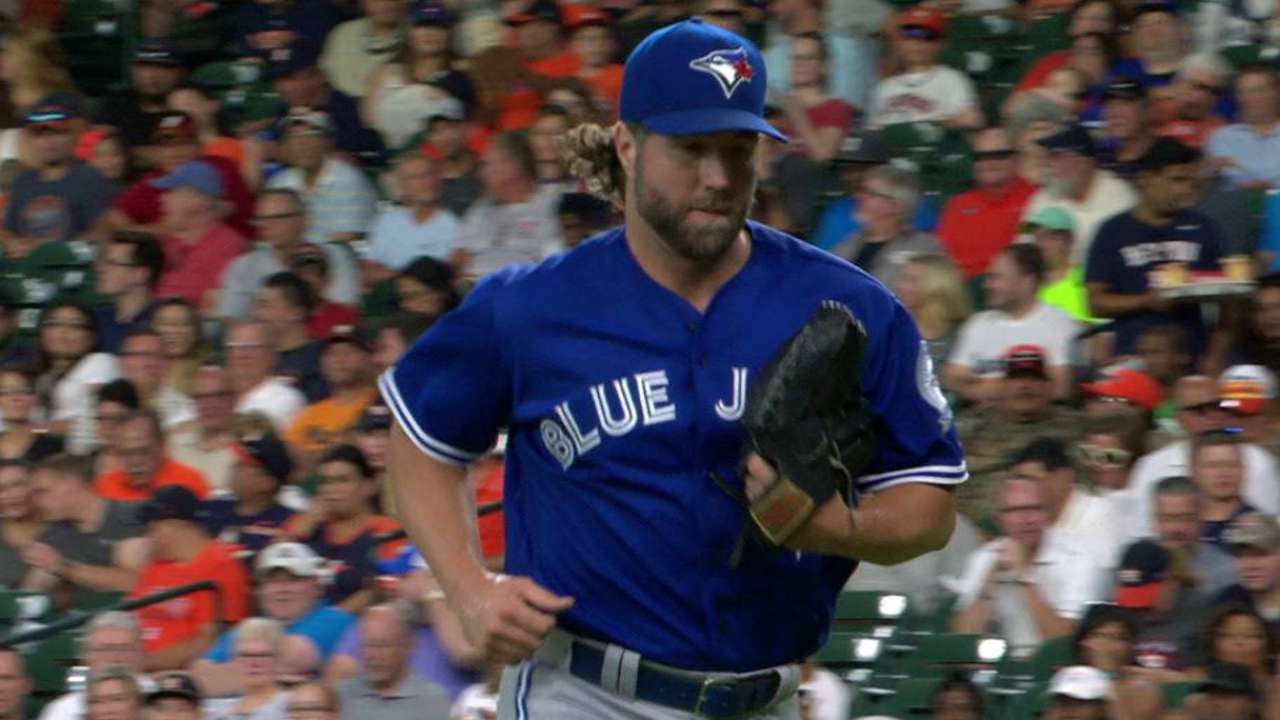 "That's one of the reasons this organization is going to be really good and OK," Dickey said the end of the year. "Even with me leaving and possibly other guys leaving, the pitching is intact, and we were the best pitching staff in the AL. So there should be a lot of hope for Toronto fans. It's going to be a good pitching staff. Good pitching wins."
Toronto's strength in the rotation also might be the club's biggest asset. Estrada, Happ and Liriano will combine to make approximately $41 million next season while Stroman is a bargain as a first-year arbitration player and Sanchez is still making close to the league minimum because of service time. The cost certainty and value will allow GM Ross Atkins to focus on filling the holes on the rest of the roster.
If the Blue Jays are going to contend again next season, the rotation will need to be a strength. The good news is that on paper things look solid following a season in which Toronto starters led the AL with a 3.64 ERA, 995 1/3 innings and a 1.22 WHIP. Remove Dickey, but add in a full year from Liriano and, if healthy, this staff should be in good shape.
"The adage is it's about pitching, right?" Dickey said. "Really, I'm the only starter that's leaving. There's a great group coming back and they're only going to grow on their experiences and successes this year. I see no reason why this team can't be competitive for a while, because the pitching staff is so good."
Dickey finished his time in Toronto with a 49-52 record and a 4.05 ERA. He was heavily criticized, but often underappreciated for his ability to remain healthy and eat up a lot of innings. Dickey surpassed the 200-inning threshold during each of his first three seasons with the Blue Jays and had a shot to get there again in 2016 before he was removed from the rotation.
Toronto will need to add some starting depth this offseason, but it would be a surprise if the club makes any major additions or subtractions to its staff. The Blue Jays have their five starters under contract and will likely look to fill out some of the depth by signing additional pitchers to Minor League contracts.
Dickey's departure also could mean the end of the line for Josh Thole in Toronto. Thole was Dickey's primary catcher and he's eligible for arbitration this offseason, but he could also become a non-tender candidate now that Dickey is no longer around.
Gregor Chisholm has covered the Blue Jays for MLB.com since 2011. Follow him on Twitter @gregorMLB and Facebook, and listen to his podcast. This story was not subject to the approval of Major League Baseball or its clubs.