Inbox: What are chances of Chapman return?
Beat reporter Bryan Hoch answers fans' questions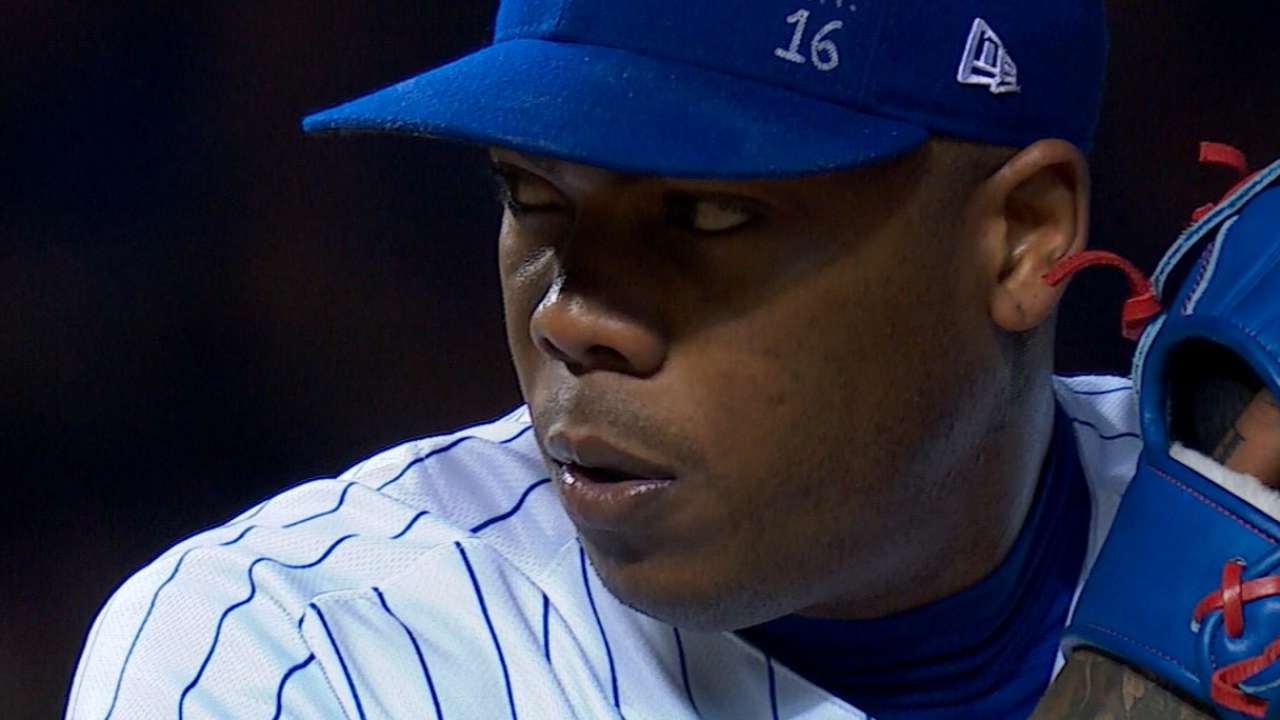 Now that he is a world champion, what are the chances that Aroldis Chapman can be re-signed?
-- Scott W., Rochester, N.H.
We'll soon find out. The Yankees wasted no time making their interest known, as general manager Brian Cashman reached out to Chapman's representatives almost immediately. Chapman genuinely seemed to enjoy his time with New York this past season, and he fit into the mix well, despite the obvious concerns following his suspension. The Yanks generally found him to be a good teammate.
That said, it will ultimately come down to the dollars, as Chapman, Kenley Jansen and Mark Melancon all are poised to cash in on what otherwise projects as a weak free-agent class. The Dodgers extended a one-year, $17.2 million qualifying offer to Jansen, so he would cost the Yankees a compensatory Draft pick and they are less inclined to dip into that market.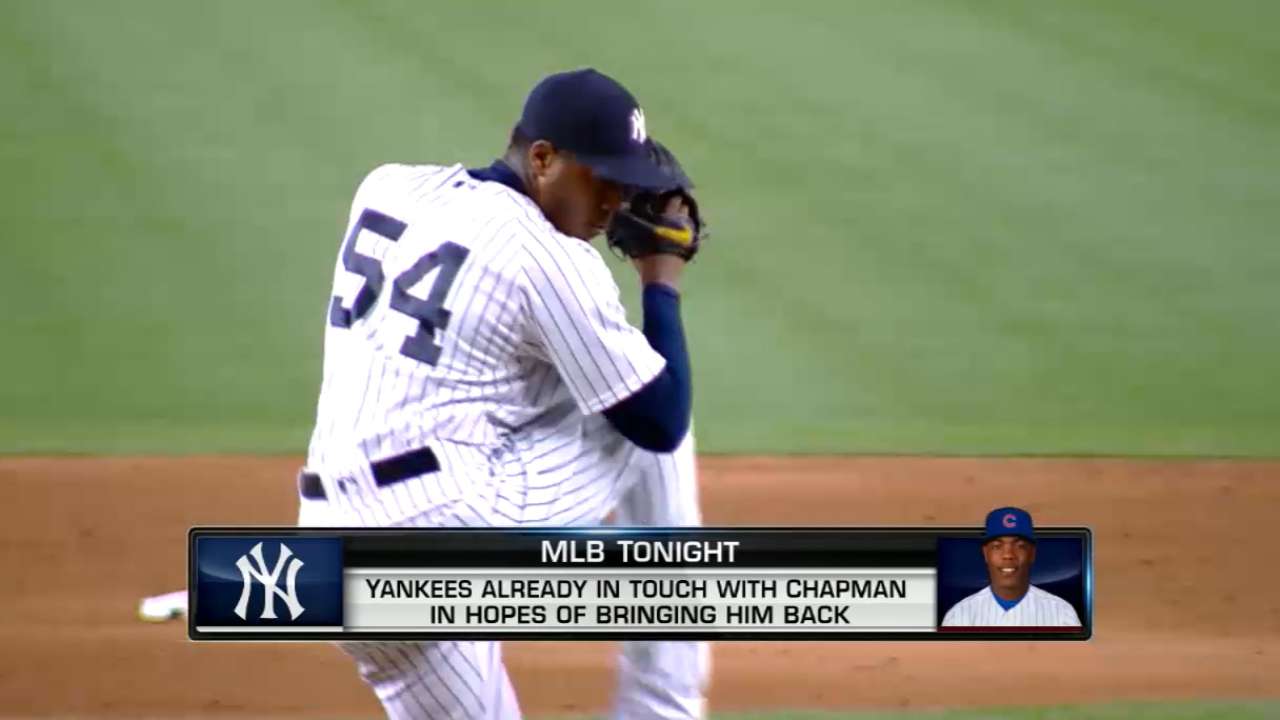 MLB Trade Rumors projected that Chapman could receive a five-year, $90 million contract; Chapman earned a prorated portion of $11.325 million this past year. New York has some room in its budget to make a big free-agent purchase following Mark Teixeira's retirement, and those funds could be quickly reallocated to Chapman.
• Submit a question to the Yankees Inbox
Are the Yankees looking to sign any of the top position-player and pitching free agents? Maybe a DH?
-- Anthony T., Orlando, Fla.
Stay tuned, as a potential trade involving Brian McCann or Brett Gardner would open up the Yanks to a more realistic look into a market that is headlined by Jose Bautista, Yoenis Cespedes and Edwin Encarnacion. Any of those names would help their lineup, but if there's only one big purchase to be made, it's probably going to happen on the pitching side.
Regardless, the Yankees have started doing their homework on the big bats; Kendrys Morales is an intriguing option. The mindset at the moment is more that they'll let young players like Aaron Judge take a run at starting jobs while setting up to make noise in the 2018-19 offseason, when the big contracts of Alex Rodriguez and CC Sabathia come off the books.
If the Yankees decide to trade McCann, what type of package do you think they could get?
-- Tyler S., Lynchburg, Va.
Considering the free-agent catching market, where Wilson Ramos and Matt Wieters are the most appealing names, a team in need of catching help might cough up a nice package for McCann, who has two years and $34 million remaining and can use his no-trade clause to veto any deal.
The Yanks are keeping McCann's agent, B.B. Abbott, apprised of the talks on a regular basis. While we've been hearing the Braves as a potential fit for months, MLB.com's Jon Morosi reported this week that the Astros have emerged as an interested suitor, as he could replace free agent Jason Castro and add some left-handed balance to Houston's lineup.
Looking at the packages that Cashman was able to extract from the Cubs, Indians and Rangers this past July, it seems reasonable to speculate that the Yankees would be seeking a Major League-ready rotation piece and/or an upper-echelon prospect for McCann. Might the Astros part with the likes of Joe Musgrove or David Paulino? I'm sure New York would ask.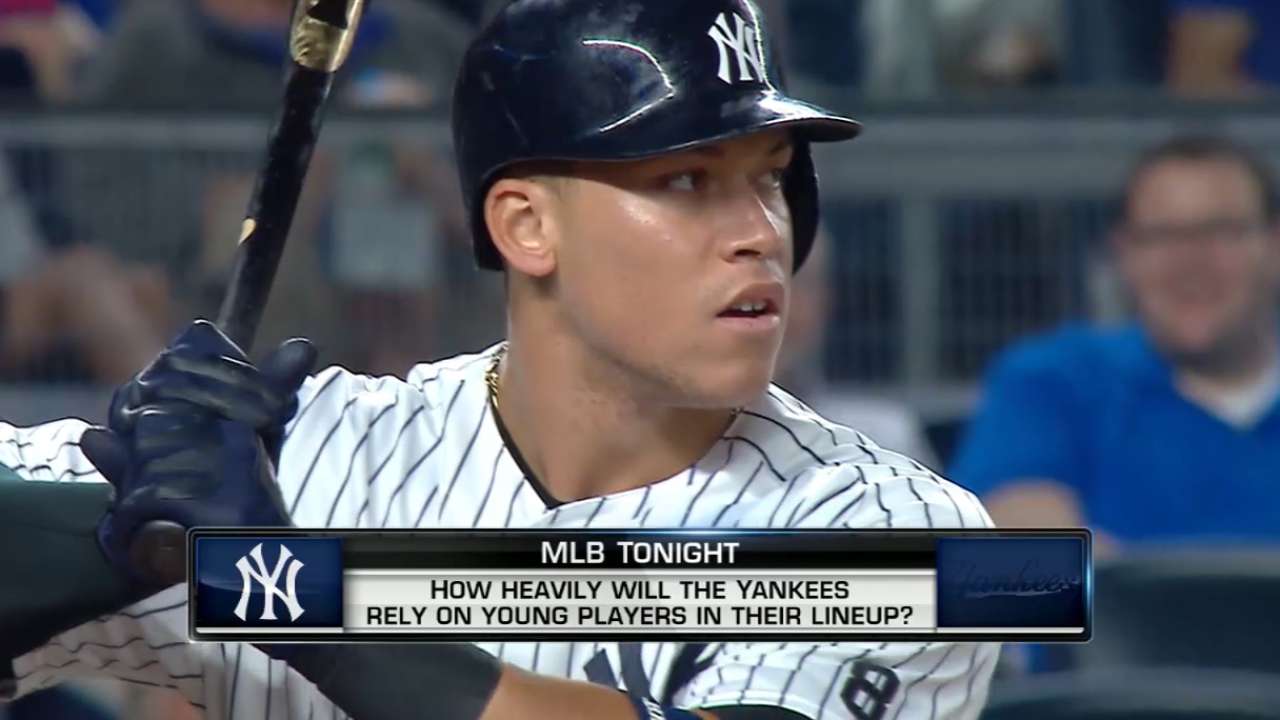 Do you think Didi Gregorius will be able to build on his 2016 success, or should the Yankees consider trading him while his stock is high?
-- Ron C., Belmar, N.J.
I believe you've seen Gregorius develop into an above-average performer on both sides of the ball, and there's little reason to believe that will not continue in 2017. There is certainly trade value in Gregorius, who is arbitration-eligible for just the second time, but it's not as though the Yankees have a ready-made fit banging on the door at shortstop next year.
Gregorius' offensive improvement seems sustainable. Even though you're seeing increased power, there haven't been many instances of him getting out of his comfort zone, which is to be a gap-to-gap, line-drive hitter. He repeatedly said that he doesn't consider himself a power hitter, no matter what the numbers say.
Since Gregorius isn't eligible for free agency until 2020, the Yankees should have time to discover if Gleyber Torres will fulfill his promise of being a front-line MLB shortstop. As far as '17 goes, New York looks set up the middle with Gregorius and Starlin Castro; I wouldn't break them up.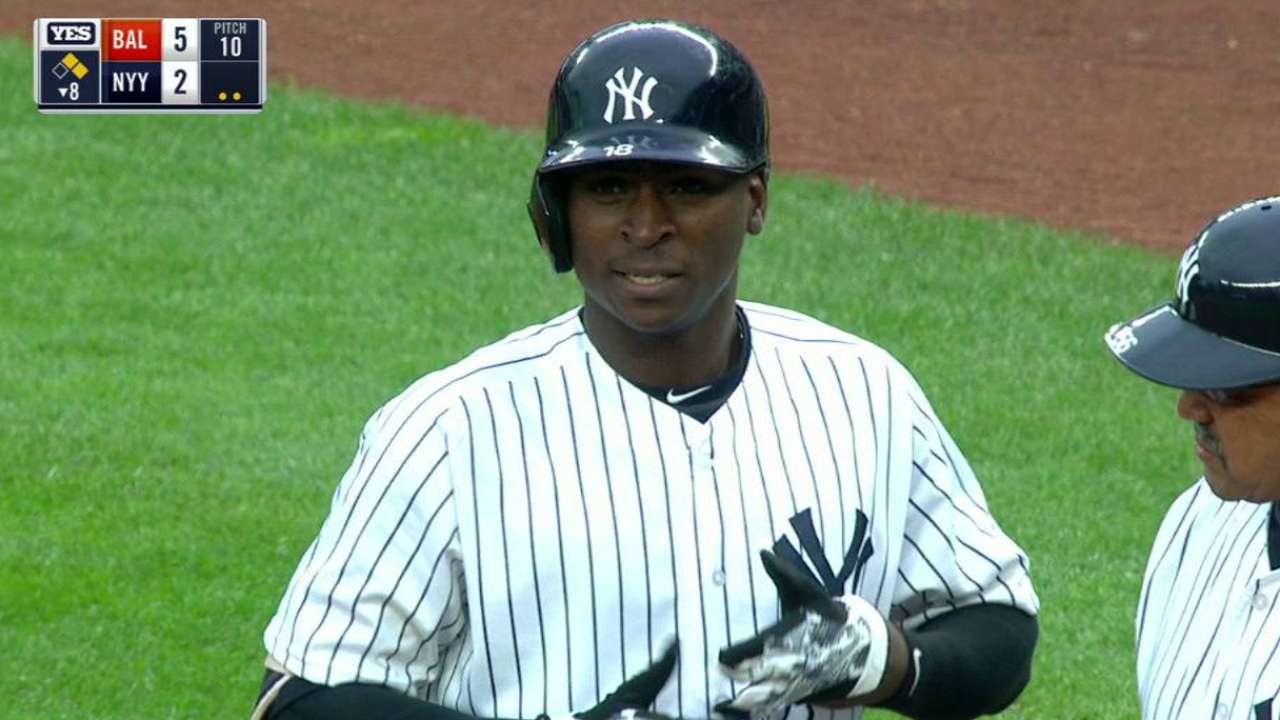 Do you see the Yankees possibly trading Masahiro Tanaka with the good season he had in 2016?
-- Jim B., Advance, Mo.
Cashman always says that he's open to anything, so I don't think he'd immediately hang up the phone there. The Yanks have said that adding pitching -- not subtracting it -- is the priority for this offseason, especially with Tanaka, Michael Pineda and Sabathia as their only rotation locks. Yet it's worth noting that Tanaka can opt out of his contract after 2017.
If Tanaka puts up numbers like he did this past season, he could be heading into free agency prior to his age-29 season, so he'd be in great position to exceed the three years and $67 million he's owed by the Yankees through 2020. The concerns about his elbow have long since faded, and so any legitimate World Series contender should be interested.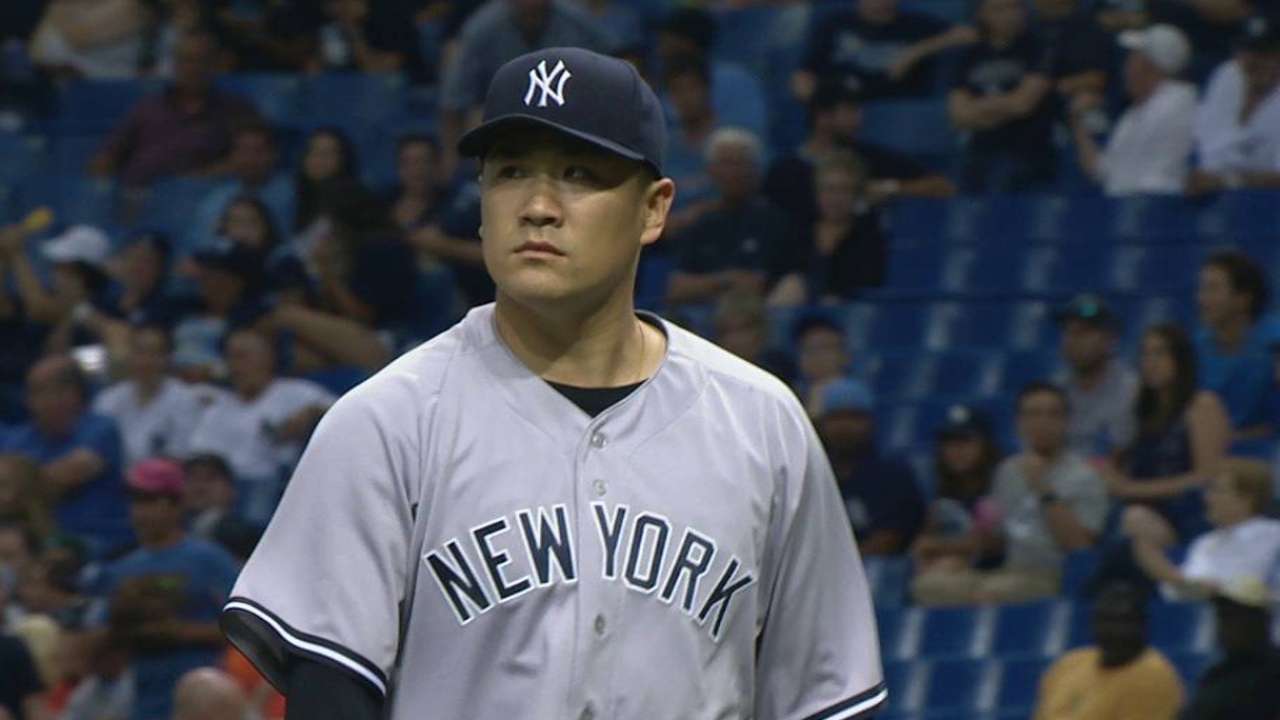 Unless the Yanks can swing a ridiculous haul, I wouldn't expect Tanaka to be moved this offseason -- hey, the Yankees are going to need someone to start on Opening Day, aren't they? But this is an idea to file away for midseason, should they be in the same position in which they were in July.
Bryan Hoch has covered the Yankees for MLB.com since 2007. Follow him on Twitter @bryanhoch and on Facebook. This story was not subject to the approval of Major League Baseball or its clubs.