MLB.com Columnist
Jonathan Mayo
Declined offers to add up to 8 first-round Draft picks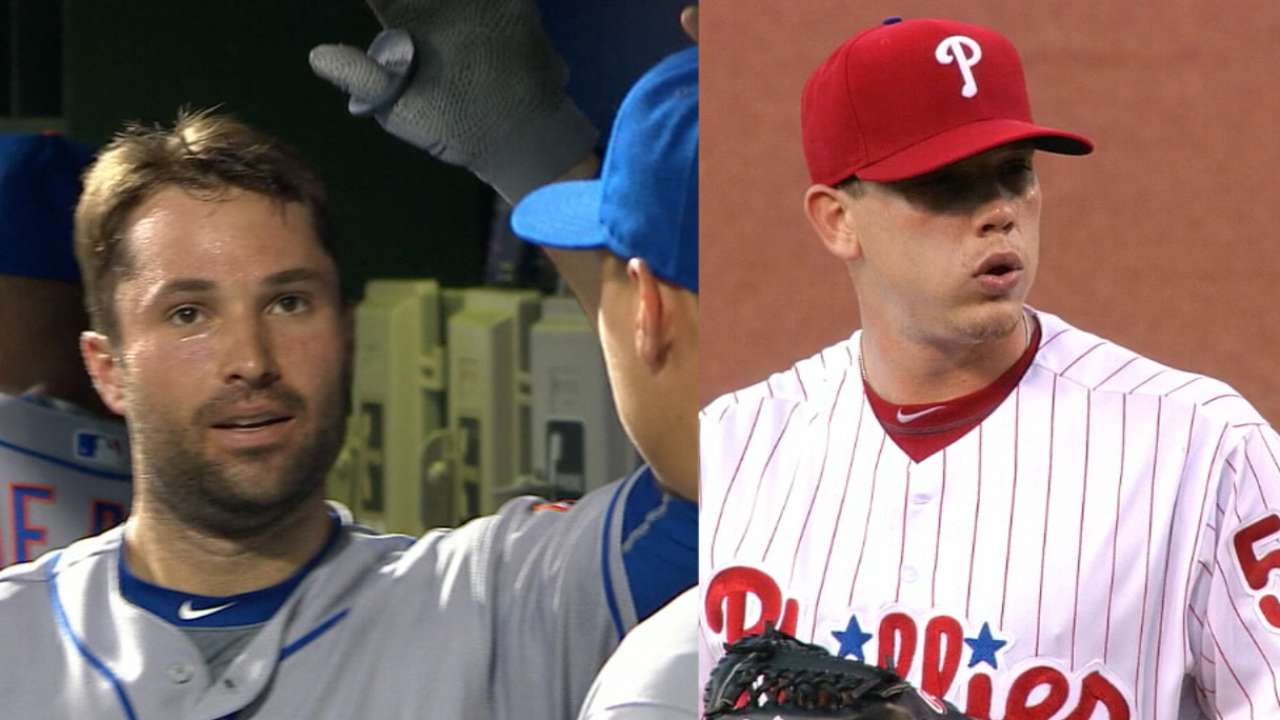 There could be up to eight additional first-round picks in the 2017 Draft after only two of 10 free agents -- Phillies right-hander Jeremy Hellickson and Mets infielder Neil Walker -- accepted a $17.2 million qualifying offer from their team.
The Blue Jays and Dodgers stand to potentially gain two extra Draft picks as compensation for losing a free agent who had been extended a qualifying offer, while the Orioles, Mets, Rangers and Cubs could also gain a pick. A total of 10 players had been given the one-year offer -- set at $17.2 million by averaging the top 125 player salaries from the 2016 season -- but only Hellickson and Walker accepted as the decision deadline passed on Monday at 5 p.m. ET.
Any team making a qualifying offer gets a compensatory Draft pick at the end of the first round if the player rejects the offer and signs with another team. Compensation picks will be made in reverse order of teams' winning percentage from this past season.
• 2017 Draft order | Top 25 high school prospects
Last year, three of a record 20 players -- Matt Wieters, Colby Rasmus and Brett Anderson -- accepted their qualifying offer, becoming the first of 54 players to take it since the system was implemented in 2012. There are currently 30 picks in the first round, so any compensation picks awarded will begin at pick No. 31. That is likely to change, because if a team signs a free agent who received a qualifying offer (unless that team has a pick in the top 10), it will forfeit its first-round pick. Teams with a top 10 pick will forfeit their next-highest selection.
2017 MLB Draft order
1. Twins
2. Reds
3. Padres
4. Rays
5. Braves
6. A's
7. D-backs
8. Phillies
9. Brewers
10. Angels
11. Rockies
12. White Sox
13. Pirates
14. Marlins
15. Royals
16. Astros
17. Yankees
18. Mariners
19. Cardinals
20. Tigers
21. Giants
22. Mets
23. Orioles
24. Blue Jays
25. Dodgers
26. Red Sox
27. Indians
28. Nationals
29. Rangers
30. Cubs
Teams don't get the compensation pick if they re-sign their free agent. It's also possible they would have to forfeit the pick if they sign another qualifying free agent and don't have a first-round pick to give up, either because they have a top 10 selection or because they sign more than one qualifying free agent and have previously surrendered their first-round selection.
A year ago, there ended up being a total of 11 compensation picks, from No. 24-34, and all were considered a part of the first round. The Padres received the first two of those picks, for Ian Kennedy and Justin Upton. The Nationals and Cardinals also had multiple compensation selections. The Dodgers lost one of their two when they re-signed Howie Kendrick and the Cubs ended up not getting a pick when Dexter Fowler rejoined them for the 2016 season.
The Royals, Giants, Rangers, Orioles, Nationals, D-backs and Cubs all forfeited their first-round pick for signing free agents who had been given a qualifying offer. The Marlins and Tigers, who picked in the top 10, gave up second-round selections, with Detroit also losing its third-round selection after signing a pair of qualifying free agents (Jordan Zimmermann and Upton).
The Mets, Blue Jays and Dodgers accounted for six of the 10 this year.
Here is a list of this year's free agents who declined their qualifying offer, listed in order of how compensation picks will be awarded if they sign with another team:
31. Yoenis Cespedes, Mets
32. Mark Trumbo, Orioles
33. Jose Bautista, Blue Jays
34. Edwin Encarnacion, Blue Jays
35. Kenley Jansen, Dodgers
36. Justin Turner, Dodgers
37. Ian Desmond, Rangers
38. Fowler, Cubs
Jonathan Mayo is a reporter for MLBPipeline.com. Follow him on Twitter @JonathanMayo and Facebook, and listen to him on the weekly Pipeline Podcast. This story was not subject to the approval of Major League Baseball or its clubs.