Dickey signs one-year deal with Braves
42-year-old knuckleballer moves from Toronto as free agent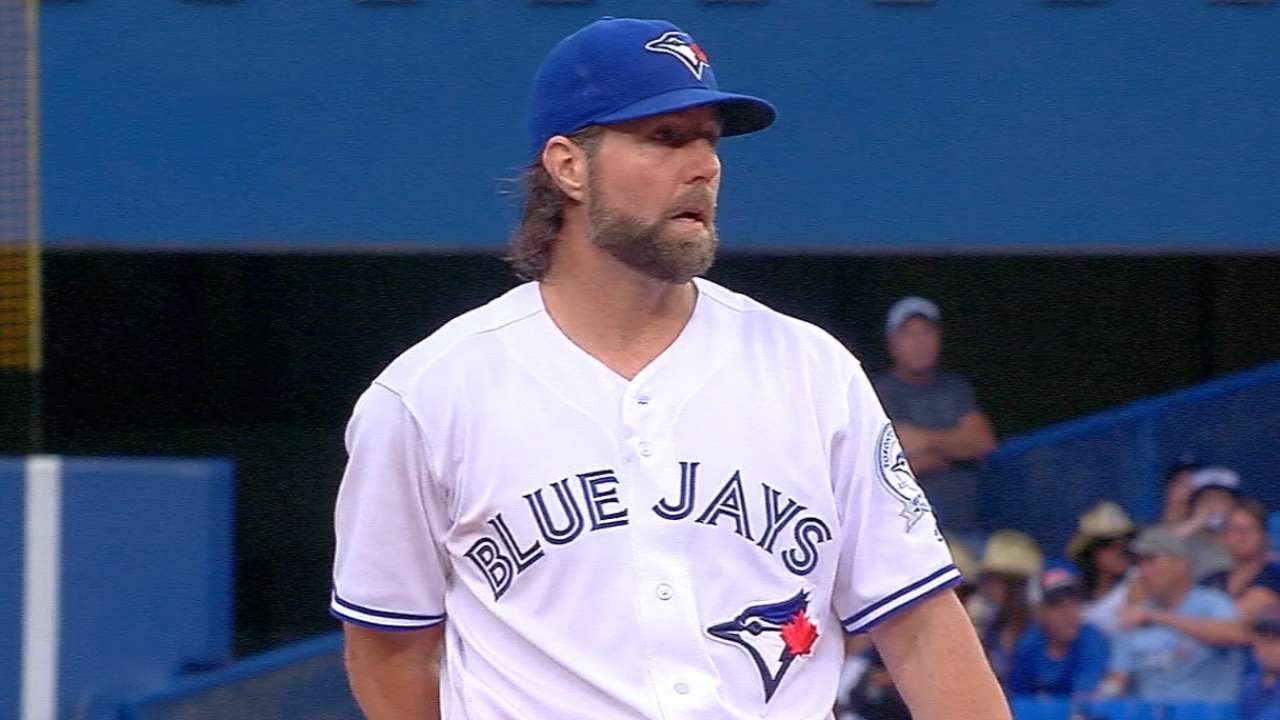 SCOTTSDALE, Ariz. -- The Braves entered this offseason looking to rebuild their starting rotation with veteran arms who were willing to accept a short-term deal and essentially serve as a bridge toward the club's future. R.A. Dickey was looking for a chance to pitch a little closer to home.
Both parties satisfied their wishes on Thursday, when Dickey agreed to a one-year, $7.5 million deal that includes an $8 million club option with a $500,000 buyout for the 2018 season. The 42-year-old former National League Cy Young Award winner will now have a chance to extend his career while playing just a few hours away from his family residence in Nashville, Tenn.
"We wanted to step out big early," Braves general manager John Coppolella said. "This for us is a really big signing. This is a guy who won a Cy Young. It's hard to find innings in baseball. This is a guy who has averaged over 210 innings the past six seasons. He's a good person and southern boy that has come back to where it all started."
Dickey, who has completed at least 200 innings in six of the past seven years, is 110-108 with a 4.01 ERA in 14 seasons with the Rangers, Mariners, Twins, Mets and Blue Jays.
A Nashville native who attended the University of Tennessee, Dickey fielded recruiting calls from a couple of Braves Hall of Famers: former knuckleballer Phil Niekro and former manager Bobby Cox. Niekro helped Dickey develop a knuckleball -- the pitch he began using in 2006 when it appeared his career was nearing an end at the age of 31.
"I've grown up a Braves fan and have always admired the organization," Dickey said. "So having the opportunity to play for the team that I grew up watching in Nashville when TBS was really the only channel we had is really an honor. ... I'm happy to be part of the organization because I feel we have a chance to be competitive in a very competitive division."
Dickey's revitalization has been well-documented, and it dates back to 1996 during his days as one of the game's top potential prospects. It nearly ended with the revelation that he was born without a right ulterior cruciate ligament in his elbow. His ability to gain comfort with the knuckleball proved fruitful once he joined the Mets in 2010, going on to produce a 2.95 ERA during his three-season stint with New York.
After posting a 2.73 ERA and winning the NL Cy Young Award in 2012, Dickey was traded to the Blue Jays. He compiled a 3.95 ERA during his first three seasons in Toronto before struggling this year with a 4.46 ERA. Dickey also fell short of the 200-inning mark for the first time since '09. He pitched effectively in four of five August starts but made just two starts in September as Toronto fought for a postseason spot.
"This year, physically I felt really, really good," Dickey said. "My bullpens at the end of the season were good and I entered the offseason feeling fired up because I felt I was getting back to the simplicity I had when I was with the Mets."
The Braves now have Dickey, Julio Teheran and Mike Foltynewicz penciled into their rotation for next season. They will continue to look at both the trade and free-agent markets to add at least one more starter.
"We're looking for innings," Coppolella said. "We're looking for guys to suck up innings so that we don't have to kill our bullpen. We've been real transparent about what it is that we want to do: add guys that can eat innings on short-term deals. [Signing Dickey] fits exactly with the plan we have outlined, so we're thrilled to be able to get this done this early."
Fantasy spin | Fred Zinkie (@FredZinkieMLB)
Despite posting a 4.46 ERA and a 1.37 WHIP last season, Dickey could regain relevance in deep-mixed formats as a result of his move to Atlanta. Although park factors for the Braves' new venue will not be available for several months, the knuckleballer should be positively impacted by no longer making home starts at hitter-friendly Rogers Centre. A return to the NL may also help the righty, who produced a 2.95 ERA in that league from 2010-12. And while Atlanta's lineup is not laden with stars, Dickey nonetheless could receive plentiful run support from an offense that ranked fourth in the Majors this year with 289 runs scored after July 31.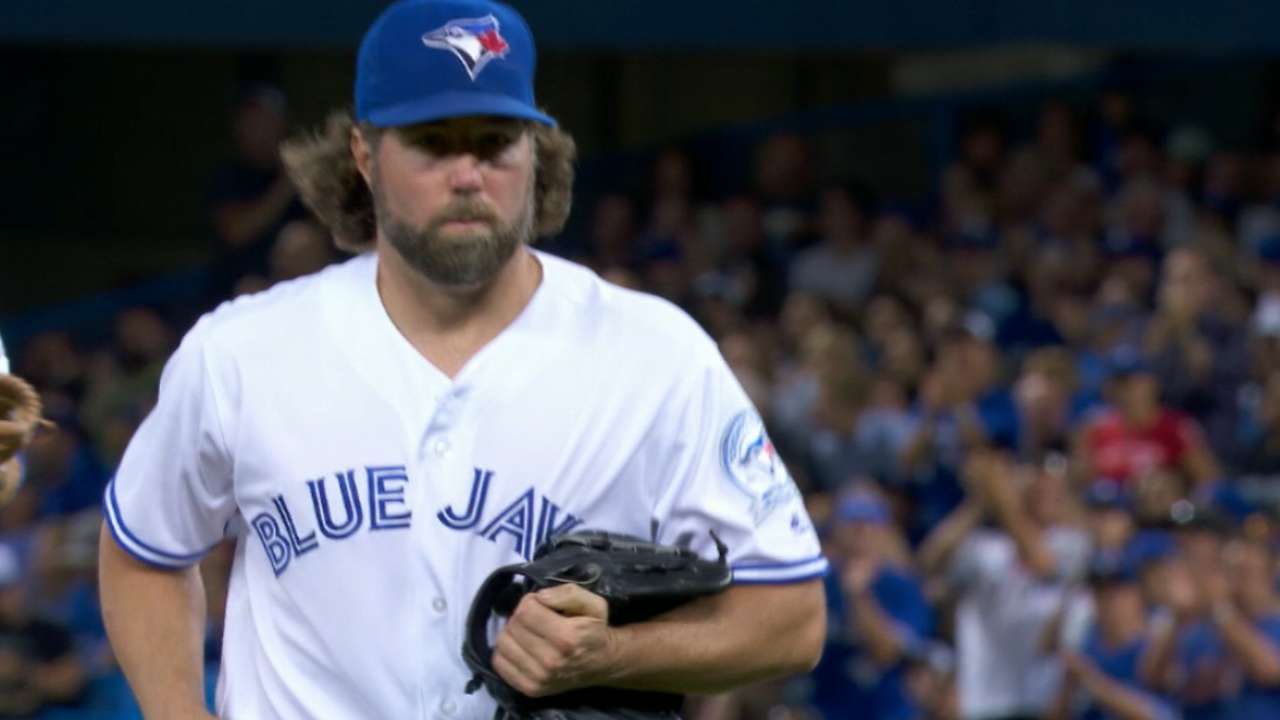 Mark Bowman has covered the Braves for MLB.com since 2001. This story was not subject to the approval of Major League Baseball or its clubs.