Last day to weigh in on MLB Awards
Fans have until today at 2 p.m. ET to reward game's elite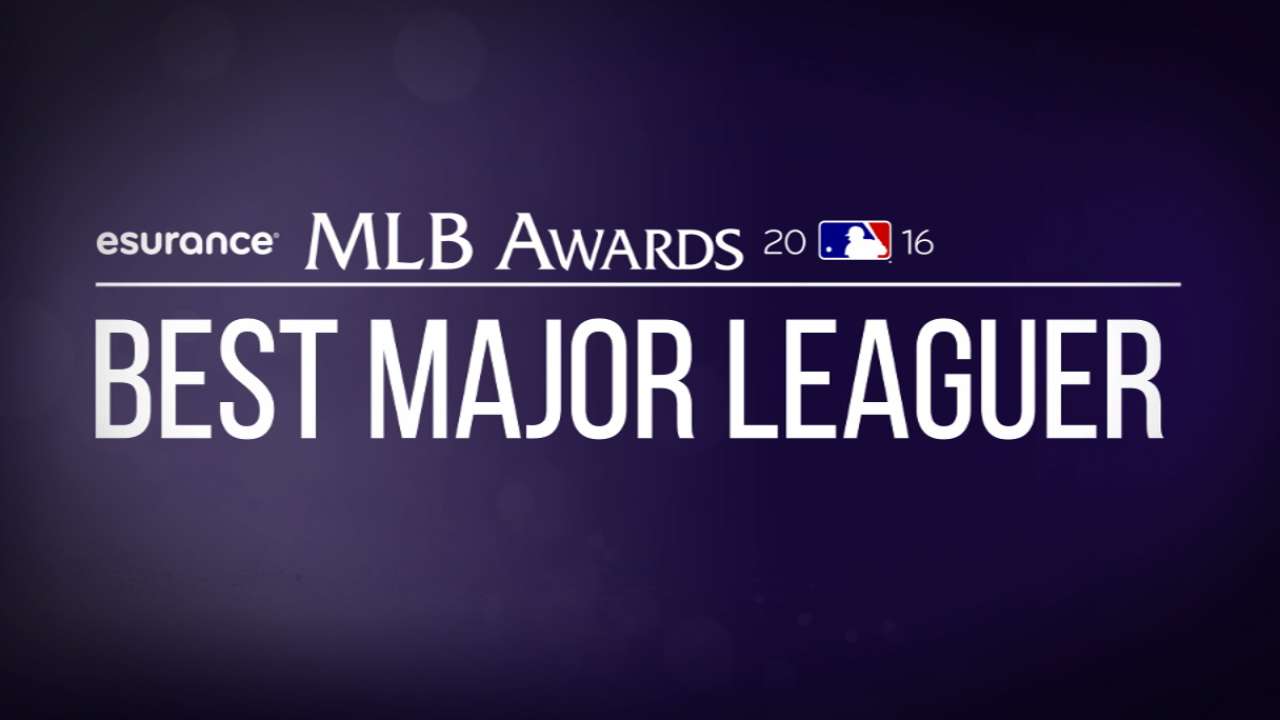 From Mookie Betts' "Best Major Leaguer" introduction on Opening Day to Giancarlo Stanton's "Best Trending Topic" form (61 homers!) at the T-Mobile Home Run Derby to David Ross' parade selfies in the "Best Social Media Post" category, the Esurance MLB Awards cover Major League Baseball's historic 2016 season from start to finish.
After living and breathing it for so long, fans have a pretty good idea who deserves the most recognition on and off the field at this time of year. Voting is underway until 2 p.m. ET today at MLB.com/awards to participate in the most prestigious awards season in pro sports and help decide a record 19 categories for this particular hardware.
Winners for all categories will be announced live on MLB Network and MLB.com on Nov. 18, so we're almost there after nearly two months of balloting. The Esurance MLB Awards are an all-inclusive program, encompassing the top players and performances from both the American League and the National League from Opening Day through the end of the postseason.
Individual awards will be presented to the Best Major Leaguer, Best Hitter, Best Pitcher, Best Rookie, Best Manager, Best Executive, Best Defensive Player, Best Social Media Personality and Best Major Leaguer, Postseason.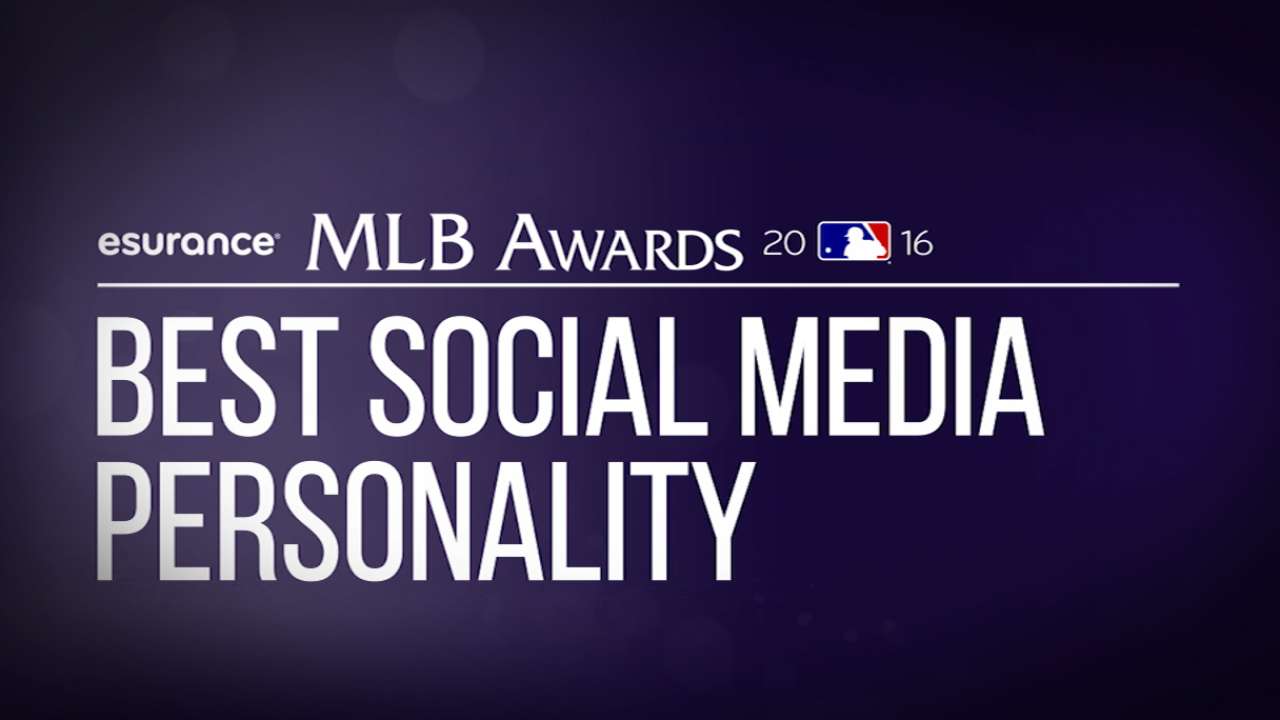 Winners also will be recognized for Best Play, Offense; Best Play, Defense; Best Regular Season Moment; Best Postseason Moment; Best Performance; Best Social Media Post; Best Fan Catch; Best Call, TV/Radio; Best Player-Fan Interaction; and Best Trending Topic.
Kris Bryant is included in four individual-award categories to lead all nominees in the Esurance MLB Awards, and that includes Best Major Leaguer; Best Hitter; Best Performance (remember his 16 total bases on June 27?); and Best Major Leaguer, Postseason.
It was perhaps fitting that Bryant's throw on the season's final 5-3 putout went to Anthony Rizzo, who is nominated in three individual categories, including Best Social Media Personality; Best Play, Defense; and also for Best Major Leaguer, Postseason.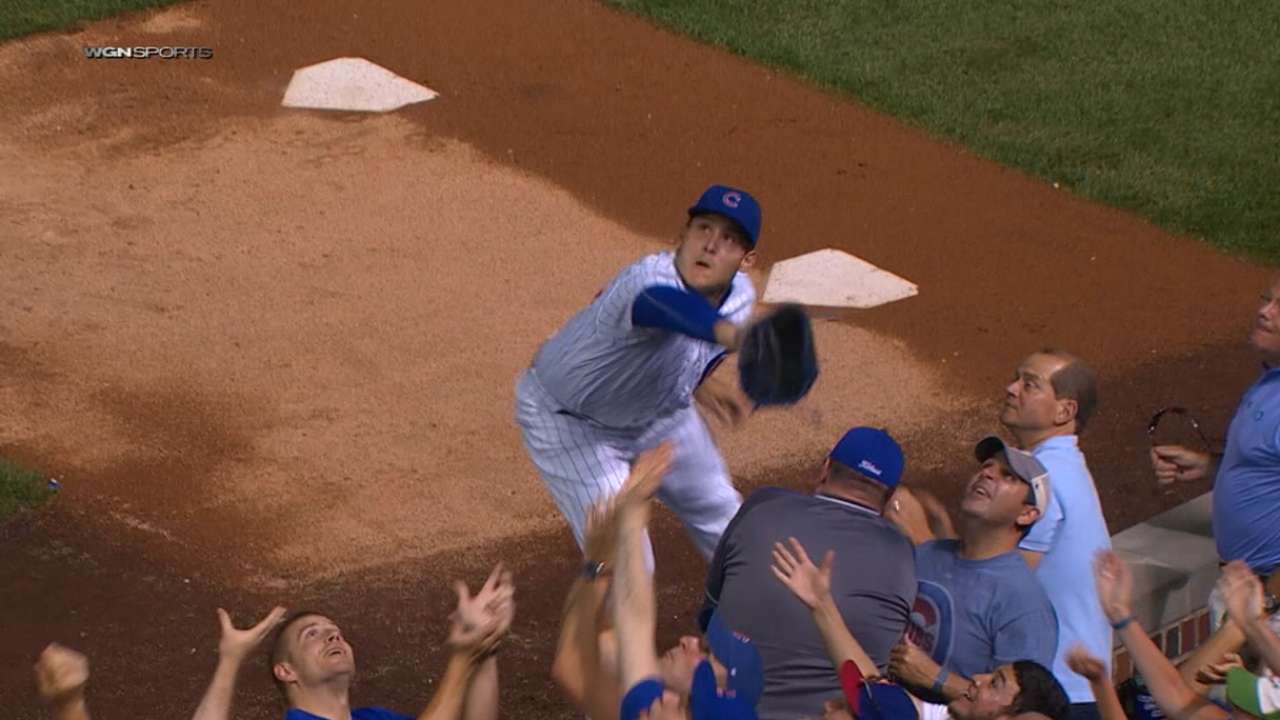 In addition to Bryant and Rizzo, the other three candidates for Best Major Leaguer, Postseason, include their teammate Jon Lester, as well as pitchers Corey Kluber and Andrew Miller of the Indians. The other new category just added, Best Postseason Moment, includes these five nominees: Rajai Davis' Game 7-tying homer; Edwin Encarnacion's Wild Card walk-off blast; Clayton Kershaw's epic save; Miguel Montero's pinch-slam for the Cubs; and finally the Ben Zobrist double that drove in the most important run of 2016.
The Esurance MLB Awards annually honor MLB's greatest achievements as part of an industry-wide balloting process that includes five groups, each of which accounts for 20 percent of the overall vote: media, front-office personnel, retired MLB players, fans at MLB.com and Society for American Baseball Research (SABR) voters.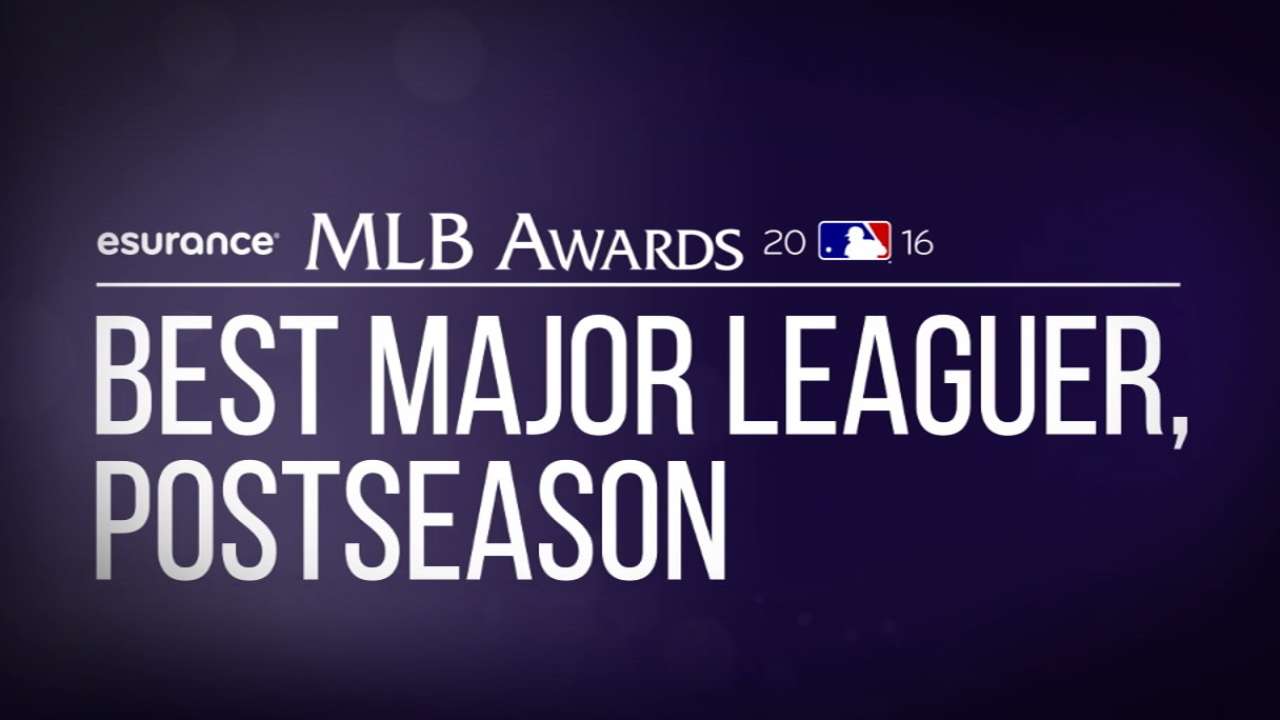 There are several distinguishing characteristics about the Esurance MLB Awards. One is the expansive categories, ensuring that someone like a Vin Scully -- who received so much focus in his 67th and final season as a baseball broadcaster -- is included as well as players. Another is the fact that there is no league delineation for these awards, unlike most others. Also, the postseason, such an important part of a baseball year, is included.
There are five nominees in every Esurance MLB Awards category, and as we eagerly await the rollout of the Baseball Writers' Association of America awards next week, you will notice that these choices include many of those current BBWAA finalists. Here are some examples:
Best Rookie
Corey Seager of the Dodgers and Trea Turner of the Nationals in the NL, and Michael Fulmer of the Tigers, Tyler Naquin of the Indians and Gary Sanchez of the Yankees in the AL. The other choice for the BBWAA's NL honor is Dodgers pitcher Kenta Maeda.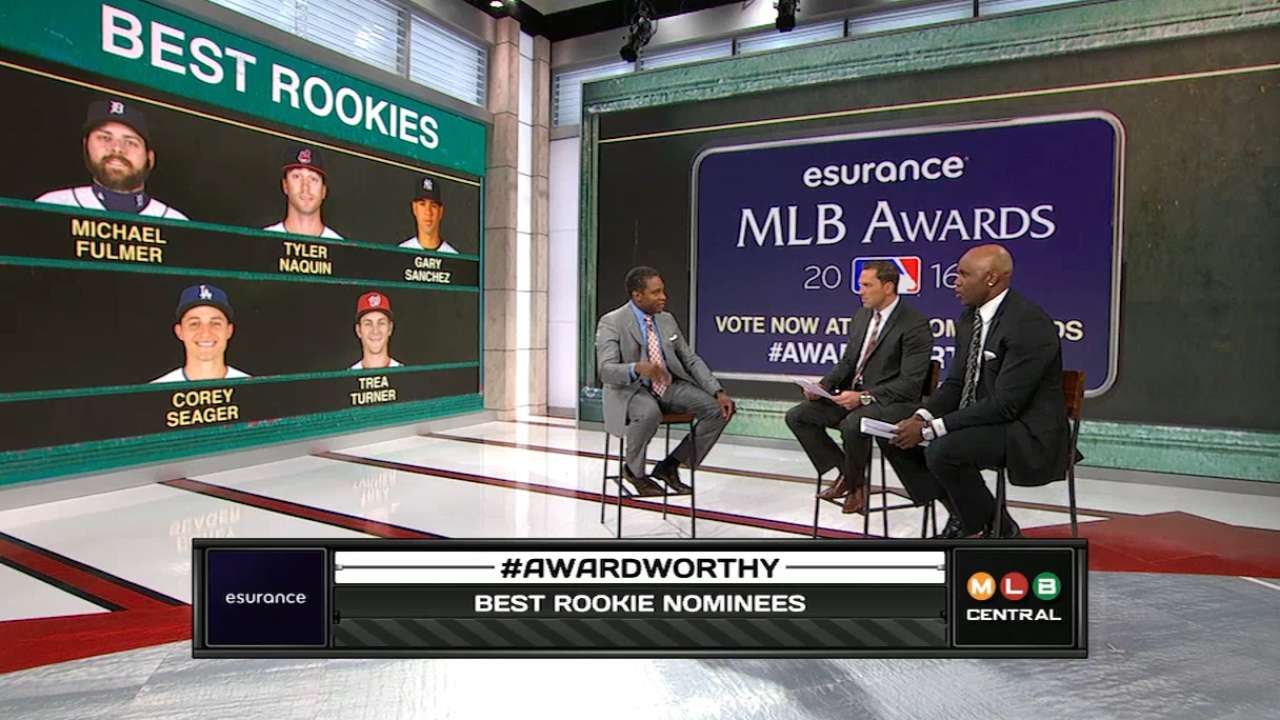 Best Manager
Dusty Baker of the Nationals, Joe Maddon of the Cubs and Dave Roberts of the Dodgers are all choices for NL Manager of the Year, and AL Manager of the Year candidates include Jeff Banister of the Rangers, Terry Francona of the Indians and Buck Showalter of the Orioles. For the "Best Manager" honor here, Baker, Francona, Maddon and Roberts are included among your choices, with Terry Collins of the Mets rounding out the fab five.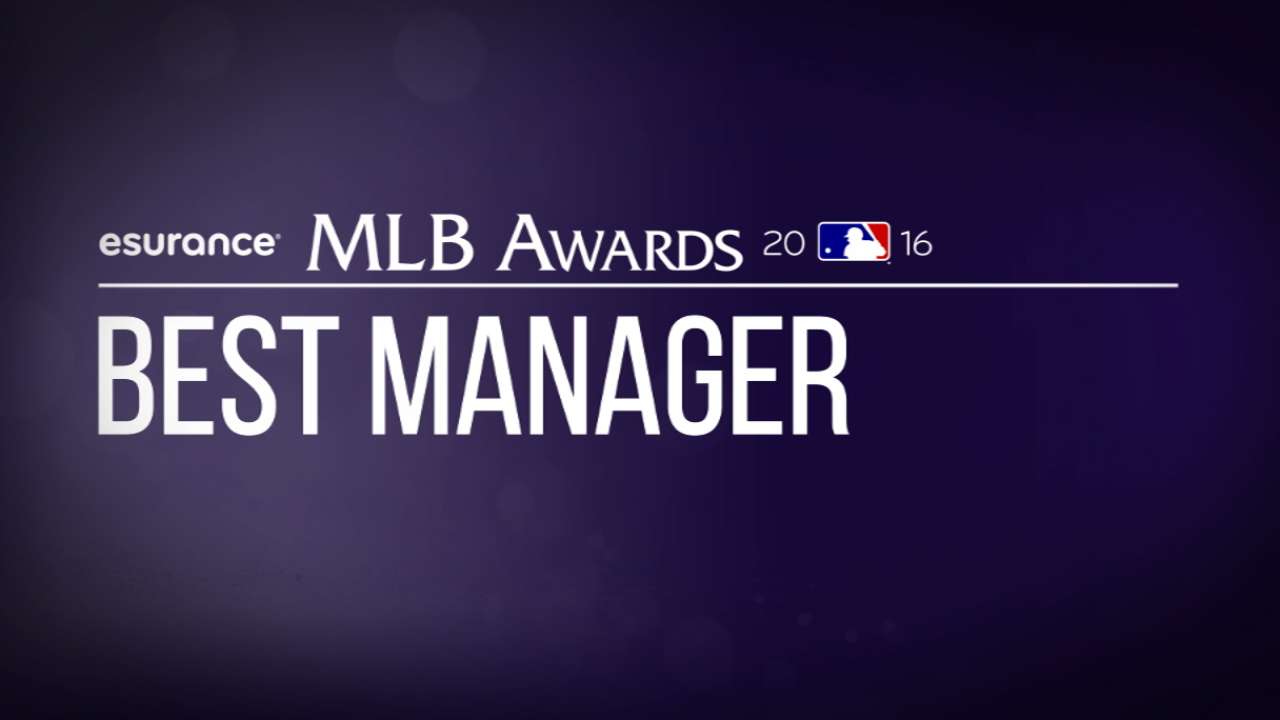 Best Pitcher
Kluber is up for the AL Cy Young Award with Rick Porcello of Boston and Justin Verlander of Detroit, but the Indians' ace is the only one of those up for Best Pitcher here. The other four include all three NL Cy Young Award finalists -- Kyle Hendricks and Lester of the Cubs, plus Max Scherzer (also up for Best Performance and the reason for Best Call, TV/Radio) -- as well as Madison Bumgarner of the Giants.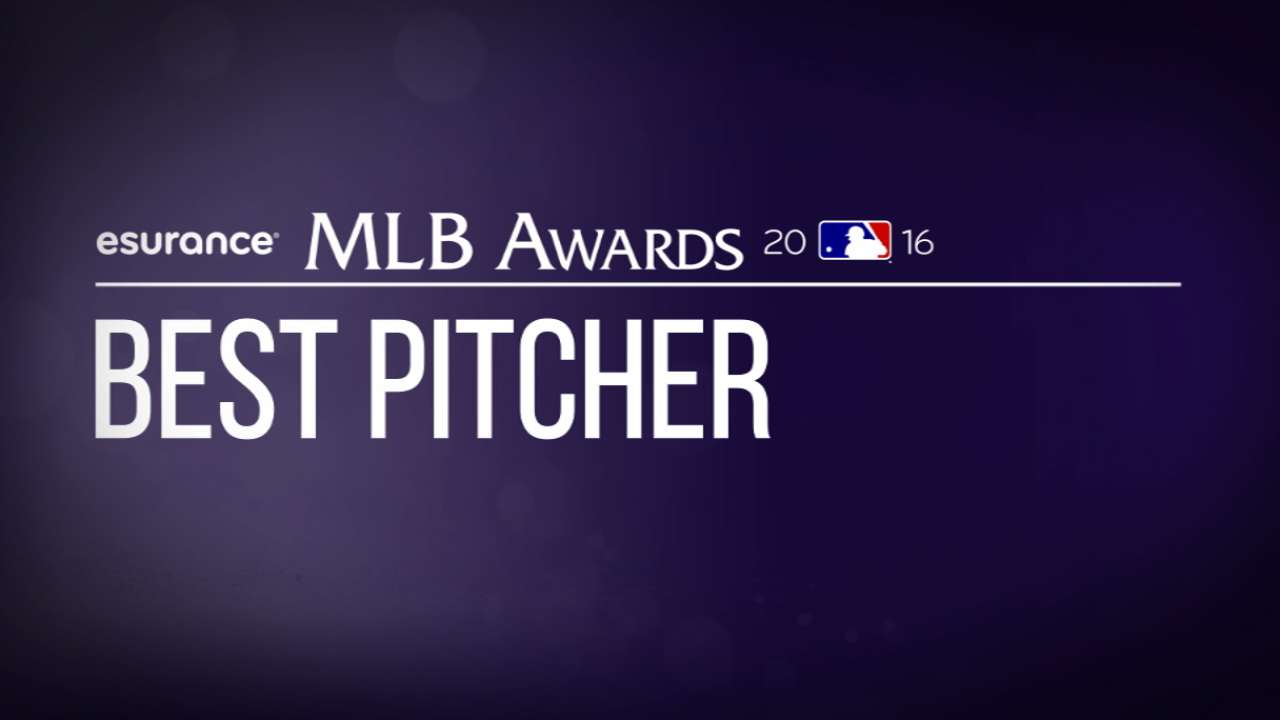 Best Major Leaguer
In the AL, all three MVP Award candidates are also up for Best Major Leaguer: Jose Altuve of the Astros, Betts and Mike Trout of the Angels. In the NL, Bryant is up for MVP Award as well as the Best Major Leaguer award here. The other two NL MVP Award candidates are Daniel Murphy (up for Best Hitter) of the Nationals and Seager.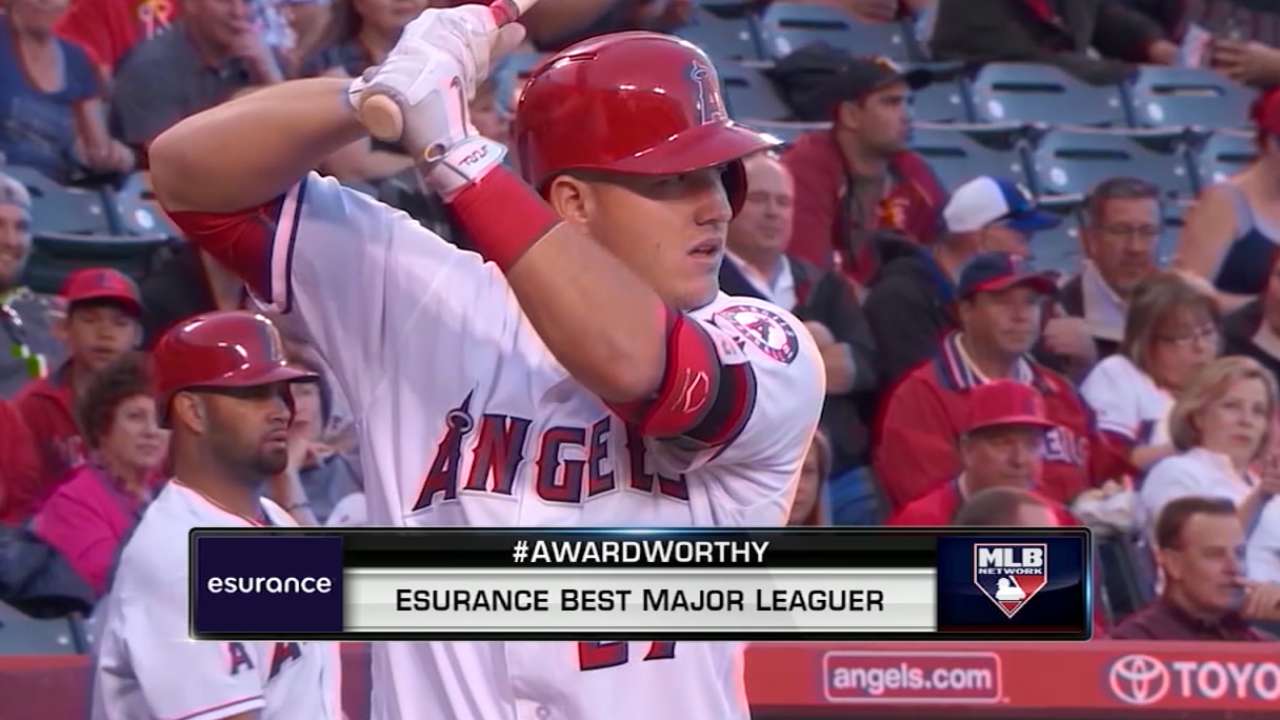 Voting for the Esurance MLB Awards began on Sept. 19 at MLB.com/awards, following the announcement of the inaugural Esurance MLB Fans of the Year winners.
Mark Newman is enterprise editor of MLB.com. Read and join other baseball fans on his MLB.com community blog. This story was not subject to the approval of Major League Baseball or its clubs.