Pirates not shopping Cutch, but will listen
Former MVP reportedly sought by Nationals before Trade Deadline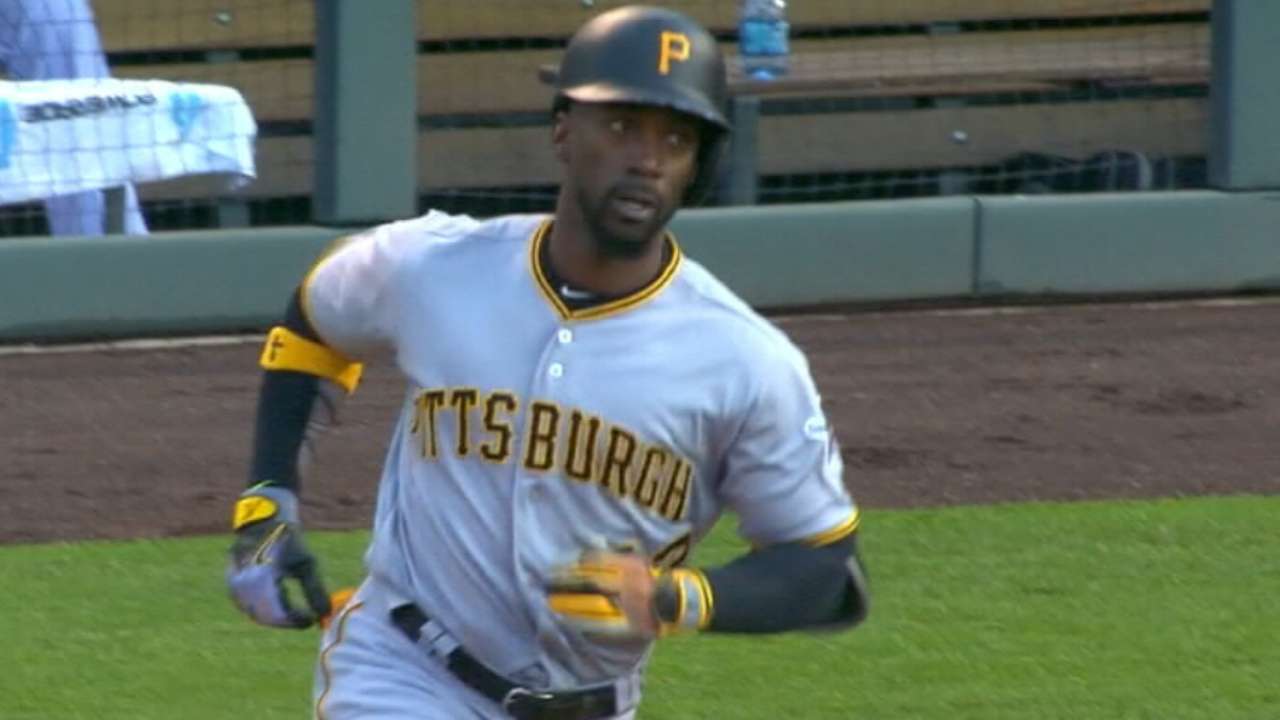 SCOTTSDALE, Ariz. -- If teams reach out this offseason about Andrew McCutchen, the Pirates will listen. It's one aspect of the way they do business and a reality of life as a smaller-market club.
But the Pirates aren't trying to sell low and unload McCutchen. They're betting on their franchise player to bounce back after a down year and planning, for now, on him being part of their core in '17.
"It's not a coincidence that we were good when Andrew was good," Bucs GM Neal Huntington said Wednesday at the General Managers Meetings. "When Andrew was an MVP-caliber player, we were a really good team.
"There's no question, given what we saw in August and September, that he can be back to an outstanding Major League player, and, in a perfect world, an outstanding Major League player on a playoff-caliber team in Pittsburgh."
According to FOX Sports' Ken Rosenthal, the Pirates talked about sending McCutchen to the Nationals as part of a massive deal before the Aug. 1 non-waiver Trade Deadline. But this is the first offseason the Bucs will seriously consider offers for McCutchen, due mostly to his contract status and his potential replacements: Gold Glove Award-winner Starling Marte in left field and Austin Meadows in Triple-A.
McCutchen is under club control for two more years, and he is due $14 million next season, with a $14.75 million club option in 2018. Rather than let McCutchen walk away at the end of his contract, the Pirates could deal him -- as they did most recently with pending free agents Neil Walker and Mark Melancon -- to address another need or acquire younger players.
"The reality of expiring contracts, whether it's one year out or two years out, we have to be cognizant of that," Huntington said. "Are we going to have conversations that we think impact this club in a positive direction to be in a postseason situation as many times as we can as consistently as we can? Those are conversations that we have to have."
It may prove difficult to pull off a deal until next year's Trade Deadline, at the earliest, considering McCutchen is coming off a career-worst year that may be viewed by other clubs as the start of a decline phase.
If McCutchen stays, the Bucs also must make a decision about where he will play. McCutchen was a well below-average center fielder, according to most advanced defensive metrics, though Huntington shouldered the blame for some of those struggles, specifically his shallower positioning and the pitchers who gave up more line drives and fly balls.
Huntington said the Pirates will try to "maximize" McCutchen's defensive value, but it's unclear whether that means shifting him deeper or moving him from center to an outfield corner.
"We're still working through that process. If we ever got to that level, the first conversation would be with Andrew," Huntington said. "We're doing an autopsy, for lack of a better word. … This is certainly one of the areas that we need to spend some time on -- we have spent some time on it, but we need to spend some more."
Cole coming along
After finishing the season on the disabled list due to right elbow posterior inflammation, right-hander Gerrit Cole should be able to take part in a "normal" offseason routine, according to Huntington and agent Scott Boras.
Huntington said Cole is currently in "pure rest mode," and the Bucs are excited about his future after an injury-plagued season in which he finished 7-10 with a 3.88 ERA in 21 starts.
"He's doing well," said Boras, who represents Cole. "It's a timeframe where he needed a few months for the inflammation and swelling to go down. Then he'll be back to his normal offseason progression."
Adam Berry has covered the Pirates for MLB.com since 2015. Follow him on Twitter and Facebook, read his blog and listen to his podcast. This story was not subject to the approval of Major League Baseball or its clubs.