Voth dominates for Glendale in AFL shutout
Nationals' No. 9 prospect goes five scoreless in second straight start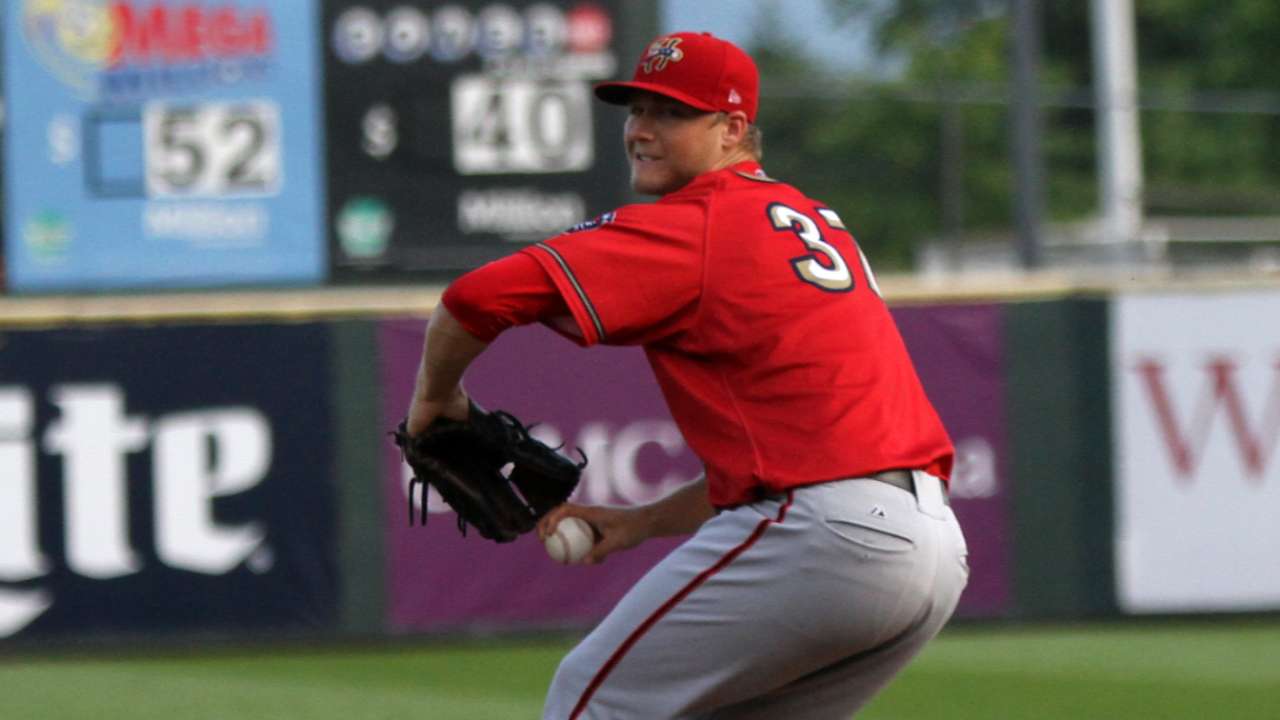 Austin Voth continued to put his slow start to the Arizona Fall League behind him on Wednesday as he tossed five scoreless innings to lead Glendale in a 10-0 shutout of Salt River at Salt River Fields.
The Nationals' No. 9 prospect allowed three hits with three strikeouts in what was his second consecutive scoreless performance after he allowed a combined 17 earned runs in 14 2/3 innings across his first four Fall League starts.
"The last two starts I've been working on minor adjustments with my mechanics, just trying to stay back as long as possible on the mound and not leak forward," said Voth, who climbed closer to the Major Leagues this season by posting a 3.15 ERA over 157 innings (27 games/25 starts) for Triple-A Syracuse. "I've done a real good job at staying down in the zone and getting a lot of ground balls, and my changeup has been working very effectively lately."
• Gameday
Voth, 24, generated nine ground-ball outs in the performance while throwing 49 of his 74 pitches for strikes. The right-hander also was effective with his entire arsenal, recording six outs with his fastball, seven with his changeup and two with his slider.
"One of the reasons I'm out here is to develop my changeup and make sure I'm able to throw that whenever I want," Voth said. "It's been kind of a long process, but I feel more comfortable throwing it in even counts, behind in counts, full counts. It had a lot of run today, and I'm very pleased with the progress I've made with it."
• Complete Arizona Fall League coverage
Glendale's offense got to Salt River starter Zach Jemiola in the top of the second inning, when Courtney Hawkins (White Sox No. 14) plated Garrett Stubbs with a two-out double to left field to take an early 1-0 lead.
The Desert Dogs would tack on three more runs against Jemiola in the fourth after loading the bases with no outs. Stubbs started the scoring when his walk forced in a run, and Osvaldo Abreu (Nationals' No. 19) extended Glendale's lead to 4-1 with a two-run single to center field.
Glendale loaded the bases again in the top of the fifth inning ahead of Cardinals No. 3 prospect Harrison Bader (No. 82 overall), who promptly hit a two-run single to right field. Stubbs and Hawkins both followed with walks to push across another run and force a Salt River pitching change, while Abreu picked up his third RBI of the game with a sacrifice fly to right field to give Glendale a commanding 8-0 lead.
Bader delivered once more in the following frame, this time hitting a two-out, line-drive triple -- with an exit velocity of 103.1 mph according to Statcast™ -- to center field to score Drew Ward and Cody Bellinger and make it a 10-0 game.
All nine of Glendale's starters collected a hit in the contest. Bader led the way by going 2-for-4 with two runs scored and four RBIs, giving him 13 RBIs in 15 games this fall. Ward, the Nationals' No. 10 prospect, scored three runs, doubled and walked in a 2-for-4 performance, while Bellinger (Dodgers' No. 1, No. 31 overall) finished 3-for-5 with his seventh Fall League double -- as well as a 106.2 mph single in the eighth inning -- to lift his average to a team-best .352.
For the Rafters, Brewers No. 8 prospect Isan Diaz (No. 96 overall) went 1-for-2 with two walks out of the leadoff spot, while his third-inning double to center field against Voth was the hardest-hit ball to be put in play in the game, with a 106.4 mph exit velocity according to Statcast™.
And as for Voth, he plans to continue to build on the success of his last two starts during the final weeks of the Fall League.
"Just finish the season off well," he said. "I want to build some confidence going into Spring Training with my new mechanics and with my changeup, which I think is key in helping me keep hitters off balance."
Mike Rosenbaum is a reporter for MLB.com. Follow him on Twitter at @GoldenSombrero. This story was not subject to the approval of Major League Baseball or its clubs.