Braves work to act fast, avoid overspending
Thin market for starting pitchers could get costly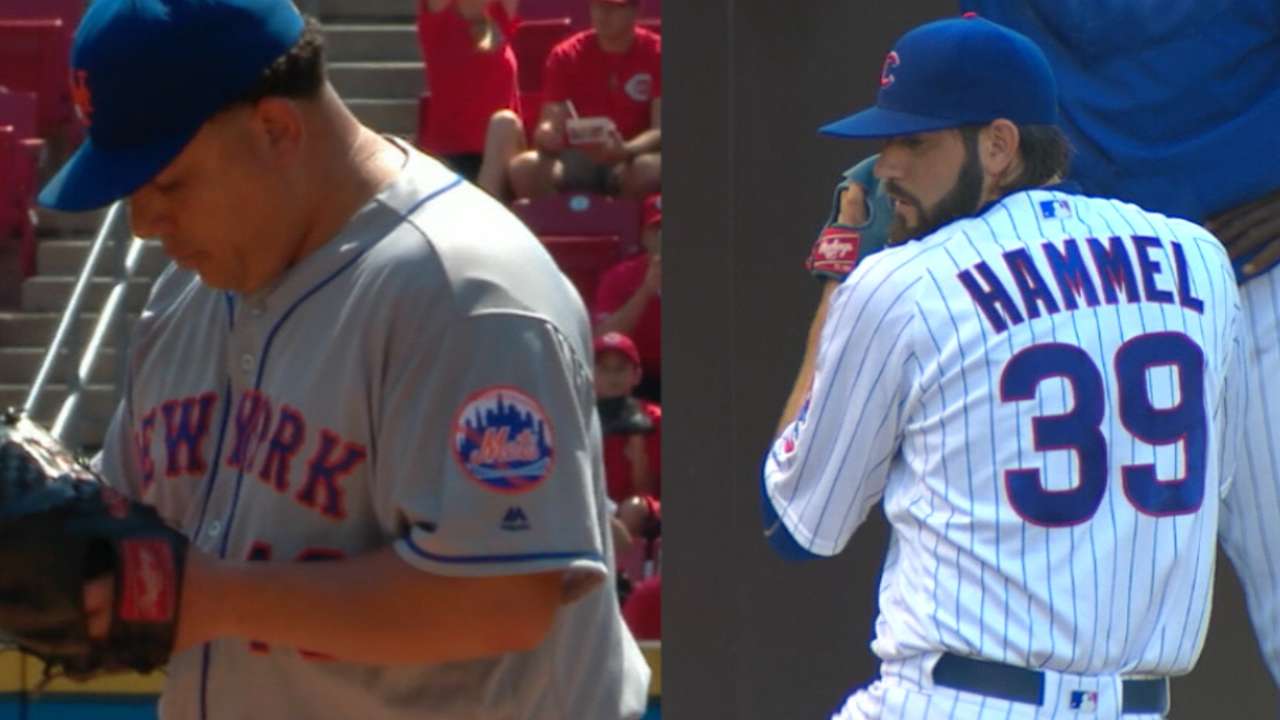 SCOTTSDALE, Ariz. -- Less than 24 hours after saying they wanted to be aggressive in their pursuit of starting pitchers, the Braves announced R.A. Dickey had agreed to terms on a one-year deal with a club option for the 2018 season.
By reaching an agreement with Dickey, the Braves moved closer toward their goal to quickly satisfy their starting pitching needs before a relatively thin free-agent market becomes even thinner.
During this week's General Managers Meetings, Braves president of baseball operations John Hart and Coppolella have spoken to agents who represent some of the starting pitchers who have piqued their interest. At the same time, they have spoken to more than half of Major League Baseball's other teams about potential trades that could enhance their starting rotation, which currently consists of just Julio Teheran and Mike Foltynewicz.
In their attempt to add at least two starting pitchers, the Braves are not necessarily ready to trade any of their highly regarded prospects. But the process of doing their due diligence, they have at least checked to see how significant the cost might be to land the Rays' Chris Archer or the A's Sonny Gray -- two controllable young hurlers who have the potential to remain top-flight starters for many years to come.
"We've talked to probably about 20 teams about starting pitchers," Coppolella said. "It's not just the Rays and Chris Archer. There have been a number of conversations. I'm not sure how [the Archer news leaked], but I don't think our conversation with them is any more or less limited than the 20 other conversations we've had. Does that mean we will or won't trade for him? No, but Chris Archer is really good. I think any team in baseball would have interest in him."
While there is a chance the Braves will also add a catcher this winter, they have made it clear that starting pitching is their priority. Now they are faced with the task of taking the right gamble on at least one of this year's free-agent hurlers, preferably one willing to accept a one- or two-year deal and serve as a bridge to Sean Newcomb, Max Fried and other prospects who could join Atlanta's rotation within the next couple of seasons.
Given that the free-agent market opened on Tuesday, the Braves will have to be patient while keeping tabs on Doug Fister, Edinson Volquez and some of their other potential targets. But at the same time, they want to remain diligent to guard against having to choose from the remains of an already thin market.
"Unless it's a special situation where a player really wants to be with the Braves, they might just need time to do their due diligence, whether that is a couple days or a couple weeks," Coppolella said. "The market just opened and [agents] want to do right for their client, many of whom have been waiting for this opportunity for a long time."
Odds and ends
• Outfielder Mallex Smith may spend some time playing in the Dominican Winter League after he recovers from a left oblique strain. Coppolella believes the strain influenced the struggles Smith experienced as he hit .109 in 12 games for Hermosillo of the Mexican Winter League.
• Hoping they can rely on him to serve as their closer or setup man next year, the Braves do not want Arodys Vizcaino pitching this winter. A right oblique strain followed by an inflamed right shoulder limited Vizcaino to just seven appearances after June 30. But the hard-throwing reliever appears healthy and on course to report to Spring Training without any restrictions.
Mark Bowman has covered the Braves for MLB.com since 2001. This story was not subject to the approval of Major League Baseball or its clubs.