Zaidi: Dodgers addressing OF this offseason
GM says Puig 're-established himself,' but 'a change in the composition' still a possibility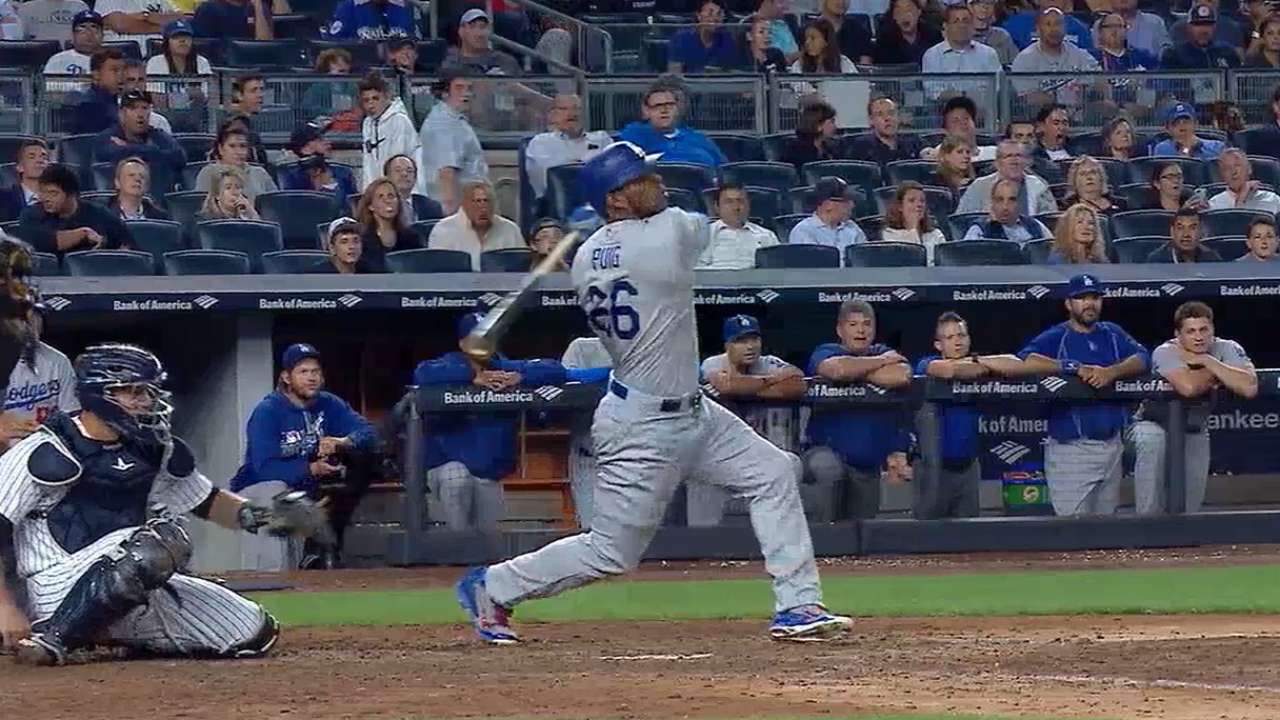 LOS ANGELES -- While resolving the status of free agents Kenley Jansen and Justin Turner are high priorities for the Dodgers this offseason, not far behind is what happens in the outfield corners.
There will be anticipated Yasiel Puig trade rumors, as well as updates on the health of Andre Ethier, both topics that general manager Farhan Zaidi addressed on Wednesday at the General Managers Meetings in Scottsdale, Ariz.
Zaidi repeated comments that manager Dave Roberts made about Puig's late-season reputation rehabilitation, that included an August Minor League demotion. But he wouldn't say if other clubs have inquired about Puig's availability or how Puig figures into the club's future.
"I got asked in July about what his future in the organization was, and I said it was too early to say," Zaidi said. "And I think there was a lot of uncertainty at that time. But he went down, worked on the mechanics of his swing, was a great teammate. Guys at Triple-A, players and staff loved him. [He] came back up in September, had a good month. And I think he -- it's a lot easier to get asked about that now that he's re-established himself as important to our offense.
"He hit .300 [in September], he got some big hits for us. He played fairly regularly. It was a different dynamic. We had a bunch of left-handed bats in the outfield, so he wasn't playing every day like he might otherwise. I would say he did everything we asked, and we feel really good about where he is."
That said, the Dodgers were reportedly close to dealing Puig to the Brewers for Ryan Braun during the summer, and some believe that deal will be revisited. Additionally, beyond Ethier, the club has an emerging Andrew Toles, Trayce Thompson returning from a broken back, Scott Van Slyke coming off right wrist surgery and Howie Kendrick if he doesn't move back to third base. And that assumes free agent Josh Reddick isn't re-signed.
"We do have a surplus in the outfield that we're going to be working through in the next couple months, with Ethier coming back and Toles emerging," Zaidi said. "So there's always a possibility in a change in the composition of the outfield. But [Puig] did everything we asked of him the last two months, and we're in a much better place."
Zaidi said that Ethier -- who missed most of the 2016 season with a fractured right leg and was little more than a pinch-hitter when he did return in September -- should be a whole ballplayer in 2017.
"[The recovery] was slow in the sense we wanted him to be 100 percent by the end of the season, and our usage of him was still a little governed by the end of the year and we tried to keep him to pinch-hitting and limit his time in the field," Zaidi said. "We expect him to be 100 percent by Spring Training."
Ken Gurnick has covered the Dodgers for MLB.com since 2001. This story was not subject to the approval of Major League Baseball or its clubs.