International draft could benefit A's
New collective bargaining agreement could alter rules for signing foreign players
SCOTTSDALE, Ariz. -- The A's have invested heavily on international prospects during the past few months, and like most teams, the club is paying close attention to possible rule changes regarding the acquisition of talent across the globe.
The next collective bargaining agreement could include an international draft. The current agreement is set to expire next month.
"From my perspective, there are two things about the international draft that are overriding in terms of their importance," Commissioner Rob Manfred said Wednesday at the General Managers Meetings. "No. 1, I believe in today's Major League Baseball that entry-level talent is crucial and an effective draft system is a really important way to preserve competitive balance. It's not about money. It's not about paying people less. It's about access to talent and divvying up that access in a way that is pro-competitive balance.
"Secondly, one of the things I have learned in this job is that transparency is a great thing. It solves a whole lot of problems that are difficult to handle otherwise. A draft is a very transparent system, and I think the industry, the amateur players outside of the United States, Canada and Puerto Rico will benefit greatly from a system that is more transparent."
The A's have spent almost $7 million on seven international prospects since the international signing period began on July 2, a list that includes outfielder Lazaro Armenteros ($3 million signing bonus), shortstop Yerdel Vargas ($1.5 million), shortstop Marcos Brito ($1.1 million), outfielder Kevin Richards ($600,000), shortstop George Bell ($500,000), third baseman Jordan Diaz ($275,000) and right-handed pitcher Rafael Kelly ($20,000).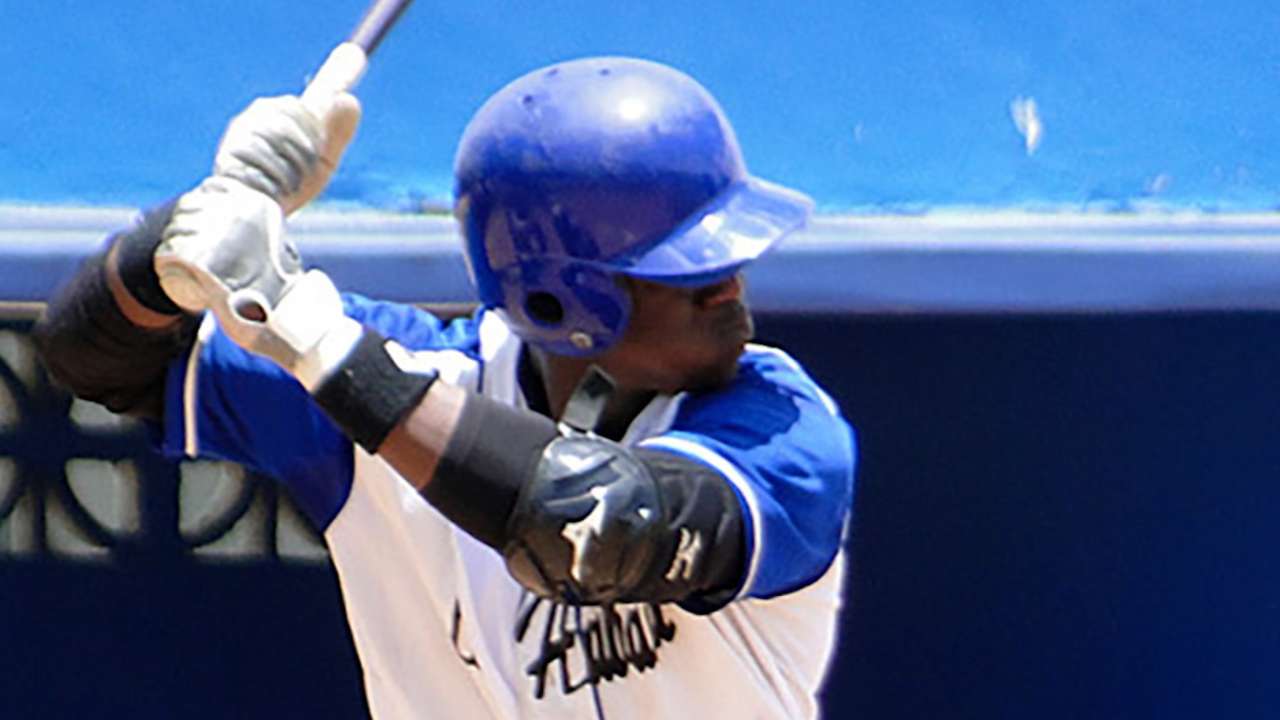 Most of Oakland's international prospects participated in instructional league in September and October.
"It's an area where we have looked and we would like to be as active as we were this year all of the time," Oakland general manager David Forst said. "It's a matter of resources, and I'm glad we were able to put together the class we did and ownership was very supportive. It's where we are and not something we can get in every year."
Under the current collective bargaining agreement guidelines, the A's were allotted $3,818,700 to spend on international prospects during the current period, so they are now in the maximum penalty for exceeding their pools by more than 15 percent. They'll pay 100 percent tax on the overage and will not be able to sign prospects for more than $300,000 during the next two international signing periods.
They are not alone.
The A's join a list of teams -- including the Astros, Braves, Cardinals, Cubs, Dodgers, Giants, Nationals, Padres, Reds and Royals -- that will not be able to sign international prospects for more than $300,000 during the next international signing period because they are in the maximum penalty. The Angels, D-backs, Rays, Red Sox and Yankees will no longer be limited to signing players for $300,000 or less, and they are expected to be busy on the international front in 2017.
"It's an important area for us," Forst said. "The international market continues to be one where it's hard for small-market teams. The penalties have not necessarily discouraged the large-market teams from flexing their muscles."
Jesse Sanchez is a national reporter for MLB.com based in Phoenix. Follow him on Twitter @JesseSanchezMLB and Facebook. This story was not subject to the approval of Major League Baseball or its clubs.