Blue Jays address overshadowed issues
Jimenez added to 40-man as Martin's backup; Travis not yet set for surgery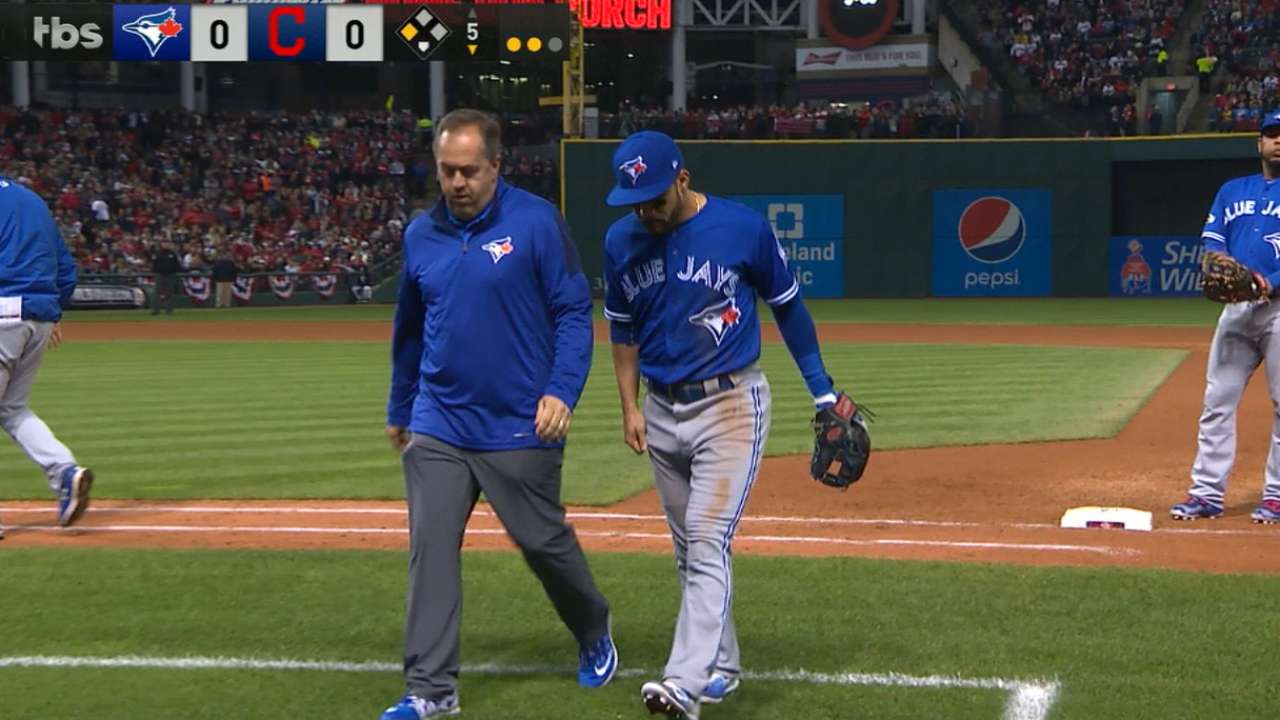 TORONTO -- Edwin Encarnacion and Jose Bautista are getting most of the attention during this week's General Managers Meetings in Arizona, but it's not the only business the Blue Jays need to address.
Toronto had nine players on its 40-man roster hit free agency on Tuesday, and there are plenty of holes to fill. Most of the help will need to come from outside the organization, but there are some internal candidates who will be considered as well.
Here are some of the news and notes out of Scottsdale, Ariz., that may have flown under the radar in wake of the news that Toronto was attempting to sign Encarnacion to a multiyear deal.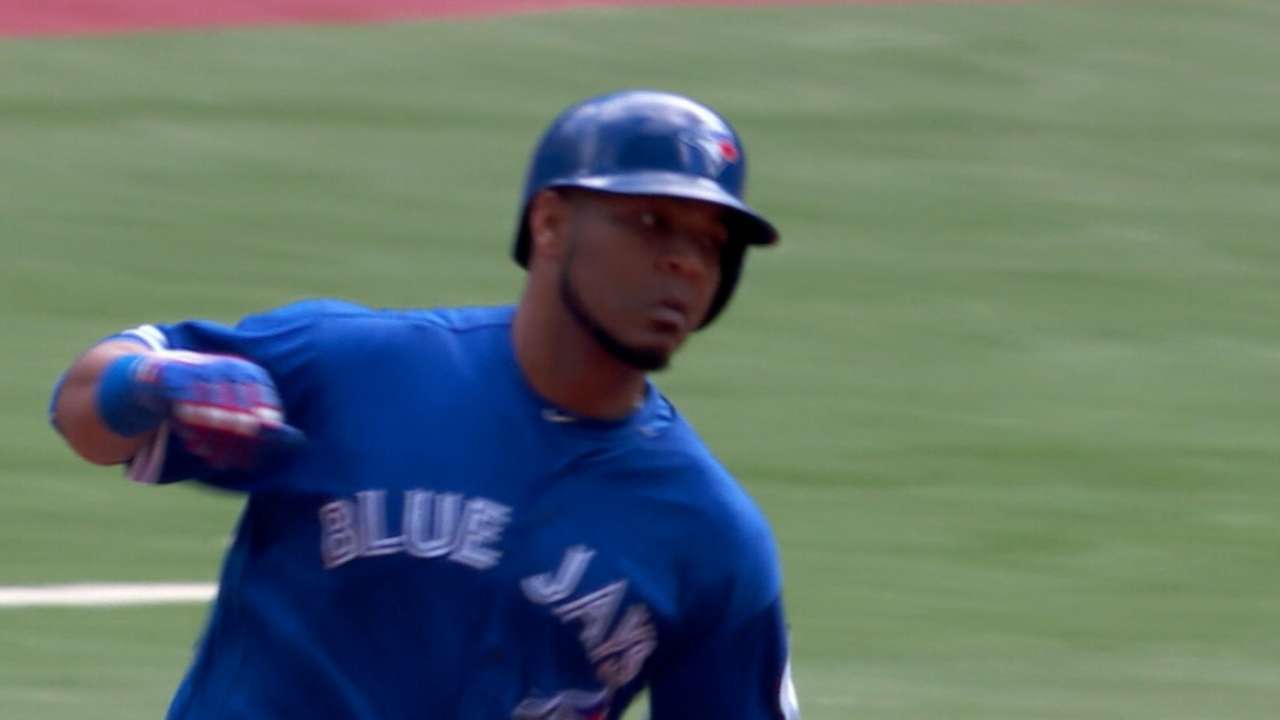 Jimenez's spot on the depth chart
A.J. Jimenez was recently added to the 40-man roster, and he is the backup catcher to starter Russell Martin. Toronto is expected to add another catcher this winter, but Jimenez might have an opportunity to compete for a job during Spring Training.
The problem is that Jimenez is out of options on his contract and cannot be sent to the Minors without clearing waivers. Jimenez faced a similar situation earlier this year, but he went unclaimed because of injuries that influenced his development over the past few seasons. In 2016, Jimenez appeared in 67 games for Triple-A Buffalo and hit .241 with a .668 OPS.
"Everything points to the strides he made, the talent he has, the need we have, as a great addition to our 40-man," Blue Jays GM Ross Atkins said. "We are looking to actively make our team better. We feel like A.J. is a great option for us, but if there's an upgrade available, we will do it."
Sanchez in the clear
Right-hander Aaron Sanchez is not expected to be under an innings limit when he reports this spring. Toronto will have to monitor his workload to protect against injuries, but there will not be a hard cap like the one he faced in 2016 that led to some talk about moving to the bullpen.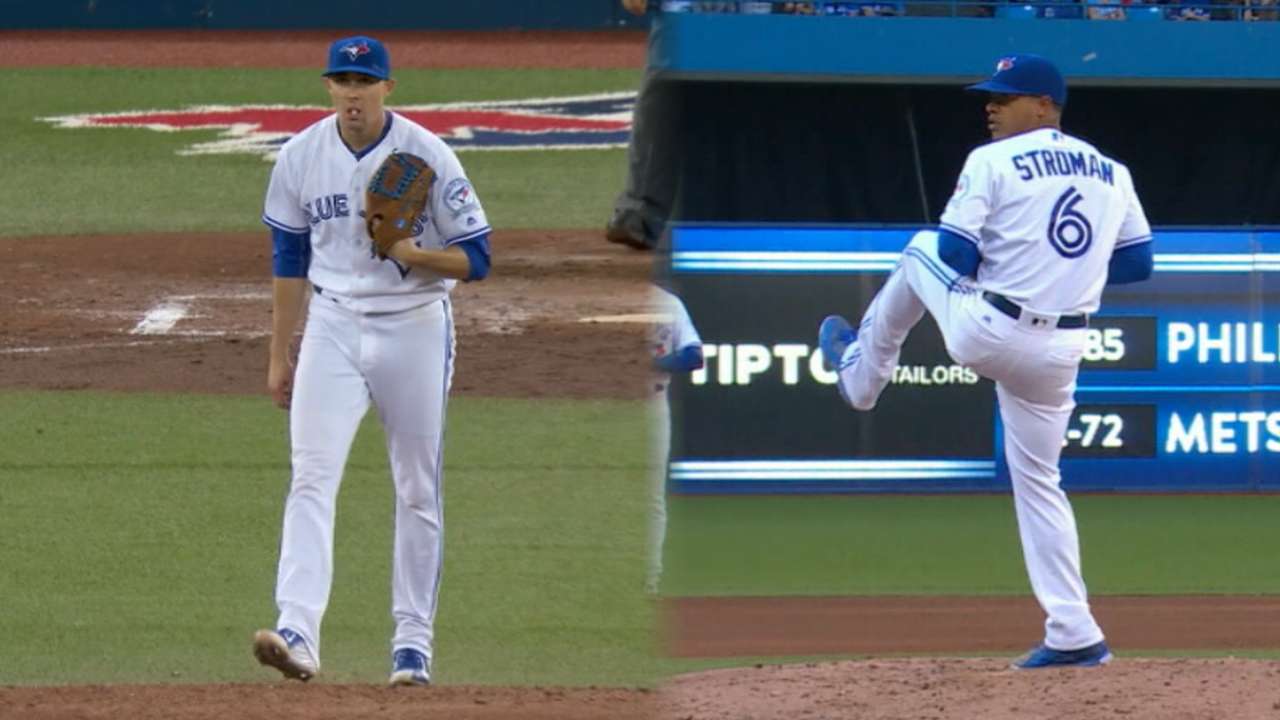 "We will do it start by start as we do for every starter," Atkins said. "Having said that, I think he's now on the same ground as the other starters.
"He did a remarkable job. He was so consistent with his work. For a player as young as he is to not only perform at the level that he did, but to raise expectations from a performance standpoint, from a team standpoint and from a durability standpoint or workload standpoint, and answer all of those expectations, it's remarkable. Whether surprised or impressed or encouraged, whatever the word is, they are all positive."
Still no surgery for Travis
Blue Jays second baseman Devon Travis was shut down in Game 1 of the American League Championship Series because of a bone bruise and a small flap of cartilage that got caught in his right knee joint. He was originally expected to undergo surgery, but that has yet to happen because the club is still gathering information on his status.
"We will circle back when we have more clarity," Atkins said. "He's optimistic. We are optimistic."
Kevin Pillar did undergo surgery in late October to repair a torn ligament in his right thumb. He is expected to make a quick recovery and he will be ready to go for Spring Training.
"It went very well," Atkins said. "The procedure went well. He should be not only be ready for Spring Training, but for a very productive offseason."
Gregor Chisholm has covered the Blue Jays for MLB.com since 2011. Follow him on Twitter @gregorMLB and Facebook, and listen to his podcast. This story was not subject to the approval of Major League Baseball or its clubs.