Giants' bullpen boasts depth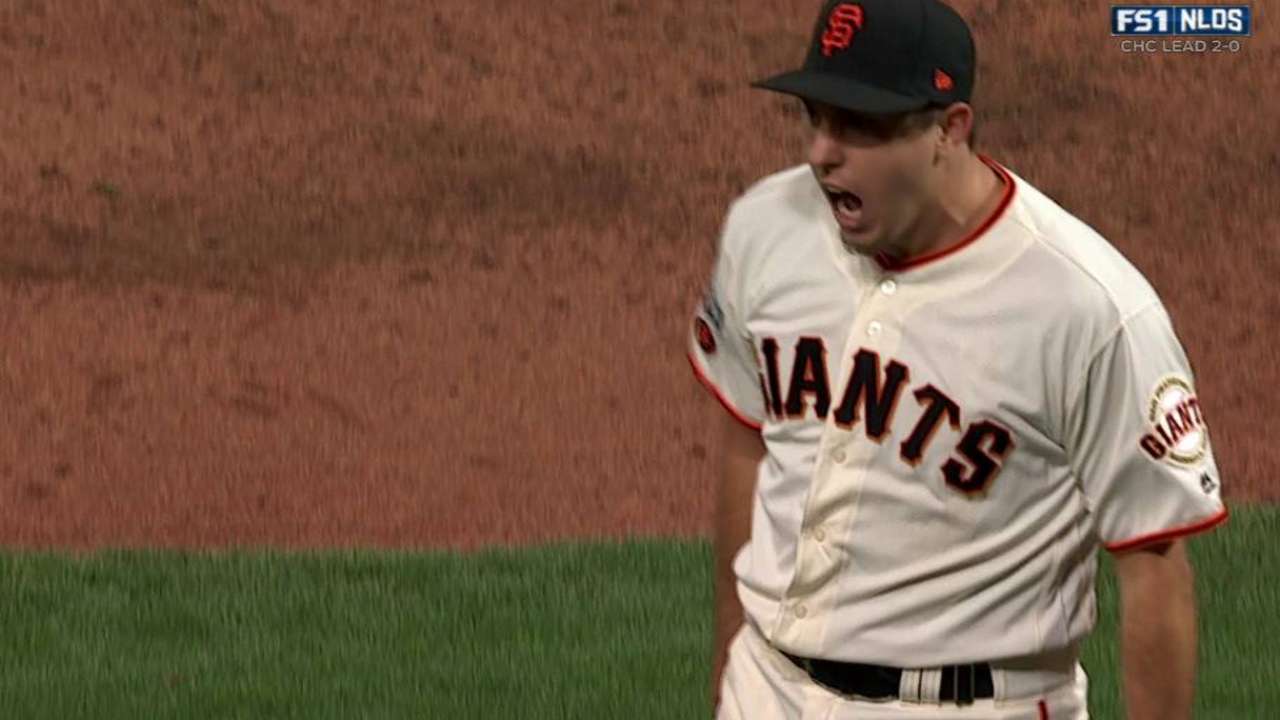 SCOTTSDALE, Ariz. -- Even though it's easy to fret about the uncertainty of the Giants' closer situation, general manager Bobby Evans has entered the offseason with quiet confidence in the trail of relievers who can deliver the ball to whomever the team signs to man the ninth inning.
Here are some of the pitchers who could be greater assets in 2017:
• Rookie right-hander Derek Law fired 50 strikeouts against nine walks in in 55 innings and finished with a 2.13 ERA in 61 games. After July 1, his ERA was a minuscule 1.04.
• Right-hander Hunter Strickland struggled (for him) to a 3.18 ERA after the All-Star break, but nothing that happened in 2016 suggests he can't return to the 9.1 strikeouts per nine innings against 1.5 walks per nine he achieved over '14 and '15.
• Lefty Josh Osich saw elevations in his ERA (4.71 vs. 2.20 in '15), WHIP (1.376 vs. 1.116) and walks per nine (1.376 vs. 1.116), plus a depression in strikeouts (from 3.38 in '15 to 1.32 in '16). But a more stable bullpen overall and a more stable left knee -- after postseason surgery to remove scar tissue -- could put him back on track.
In other words, the spending for an established closer could be big, but the task of fixing the bullpen may not be extensive. All three 20-somethings, and the rest of the 'pen, could be in for a forward step if all goes right.
"I think they do need to take the next step, but in many ways the lack of clarity that we had in the ninth probably stunted their growth a little bit, because their role became less and less defined," Evans said. "As we get clarity there, it'll help keep them progressing and performing at a level that will continue to show their value and their ability.
"Everybody wants to win that game, and [difficulties closing] can affect your game in every respect, not just on the pitching side -- on the starting-pitching side, on the offensive side. Again, we had a great first half, partly because there really wasn't any mystery to who was finishing the games."
While closer is a definite need and the offense could use a slugging outfielder, Evans has internal offseason options because the Giants have done such a solid job replenishing themselves.
"As our system developed some great starting pitching to get us through the early part of these last eight years, it allowed us to spend a little more money on our free-agent position players," Evans said. "Now, as our pitching has become more and more external and expensive, it's helped that our position players have helped balance our investment in the club. Having a home-grown infield and some young outfielders coming, and of course the leadership and depth of a homegrown catcher [Buster Posey] behind the plate solidifying our lineup, those have been huge for our success."
Thomas Harding has worked for MLB.com since 2002. This story was not subject to the approval of Major League Baseball or its clubs.