Rays' pitching attractive to other clubs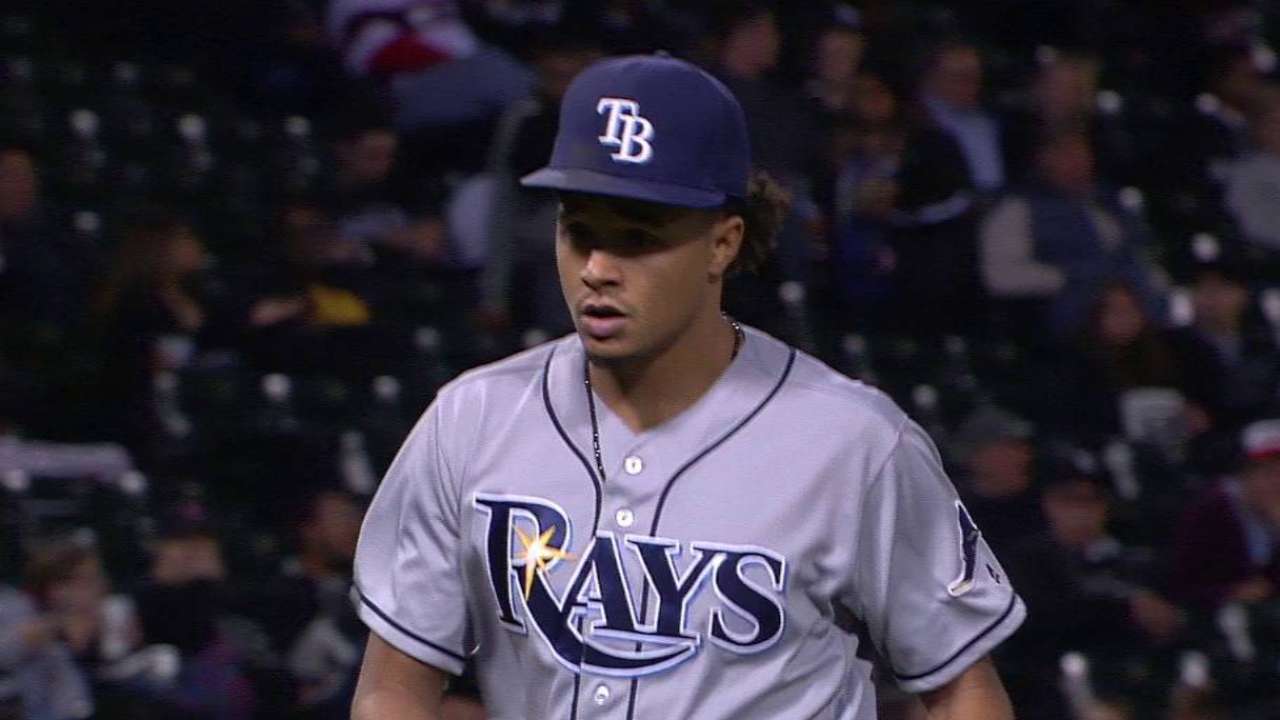 SCOTTSDALE, Ariz. -- Rays senior vice president of baseball operations/general manager Erik Neander said the fact that many clubs will be calling about right-handers Chris Archer and Jake Odorizzi is a compliment -- to his organization and to players on a team that often has to trade assets to maintain a tight payroll.
Archer is due $20.75 million in salary and buyout through 2019, while Odorizzi, righty Alex Cobb and lefty Drew Smyly are all eligible for arbitration, The Rays can't keep them all, yet they can entertain deals because the club has a tradition of developing pitchers attractive to other teams.
"We have tremendous scouting and development staffs with a lot of continuity in philosophies and in the way that we approach it," Neander said Tuesday on the first full day of the General Managers Meetings. "On some levels, it's probably snowballed a little bit in respect to the culture that's been created, not just by our staffs and the way they identify, but the players themselves.
"You see the guys that have come before, from James Shields to David Price to Matt Moore, on and on, it sets the tone, sets an example. There's a bar that's established. You see those guys every day, you develop and learn. It sets the example. You know exactly the road map that you need to take to be in position to develop on a trajectory."
In 2016, Archer's 19 losses led the American League, but he became the third pitcher in Rays history to post multiple 200-plus strikeout seasons, along with Shields and Price. Odorizzi has posted 8.0 strikeouts per nine innings and 2.5 walks per nine over the past two seasons. Quality work considering they've both been the subject of trade rumors during that span, although the Rays as an organization make it a point to not be distracted by speculation.
"In a general sense, not specific to any specific player, there's an understanding of, 'Control the things that you control,'" Neander said. "There are certain parts of this game for all of us in our respective areas that we can't control. The less time you spend stressing about those, the more time you can spend focusing on the parts of your job that you can execute and improve upon."
According to MLB.com, the Rays' biggest priority when it comes to free agency is retaining righty reliever Kevin Jepsen, and they could be in the market for outfield depth. But the potential trades of pitching could also fill those needs. The team can also decide whether to entertain re-signing free agent Logan Morrison at first base, and could look at bolstering the bullpen or possibly upgrade at catcher if a trade breaks right.
"We feel we have a strong core of talent," Neander said. "There's a path to getting us back on track and experiencing successful seasons again. Our areas of need and deficiencies are fairly self-explanatory. There's not much in the way of secrets. It's just a matter of us going into this offseason, looking at the landscape in those areas and trying to execute them.
"In our current circumstances, some things need to break your way. But when you have the core that we do, it makes it easier for some of those things to fall into place."
Thomas Harding has worked for MLB.com since 2002. Follow him on Twitter @harding_at_mlb, listen to podcasts and like his Facebook page. This story was not subject to the approval of Major League Baseball or its clubs.