Kiermaier wins 2nd straight Gold Glove Award
'He keeps finding ways to get better,' Cash says of Rays' center fielder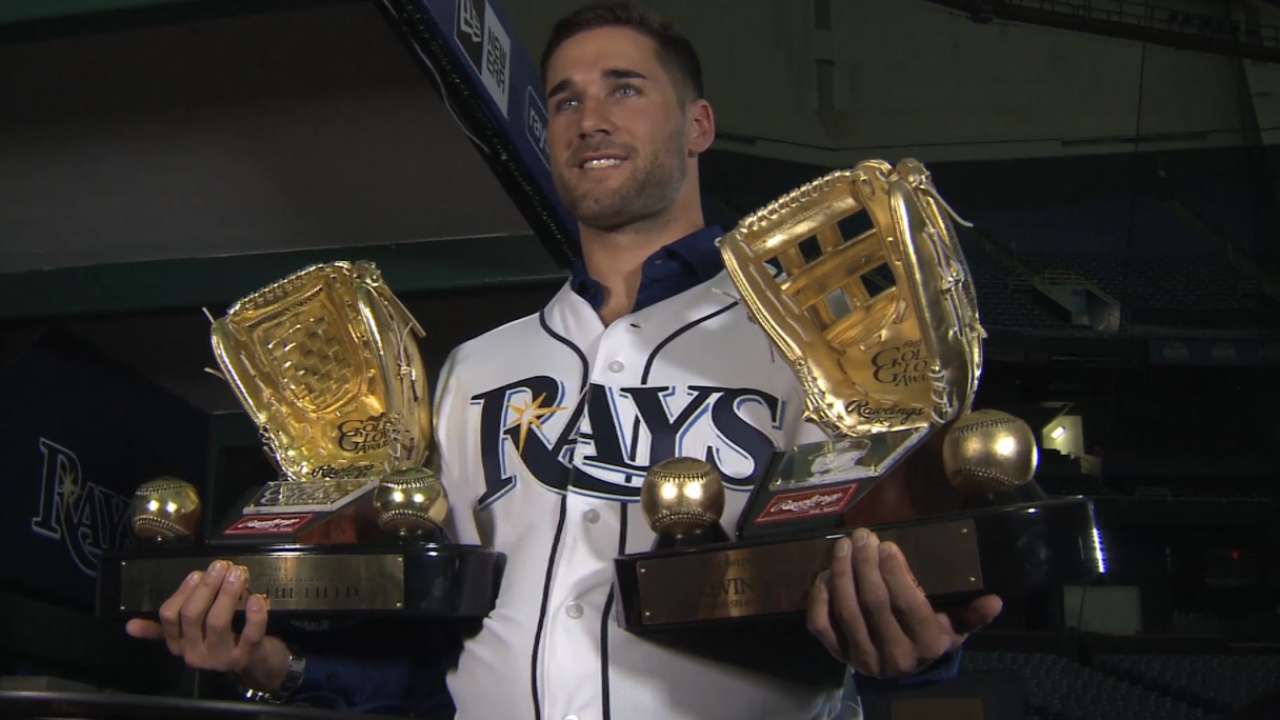 ST. PETERSBURG -- Respect is the best word to describe Kevin Kiermaier winning a second consecutive Gold Glove as the American League's best defensive center fielder.
The 26-year-old was limited to 105 games in 2016 due to injuries. Nevertheless, he minted another Gold Glove, finishing ahead of Boston's Jackie Bradley Jr. and Toronto's Kevin Pillar.
• Vote in the Esurance MLB Awards
Kiermaier told reporters that he was not surprised he won.
"I know I'm the best center fielder in the game and I didn't want to see my games missed due to my injuries [and] take this award away from me," Kiermaier said. "... I would have been OK with it. I would have understood.
"But at the same time, the coaches and managers throughout the game, along with the other 25 percent of the SABRmetrics data, backed me up enough to win this for a second year in a row. And I couldn't be more happy and honored to get it. But I'm a firm believer I'm the best center fielder in the game. And I don't even think it's close to be honest."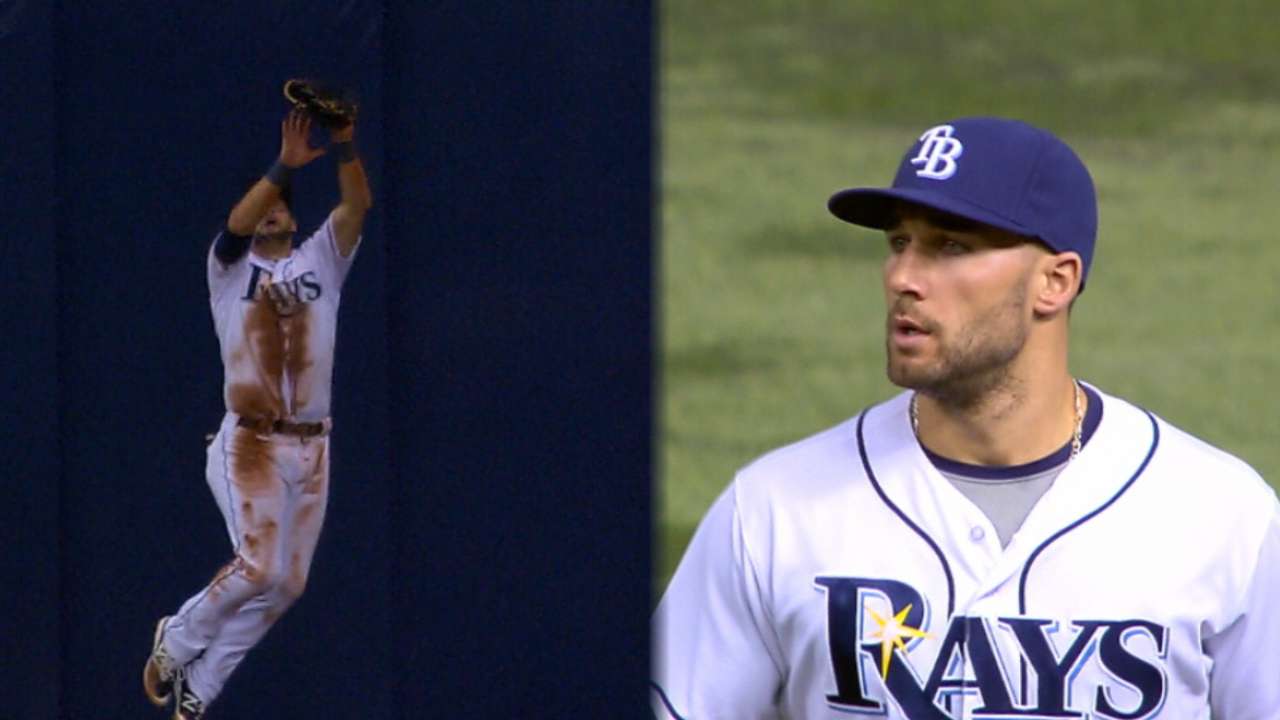 Kiermaier joins third baseman Evan Longoria ('09, '10) as the only Rays to win multiple Gold Glove Awards. Pitcher Jeremy Hellickson ('12), left fielder Carl Crawford ('10) and first baseman Carlos Pena ('08) have also won Gold Glove Awards in franchise history.
"KK continues to be the best defensive player in the game," Rays manager Kevin Cash said. "Watching him defend his position every night is a privilege for all of us. And the scary thing is, he keeps finding ways to get better."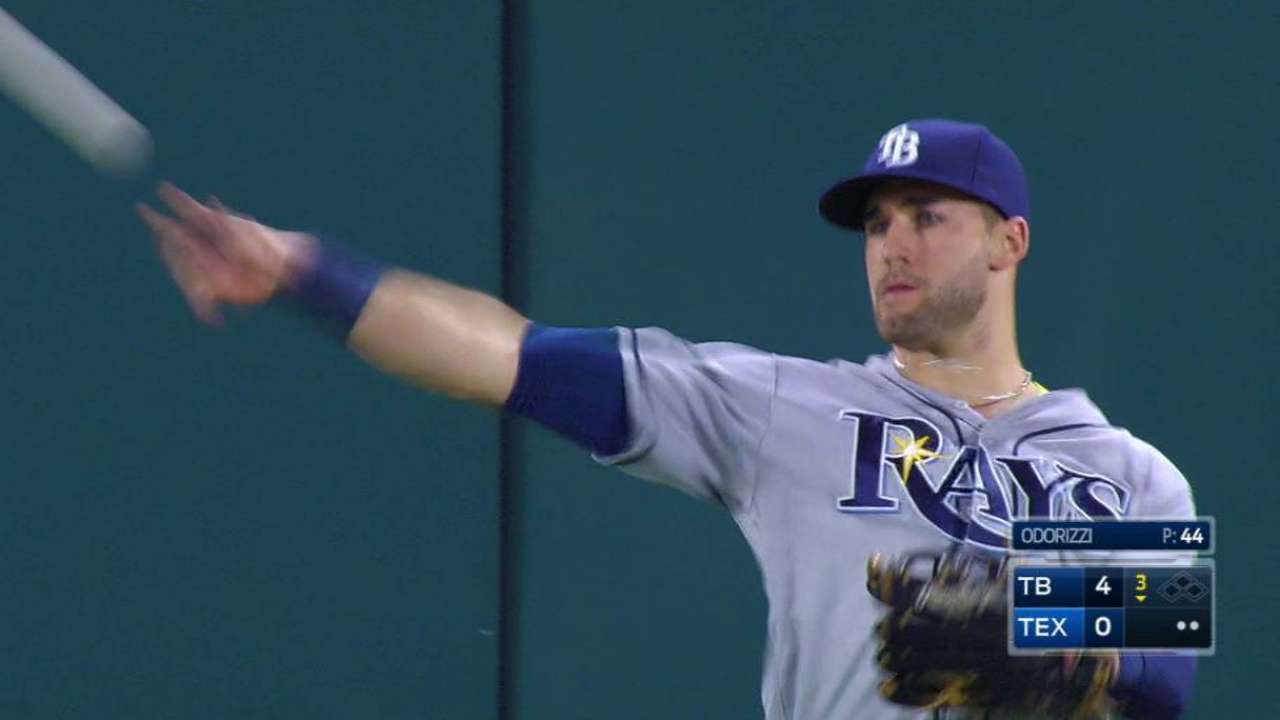 Rawlings Gold Glove Award voting consists of two components: 75 percent of the vote comes from managers and coaches, who may not vote for a player on their own team, and 25 percent comes from statistical analysis in collaboration with the Society for American Baseball Research (SABR).
Apparently, they all appreciated the value of having a defensive weapon in center field. Every night Kiermaier takes the field, fans in the stands are likely to see Kiermaier make a run-saving play with his glove or his arm.
"I'm not shocked," Rays right-fielder Steven Souza Jr., said. "I would expect him to win year after year after year. The one thing where he separates himself, there are a lot of center fielders who run down balls. But you're not running to third base, you're not running to home, no matter how good of a jump you get. He has one of the best, if not the best arms in the outfield. So it's a big congratulations to him, and I wouldn't be shocked if he won 10 more."
Without Kiermaier this season, the Rays went 14-34. Numbers crunchers can quantify his impact as well.
Kiermaier led the American League in defensive WAR for a second consecutive year at 3.0. And, according to FanGraphs, his 25 defensive runs saved led all Major League center fielders and ranked second among all players behind Boston's Mookie Betts (32). However, it should be pointed out that Betts, who plays right field for the Red Sox and also won a Gold Glove Award, played in 158 games.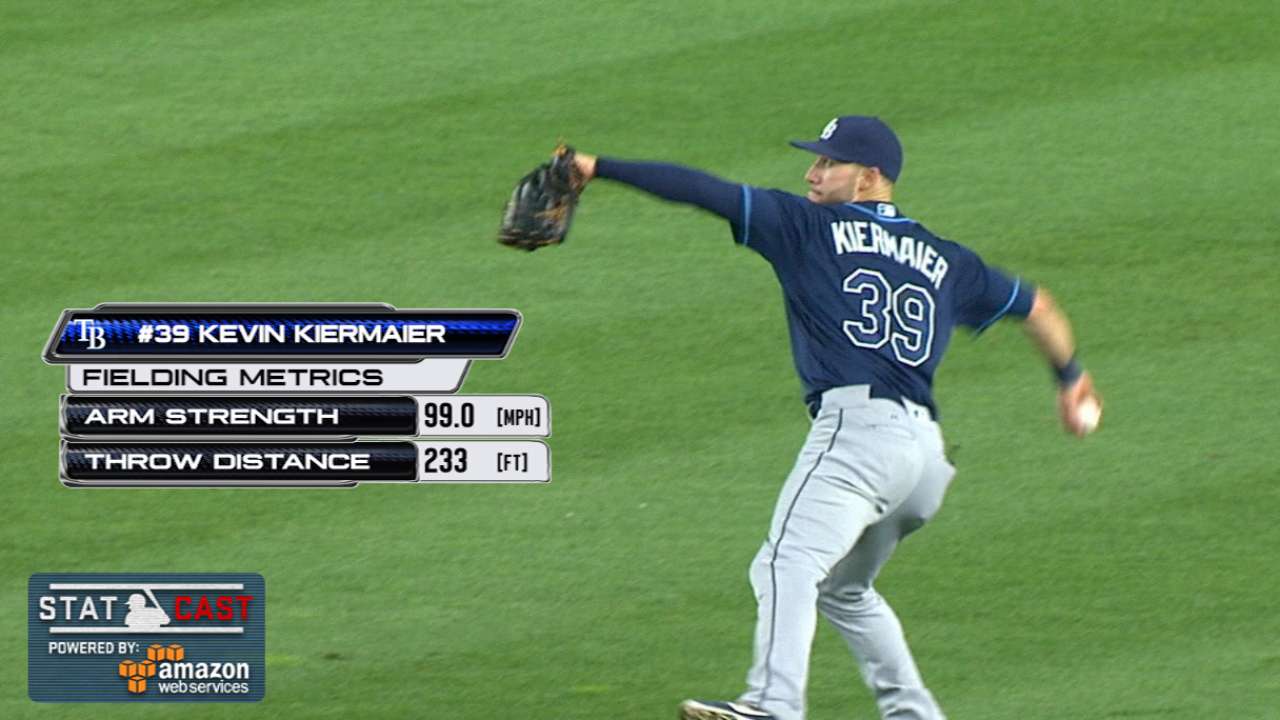 The breakdown for that difference: Kiermaier saved 25 runs in 872 1/3 innings, while Betts saved 32 in 1,381 2/3.
Pillar also finished in the top five among AL DRS leaders with 21 (in 1,293 innings), while Bradley did not rank in the top five.
"In my opinion, I don't think there's a center fielder who compares to him," Souza said. "He makes everybody around, him even the infielders, better. I know having him out there allows me to cheat a certain way because of the room he can cover. When you have that ability to take away another advantage, he can cover so much ground, it just makes everybody around him better."
Kiermaier returned from the disabled list for the Rays' first game after the All-Star break. In the second half, his seven outfield assists tied Jake Marisnick (Astros) for most among AL center fielders, and his 175 putouts ranked second to Leonys Martin (192) of the Mariners.
Kiermaier is the first AL center fielder since the awards were first presented in 1957 to claim the Gold Glove in each of his first two full seasons in the Major Leagues. The only other AL outfielder to do that was Mariners right fielder Ichiro Suzuki in 2001-02.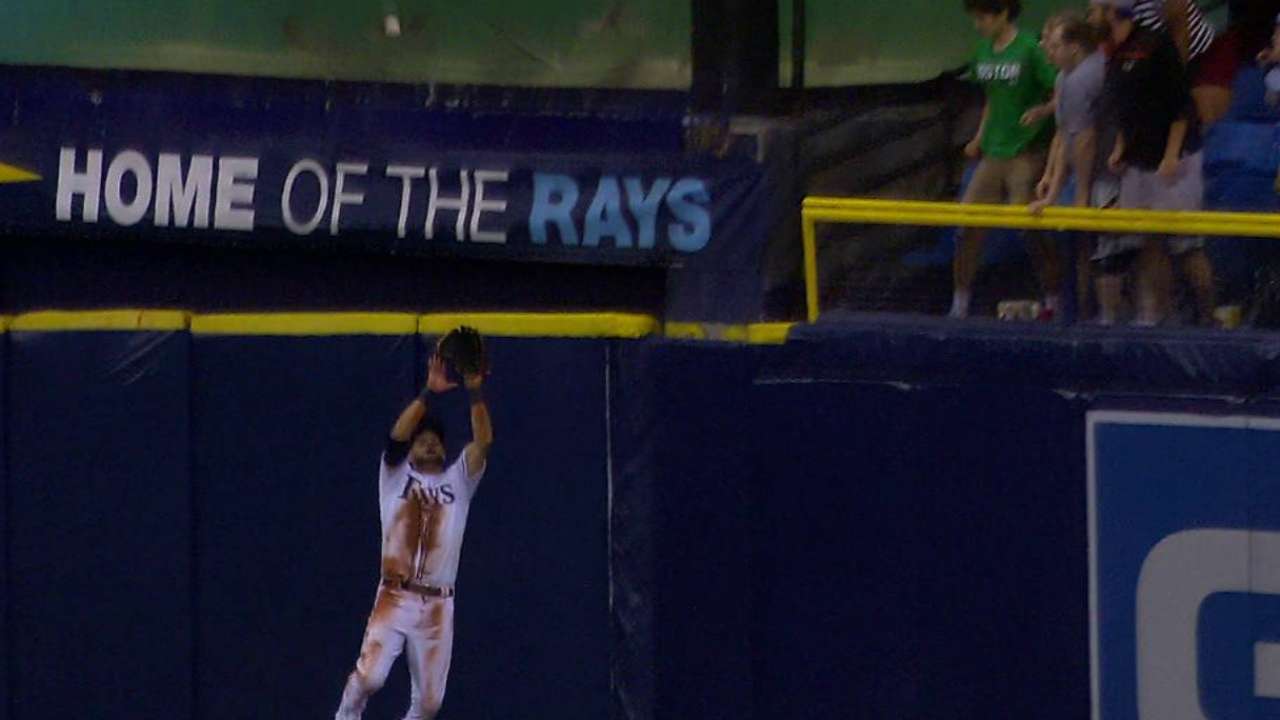 Kiermaier gave special thanks to outfield coach Rocco Baldelli.
"We've just created a great relationship between us the past two years, and I can't thank him enough for the things he does for me," Kiermaier said. "He moves me around out there, especially during big-game situations.
"... I trust him, [he has] so much baseball knowledge [and] such a high baseball IQ, so I'm always looking in there to see where he wants me to play. I would say we're pretty successful with what we've done the past two years. I just can't thank him enough and how he makes himself available to me, literally, each and every day."
Kiermaier is one of eight players to win a Gold Glove after being drafted in the 30th round or later, and he's the sixth of those to win it more than once, joining first baseman Keith Hernandez (11 Gold Gloves, 42nd round, 1977), pitchers Kenny Rogers (five, 39th round, '82) and Mark Buehrle (four , 38th round, '98), second baseman Orlando Hudson (four, 43rd round, '97) and catcher Brad Ausmus (three, 48th round, '87).
Fan voting for the Rawlings Platinum Glove Award is now underway and ends Wednesday at 9 p.m. at rawlings.com.
The Platinum Glove is given to the best defensive player in each league. Kiermaier won the award in 2015.
Bill Chastain has covered the Rays for MLB.com since 2005. This story was not subject to the approval of Major League Baseball or its clubs.