Kinsler wins first Gold Glove in career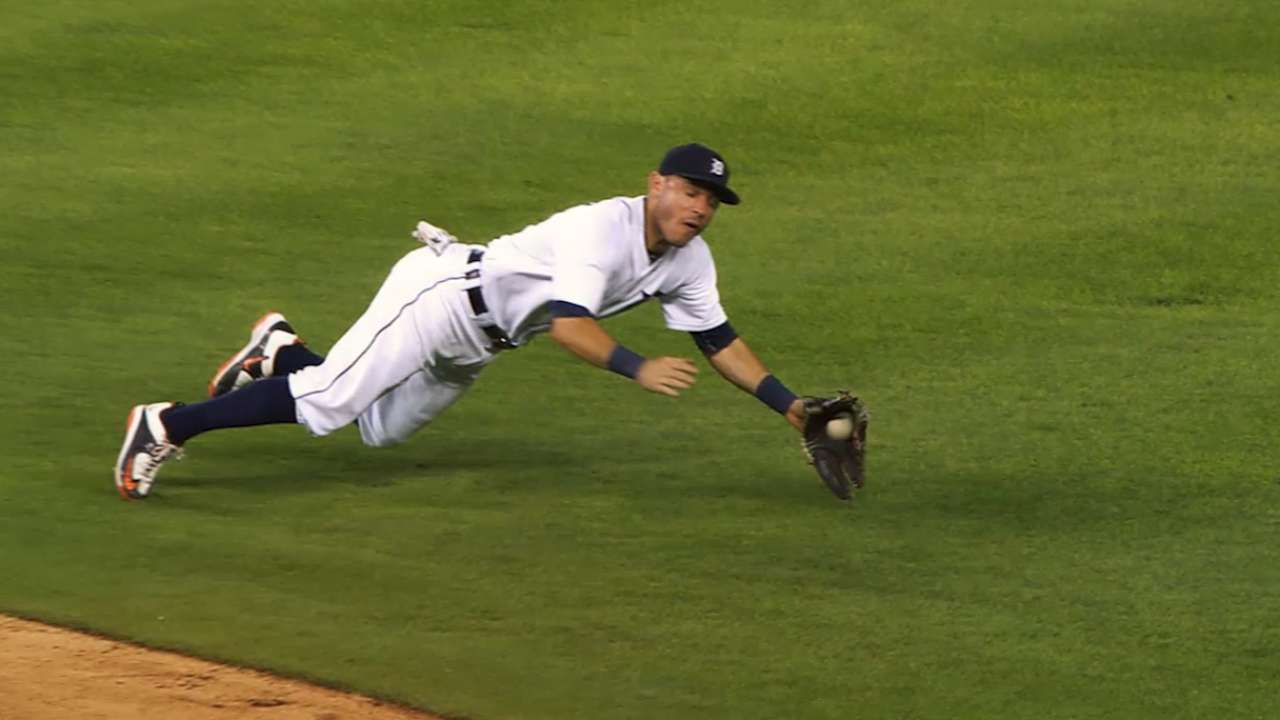 DETROIT -- Ian Kinsler finally has the Rawlings Gold Glove Award he has been flirting with for years. And with his first career honor, the Tigers have a Gold Glove infielder for the first time since 2009.
After seemingly being doomed as a perennial finalist without getting the top honor, Kinsler won the nod as the American League Gold Glove second baseman, beating out longtime rivals Dustin Pedroia and Robinson Cano.
"It's very rewarding," Kinsler told MLB.com via text message. "I work hard at being really good at every aspect of the game, and have put in a lot of hard work over the years."
• Vote for the MLB Awards' Best Defensive Player
Kinsler becomes the first Tigers Gold Glove infielder since Placido Polanco won the honor at second base in 2009. Kinsler did not have company, as Tigers teammates Justin Verlander, James McCann and Jose Iglesias lost out at their respective positions despite being finalists.
Kinsler has been a Gold Glove finalist all three years he has been a Tiger. Despite leading his position in Defensive Runs Saved the last two years, he lost out to Pedroia in 2014 and Jose Altuve in 2015. His case this season wasn't quite as clear; he finished tied with Pedroia at 12 DRS while trailing Pedroia in Ultimate Zone Rating.
Major League managers and coaches, voting only within their league and unable to vote for players on their own teams, account for 75 percent of the selection process. The other 25 percent goes to the sabermetrics community.
"Can't change the past," Kinsler told MLB.com. "There are a lot of good players in this league. Just happy to win the first one."
Kinsler made a point to credit Tigers defensive coordinator Matt Martin for helping him improve, not just with the physical work in infield practice, but also with mental approach.
"Matt Martin has really helped me with slowing down the game," Kinsler said. "That needs to be said."
The Tigers as a team can take some pride in Kinsler's award. Until Yoenis Cespedes won the AL Gold Glove in left field for his half-season in Detroit last year, the Tigers hadn't had a Gold Glove winner since Polanco in 2009. Defensive improvement has been a priority for the Tigers the last few years. Kinsler has been at the head of that effort ever since the Tigers acquired him from Texas after the 2013 season.
"It means a lot," Kinsler said on ESPN. "It's one of those trophies that I saw Roberto Alomar and Omar Vizquel and Ken Griffey Jr. hoist multiple times when I was a kid growing up. It's such a beautiful trophy. It's one of those trophies that as a kid you dream of winning one day."
Jason Beck has covered the Tigers for MLB.com since 2002. Read Beck's Blog, follow him on Twitter @beckjason and listen to his podcast. This story was not subject to the approval of Major League Baseball or its clubs.