Padres laying groundwork for busy offseason
Preller discussing potential trades at General Managers Meetings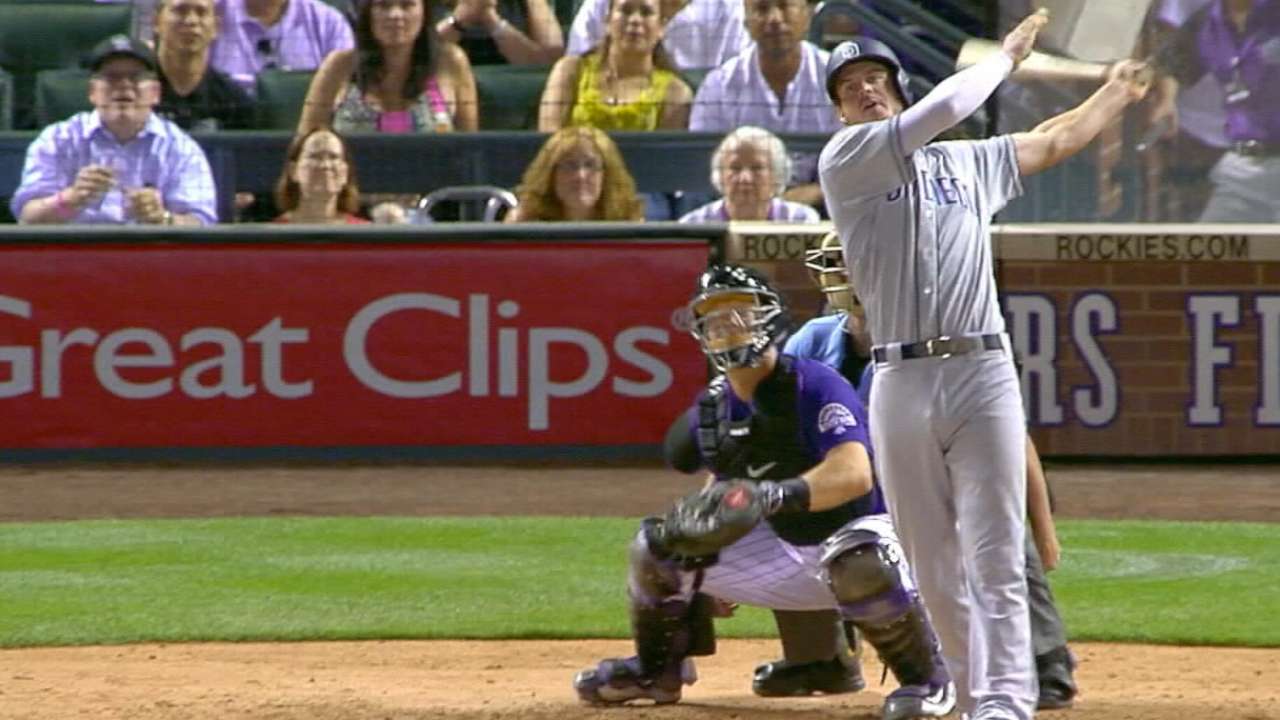 SCOTTSDALE, Ariz. -- By the end of this week, Padres general manager A.J. Preller expects to have spoken with all 29 other teams regarding offseason trade possibilities.
Preller had some catching up to do following his 30-day suspension for undisclosed medical information in the July trade of Drew Pomeranz to Boston. He said he hasn't noticed a difference in his interactions with rival executives since his return last month.
"By the end of this week, we'll try to check in with everybody -- or have somebody from the other clubs check in with us," Preller said, speaking at the General Managers Meetings. "Then you have a full landscape of exactly who's looking for what and where we might match up."
As for his relationship with the Red Sox, Preller said he spoke with Red Sox president Dave Dombrowski when Boston came to Petco Park in September. That was before the suspension was handed down, but well after MLB had begun investigating the matter.
"I had the chance to talk to Dave Dombrowski at that time," Preller said. "I think really we've kind of viewed it as we've dealt with what we've had to, in terms of making sure that we're through the situation. We're going to be clearly in compliance. ... We're really just looking forward at this point."
Bullpen arms being shopped
Preller has fielded calls about the trio at the back end of his bullpen -- Brandon Maurer, Ryan Buchter and Brad Hand. All three are under team control through at least 2019, so the Padres are in no rush to deal any of them.
Buchter posted a 2.86 ERA with 78 strikeouts in 63 innings in 2016, his first full season. Maurer struggled a bit with a 4.52 ERA, but he's only 26. And Hand might be the hottest commodity of the three, coming off a year in which he led the Majors with 82 appearances while posting a 2.92 ERA. Among lefty relievers, only Andrew Miller had more strikeouts than Hand's 111.
"There's definitely been clubs checking in on our bullpen," Preller said. "They saw the job that a few of those guys did this past year. And teams are coming off the postseason where you're looking for 'pen pieces.
"There's probably a limited free-agent market in terms of starting pitching, so everybody's looking for a different way to contend and compete. My guess is those guys are going to be in demand."
Preller feels as though the Padres would be dealing from a position of strength when it comes to the bullpen. He expects right-hander Carter Capps -- who underwent Tommy John surgery in March -- to be ready by Opening Day, potentially filling one of those late-inning roles. And youngsters Phil Maton and Jose Torres -- currently pitching in the Arizona Fall League -- could also compete for roster spots.
Padres in the market for a shortstop
Luis Sardinas is one of the biggest question marks on the roster, as the Padres remain unsure whether the 23-year-old shortstop can handle a full-time workload.
The Friars acquired Sardinas in August, supplanting Alexei Ramirez, and Sardinas batted .287/.353/.417 in 108 at-bats for San Diego.
"We're still looking for the answer there," said Preller. "We went through last year with Alexei, a more stop-gap-type option. We made the Sardinas acquisition at the end of the year. He had good ABs. There were some positives there, but I think that's still an area that we're looking at improving."
The shortstop market is notably thin, with Ian Desmond and Erick Aybar as the only prominent options. Preller also hinted he could look to fill that void via trade.
The Padres have a number of shortstops in their farm system -- including No. 7 prospect Javier Guerra, No. 11 prospect Luis Urias, No. 12 prospect Jose Rondon and recent international signings Luis Almanzar and Gabriel Arias. But only Rondon has the chance to be big league-ready by 2017.
"Throughout the system, we have depth," Preller said. "We have guys that we think are going to be good. But in terms of in the short-term, in the next year or so, that's an area that we're looking to address."
AJ Cassavell covers the Padres for MLB.com. Follow him on Twitter @ajcassavell. This story was not subject to the approval of Major League Baseball or its clubs.