A's keep options open at GM Meetings
Forst isn't ruling out trades, free-agent signings this offseason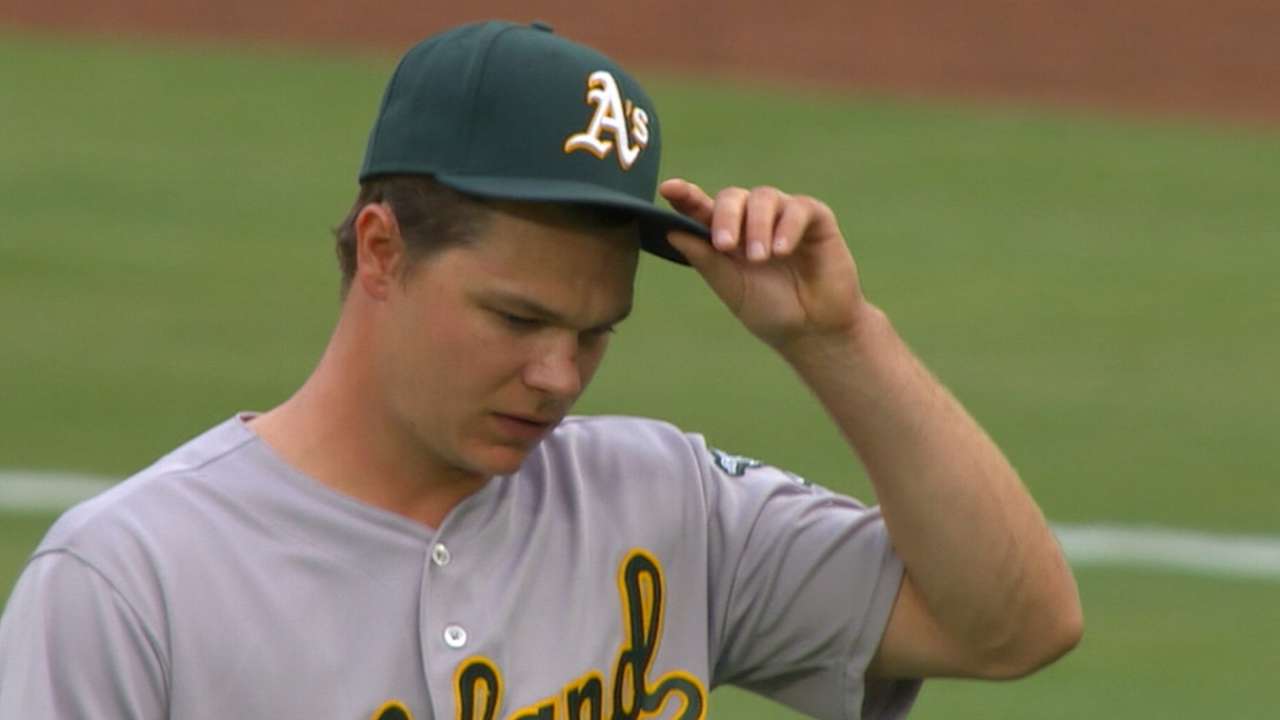 SCOTTSDALE, Ariz. -- The A's are coming off their second consecutive last-place finish in the American League West and the club is keeping an open mind this offseason.
"We have a lot of work to do and a lot of places we can improve. I think we will probably be open to anything at this point, trade discussions and free agency," A's general manager David Forst said on Tuesday at the General Managers Meetings. "We are in a really good division and have a lot of work to do to catch up to the guys at the top."
The A's don't usually participate in the market for free agents who come with Draft pick compensation attached, but Forst hasn't ruled out the possibility of such an acquisition this offseason. Signing a high-priced free agent to a multi-year deal is not out of the question, either.
"We have the resources and the payroll flexibility, but it has to match up with what our team is," Forst said. "We have a good young pitching staff that's coming, but may take some time to develop. We have some more position players in the Minor Leagues, but everything has to come together at the right time. It's all about matching that timetable. Are we going to compete this year or do we want create a larger window?"
When the A's can compete will be determined over the next few months. What's certain is that the club will keep an eye on the market for a veteran starter, but it won't look too hard. Forst knows his team will go as far as his young pitching staff takes it.
"If you think about [Sonny Gray], [Kendall Graveman], [Sean Manaea], [Daniel Mengden], [Jharel Cotton], [Frankie Montas], we like the foundation of our pitching staff, and you have to be patient with them," he said. "Ultimately, if we are going to succeed, it's going to be on the backs of our starting pitching. That's how it always is."
The outfield also remains an area of need. The internal options include Mark Canha, Jake Smolinski, Danny Valencia, Brett Eibner and, possibly, Matt Olson, who is believed to be a better option at first base. The club could look outside the organization to players like Dexter Fowler, Ian Desmond and Carlos Beltran. A reunion with ex-Athletics Rajai Davis and Brandon Moss, as well as Austin Jackson, could also be in play.
"Other than [Khris Davis] in left field, we have to figure out what the options are," Forst said. "We played a couple of different guys in center last year. Danny [Valencia] played a decent amount in right and showed he can do that. But we have to figure out the right mixes for center field and right field."
Jesse Sanchez is a national reporter for MLB.com based in Phoenix. Follow him on Twitter @JesseSanchezMLB and Facebook. This story was not subject to the approval of Major League Baseball or its clubs.