Tribe plans to use FA to complement, not build team
Despite additional revenue from postseason run, Cleveland not expected to make blockbuster acquisitions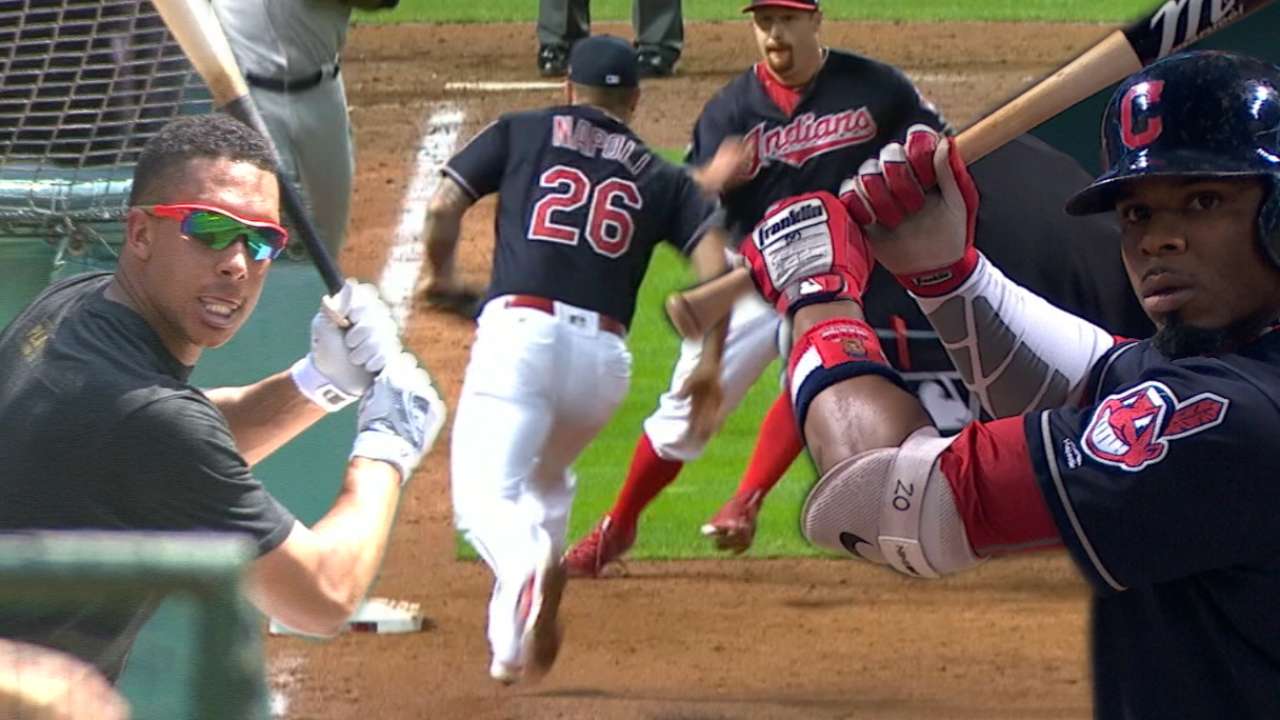 CLEVELAND -- The Indians came within one victory of winning the World Series, and they did so with a team that was mostly homegrown. Beyond the one-year contracts for veterans Mike Napoli and Rajai Davis -- both free agents this offseason -- Cleveland's roster was cultivated through the MLB Draft, trades and low-level signings.
As free agency opens, the Tribe will maintain the same approach, even with some additional revenue coming in following the team's deep postseason run. Cleveland is confident in its ability to contend again in 2017, considering the bulk of its roster is set to return. If the team targets any free agents, it will likely be to address peripheral needs rather than to make any blockbuster acquisitions.
"We're always looking to be aggressive in finding ways to improve the team," said Chris Antonetti, the Indians' president of baseball operations. "Building a team through free agency is not something we're going to do. That's just not who we are. That's not a formula for success for us in our circumstances.
"We have a really good group of players that will be the foundation of our team, and we will continue to use free agency to identify guys that complement that group and can help enhance our competitiveness."
Cleveland's formula for success is easily identified when breaking down its 40-man roster.
Of the 38 players currently on the roster, 17 were originally selected by the Indians in the Draft. Highlighting that list are Cody Allen, Jason Kipnis, Francisco Lindor and Tyler Naquin. Cleveland used trades to acquire 13 rostered players, including Trevor Bauer, Michael Brantley, Carlos Carrasco, Corey Kluber and Carlos Santana. Five others (Jose Ramirez and Danny Salazar included) were signed as non-drafted free agents. Three were originally signed to Minor League contracts.
Last offseason, the Indians used short-term pacts to reel in Napoli (who led the team with 34 homers and 101 RBIs) and Davis (who led the American League with 43 steals). Cleveland opted against extending either player a $17.2 million qualifying offer for 2017, but it has maintained an interest in keeping talks open with both. Otherwise, the Indians will probably look for replacements on similar deals.
• Tribe could see free-agent departures on offense
According to MLB.com's Jon Morosi, the Mariners are one team that is showing early interest in Napoli. If the slugger were to go elsewhere, one free agent that could be on Cleveland's radar is switch-hitter Kendrys Morales. This past season, Morales had 30 homers, 93 RBIs and a .795 OPS for Kansas City, which declined to extend him a qualifying offer. The Yankees, Blue Jays, Red Sox and Royals have been linked to Morales already in various reports.
One thing the Tribe is keeping in mind is that the roster should be in better shape at the start of 2017 than it was at the end of this season. Brantley had surgery to address a right biceps issue on Aug. 15, but he is expected to make a full recovery in time for Spring Training. Carrasco and Salazar -- taken out of the postseason rotation mix due to health woes -- will be ready for the start of the year, too. Catcher Yan Gomes, who played with a fractured right wrist in the playoffs, could also be in line for a bounceback campaign.
"We believe we're in a position to contend for a while," Antonetti said. "One of the things we're most encouraged about is the nucleus of our team will be here for the foreseeable future. We are potentially losing key guys in Raj and Mike, but beyond that, we've got a lot of guys that are going to be here for a while.
"And that was a group of guys that found a way to win a lot of games this year and win the AL Central and advance deep into the postseason. It's a good position to go into the offseason. At the same time, we'll be aggressive in looking to complement that group."
As things currently stand, the Indians have $58.5 million tied up in eight guaranteed contracts for next season. Cleveland also has 11 players eligible for arbitration, which could lead to another $25-30 million in combined salaries for the 2017 campaign. While the ceiling of the Tribe's player payroll for next year is not currently known, it could exceed $100 million.
Antonetti noted that Cleveland's postseason success "certainly will help" the payroll situation for next year. The addition of a minority owner -- vice chairman John Sherman -- is not expected to have as much of an impact on the Indians' payroll as the additional revenues.
"As [Indians part-owner/CEO Paul Dolan] has said, that's not going to fundamentally change how we operate," said Antonetti, referring to adding a minority owner this year. "But to the extent our revenues increase, whether it's through postseason ticket sales or increased ticket sales for next year, that will have a positive impact on it."
Jordan Bastian has covered the Indians for MLB.com since 2011, and previously covered the Blue Jays from 2006-10. Read his blog, Major League Bastian, follow him on Twitter @MLBastian and listen to his podcast. This story was not subject to the approval of Major League Baseball or its clubs.