Bridging gap to Kimbrel a prime focus for Sox
Boston also monitoring anticipated returns of Sandoval, Swihart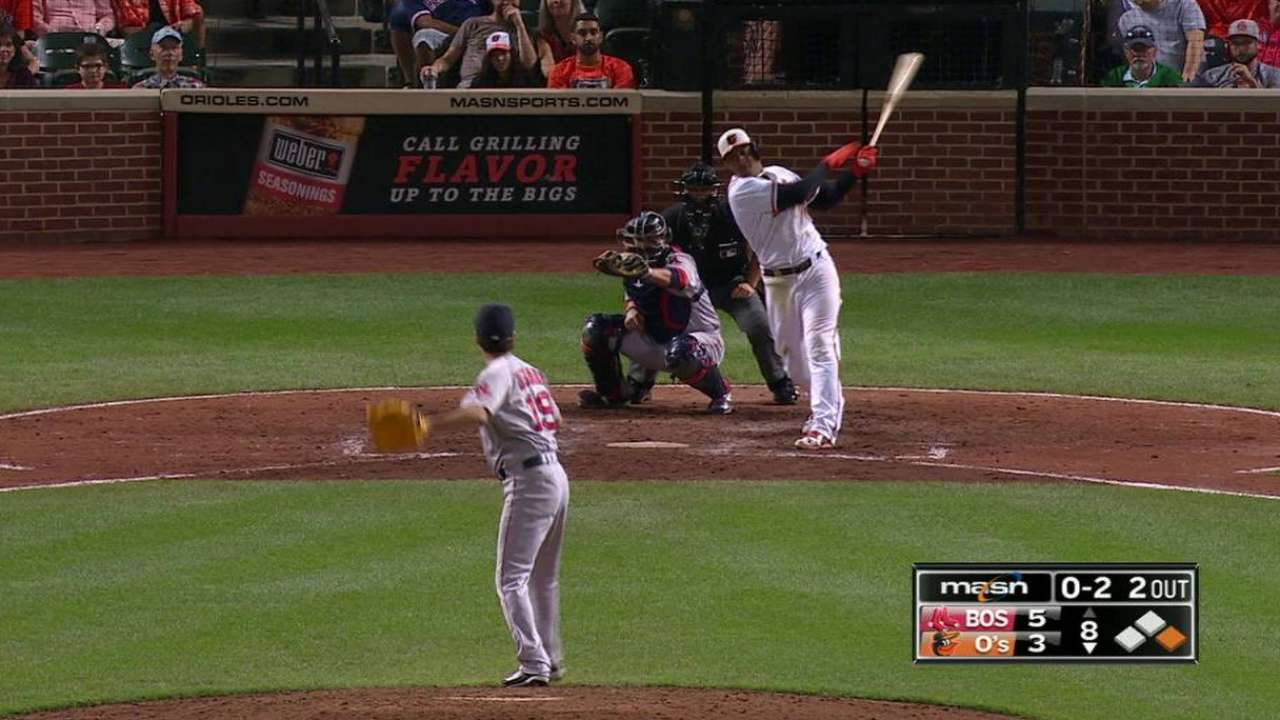 Though the Red Sox could lose three free-agent relievers (Koji Uehara, Junichi Tazawa and Brad Ziegler), president of baseball operations Dave Dombrowski might be inclined to acquire just one.
And that acquisition figures to be someone who has experience pitching the eighth inning.
"I think all along, we've talked about wanting someone to pitch in the eighth inning for us," Dombrowski said. "We have some guys that we really like in our 'pen, but none of them have really pitched the eighth inning. They probably have the skills and abilities to do it, but that would probably be -- first and foremost -- a thing of focus for us."
Matt Barnes, Joe Kelly, Robbie Ross Jr. and Heath Hembree all figure to be part of the setup crew in front of All-Star closer Craig Kimbrel. Clay Buchholz proved comfortable in a bullpen role down the stretch last season, and he could wind up back in that role if the rest of the rotation stays healthy.
"And right now, we have six starters, so somebody has to slide into the bullpen if everybody's healthy," Dombrowski said. "... We feel like everyone will be healthy going into Spring Training."
There are some prominent closers on the market in Aroldis Chapman, Kenley Jansen and Mark Melancon. But it doesn't sound like anyone from that trio will wind up with the Red Sox.
"Well, I guess right now, we're just open to anything," Dombrowski said. "I'm not saying we're going to target those [closers]. There's a lot of clubs looking for closers, so I assume a lot of those players would go to those clubs. At this time of year, we don't know what's going to happen. There are a lot of bullpen people out there right now."
Worth noting
• It is becoming increasingly clear that Pablo Sandoval will get every opportunity to win back the job of starting third baseman, which he lost last Spring Training to Travis Shaw. Sandoval sustained a season-ending left shoulder injury shortly thereafter.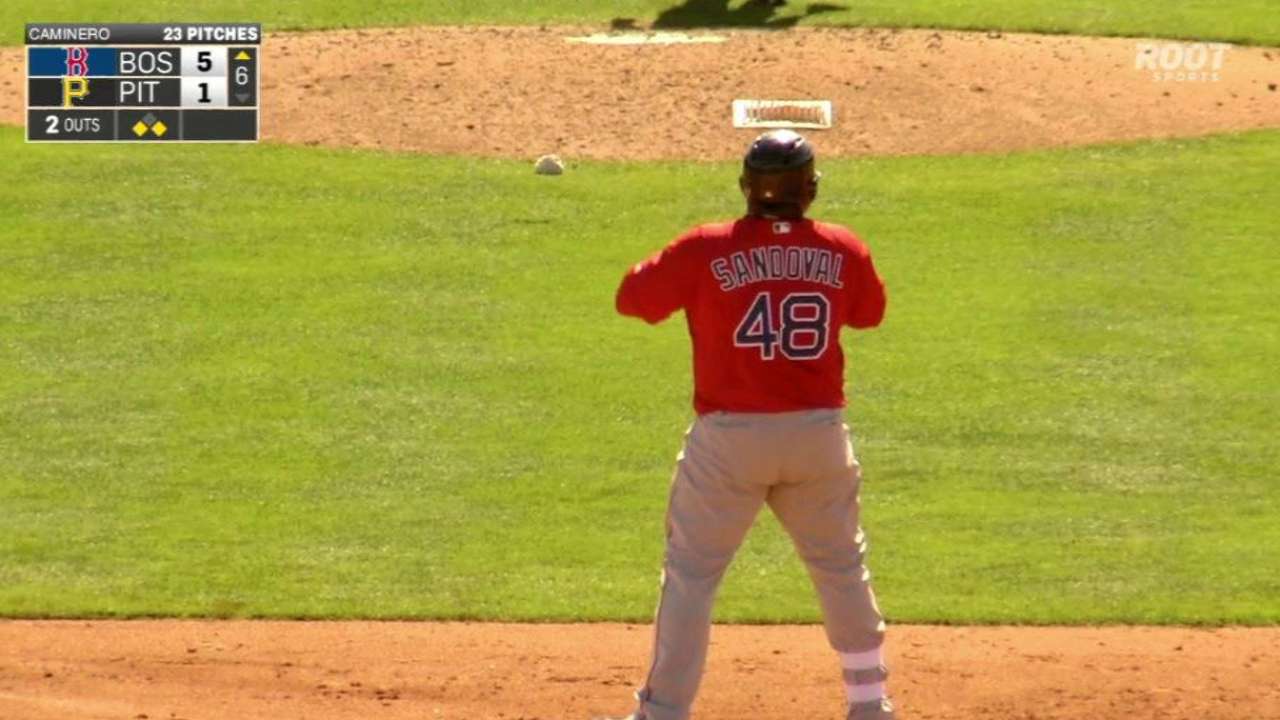 "All of a sudden, we have Pablo back at third base," said Dombrowski. "I'm not saying he's the third baseman, but he has the capability of being the third baseman. He's ready to go and he's an established guy.
"I give him credit. He worked on dietary aspects of his life. He did a lot of things. He really worked on his whole, total self. He's really taken tremendous strides. He's had a great attitude. He was great down there with the young kids. I look forward to him coming to camp."
• Another player coming off a season-ending injury is Blake Swihart, who had left ankle surgery following a mishap while trying to make a catch against the Green Monster. Swihart, who transitioned to left field shortly before that injury, will come to camp as a catcher. Sandy Leon is the favorite to be the starter, but Swihart and Christian Vazquez could change the narrative by their play. Vazquez is out of Minor League options.
"We told Blake when he left, and we assume he's going to be healthy and he's had encouraging signs he will be, that he's coming to camp as a catcher," Dombrowski said. "And we look at him as a catcher long term. He can go to left field and probably other places too, but we look at him as a catcher at this point."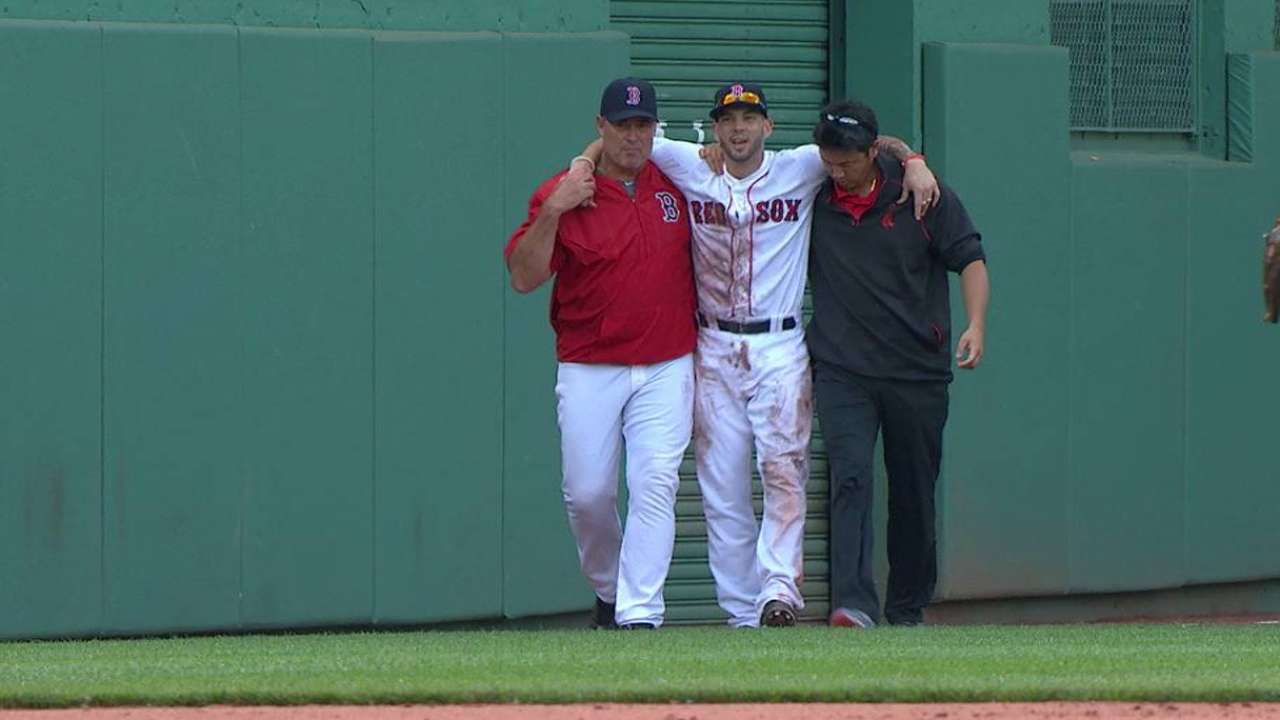 • In light of top prospect Yoan Moncada's struggles at the plate after he was called up in September, the Red Sox are clearly taking a more conservative approach entering 2017. At this point, Moncada projects to start the season at Triple-A Pawtucket.
"In July, we would have said we thought he would be ready for the big leagues this year to play," said Dombrowski. "And we still love his abilities the same amount, but we all saw the same thing as far as the exposure to seeing a steady diet of offspeed pitches and breaking balls, changeups in any counts."
"I think he would be able to play third base well enough with a month of Spring Training. He also does have versatility, too, if we needed that. But right now, I would say his bat probably needs some more seasoning at the Minor League level, but I've also seen very talented individuals like him come on very quickly. I would say if we were starting the season tomorrow, my plans would be probably to have him start at the Minor League level."
Ian Browne has covered the Red Sox for MLB.com since 2002. Follow him on Twitter @IanMBrowne and Facebook. This story was not subject to the approval of Major League Baseball or its clubs.