MLB.com Columnist
Phil Rogers
McLeod proud to be part of Cubs' historic title
Senior VP of player development and amateur scouting has deep ties with Rizzo, Bryant
CHICAGO -- Pick a moment, almost any moment.
Whether in the drought-busting, nerve-fraying, 10-inning victory in World Series Game 7 last Wednesday or earlier in the Cubs' 26-day postseason, there were dozens of moments -- big and little -- that showed how well club president of baseball operations Theo Epstein, general manager Jed Hoyer and Jason McLeod have chosen their players, and why this collection of talent is built to last.
McLeod, the Cubs' senior vice president of player development and amateur scouting, appreciated everything that happened in October and early November. One moment he'll never forget was the last out in the World Series, when Kris Bryant gobbled up a ground ball from the Indians' Michael Martinez and threw across the Progressive Field infield to Anthony Rizzo.
• Shop for World Series champs gear
"It's hard to put it into words," McLeod said. "I know there's a ton of scouts, development people throughout the organization who feel really good right now, as they should. Everyone's played a part getting us to where we are.''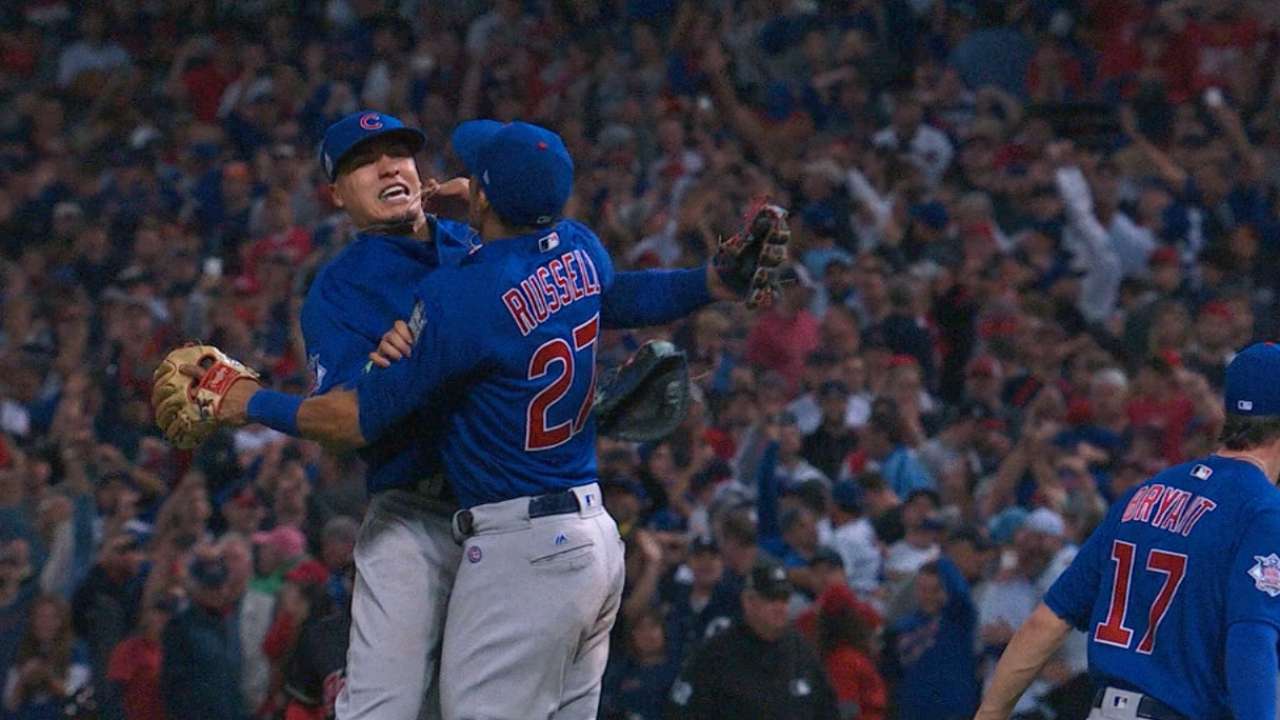 McLeod's ties to both Bryant and Rizzo run deep, with the former joining the Cubs as the No. 2 overall pick in the 2013 MLB Draft, which is the highest pick McLeod has had as a scouting director.
As for Rizzo, McLeod was working for Epstein in Boston in 2007 when the Red Sox selected the slugging first baseman in the sixth round of the Draft after falling in love with his talent, intelligence and leadership skills watching him play for Stoneman-Douglas High School in Parkland, Fla. McLeod was also working for the Padres, along with Hoyer, when they acquired Rizzo from the Red Sox in a deal for Adrian Gonzalez in 2010. And when McLeod and Hoyer joined forces with Epstein in Chicago in the fall of 2011, one of their first moves was acquiring Rizzo from San Diego in January 2012.
Much has been written and discussed about how Rizzo -- a survivor of Hodgkin's lymphoma in his first pro season whom McLeod long ago said had the best makeup of any player he's scouted -- pumped his teammates full of music and quotes from "Rocky" after the Cubs slipped into a 3-1 hole to the Indians in the World Series. But you could see his playful intensity as early as Game 3 of the National League Championship Series, when he teased the Dodgers after stealing second base in the second inning with some demonstrative gesticulating, a nod to the Dodgers' claims that Chicago had been stealing signs.
McLeod was thrilled to see Rizzo put the game ball from the 30th out in Game 7 into his back pocket and charge the mound.
"This means a lot,'' McLeod said. "Knowing him since he was 17 years old, seeing him go through a lot of things on and off the field.''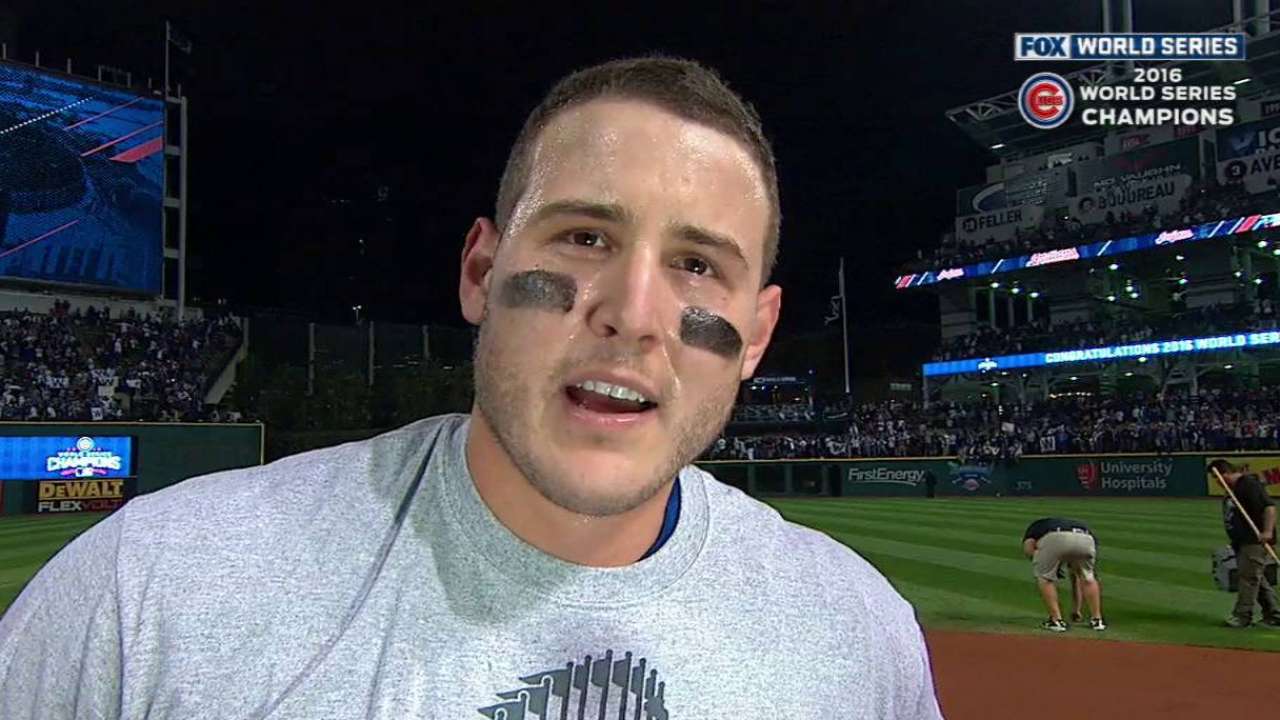 Bryant, winner of the Golden Spikes Award at USD and the NL's Rookie of the Year Award in 2015, is considered the favorite to win the NL Most Valuable Player Award next week. He hit .292 with 39 home runs in 2016, but McLeod will never forget how Bryant used his speed in Game 7 against Cleveland. He scored from first base on a single by Rizzo down the right-field line in the fourth and from third on a shallow fly to left from Addison Russell an inning later, perfectly executing a game plan designed to attack the Indians' subpar outfield arms.
"He was flying,'' McLeod said. "They're young, they're athletic, they're really versatile, and that's been a tremendous help to our team all year, whether it's been running the bases or [manager] Joe [Maddon] being able to move guys around. Luckily we had a couple chances to watch Kris Bryant [run], and he was [really] moving.''
According to Statcast™, Bryant went from first to home on Rizzo's single in 8.7 seconds, which is the fastest such time by a Cubs player in the Statcast™ era (2015-16). As for the tagup, Russell's flyout traveled 232 feet; Statcast™ tracked 103 instances this year where a fly ball of less than 235 feet was caught by an outfielder with a runner on third and less than two outs, and players successfully tagged up just nine times (8.7 percent).
One characteristic of Epstein's rebuild is how highly McLeod, Hoyer and Epstein value complete players like Bryant and Russell -- you even see that preference in their investment in free agents like Jason Heyward and Ben Zobrist -- while knowing when it's time to make an exception for a hitter like Kyle Schwarber.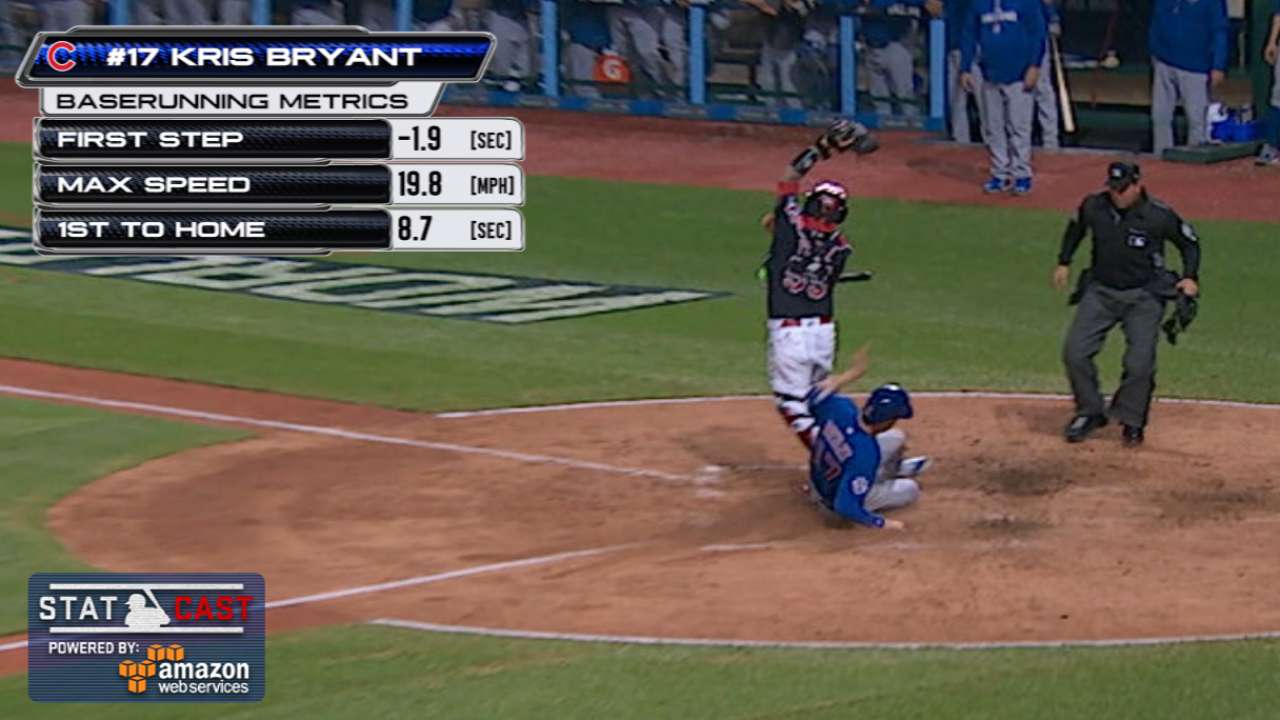 "They're really talented,'' McLeod said. "They need to learn and mature as well. We saw some ups and downs from those guys. Then you have a steady kid like Kris who never wavers. He's a rock, doesn't get high or low. Anthony being who he is, a clubhouse leader, [there's] just a perfect mix of guys in this clubhouse who know how to win and will continue to know how to win.''
McLeod turned down opportunities to interview for general manager jobs with other teams the past few years -- including the Twins this offseason -- because he wanted to see what it would be like to win a championship with the Cubs.
"I still don't know if I believe this has really happened,'' McLeod said. "Five years? In some ways, it has gone by really quick. And in some ways, it seems like it's been a long time. We always talk about 'when it happens.' That's been our mantra for three or four years now -- 'when it happens.' And [now] it's happened. It's weird for me to say that.''
He'll get used to it.
Phil Rogers is a columnist for MLB.com. This story was not subject to the approval of Major League Baseball or its clubs.