Tebow delivers walk-off hit in Arizona Fall League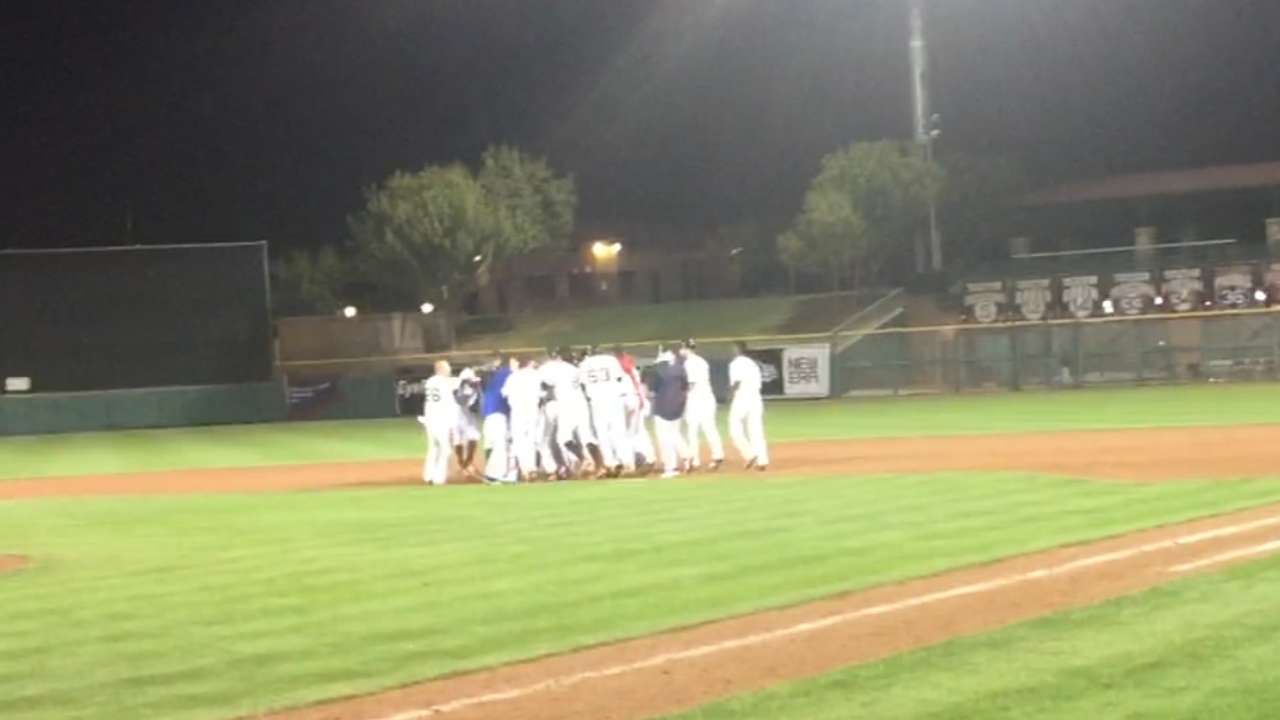 SCOTTSDALE, Ariz. -- Whether it's the BCS National Championship or overtime in an NFL playoff game, Tim Tebow has shown an ability to thrive under pressure.
Although the sport may have shifted from football to baseball, the clutch gene remained as Tebow came through with a walk-off single in Scottsdale's 4-3 win over Mesa in the Arizona Fall League on Monday night.
Tebow's walkoff single #AFL16 #Mets pic.twitter.com/3KGIlSfISl

— William Boor (@wboor) November 8, 2016
"Your body doesn't know the difference in stress and pressure in what [the situation is]," Tebow said. "If it's getting up and speaking in front of 20,000, if it's playing football in front of 100,000, if it's bases loaded, two outs in the bottom of the ninth, your body just knows it's stress, it's pressure, and how are you going to handle it."
Monday night at Scottsdale Stadium, Tebow handled it just fine, singling just inside the third-base bag on the first pitch he saw from Drew Steckenrider (Marlins).
"The whole day he had been throwing me outside fastballs and they had a bit of a shift on," Tebow said. "Mr. (Reggie) Jackson was talking about just letting it get deep and going with it. First pitch, I tried to let it get deep and went the opposite way."
The Mets' farmhand drew a walk and went 1-for-4 on Monday, but he might have had a second hit if his eighth inning line drive hadn't deflected off the pitcher's leg.
Tebow has struggled during his stint in the AFL, hitting .146 through 12 games, but he does have a hit in four of his past five games. Tebow arrives to the park an hour before his team and says he's feeling better both offensively and defensively.
• Gameday
"It's never as good as it seems, never as bad as it seems," Tebow said. "It's always somewhere in the middle, all about keeping perspective, knowing it's a process."
The Scorpions fell behind early when Cubs top prospect Ian Happ (No. 21 overall) reached on a broken bat single, extending his AFL hitting streak to four games, and later scored when Danny Jansen (Blue Jays' No. 30) hit into a fielder's choice.
Aramis Garcia (Giants' No. 6) tied the game up with an RBI single of his own in the bottom half of the frame, but Mesa took the lead once again in the sixth.
Happ, coming off a season in which he hit .297 over 134 games between Class A Advanced Myrtle Beach and Double-A Tennessee, roped a two-out, two-run triple into right-center field. The three-bagger was his first of the AFL season.
Brody Koerner (Yankees) spun one of his best starts of the AFL, giving up one run on five hits in five innings. Koerner, a right-hander who was converted to a starter this season, threw 43 of his 69 pitches for strikes.
After Koerner, a trio of relievers kept the Scorpions in the game, and the pitching staff was eventually rewarded for its efforts when Tebow stepped to the plate in the ninth.
Team mobs Tebow after walkoff single #AFL16 pic.twitter.com/j62LXwoRVo

— William Boor (@wboor) November 8, 2016
"It feels good just to be with these guys and having fun with them and have a come-from-behind win," Tebow said. "We've given up a few of these this year, so it feels good to get one."
William Boor is a reporter for MLB.com. Follow him on Twitter at @wboor. This story was not subject to the approval of Major League Baseball or its clubs.