Buck shocked Britton not a Cy Young finalist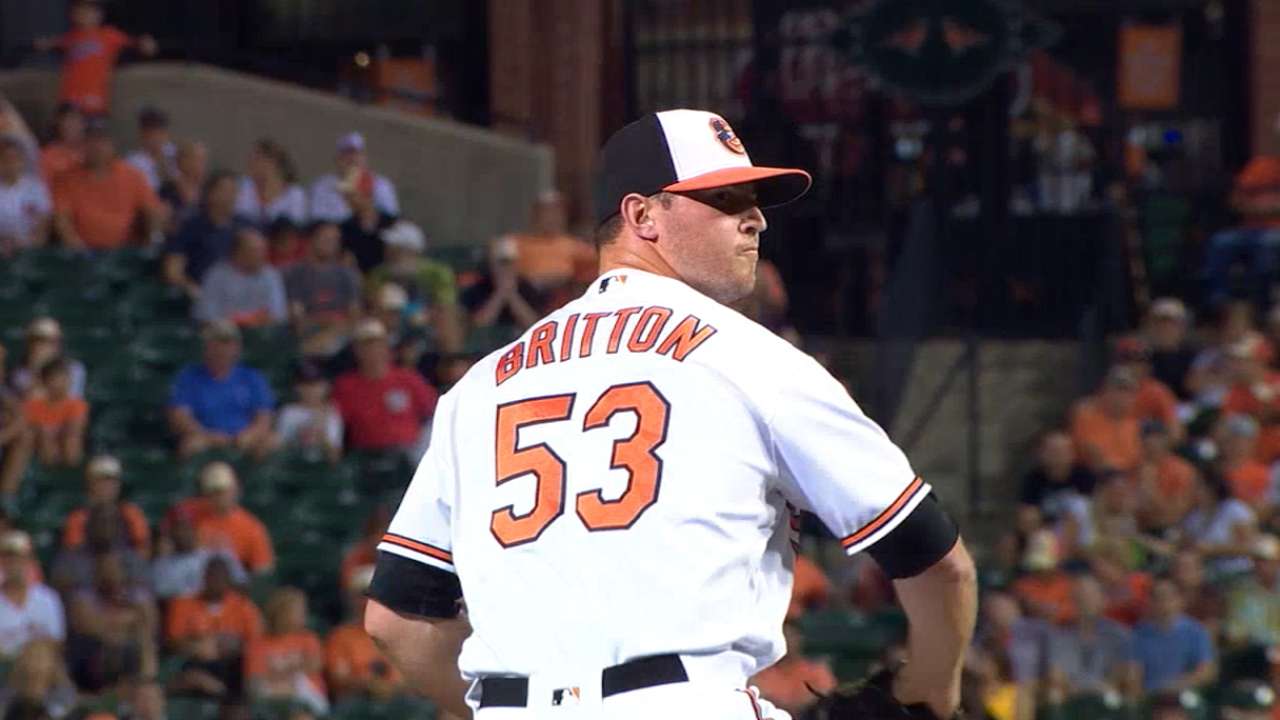 SCOTTSDALE, Ariz. -- Orioles manager Buck Showalter expressed disbelief when he found out closer Zach Britton was not among the three finalists for the American League Cy Young Award, which were announced Monday night on MLB Network.
Britton, who won the Mariano Rivera AL Reliever of the Year Award, went 47-for-47 in save opportunities with a 0.54 ERA over 67 innings in 69 appearances. He was also an All-Star selection in a dominant 2016 season, becoming just the third pitcher to post an ERA below 1.00 in a season with at least 40 saves.
"First of all, he should be in the top three in the [AL] MVP voting," Showalter said. "I would make the case he's more valuable to his team than anybody in baseball. Where would we be without Britton?"
"Whether I was a finalist or not, it wasn't going to change the way I feel about the season I had," Britton said. "I accomplished a lot of goals I set for myself on a personal level. I figured I wasn't the safe choice and it was going to be an uphill battle. Obviously, I hope a reliever in the future has a better season than I had and gets recognized for it."
The AL Cy Young Award finalists are starters Corey Kluber (Indians), Rick Porcello (Red Sox) and Justin Verlander (Tigers). The last reliever to win a Cy Young Award was the Dodgers' Eric Gagne in 2003. The last relief pitcher to win an AL Cy Young Award was Dennis Eckersley in 1992. No reliever has been a finalist since the BBWAA switched from a three-man to a five-man ballot for the award in 2010.
"Those are three very good pitchers, all richly deserved," Showalter said. "They work every five days. Zach works five days [in a week] sometimes. This wasn't a great year -- this was a historical year. He may have had the best year statistically of any pitcher.
"I'm shocked [Britton wasn't a finalist]. I thought they were kidding when they told me this afternoon. It was a head scratcher. I knew when I watched it from the dugout -- I was like, 'Wow, this is special.' He had maybe the best year a reliever has ever had in the history of the game."
Showalter added: "I would like to have a conversation with the people who didn't put him on their [ballot]. Nobody dominated like he dominated, in his role."
Brittany Ghiroli has covered the Orioles for MLB.com since 2010. Read her blog, Britt's Bird Watch, follow her on Facebook and Twitter @britt_ghiroli, and listen to her podcast. This story was not subject to the approval of Major League Baseball or its clubs.