Tito leads Tribe's trio of BBWAA Awards finalists
Kluber, Naquin join skipper as candidates for prestigious end-of-season honors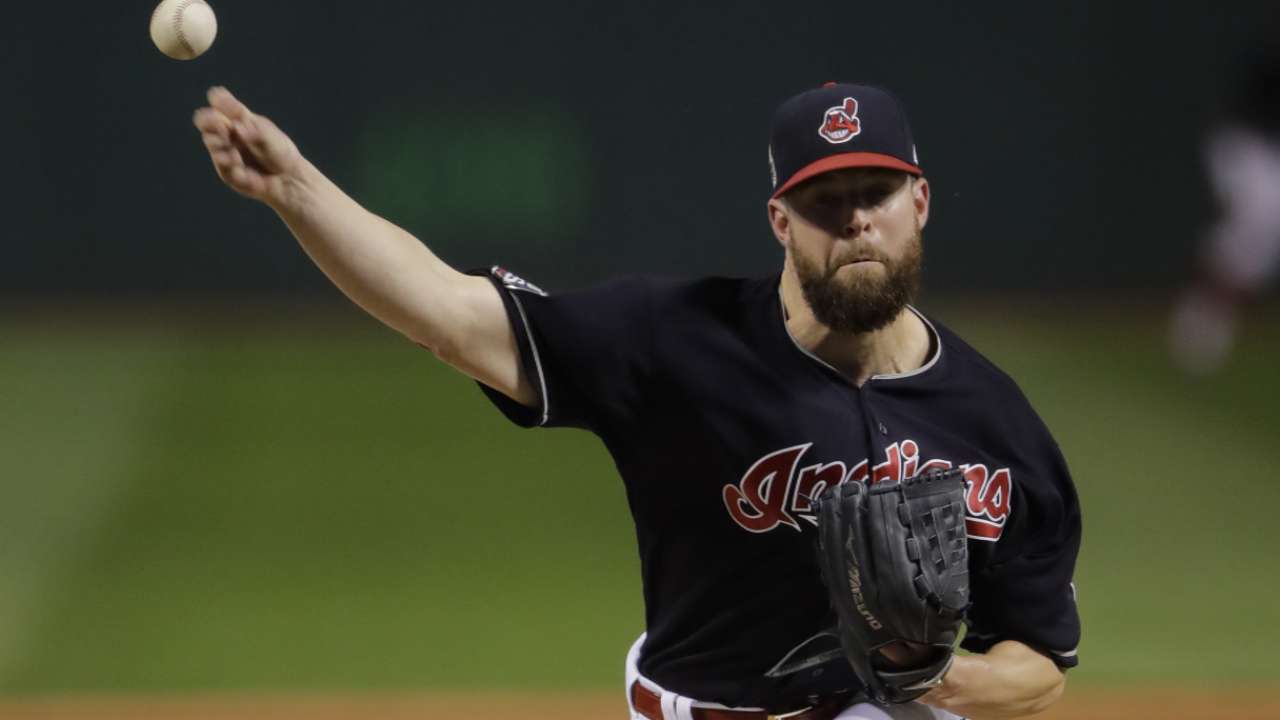 CLEVELAND -- The postseason was Terry Francona's managerial tour de force with the Indians. Working with a depleted pitching staff, Francona helped guide Cleveland to within one victory of a World Series triumph before the Cubs ended the Tribe's magical run.
What baseball fans saw in the playoffs was a glimpse into what Cleveland's followers witnessed all season long. Francona's abilities as a manager were on full display this year, making it no surprise that he was named a finalist for the 2016 American League Manager of the Year Award, along with Rangers manager Jeff Banister and Orioles manager Buck Showalter, by the Baseball Writers' Association of America on Monday night.
Joining Francona among the Indians' BBWAA awards finalists are ace Corey Kluber (AL Cy Young Award) and outfielder Tyler Naquin (AL Rookie of the Year Award). Kluber is up against Detroit's Justin Verlander and Boston's Rick Porcello, while Naquin joins Gary Sanchez of the Yankees and Michael Fulmer of the Tigers among the rookie finalists.
Francona was named the AL Manager of the Year with the Indians in 2013, his first year at the helm in Cleveland, after leading the club to its best one-year turnaround in franchise history and winning an AL Wild Card spot. This year, Francona's Tribe won 94 games, captured an AL Central crown for the first time since '07 and claimed the AL pennant for the first time since 1997.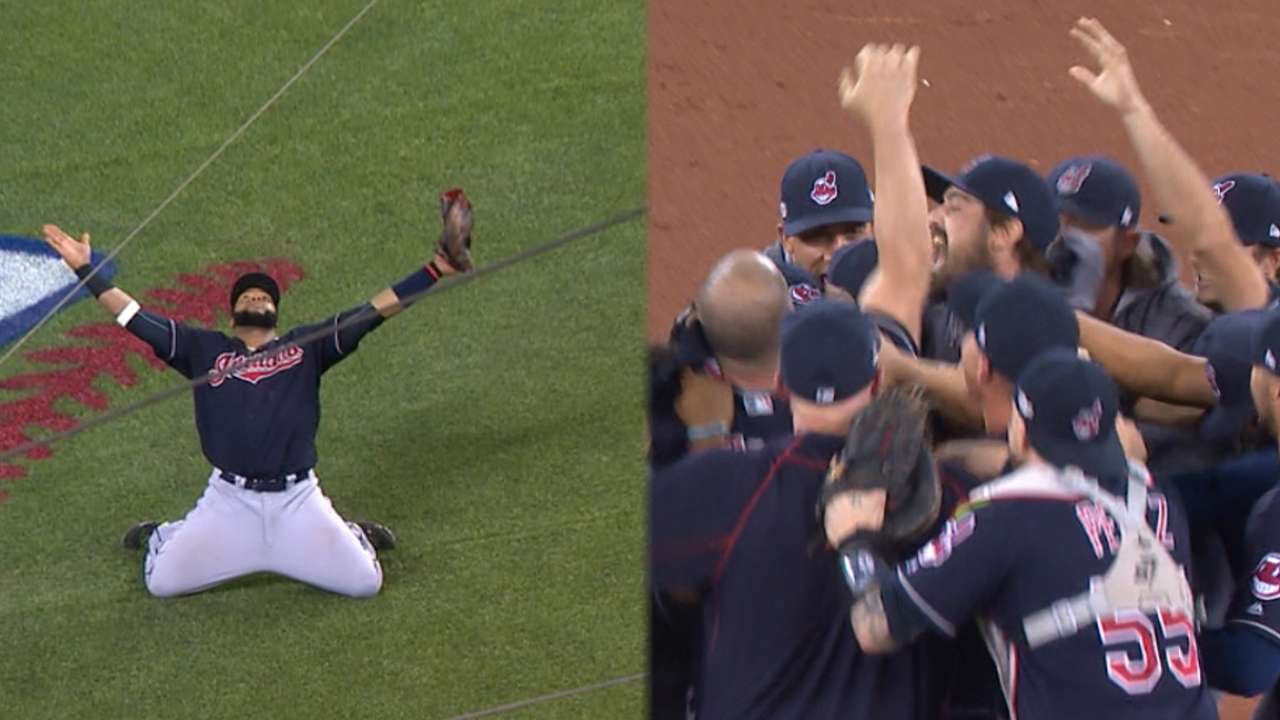 "He's amazing," Indians general manager Mike Chernoff said on Friday. "He's incredible at in-game strategy. It's exceptional to just watch it. He's five steps ahead of all of us -- probably everybody out there -- and we get to see the full picture. That's just a small part of it of who he is and what he does. He's broken down barriers organizationally for us."
• Esurance MLB Awards: Best manager
During his four years as Cleveland's manager, Francona has won an AL-leading 352 games. This past season may have been his most challenging one yet with the Tribe. The Indians were without star left fielder Michael Brantley for most of the season, dealt with late-season injuries to starters Carlos Carrasco and Danny Salazar, overcame suspensions for outfielders Abraham Almonte and Marlon Byrd and dealt with a variety of other setbacks.
Through all the issues, the Indians kept on winning and Francona kept pulling the right levers. By the end of the season, the Indians led baseball in platoon advantage both offensively and on the pitching side, becoming the first team since the 1985 Cardinals to finish first in both categories.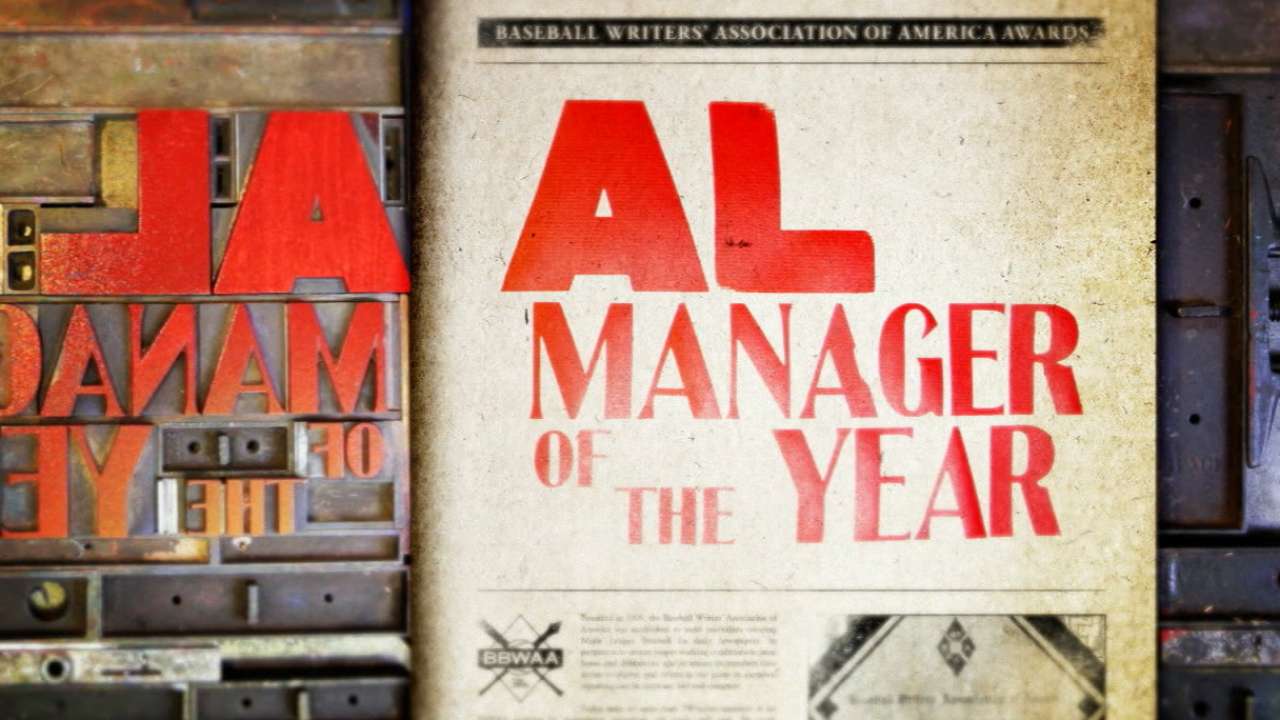 Francona's impact was perhaps most keenly felt in his management of the Indians' outfield situation.
With Brantley limited to 11 games, and Almonte and Byrd taken out of the mix for considerable chunks of the season, the manager cycled through a dozen outfielders. At times, Francona featured a platoon at each outfield position. Early in the year, Jose Ramirez bounced between left field and third base. By season's end, Cleveland's outfield ranked fourth in the AL in combined OPS (.769) and fourth in the Majors in WAR (12.2 per Fangraphs).
"A lot of the resiliency and the grit that we saw with this team is a product of that culture [he helped create]," Chernoff said. "It's not any one move that he made. It's the mindset and culture that was in the clubhouse leading up to that."
Kluber, who won the AL Cy Young Award in 2014, lived up to the ace tag again this year, especially when Cleveland's rotation was in shambles over the season's final month.
• Esurance MLB Awards: Best pitcher
Overall, Kluber went 18-9 with a 3.14 ERA in 32 starts, piling up 227 strikeouts against 57 walks in 215 innings. Kluber finished among the top five starters in the AL in ERA, innings, strikeouts, wins, Fielding Independent Pitching (3.26), strikeout percentage (26.4), strikeout-minus-walk rate (19.8 percent), WHIP (1.06), shutouts (two), strikeouts per nine innings (9.5), homers per nine innings (0.9), opponents' average (.216) and WAR (5.1 per Fangraphs and 6.5 per Baseball Reference).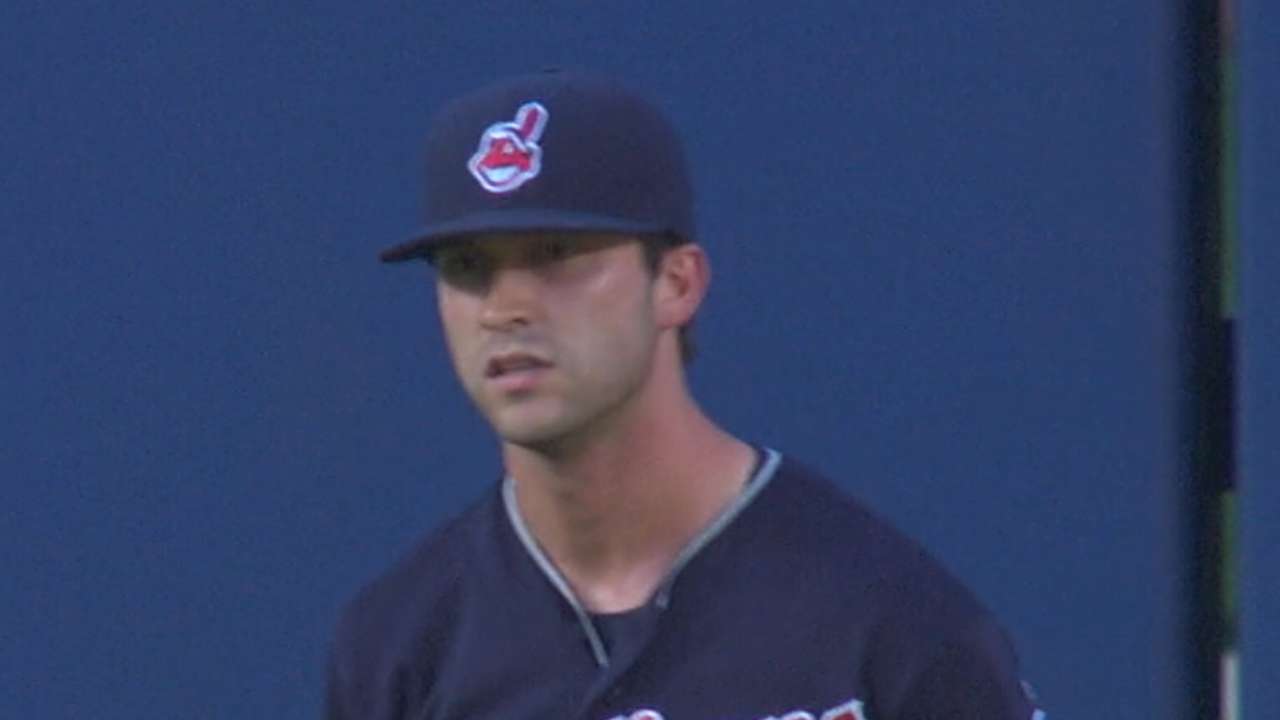 In light of the outfield issues, Naquin won an Opening Day roster spot with a strong spring showing.
In 116 games, Naquin turned in a .296/.372/.514 slash line in 365 plate appearances. Francona used the lefty-swinging center fielder mostly against right-handed pitching (325 plate appearances) to maximize his offensive production. Naquin responded with 14 homers, 18 doubles, five triples, 43 RBIs, 52 runs scored and 2.5 WAR (per Fangraphs).
• Esurance MLB Awards: Best rookie
Naquin -- Cleveland's first-round pick in the 2012 Draft -- provided one of the signature moments of Cleveland's season when he hit a walk-off inside-the-park home run on Aug. 19 against the Blue Jays. On July 20, Naquin also enjoyed a two-homer, six-RBI outburst against the Royals. He ranked in the top three among AL rookies in runs, average, on-base percentage and slugging percentage.
"We put him in a challenging spot," Chernoff said of Naquin. "It's pretty rare for a guy, at least in our experience -- a player who had no Major League experience -- to be an everyday player who made the team out of Spring Training. He battled some adversity early on, with some ups and downs. ... It's fun to see a homegrown player with that type of mentality join the team and contribute in the way he did."
Jordan Bastian has covered the Indians for MLB.com since 2011, and previously covered the Blue Jays from 2006-10. Read his blog, Major League Bastian, follow him on Twitter @MLBastian and listen to his podcast. This story was not subject to the approval of Major League Baseball or its clubs.