Despite missing time, Kiermaier could snag 2nd GG
Center fielder put up elite defensive numbers in just 105 games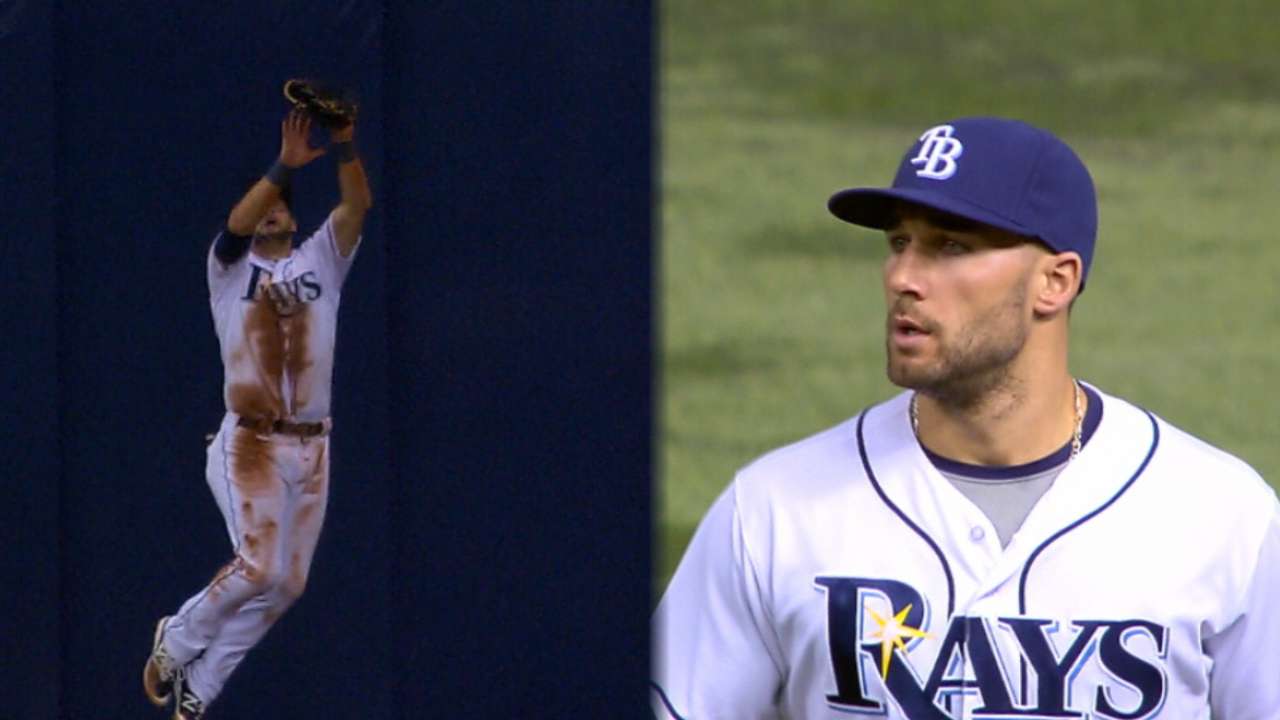 ST. PETERSBURG -- Kevin Kiermaier is a defensive weapon in center field. That's an undisputed fact. But will that status be enough to guide him to an American League Gold Glove Award repeat?
In most years, Kiermaier would be a runaway candidate to win. After all, he won a Gold Glove and a Platinum Glove Award after the 2015 season, and he just keeps getting better.
Whether Kiermaier wins a second consecutive defensive nod for his play in center field will be announced Tuesday night at 8 ET, when the winners are revealed by Rawlings during its Gold Glove Awards Show on ESPN.
The big question mark deals with the number of games Kiermaier played during the 2016 season. The 26-year-old was limited to 105 games due to injuries. If he's the unquestioned best center fielder, will that trump the missed time?
It's a no-brainer for Rays manager Kevin Cash.
"I think he should win the Gold Glove, not could," said Cash several weeks ago. "He's the best defensive player in baseball. ... He's pretty special out there."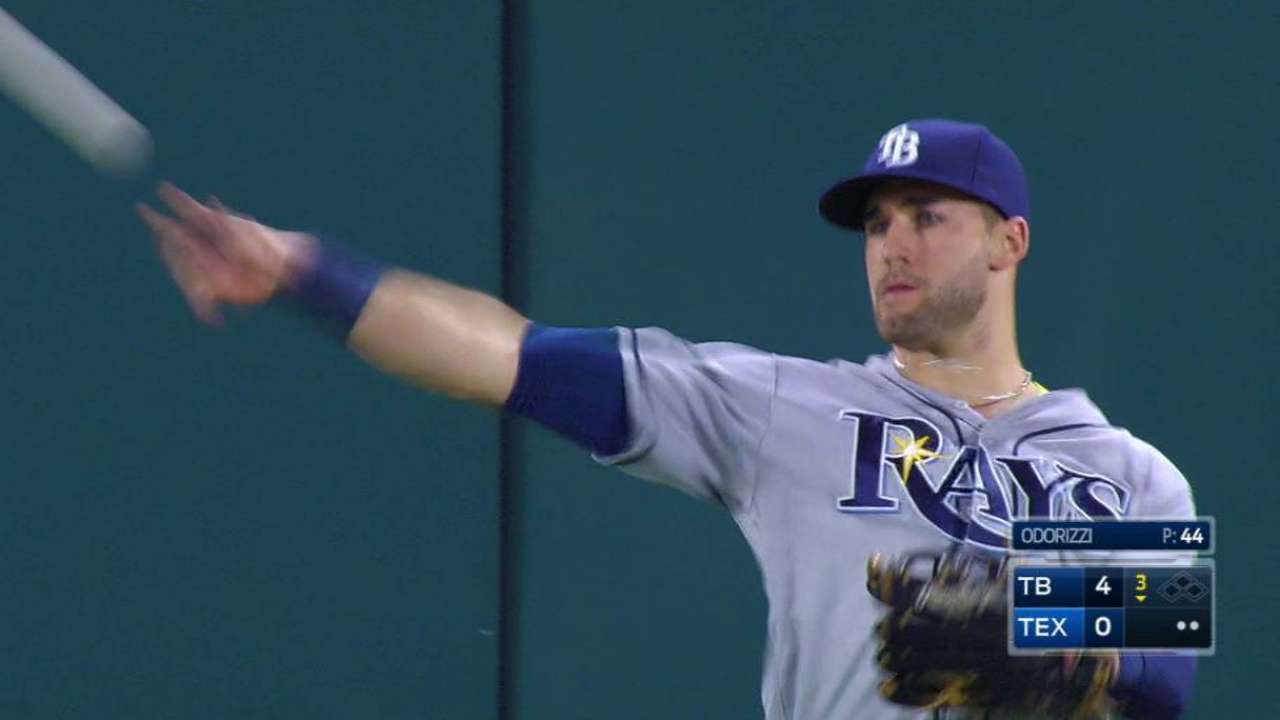 Kiermaier believes he has a chance, but he understands the circumstances that might prevent that from happening.
"I feel like the time that I have been out on the field, I'm the best center fielder in the game," Kiermaier said. "I firmly believe that. But at the same time, when I broke my hand, I know that missing an extended amount of time isn't going to help my chances by any means."
Standing in the way of a repeat for Kiermaier are Boston's Jackie Bradley Jr. and Toronto's Kevin Pillar.
Who votes for this award? For starters, Major League managers and coaches account for 75 percent of the selection process. They can only vote within their league and can't vote for players on their own team. The other 25 percent goes to the sabermetrics community.
Rays fans well know Kiermaier's value to the team, as the Rays went 14-34 in his absence. And every baseball fan has witnessed how he makes the spectacular look routine. But his defense can be quantified among the number crunchers, too.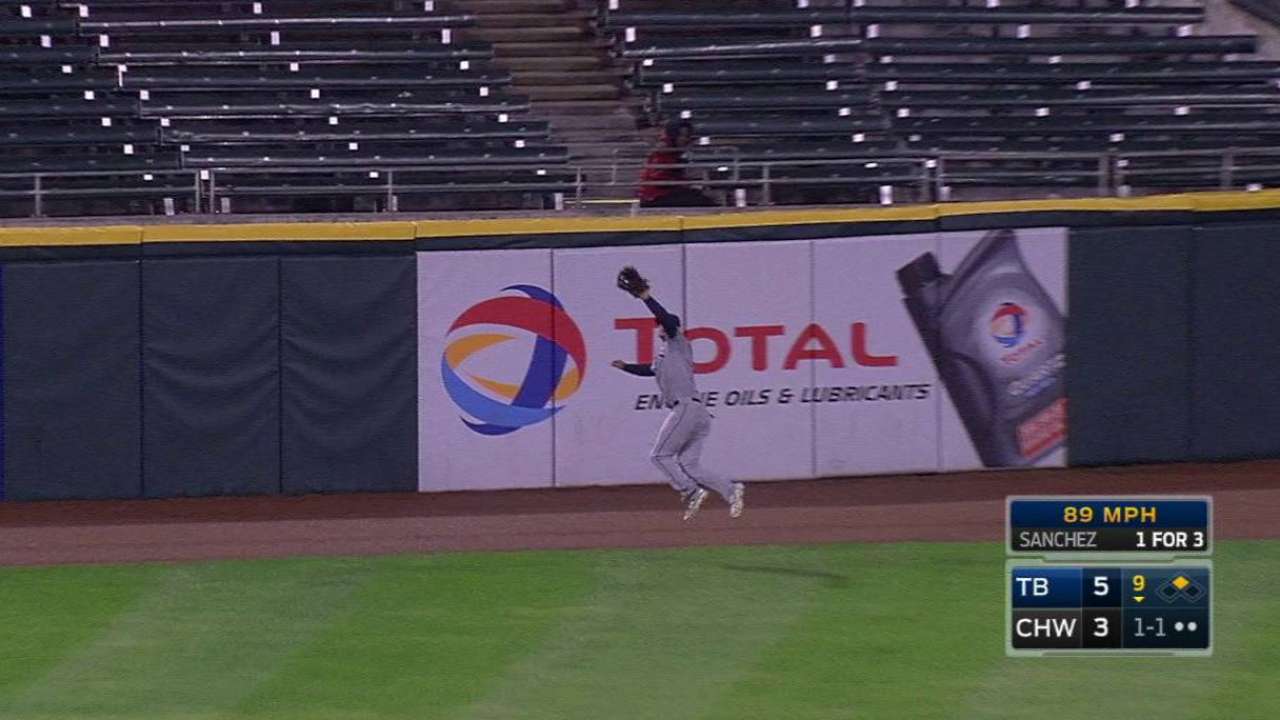 Despite missing as much time as he did, Kiermaier led the American League in defensive WAR for a second consecutive year at 3.0. And, according to FanGraphs, his 25 defensive runs saved led all Major League center fielders and ranked second among all players behind Boston's Mookie Betts (32). However, it should be pointed out that Betts, who plays right field for the Red Sox and is also nominated for a Gold Glove Award, played in 158 games.
The breakdown for that difference: Kiermaier saved 25 runs in 872 1/3 innings, while Betts saved 32 in 1,381 2/3.
Pillar also finished in the top five among AL DRS leaders with 21 (in 1,293 innings), while Bradley did not rank in the top five.
Despite playing in fewer games, Kiermaier feels as though he got better in 2016.
"I felt like I've taken more control of the outfield, whether it's handling my corner guys or certain game situations when to not try and make a throw. Things like that, I've improved this year, and I feel like I've really established myself as the leader of that outfield," he said.
The suspense will be over by the end of Tuesday night. The envelope please ...
Bill Chastain has covered the Rays for MLB.com since 2001. This story was not subject to the approval of Major League Baseball or its clubs.