Napoli, Davis among Indians not to receive QOs
AL champions remain interested in bringing back veteran duo next season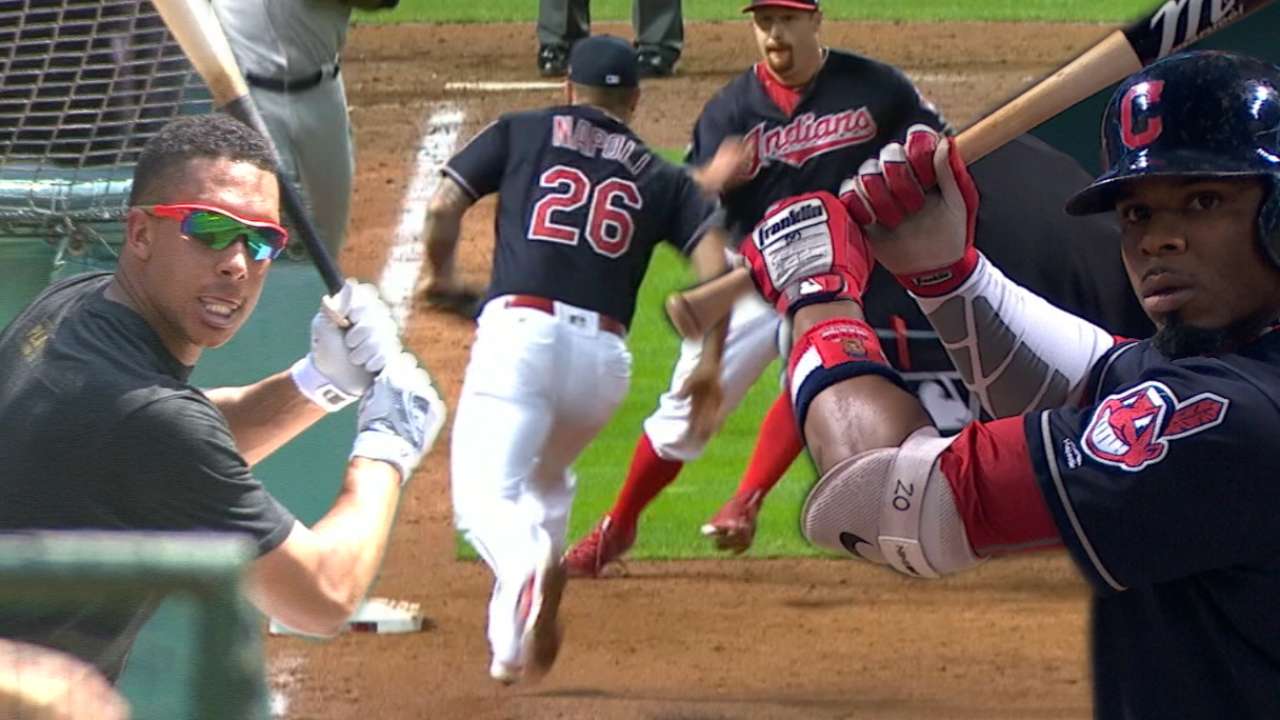 CLEVELAND -- Mike Napoli was the life of the Indians' party all season long. Rajai Davis provided one of the most memorable swings in team history in the final game of the World Series. While neither free agent will receive a qualifying offer, they could still be back for Cleveland next season.
Prior to Monday's 5 p.m. ET deadline for extending qualifying offers to parting free agents, the Indians opted against presenting Napoli or Davis with the required one-year, $17.2-million contract. Of the two veterans, Napoli had the more compelling case for receiving the offer, but Cleveland ultimately felt that the price and risk were too high.
None of this means the Indians do not have interest in re-signing them for 2017.
"For Raj and Mike, we expressed our desire to potentially have them back," Indians team president Chris Antonetti said on Friday. "We recognize they both have alternatives, based on the years that they had, but we're certainly open to exploring different ways where both of them could be back here."
The $17.2-million salary figure is the average of the top 125 Major League contracts during this past season based on average annual value. If a free agent declines the one-year offer and signs with another team before the MLB Draft next June, then his former team would be eligible for a compensatory pick in the Draft at the end of the first round. The signing team would then lose its first-round selection, unless it has a protected pick (top 10). In that case, the acquiring team would lose its next-highest selection.
Napoli earned $10 million in 2016 between his base salary ($7 million) and incentives on his one-year deal with Cleveland this past year. The Indians also took on another $7 million after cutting ties with first baseman Chris Johnson before the '16 campaign. Had Napoli accepted a qualifying offer, it would essentially have been the same cost at the position. That said, it still would have accounted for a large portion of Cleveland's payroll, which will climb naturally through guaranteed contracts and arbitration raises for next year.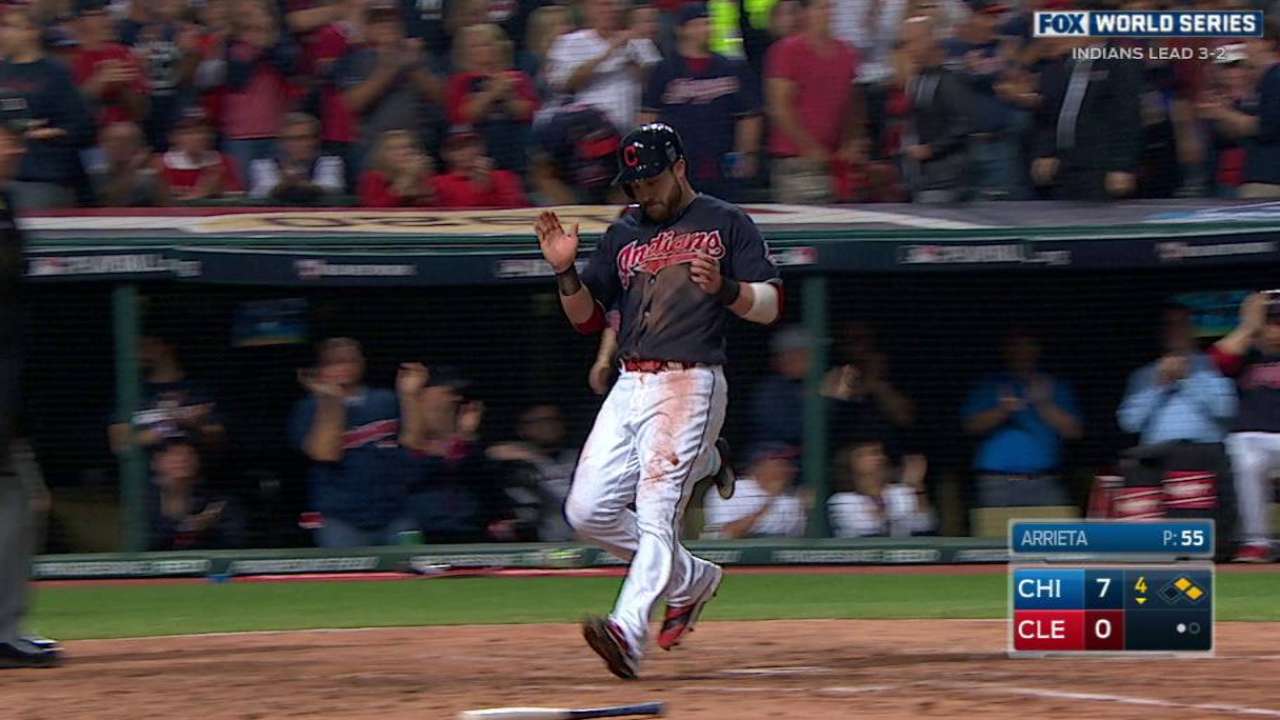 If Napoli declined a one-year qualifying offer from the Indians, his market may have been hindered based on the Draft compensation tied to him signing elsewhere. If Napoli went unsigned until after the MLB Draft, for example, it could have impacted Cleveland's potential compensation. All of those factors played into the Indians' decision not to extend him the hefty one-year contract.
Behind the scenes this year, Napoli emerged as a leader in the clubhouse and a cult hero among fans. The "Party at Napoli's" motto became a kind of rallying cry, not to mention a source of charitable donations for each T-shirt purchased bearing the slogan. On the field, the 11-year veteran set career highs in home runs (34), RBIs (101), games (150) and plate appearances (645).
Down the stretch, though, that heavy workload may have caught up with the slugger. Napoli hit .140 (13-for-93) over the Indians' last 26 regular-season games and then .173 (9-for-52) in the postseason. In the World Series against the Cubs, the first baseman hit .167 (4-for-24) with 11 strikeouts.
"I think you have to look at the balance of the season," Antonetti said on Friday. "And Mike did a phenomenal job for us. I think he posted career-highs in plate appearances, home runs, RBIs all of those areas. He made a huge impact for us on the field and in the clubhouse, and I think that's the lens through which we'll view it."
Davis also enjoyed a strong season. Over 134 games, the fleet-footed outfielder led the American League in stolen bases (43) and had an excellent stolen-base success rate (88 percent). Davis, who spent most of his time in center and left field, hit .249 with 48 RBIs and career highs in homers (12) and runs scored (74).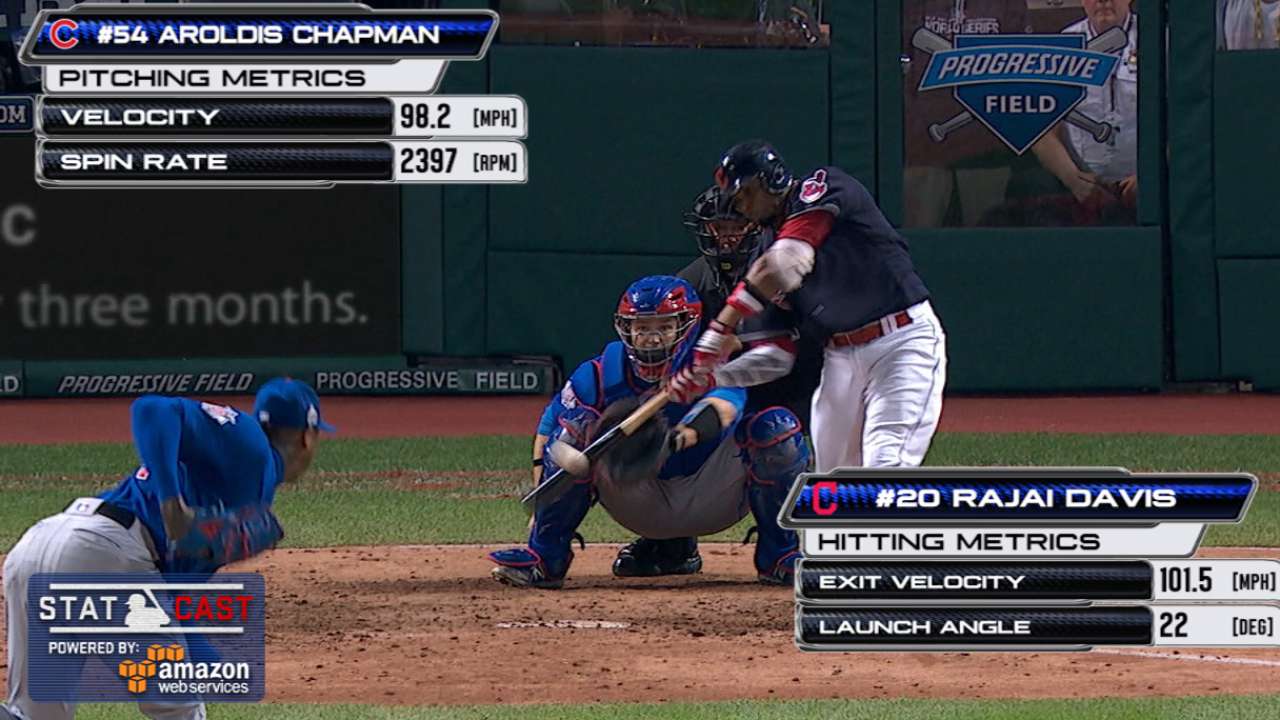 In the postseason, Davis hit only .147 in 15 games, but he also provided a handful of memorable moments. Davis stole three bases in Game 5 of the World Series, becoming only the fifth player in baseball history to achieve that feat in a Fall Classic game. In the eighth inning of Game 7 against the Cubs, Davis launched a game-tying, two-run homer off Aroldis Chapman.
After the Game 7 defeat, Davis said he would love to return with Napoli for next season.
"This is the best season I've ever had in my Major League career," said Davis, who signed a one-year contract worth $5.25 million with the Indians last winter. "That would be great if we could get us both back, especially with this group of guys. They're a good group, talented. I think they're ready to learn."
Brantley, Carrasco activated
The Indians activated left fielder Michael Brantley and right-hander Carlos Carrasco from the 60-day disabled list on Monday. Both Brantley (right biceps surgery on Aug. 15) and Carrasco (non-displaced fracture in right hand on Sept. 17) are expected to be recovered and ready for Spring Training.
Cleveland also sent catcher Adam Moore outright to Triple-A Columbus. Moore has eight days to accept the assignment or reject it in favor of free agency.
Jordan Bastian has covered the Indians for MLB.com since 2011, and previously covered the Blue Jays from 2006-10. Read his blog, Major League Bastian, follow him on Twitter @MLBastian and listen to his podcast. This story was not subject to the approval of Major League Baseball or its clubs.