Qualifying offers roll in, adding twist to Hot Stove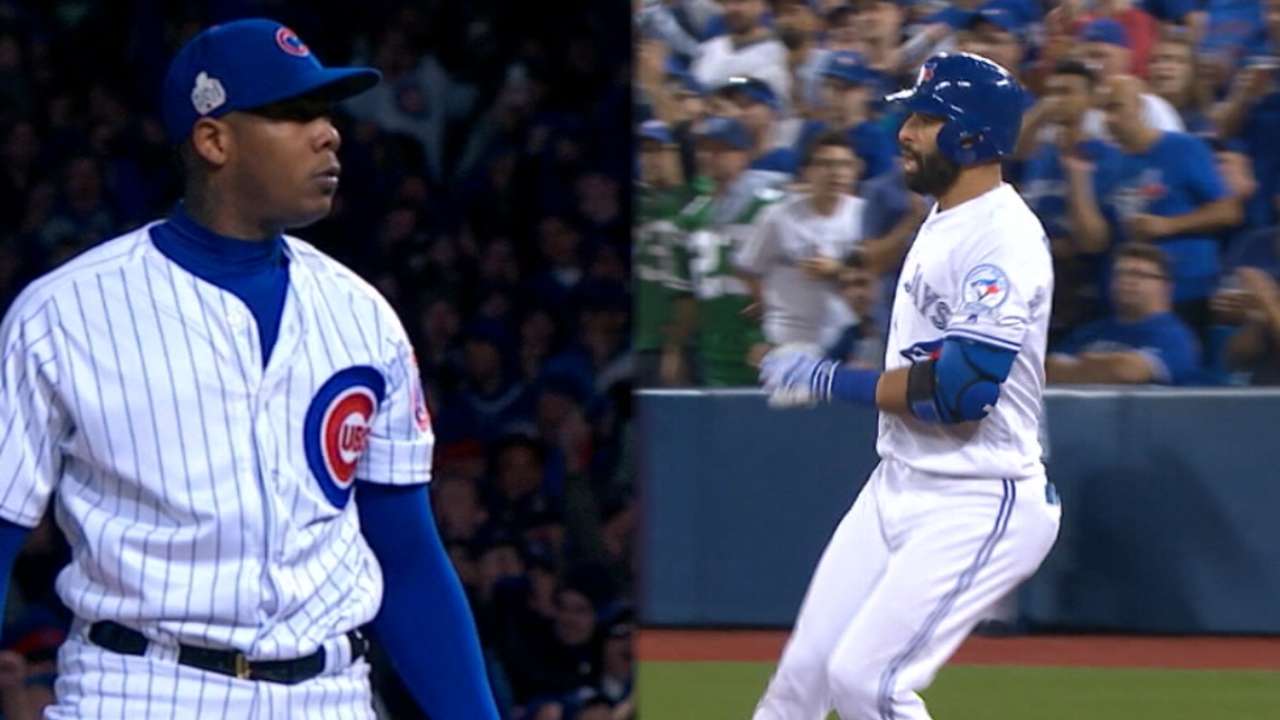 Free agency does not officially begin until Tuesday, and teams had until 5 p.m. ET today to submit a qualifying offer to their prospective free agents, which for the 2017 season is a one-year, $17.2 million contract offer. Players have one week (Nov. 14) to accept or decline.
If a player accepts a qualifying offer -- as the Orioles' Matt Wieters, the Astros' Colby Rasmus and the Dodgers' Brett Anderson did a year ago -- he will remain with his team in 2017 for the designated salary. This year, 10 players received a qualifying offer, which is half of last year's total.
If a player declines, he remains a free agent but will have Draft-pick compensation attached to him. Any team that signs a free agent who has declined a qualifying offer must surrender a Draft pick -- unless it's a top 10 selection, which is protected. In that case, the team surrenders its second-round pick.
One key fact to remember: Free agents who were traded during the season -- such as closer Aroldis Chapman -- are not eligible to receive a qualifying offer.
Below is a breakdown of the prominent free agents who did (and did not) receive a qualifying offer. We've divided this list into two sections, leading with players who received a qualifying offer. A list of the most prominent players who did not get an offer are listed below that. Within each section, players are listed in order of Tom Tango's free agent rankings.
RECEIVED QUALIFYING OFFER
Justin Turner, 3B, Dodgers
Turner came out at No. 1 on Tango's free-agent rankings, and it will be interesting what kind of contract he ends up with after a mid-career renaissance turned him into an elite hitter in his late 20s.
Edwin Encarnacion, DH/1B, Blue Jays
Encarnacion is No. 3 on Tango's rankings after another productive season, hitting 42 home runs with 127 RBIs in 160 games. He's collected at least 34 homers in each of the past five seasons, driving in 100 or more runs four times in that span.
Dexter Fowler, OF, Cubs
Fowler declined his portion of a mutual option to become a free agent, and he was then extended a qualifying offer.
Ian Desmond, SS/OF, Rangers
Desmond has received a qualifying offer for the second straight offseason, this time from the Rangers. The former Nationals shortstop transitioned to the outfield in Texas after not signing with the Rangers until February. He hit .285 with 22 homers, 86 RBIs and 21 stolen bases in 2016.
Jose Bautista, OF, Blue Jays
Bautista is coming off a season in which in he had two stints on the disabled list and saw his overall production dip (1.0 WAR), though he still ranked among the MLB leaders in walk rate. The veteran hit 22 homers in 116 games, while his .452 slugging percentage was his lowest since 2009 (.408).
Kenley Jansen, RP, Dodgers
Jansen is arguably the top closer on the market, but unlike Chapman and Mark Melancon -- the other contenders for that title -- he's the only one who can receive a QO, as Chapman and Melancon were traded during the year.
Jeremy Hellickson, RHP, Phillies
Hellickson was one of the surprises of the season, going 12-10 with a 3.71 ERA in 32 starts. The 2011 American League Rookie of the Year Award winner turns 30 in April and matched his career high in innings this year with 189.
Yoenis Cespedes, OF, Mets
Cespedes has already opted out of the final two years and $47.5 million of a three-year contract he signed with the Mets last winter and is No. 2 on Tango's rankings. He's been highly productive since joining the Mets at the 2015 Trade Deadline, posting a .282/.348/.554 slash line with 48 home runs and 130 RBIs in 189 games.
Neil Walker, 2B, Mets
Walker was on his way to a successful first season with the Mets before he underwent season-ending surgery to repair a herniated disk in September. Walker matched his career high with 23 home runs and hit .282 with 55 RBIs in 113 games.
Mark Trumbo, OF, Orioles
Trumbo led the Majors with 47 homers in his first year with the Orioles. He appeared in 159 games and set career highs with 108 RBIs, a .533 slugging percentage and an .850 OPS.
DID NOT RECEIVE QUALIFYING OFFER
Wilson Ramos, C, Nationals
Ramos likely will be out until midsummer 2017 rehabbing from a September right knee injury, so he will not receive a qualifying offer despite hitting .307/.354/.496 with 22 homers and 80 RBIs in 131 games. The 29-year-old still figures to garner plenty of interest following a breakout offensive campaign.
Matt Wieters, C, Orioles
Wieters, a four-time All-Star, received and accepted a qualifying offer from the Orioles last year, but he was not extended one this year. The 30-year-old is considered the top catcher on the free-agent market.
Michael Saunders, OF, Blue Jays
Saunders put up the best offensive numbers of his eight-year career in 2016, earning his first All-Star selection along the way. He hit .298 with 16 homers in the first half, but he struggled down the stretch and hit .178 with eight homers in the second half.
Mike Napoli, 1B/DH, Indians
Napoli, 35, had a career year in his first year in Cleveland and played a key role in the Indians' run to Game 7 of the World Series. The 11-year veteran set career highs in homers (34), RBIs (101), games (150) and plate appearances (645), in addition to emerging as a leader in the clubhouse and a favorite among fans.
Kendrys Morales, DH, Royals
Morales has already declined his half of a mutual contract option for next season. The 10-year veteran hit .263/.327/.468 with 30 homers and 93 RBIs in 154 games this year, his second in Kansas City.
Edinson Volquez, RHP, Royals
Volquez made 34 starts in his second season with the Royals, going 10-11 with a 5.37 ERA. He previously declined his half of a mutual option for next year. He's made at least 31 starts in each of the past five seasons.
Cash Kruth is a reporter for MLB.com. Follow him on Twitter at @cashkruth. This story was not subject to the approval of Major League Baseball or its clubs.