MLB.com Columnist
Barry M. Bloom
GM Meetings prime the Hot Stove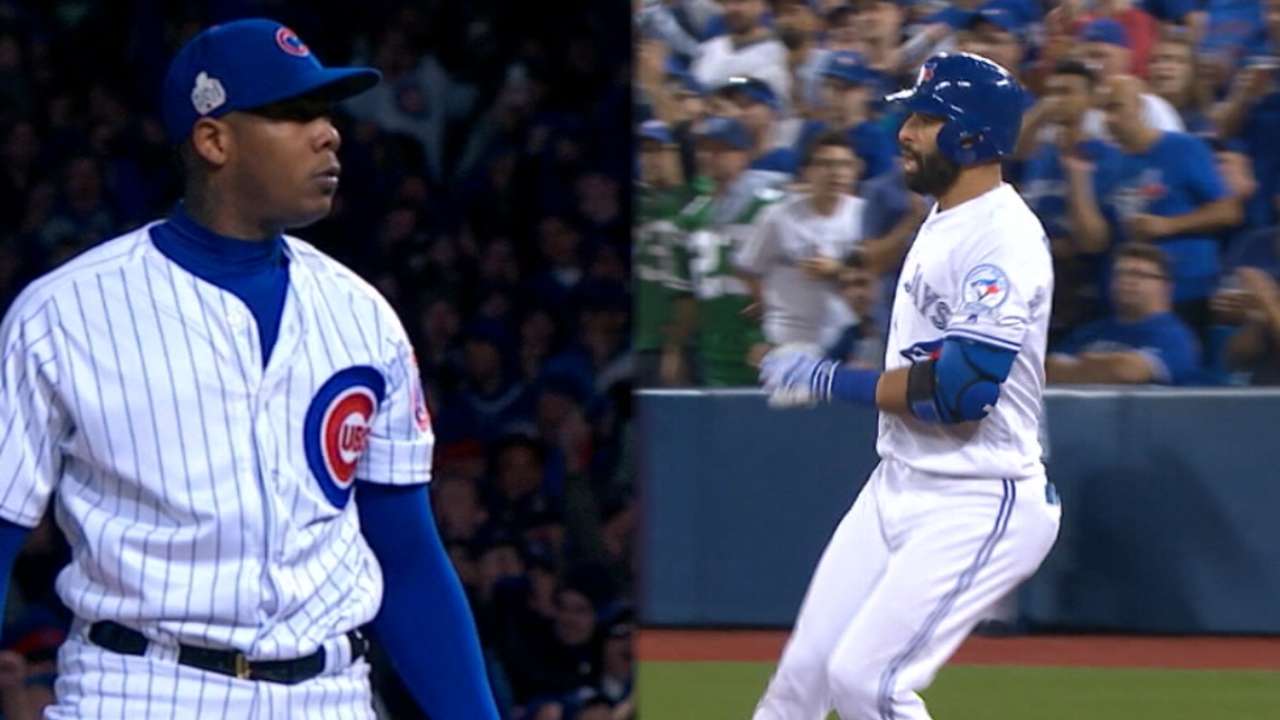 SCOTTSDALE, Ariz. -- Barely five days after the Cubs defeated the Indians to win the World Series, the Hot Stove season has begun.
Major League Baseball's 30 general managers are gathering at their annual GM Meetings from Tuesday to Thursday. And while there will be group sessions to discuss items such as rules changes, the real business for every club is already the quest for the 2017 title.
With free agency underway, this gathering usually acts as a preliminary stage for the Winter Meetings, which this year will be held outside of Washington, D.C., from Dec. 5-8.
Among the pitchers, the big-name free agents are relievers Aroldis Chapman, Kenley Jansen and Mark Melancon. The starter ranks are rather thin, topped by Rich Hill, Jeremy Hellickson and Jason Hammel, who went on the market on Sunday when the Cubs declined to exercise the $12 million option in his contract.
There are plenty of good hitters out there. Yoenis Cespedes, Edwin Encarnacion, Mark Trumbo, Jose Bautista and Ian Desmond top the list.
The Yankees certainly will be looking, and don't discount a possible reunion between them and Chapman, who was traded by the Yanks to the Cubs on July 25.
"We're going to go through everything," Yankees GM Brian Cashman said this week. "The area we want to focus on is pitching -- bullpen and starting pitching. The biggest focus will be pitching, pitching, pitching."
It doesn't take long for the postseason to end and the offseason to begin.
The Cubs, for example, won their first World Series in 108 years on Wednesday in Cleveland and celebrated with a gathering of an estimated 5 million fans in Chicago on Friday.
Already, the composition of their championship team has changed. Chapman, Hammel and Dexter Fowler are free agents, while David Ross has retired. That's already a turnover of 16 percent of their 25-man roster, putting president of baseball operations Theo Epstein and general manager Jed Hoyer immediately into bidding wars for their suddenly former players or having to look for replacements.
The National League West-winning Dodgers could lose Jansen, as well as starting third baseman Justin Turner and right fielder Josh Reddick, both of whom are also highly coveted free agents.
The Mets might try to re-sign Cespedes, as they did last offseason, or decide to go in another direction.
Do the NL East-winning Nationals bring back Melancon?
The Giants -- who blew 30 saves during the regular season, plus two huge ones to the Cubs in losing their NL Division Series -- are certainly looking to sign one of the top free-agent closers.
"We'll explore every opportunity to make sure no ninth inning goes unstaffed," Giants general manager Bobby Evans said after his club was eliminated.
The bullpen trio of Javier Lopez, Sergio Romo and Santiago Casilla helped the Giants win World Series in 2010, '12 and '14. But all three are free agents and are unlikely to return.
Do the Indians re-sign free-agent first baseman Mike Napoli, who smacked 34 homers, knocked in 104 runs and was considered the heart and soul of the team?
"No year is ever the same; even if a lot of the guys are, it's never quite the same," said manager Terry Francona. "It's always a little different. I will miss coming to the park every day with this group. This group has been really extraordinary."
Other teams -- like the D-backs, Padres, Cardinals, Mariners and Blue Jays -- are either looking at total rebuilds or just the right part to get them at least back in postseason contention.
The Blue Jays, for instance, are eyeing an entire remake in the tough American League East. They have 12 free agents, including important cogs like Encarnacion, Bautista, Michael Saunders, R.A. Dickey and Brett Cecil.
It will be interesting to see what will happen with Bautista and Encarnacion, in particular.
"I think the Blue Jays will sign one of them," said Jim Duquette, a former MLB GM who's now an analyst for MLB.com. "Look for Encarnacion to sign and Bautista to move on. The rest of them will all have to be replaced."
Questions, questions, questions. That's the beauty of it.
It's doubtful anyone will sign this week. But the games have already begun. And that's what makes the Hot Stove season so much fun.
Barry M. Bloom is a national reporter for MLB.com and writes an MLBlog, Boomskie on Baseball. Follow @boomskie on Twitter. This story was not subject to the approval of Major League Baseball or its clubs.