Reds looking to add bullpen, bench depth
Club unlikely to be big spenders, but will look for bargain upgrades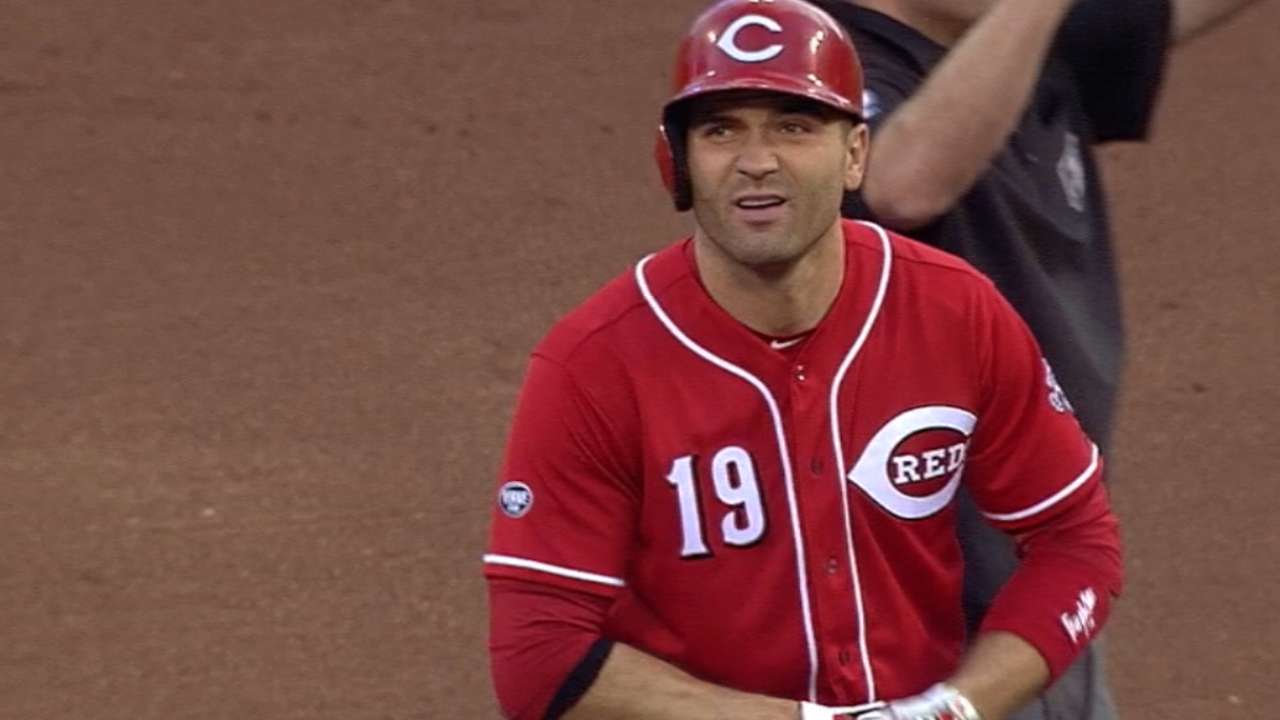 CINCINNATI -- As of early Tuesday morning, the free-agent market was open for business. The Reds aren't expected to deviate from their recent history and suddenly start flashing money and spending big this offseason. However, the club could use free agency as an avenue to fill needs as it looks to turn the corner from rebuilding to being more competitive in 2017.
Cincinnati is seeking to make upgrades to its bullpen and bench, as both were areas that were weaknesses amid the cost-cutting of the past two seasons. A newly signed 15-year television rights contract with Fox Sports Ohio takes effect in 2018, which will help the budget but won't open a spending spree of investments into the upper end of the free-agent market.
General manager Dick Williams will still be looking for value.
"Internally, we were able to execute our plans based on assumptions that a [TV] deal would be happening. I haven't had to revisit my planning this offseason or change it in any radical way as a result of the deal getting done," Williams said.
"We'd certainly like to strengthen the bullpen. We've got some money to do it. Whether that money is more money into fewer players or fewer dollars into more players will depend on the market. Hopefully, we invest in the right guys. We've got some ideas of guys we want to target. Hopefully we can get them."
Arbitration eligible:
SS Zack Cozart (third year); OF Billy Hamilton (first year); LHP Tony Cingrani (first year); RHP Blake Wood (second year)
Free agents:
RHP Alfredo Simon; RHP Ross Ohlendorf
Biggest potential free-agent loss:
Neither Simon nor Ohlendorf are expected to return, but their departures will not leave significant holes. Simon was a $2 million gamble when he was brought back to provide length in the rotation. It simply did not work out, as he went 2-7 with a 9.36 ERA.
Potential free-agent targets:
Williams did not specify exactly who the Reds might pursue or what they are willing to spend. Some of the veteran mid-range free-agent relievers on the market are right-handers Joe Blanton, Joba Chamberlain, Bud Norris and Drew Storen and left-handers Brett Cecil, Marc Rzepczynski and Boone Logan.
Shoring up the bench with hitters who bring some power should also be something Williams and the front office explores. And with Devin Mesoraco's injury history, adding catching depth behind him and Tucker Barnhart is also a possibility. But the preference is for that player to have versatility at other positions.
Wild card scenario:
If the Reds decide this winter that neither Raisel Iglesias nor Michael Lorenzen is who they want as a closer or setup man, the search for relief pitching could intensify even more. That might mean the need to add an experienced closer, but don't expect that to include the premier guys on the open market.
Mark Sheldon has covered the Reds for MLB.com since 2006, and previously covered the Twins from 2001-05. Follow him on Twitter @m_sheldon and Facebook and listen to his podcast. This story was not subject to the approval of Major League Baseball or its clubs.