MLB.com Columnist
Tracy Ringolsby
Q&A: Tekulve on 1979 World Series comeback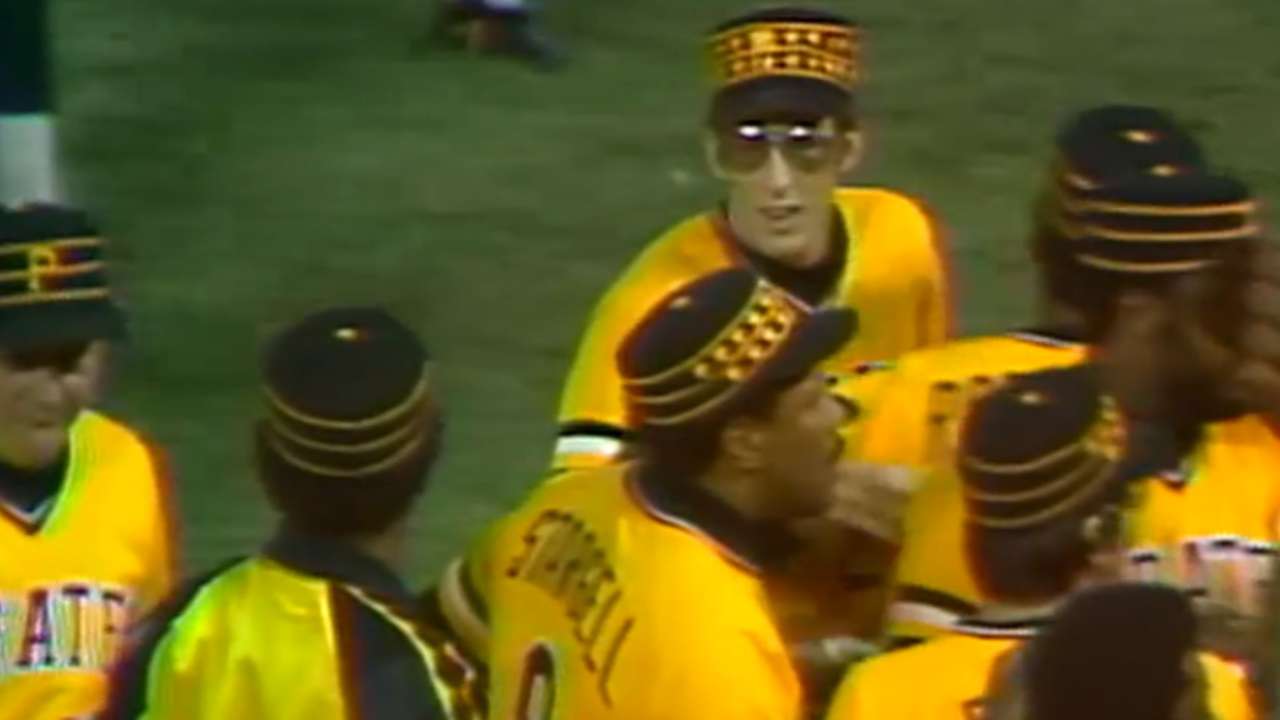 Kent Tekulve had a trip back in time this week. The Cubs became the first team to rally from a 3-1 deficit, including the last two games on the road, en route to a World Series championship since the 1979 Pirates. And Tekulve was very much a part of that Bucs team.
"Teke" was the closer during that championship season, which was the most recent time the Pirates won a World Series championship. Tekulve was unable to make a three-run lead hold up in Game 4, but he did get the final outs in both Games 6 and 7.
Tekulve admits it was a special bond that gave the Bucs the ability to rally for the wins in the final three games against the Orioles.
Tekulve discussed the comeback in this week's Q&A.
MLB.com: That Game 4 still fresh in your mind?
Tekulve: The way we went down 3-1 was because our trusty closer blew a three-run lead in the eighth inning and put us in that 3-1 hole. I give up doubles to John Lowenstein and Terry Crowley, and all of a sudden they shove (six) runs across, and all of a sudden we are looking at a 3-1 deficit.
MLB.com: What's the strongest memory?
Tekulve: What I remember about it after the game, personally, was how bad you feel, because you let your teammates down and put them in such a hole. That was not supposed to happen. It was a much easier assignment than it turned out to be. We are sitting there, and you do all the media stuff you have to do, and everybody is leaving. The last four in the clubhouse were myself, Dave Parker, Willie Stargell and Phil Garner. That wasn't unusual. We'd always be there late. We would have a couple of beers; talk about what happened in the game and what we had to fix for tomorrow. It was a routine thing.
That night, we are sitting there going through the same drill, and all of a sudden Willie looks at the three of us and says, "You know we may not win this thing, but at least to this point we haven't played like the Pittsburgh Pirates. Nobody has seen how good we really are. If we are going to lose this thing, let's go out tomorrow and play one game and let the world see how good the Pittsburgh Pirates are. The whole world is an audience, and we haven't shown them a damn thing." And we hadn't. The game we won, we beat them in Game 2, 3-2. It was an OK game, but we didn't do the things we could do. We hadn't been a dominant team. That's where things started.
MLB.com: And it was that simple?
Tekulve: Sure. The shift went mentally off of the task ahead, which was daunting, to not even thinking about winning the World Series, but just showing everybody how good we really were -- that we weren't really this bad, and the Orioles shouldn't be this far ahead of us. Then things started unfolding. We come in the next day and we are going to show the world how good we can play.
MLB.com: But wasn't there a personal tragedy?
Tekulve: Yes. Driving to the ballpark Sunday morning, I hear about (manager) Chuck Tanner's mother passing away overnight. So we get to the ballpark and we have that on top of what we already have going.
MLB.com: And a little more incentive?
Tekulve: On top of that, there was a copy of the Baltimore Sun -- and I don't know how it got in our clubhouse, but it was sitting on top of the table in the middle of our locker room. On the front page of the Sunday Baltimore Sun was a story with the mayor of Baltimore (Thomas D'Alesandro III) and the parade route for the Monday after they had won the World Series. First off, I don't know how you can get to be mayor if that's all the smarter he was, but it was there. Now, we're trying to get ourselves back together after our closer had blown a three-run lead in the eighth inning the previous game, and everything is about as bad as it can be.
MLB.com: The matchup, however, doesn't seem like it was too favorable, was it?
Tekulve: We had Jim Rooker throwing, and they had Mike Flanagan. Flanagan had won 23 games that year, was the American League Cy Young winner and had already beaten us in Game 1. Rooker had been on the disabled list two or three times during the year and wasn't one of our top-line pitchers. We went out and they were leading, 1-0, after five innings. Then we clicked. We won that game, 7-1, had one day off and went back to Baltimore. OK, we played a pretty good game, gave the world a chance to see us. It was like, "Let's play another good game for them." So Candy (John Candelaria) goes out and throws six shutout innings and I throw the last three, and we beat them, 4-0.
MLB.com: Then comes Game 7.
Tekulve: In the final game Jim Bibby gives up a home run to Rich Dauer in the bottom of the third, but Stargell has the answer. He unloads a two-run shot off Scott McGregor in the sixth, and we wind up winning, 4-1. I worked the last two innings in that game.
MLB.com: It was all about that team's mentality?
Tekulve: It was interesting how the focus went very casually from "We are in a big mess" to "Let's just show somebody how good we are." The outcome of the World Series went out of the equation. It was more about "We are a little embarrassed about the fact we aren't playing well." Then we are not only winning games, but the pressure is backing up on them on the other side of the field. The last three games they only scored two runs and we scored 15 runs. We started playing like we could play.
MLB.com: And Stargell was, well, Stargell?
Tekulve: We rode his back the whole month of September. It was freaky scary. Every time we needed something, Willie would come up and provide it. He was one of those players who had the ability to start with, and then he got into a streak in the postseason where he kept coming up at the right time and kept producing and producing.
MLB.com: It was a big series for Stargell, personally, wasn't it?
Tekulve: The thing was back in `71, he didn't play well at all in the World Series. That was Roberto Clemente's series, and Stargell didn't contribute much at all. This time, he was sitting back saying, "I didn't do much the last time, it's time for me to do something, too." It kept snowballing.
MLB.com: In retrospect, it does seem amazing, doesn't it?
Tekulve: The thing that was hardest for me to believe is once we switched our focus off how many games it was going to take to win the World Series, it never got back there, even in Game 7. We were just going to go out and play a good baseball game. That was the focus -- not going out and playing a good baseball game and winning it. The winning part would take care of itself.
Tracy Ringolsby is a columnist for MLB.com. This story was not subject to the approval of Major League Baseball or its clubs.