MLB.com Columnist
Jonathan Mayo
Fielding an all-time Arizona Fall League team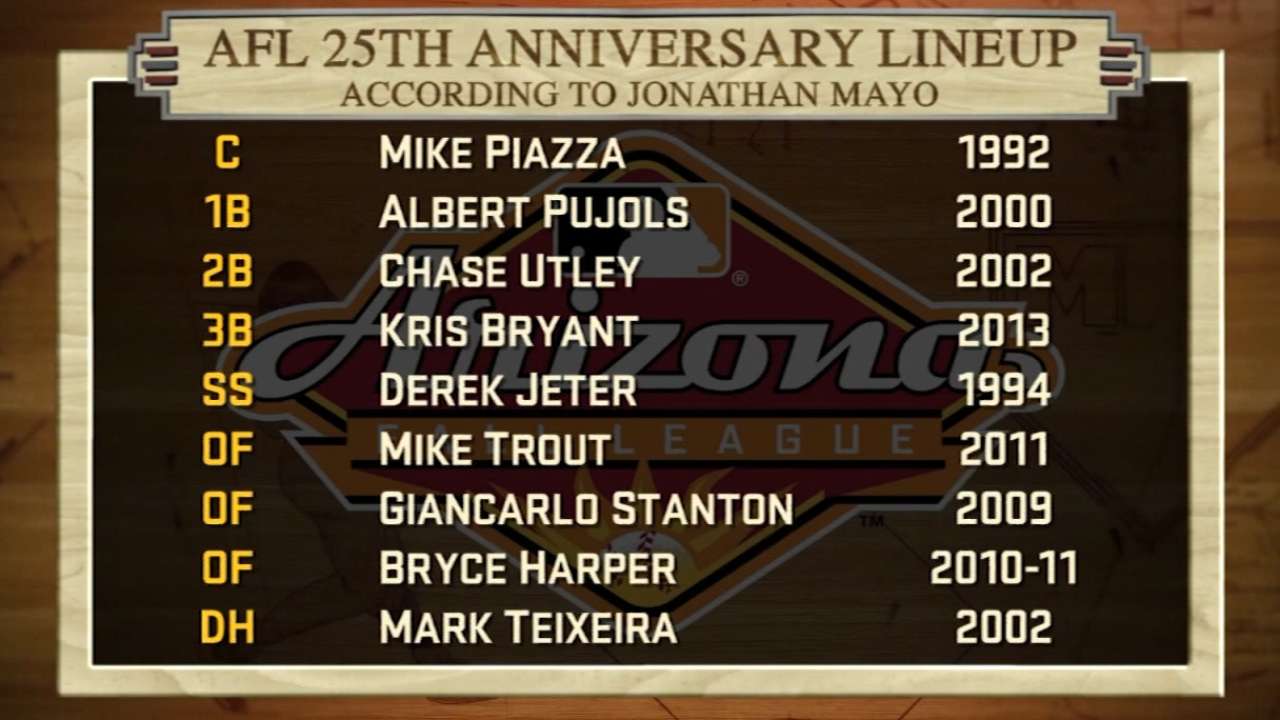 SURPRISE, Ariz. -- It's the 25th anniversary of the Arizona Fall League and, as is often the case, when a momentous time marker like that comes around, people like to talk big picture. For a silver anniversary, it seems fitting to look at who the best players in the history of the AFL have been.
Bowman Baseball Cards released a Top 25 all-time AFL players list -- a solid list to get the conversation started.
But what if you wanted to fill out a lineup card with the best to have ever come through the Fall League? With the success rate the league has had -- more than 60 percent of the AFL's alumni have gone on to the big leagues -- there are multiple choices at each position. Here's one entry for a best AFL lineup, basing it on Major League success, not performance in the Fall League.
C Mike Piazza, Sun Cities (1992): The first AFL alum to be enshrined in the Baseball Hall of Fame, Piazza played in the AFL's inaugural season. He had made his big league debut that year, then went on to win National League Rookie of the Year honors in 1993.
1B Albert Pujols, Scottsdale (2000): Pujols may have snuck up on people when he won a job out of Spring Training with the Cardinals in 2001, but had they known he'd been in the AFL the previous fall, perhaps it wouldn't have been as much of a surprise. Like Piazza, Pujols won NL ROY honors the year after playing in Arizona.
2B Chase Utley, Grand Canyon (2002): Utley made his big league debut the year after playing in the Fall League and really established himself in 2005 with the first of four straight 100-RBI seasons.
3B Kris Bryant, Mesa (2013): Bryant's just getting started, but after his huge AFL season, it was clear he was ready for the big leagues the following year, giving this all-time lineup yet another Rookie of the Year winner and another Most Valuable Player Award winner.
SS Derek Jeter, Chandler (1994): In a few years, he'll join Piazza as an AFL alum in Cooperstown. He made his big league debut the season after he played in Arizona, then picked up his Rookie of the Year Award in 1996.
OF Mike Trout, Scottsdale (2011): He made his big league debut at age 19 in July 2011, then came to the AFL to get some more work in. In 2012 came, yep, you guessed it, a Rookie of the Year Award, not to mention the first of five straight top-two finishes in the American League MVP voting.
OF Giancarlo Stanton, Mesa (2009): He was still going by Mike back then, but regardless of first name, the power has always been legit, Making his MLB debut the following year at age 20, he hit 22 home runs in just 359 at-bats. That's been his career low in home runs to date.
OF Bryce Harper, Scottsdale (2010, 2011): Harper came to the AFL right after the Draft and played sparingly as a Taxi Squad guy, then was back in 2011 as a full-time player. That helped him prepare for his Rookie of the Year campaign in 2012.
DH Mark Teixeira, Peoria (2002): Teixeira finished just fifth in AL ROY voting in 2003, the year after he played in the AFL, but his 26 homers were clearly a sign of things to come, as he followed that up with four straight seasons of 30 or more. He put up nine seasons total with that kind of long-ball productivity.
RHP Roy Halladay, Grand Canyon (1998): The 21-year-old Halladay made his big league debut in 1998, then headed to the Fall League. It took him a few years to really establish himself, winning his first Cy Young Award in 2003.
LHP Aroldis Chapman, Phoenix (2011): Chapman made just two appearances in the AFL in 2011. The following season was the first of four straight All-Star nods for the lefty reliever as he established himself as one of the most dominant closers in the game.
Jonathan Mayo is a reporter for MLBPipeline.com. Follow him on Twitter @JonathanMayo and Facebook, and listen to him on the weekly Pipeline Podcast. This story was not subject to the approval of Major League Baseball or its clubs.