Yanks' Kaprielian paces Scorpions with strong start
New York's No. 9 prospect makes his longest Fall League outing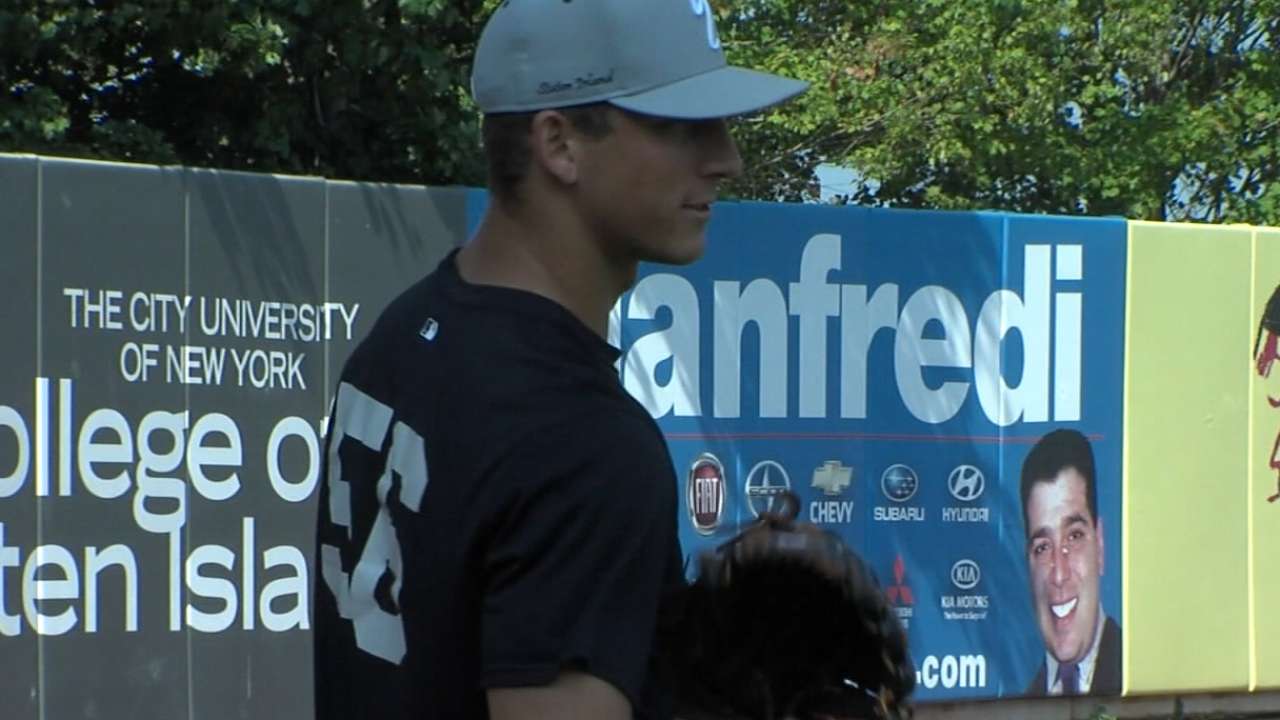 SCOTTSDALE, Ariz. -- Yankees No. 9 prospect James Kaprielian turned in a solid start Friday night for the Scottsdale Scorpions, allowing four hits and one run while striking out two batters in five innings, in an 8-3 win over the Mesa Solar Sox at Scottsdale Stadium.
"I feel all right, just trying to get better with every outing and get an opportunity with the ball in my hand," said Kaprielian. "Did a little better tonight."
The Yankees selected Kaprielian 16th overall in the 2015 Draft out of UCLA. He finished his UCLA career fifth all-time in career ERA and sixth in career strikeouts (275) for the program.
• Gameday
During the Fall League, Kaprielian has been working on a few adjustments in his pitching mechanics. He said he focused on keeping his elbow higher during his windup so that he could keep opposing hitters from catching his pitches over the plate for clean hits.
"I think I did a good job pitch to pitch. It felt like I was attacking hitters tonight," he said. "The game was on my side a little bit, so I want to keep it that way as much as possible."
The outing was Kaprielian's best start in the Fall League since he first one, on Oct. 12, when he allowed one hit and struck out six in three innings.
The Scorpions' four-run first inning set the tone against the Solar Sox. Phillies No. 13 prospect Scott Kingery drove in the game's first run when the second baseman's single to left field scored right fielder Tyler Wade, the Yankees' No. 14 prospect.
Later in the inning, with two runners on, Giants farmhand Ryder Jones homered to right-center field off of Justin Shafer to give the Scorpions a 4-0 lead. Jones went 2-for-3 with three RBIs, two walks and a run scored.
"He was down in the count 2-0 and I thought he was going to try to give me something to hit," Jones said. "It backed up on my hip and leaked over the front of the plate, and I got it good."
Bradley Zimmer, the Indians' No. 1 prospect and No. 25 in baseball, hit a solo homer for the Solar Sox in the fourth inning, but a comeback never mounted as the Scorpions added three more runs in the bottom of the inning.
Kaprielian is looking forward to using the rest of the Fall League season to improve his four-pitch arsenal, which he believes allows him to keep batters guessing at the plate.
"Guys won't up there looking for only two pitches," he said. "The opportunity for four things coming -- being able to do that to both sides is important to me."
Jonathan Saxon is a graduate student at Arizona State University. This story is part of a partnership between MLB.com and ASU's Walter Cronkite School of Journalism and Mass Communication. This story was not subject to the approval of Major League Baseball or its clubs.