Rotation arms atop Padres' free-agency list
Preller on starting pitching: 'We're going to cast a wide net'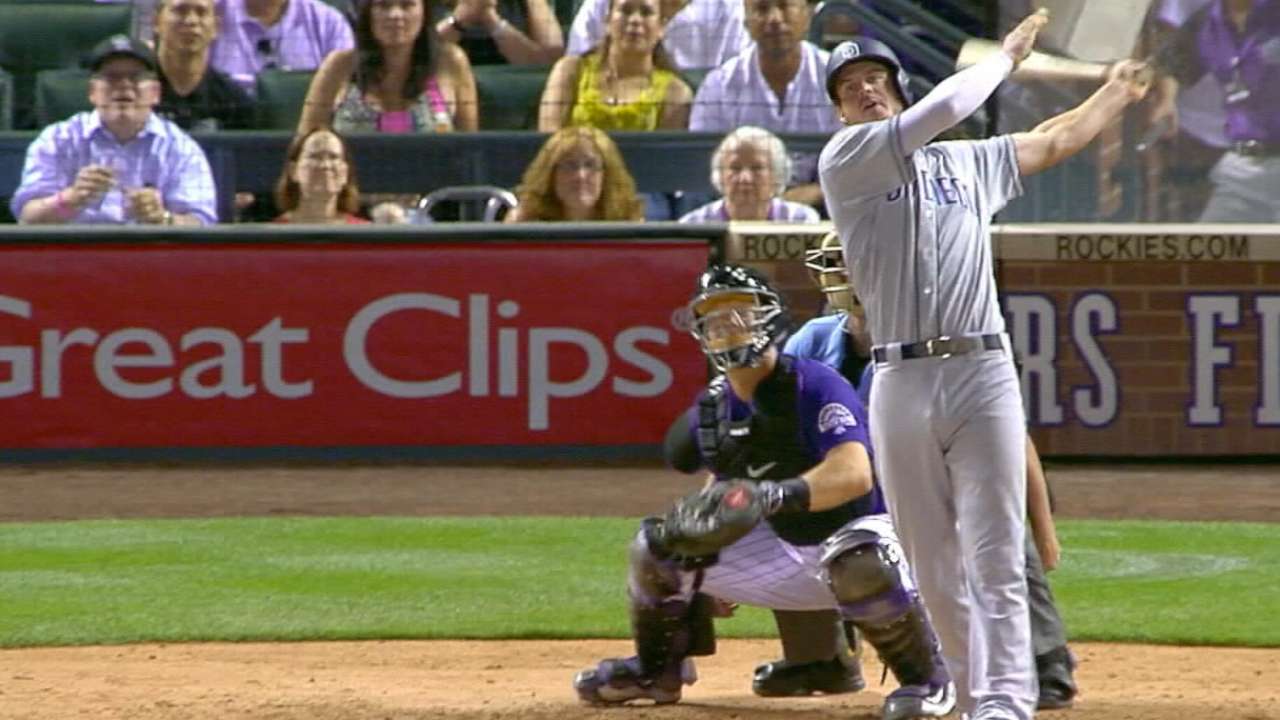 SAN DIEGO -- Six Padres are hitting the open market in free agency, which begins Monday at 9:01 p.m. PT.
And there's plenty of work to do in San Diego -- regardless of whether the Padres bring back a few of those players. The rotation is already thin -- and could be even thinner come Spring Training, depending on the statuses of three recovering hurlers.
Plus, there's the critical matter of infusing a young clubhouse with some form of veteran presence. By the time free agency kicks off, Brett Wallace will be the only Padre older than 30 on the roster.
• Padres not pressured to add veterans to roster
Free agents: OF Jon Jay, RHP Carlos Villanueva, RHP Edwin Jackson, LHP Clayton Richard, RHP Brandon Morrow, IF Adam Rosales
Arbitration-eligible: RHP Tyson Ross, IF Alexi Amarista, C Hector Sanchez, C Derek Norris, RHP Carter Capps, 1B Brett Wallace, 1B Wil Myers, 3B Yangervis Solarte, RHP Brandon Maurer, LHP Brad Hand, LHP Christian Friedrich, OF Oswaldo Arcia
Biggest potential free-agent loss
The future of the Padres' outfield looks bright, after Hunter Renfroe and Manuel Margot impressed in their September debuts. They join Travis Jankowski and Alex Dickerson to form a talented, but very young, corps.
If Jay opts to sign elsewhere, the Padres would sorely miss his experience and his versatility. Plus, the young Padres outfielders seemed to use Jay as a de facto coach this year.
More importantly, Jay spent time at all three outfield spots, and he has posted even splits against lefties and righties throughout his career. There's undoubtedly a spot for him on the 2017 roster, after he led the Padres with a .291 average while finishing second with a .339 OBP.
Potential free-agent targets
As mentioned above, the Padres' already thin rotation enters 2017 with some serious injury questions regarding Ross (shoulder), Jarred Cosart (elbow) and Colin Rea (elbow).
"[We want to sign] as many starters as possible," said Padres general manager A.J. Preller. "We're going to cast a wide net. ... It's kind of twofold: Finding guys for next year that can get you toward those 1,000 innings that you need from your starters, basically; and then obviously finding guys long term that are going to fit in your plans."
The Padres may avoid some of the high-cost arms on the market, but they still need to add at least two big league-caliber starters. Ivan Nova, Josh Collmenter and Doug Fister could fit the bill, while Richard and Jackson have expressed a desire to return.
Wild-card scenario
In the bullpen, Maurer, Hand and Ryan Buchter return, while Capps should be fully recovered from Tommy John surgery. Relief pitching could be a strength in 2017.
All four are cost-controlled relievers who have been very effective -- making them desirable commodities.
If the Padres deal any of them, they'll be in the market for another veteran bullpen arm -- not unlike last year's signing of Fernando Rodney to a team-friendly $1.6 million deal. (Hey, Rodney's available again this year, too.)
AJ Cassavell covers the Padres for MLB.com. Follow him on Twitter @ajcassavell. This story was not subject to the approval of Major League Baseball or its clubs.