MLB.com Columnist
Jonathan Mayo
McMahon cracks clutch single in three-hit day
Rockies' No. 6 prospect working on his approach following tough year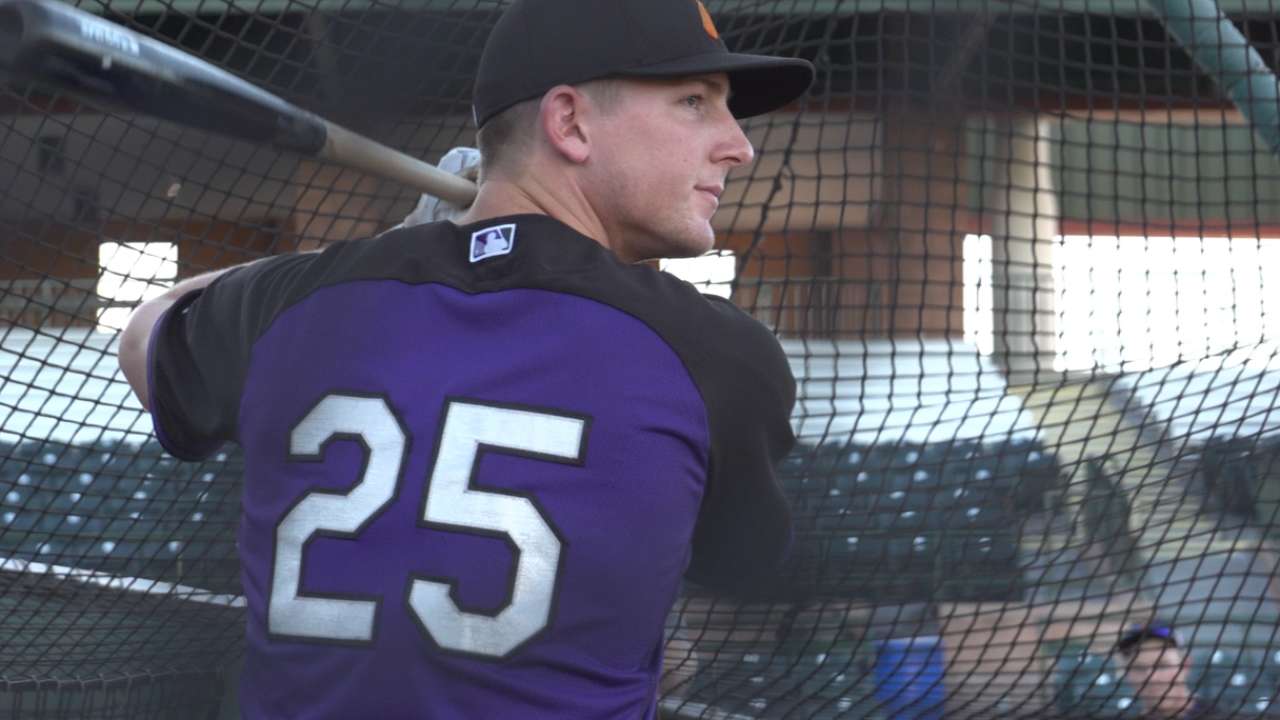 SURPRISE, Ariz. -- The Salt River Rafters had coughed up a 6-2 lead against the Surprise Saguaros and headed to extra innings on Friday afternoon. They play a maximum of 11 innings in the Arizona Fall League, so the Rafters had to make sure to get something done quickly. They did just that, using a Ryan McMahon single in the 10th to regain the lead and walk away with a 7-6 victory on the road.
Tigers prospect JaCoby Jones got things started with a leadoff single. He went to third when Braves outfielder Dustin Peterson singled to right. That set the stage for McMahon, the Rockies' No. 6 prospect. The corner infielder singled to right as well, his third hit of the afternoon, to bring in Jones and cement the win.
"It always feel good when you can contribute," McMahon said. "This is a developmental league, but it's more fun to win, obviously. It's fun to have innings like that, where guys are getting hits, everybody's pumped up and we're scoring runs late in the game. It's always fun to contribute and be a part of things like that."
• Gameday
The teams traded two-run outbursts to start the game. Twins lefty Stephen Gonsalves, who hadn't pitched since Oct. 13 as he dealt with a minor back strain, had to shake off some rust. He put the first two hitters on with a walk and a hit-by-pitch and both came around to score. His Saguaros teammates quickly tied it on a two-run double by the Pirates' Eric Wood.
Salt River jumped ahead with two runs in the third and two more in the fifth. D-backs third baseman Dawel Lugo hit a two-run homer to give the Rafters a 4-2 lead and McMahon followed a Christin Stewart (Tigers) RBI triple with a run-scoring single. Home runs by Corey Toups of the Royals and Mauricio Dubon of the Red Sox brought the game to within a run, and Surprise tied it up on an RBI groundout by Rangers catcher Jose Trevino.
If it hadn't been for that, McMahon would not have gotten the chance to play hero or the opportunity to record his first three-hit game of the fall. It hasn't been the most productive stint for the left-handed hitter -- his three hits on Friday pushed his average up to .245 -- but the 21-year-old feels the work he's been putting in is starting to pay off.
"'I've been talking a lot with my hitting coach from this year, my hitting coordinator, the hitting coach here, bouncing ideas around, trying to get my feel back, trying to get my effort level in the right spot," McMahon said. "It's starting to show up and pay off. I'm happy with where I'm at and where I'm going to."
McMahon's 2016 season was trying at times, and not just because his Hartford team didn't play a single home game in the Eastern League. He did improve in the second half considerably, but he faced true offensive adversity for the first time in his pro career, finishing the year with a .724 OPS and 161 strikeouts in 133 games. McMahon sees it as a tremendous learning experience and, just like he did during the regular season, he's trying not to worry about the stat line in the AFL.
"I'm trying to not look at the numbers; most of us aren't looking at them," McMahon said. "I'm just trying to focus on playing better and I feel like I've been doing that. The numbers will be there if I'm doing what I need to do. I'm looking forward to continuing to work and use it in the games."
The one number that does stand out is his walk total. McMahon has drawn 10 walks for a .375 on-base percentage in his 15 AFL games. It's a small sample size, but clearly his approach has changed in some capacity.
"I always joke that you walk when you're missing pitches," McMahon said. "Seriously, I think I'm seeing the ball pretty well, getting used to seeing more pitches, a lot of pitches I used to swing at, sliders that start down the middle. Just from repetition and seeing them, you start laying off of them.
"It goes back to the effort in my swing. When I cut down the effort, just take a smooth swing, I'm able to see the ball longer, let it travel and see it moving better."
Jonathan Mayo is a reporter for MLBPipeline.com. Follow him on Twitter @JonathanMayo and Facebook, and listen to him on the weekly Pipeline Podcast. This story was not subject to the approval of Major League Baseball or its clubs.