Pair of Cards prospects shoulder load in AFL win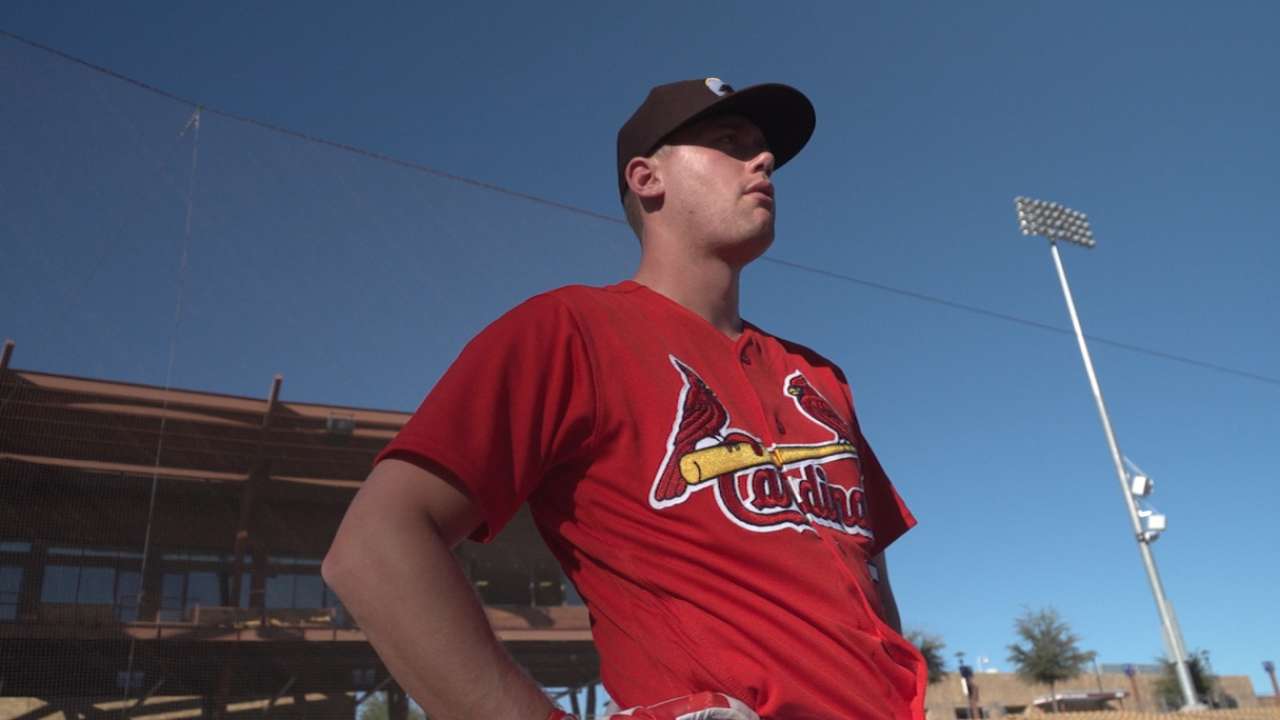 PEORIA, Ariz. -- A pair of Cardinals prospects boosted the Glendale Desert Dogs to a 5-1 victory over the Peoria Javelinas at the Peoria Sports Complex on Friday afternoon.
Austin Gomber, the Cards' No. 19 prospect, pitched 5 2/3 innings -- the longest outing by a starting pitcher in the Fall League this year -- striking out five and scattering five hits. He walked four.
• Gameday
Carson Kelly, the Cardinals' No. 11 prospect, fueled the offense with his bat and some heads-up baserunning.
Gomber used his changeup to shut down the Javelina bats.
"I threw a lot of changeups," he said. "I didn't really have command of the fastball I've had in the past few starts. My breaking ball was kind of hit-or-miss, but my changeup was the one pitch I could go to at any time and get some outs with it. So I was really just attacking with that.
"I just tried to attack the zone as I was falling behind a lot earlier in the game. My timing was a little bit off, so I was just trying to attack the zone early to get some quick outs, and I was able to throw some zeros."
Gomber, who was taken in the fourth round of the 2014 MLB Draft, leads the Fall League in wins (four) and is tied for the lead in strikeouts with D-backs prospect Jared Miller (24).
"I'm looking to improve on my overall game," Gomber said. "I'm trying to clean up my delivery, which just goes back to having consistent timing that allows me to make the pitches I want to make. I'll have glimpses of it at times each game and then other times I am all over the place when my timing is out of whack."
Over 54 Minor League starts, ranging from Class A to Double-A, Gomber has compiled a record of 24-13 with a 2.62 ERA and 8.5 strikeouts per nine innings.
Glendale jumped to a 3-0 lead in the top of the first inning, highlighted by a two-run double from Kelly. The Desert Dogs rode that and Gomber's left arm to the victory.
Control issues by Peoria's starting pitcher, Orioles No. 10 prospect Tanner Scott, contributed to Glendale's big first inning. Scott walked Nationals No. 8 prospect Andrew Stevenson on four pitches to begin the game, and then followed that by walking Astros No. 30 prospect Garrett Stubbs.
Kelly stepped into the box and drilled on an 0-2 pitch from Scott into left field, and both runners came around to score. Kelly added a double to left-center field in the top of the seventh inning, en route to a 2-for-4 day at the plate, while scoring two runs.
Kelly's alert baserunning led to the third run in the first inning. He was on third base when White Sox prospect Danny Hayes attempted to steal second. Hayes was caught in a rundown, but while the Javelinas infielders were busy trying to tag Hayes for the out, Kelly raced home to score.
Peoria came back in the bottom of the second inning with a run of their own on an RBI single by Padres prospect Josh VanMeter.
Glendale responded with a run in the top of the fifth to make it 4-1 when Peoria committed two errors on a steal attempt to allow a run to cross the plate. The Desert Dogs added another tally on the scoreboard in the top of the seventh on an RBI single by Cardinals No. 15 prospect Paul DeJong.
Brendan Kennealy is a senior sports journalism student at Arizona State University. This story is part of a partnership between MLB.com and ASU's Walter Cronkite School of Journalism and Mass Communication. This story was not subject to the approval of Major League Baseball or its clubs. This story was not subject to the approval of Major League Baseball or its clubs.