Emotional Rizzo salutes fans, Ross
Cubs first baseman also gives ball from final out of Game 7 to chairman Ricketts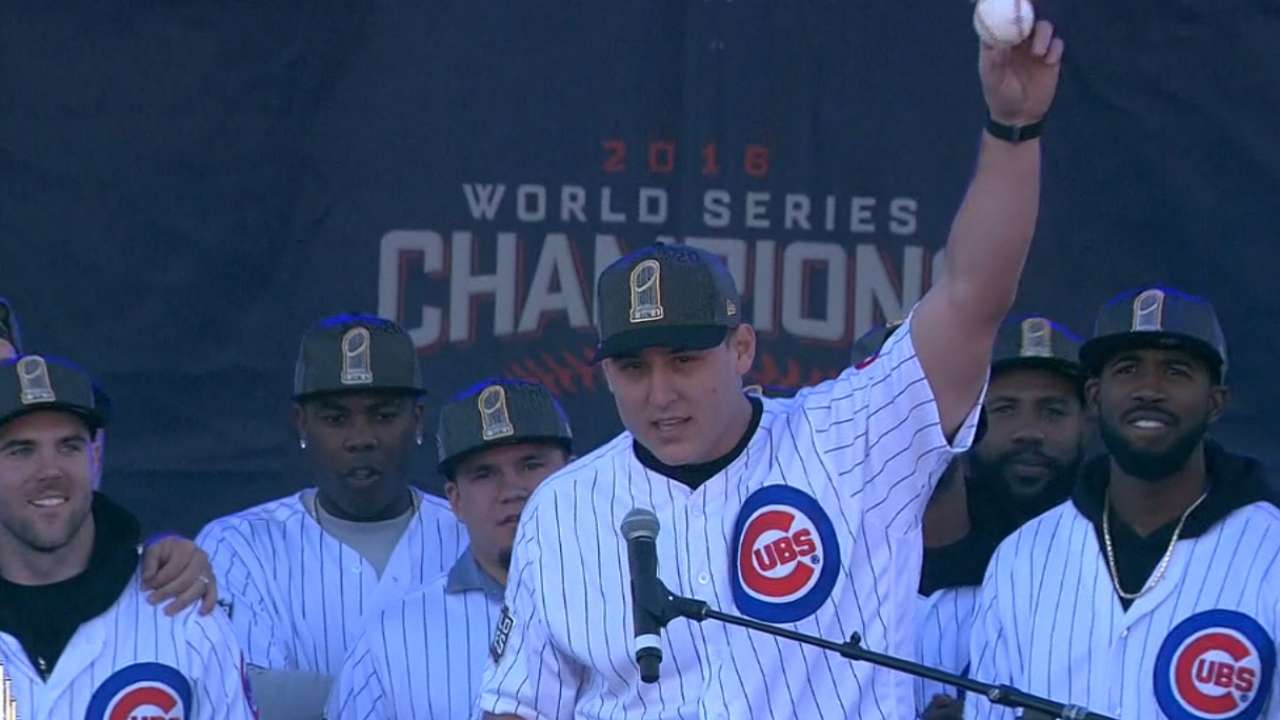 CHICAGO -- When Anthony Rizzo caught Kris Bryant's throw across the infield for the final out in the 10th inning of Game 7 of the World Series against the Indians, securing a Cubs win for their first title since 1908, the first baseman tucked the baseball into his back pocket. Rizzo made sure to give that ball to a member of the front-office staff to protect during the wild celebration after the Series win on Wednesday in Cleveland.
On Friday, Rizzo presented that ball to Cubs chairman Tom Ricketts during the team's rally at Grant Park.
• Shop for Cubs World Series champions gear
The gift was part of an exuberant celebration in Chicago that included a parade from Wrigley Field to Grant Park and drew an estimated 5 million people. For Rizzo, it was an emotional day.
• Ecstatic Chicago holds title parade for Cubs
When he was introduced, the first baseman addressed the thousands gathered at Hutchinson Field.
"It happened, baby," he said. "It happened."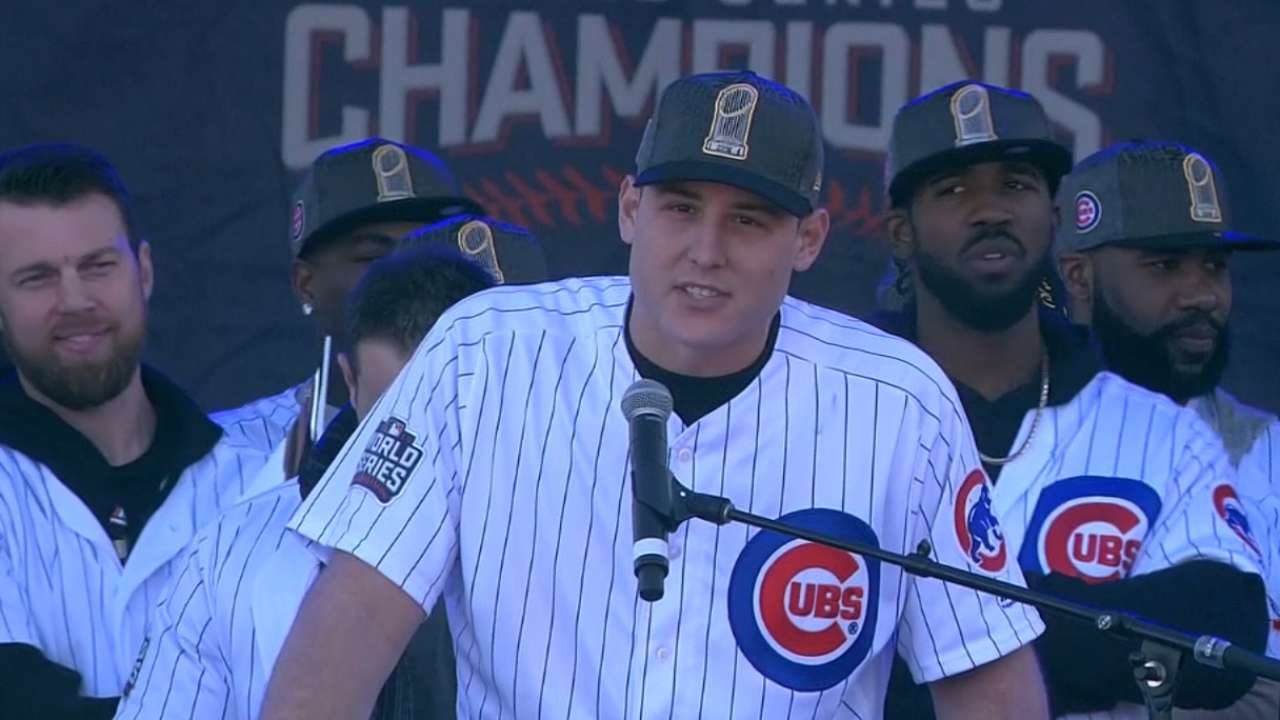 Rizzo is well aware of the hard times the fans have endured to get to this point.
"I was here during the bad times and got so much into the culture of the Chicago Cubs," Rizzo said. "Every single person who has worn this jersey, I feel, won the World Series with us."
• Joyful fans turn out to thank Cubs at parade
He cited recent players like Kerry Wood and Ryan Dempster, but also Hall of Famers Ernie Banks, Billy Williams and Ron Santo.
"Every single player who is still living has been a big reason we're here and a big part of this," Rizzo said.
The last player introduced was catcher David Ross, who has become a cult hero. Ross, a.k.a. Grandpa Rossy, is retiring, but he made an incredible impact on the team.
"Gramps and I sat down a few years ago in the offseason before his last year with Boston," Rizzo said. "He was a free agent. We just talked. We have the same agency, and we're talking, and I said to my agent, 'Man, this is exactly what the Chicago Cubs need, he's exactly what we need to bring everything together.'
"He taught myself personally how to become a real winner," said Rizzo, who then got choked up. "He's like a brother to me. He's taught me a lot in life on the field, off the field, how to be a better person. I'm forever grateful for him. He's going out a champion forever. For the rest of his life, he can say, the last game he played in, he's a world champion."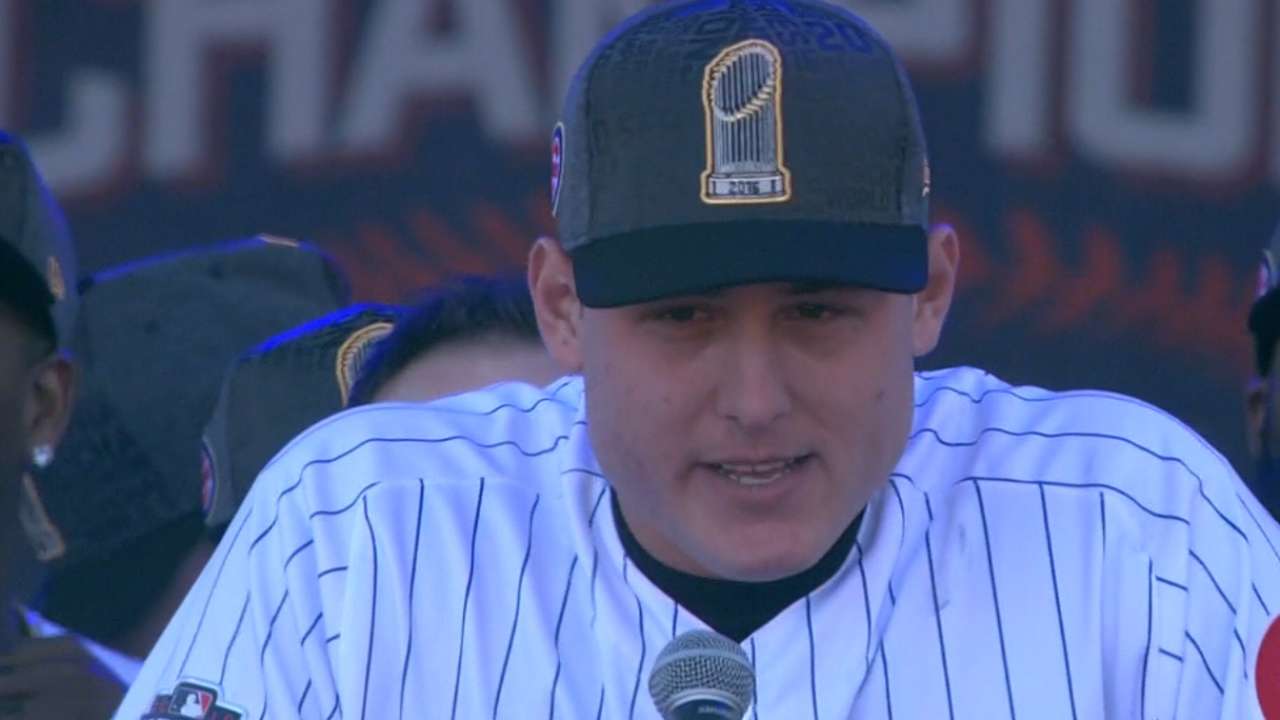 Ross then came out on the stage and the two embraced.
"Chicago!" Ross said, then pointed to the Commissioner's Trophy. "Look what the boys got me!"
Of course, Ross couldn't exit quietly, and he asked for a selfie with his teammates and the thousands of fans. They obliged.
• Ross took an epic selfie at the parade ceremony
"I love you Chicago -- thank you," Ross said. "Thank you, fans."
Carrie Muskat has covered the Cubs since 1987, and for MLB.com since 2001. She writes a blog, Muskat Ramblings. You can follow her on Twitter @CarrieMuskat and listen to her podcast. This story was not subject to the approval of Major League Baseball or its clubs.