Holy crowd! Parade amazes Caray's widow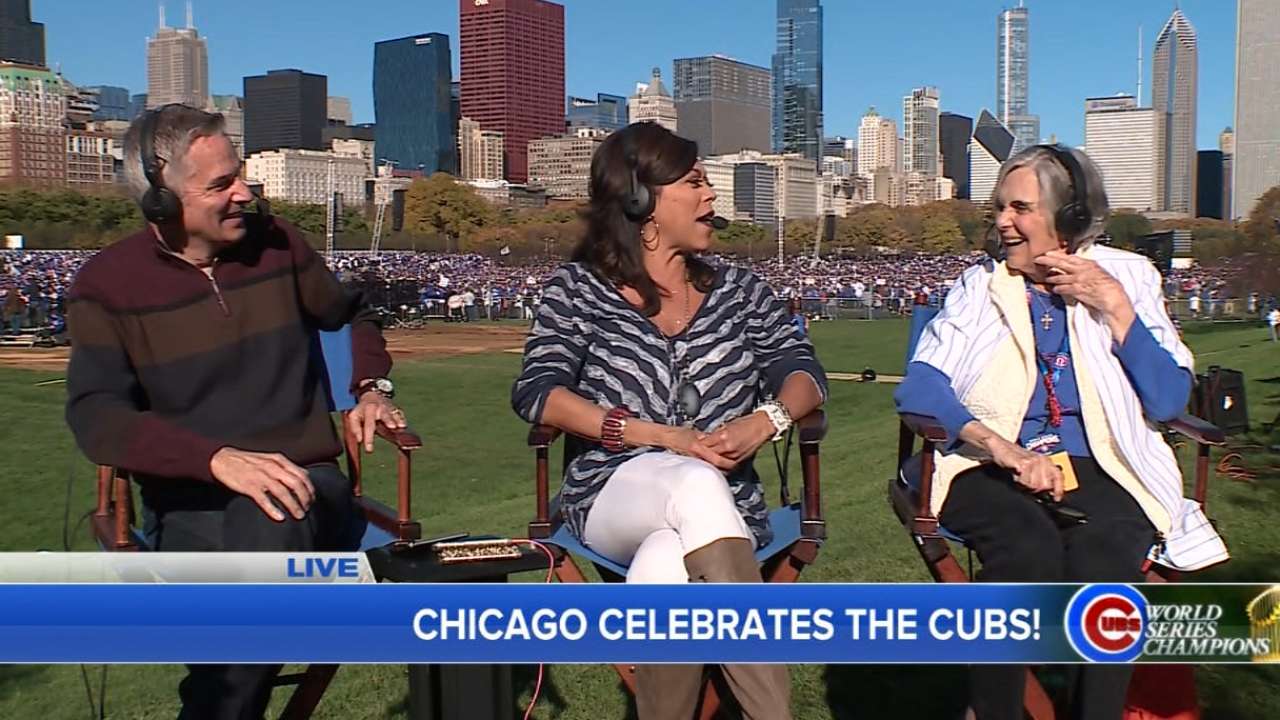 CHICAGO -- Dutchie Caray stood on a hill overlooking hundreds of thousands of Cubs fans at Grant Park and Hutchinson Field before the start of Friday's Cubs World Series victory rally and made an observation befitting of the unofficial first lady of Chicago baseball.
"Oh, my god. It's unbelievable. Just look at that crowd out there. My god," said Caray, who was married to broadcasting legend Harry Caray and still plays an active part in the highly successful Harry Caray Restaurant Group at 87.
• Shop for Cubs World Series champs gear
"I don't think I would get in that crowd," she added with a laugh. "I would just watch it from the sidelines. But it's unbelievable. It's something else really."
• Ecstatic Chicago holds title parade for Cubs
Caray moved from one interview stage to another Friday, expressing her joy over the Cubs ending 108 years of championship futility by beating the Indians in seven games. She was thrilled for the organization, but in keeping true to her husband's trademark, her greatest happiness was reserved for the overwhelming amount of Cubs fans all around her and those millions more who weren't able to get to Chicago.
"The fans are the ones that count, the ones that bring you everything," Caray said. "Just great fans. Look at them. The Cubs have the best fans in the whole country.
"Oh, my god was I nervous," Caray said of the 8-7, 10-inning victory in Game 7. "That was the most emotional game. It was up and down and up and down. And you know, this is a serious game, there are no more. You gotta win."
Fan tributes have been coming in for Harry Caray, the team's television play-by-play voice from 1982 until he died in February '98, since the clinching victory. There were green apples left at his grave site, referencing Caray's on-air commentary that as sure as God made green apples, the Cubs would reach the World Series.
There also was a tearjerker of a commercial filmed by Budweiser at the various Harry Caray establishments, dedicated to their favorite Cubs fan and Bud man, imagining how Caray would have called the final out of the team's ultimate victory.
"I met the guy last night that did that commercial," Caray said. "That commercial just brought back so many memories for me.
"Harry had a voice like no other and he broadcast like no other. I don't think there will ever be another. I was very emotional. It was just so great to hear him. The way he used to be, a long time ago. As I said, his voice was unbelievable. And that commercial, boy, they did a good job."
Scott Merkin has covered the White Sox for MLB.com since 2003. Read his blog, Merk's Works, follow him on Twitter @scottmerkin, on Facebook and listen to his podcast. This story was not subject to the approval of Major League Baseball or its clubs.