MLB.com Columnist
Phil Rogers
Baseball changed on North Side forever
5 million fans celebrate World Series parade in downtown Chicago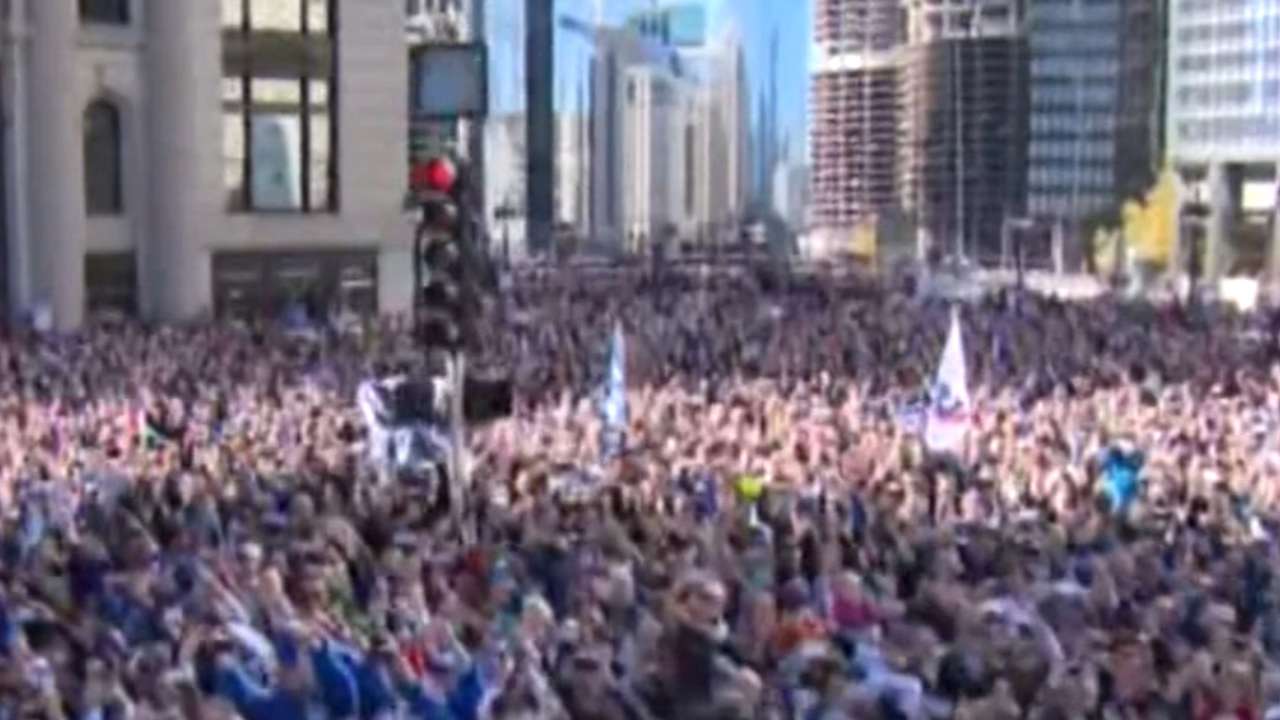 CHICAGO -- They poured into the city before sunset, coming from all across the Midwest in cars and on buses. Thousands had flown into town on Thursday, from locations as far away as Puerto Rico, Vietnam and China. Those Cub fans lucky enough to wake up in their own beds rolled out of their North Side brownstones without bothering to eat breakfast.
With a chance to join in a communal celebration for their team's biggest win in 108 years, fans started arriving at Grant Park at 5 a.m. CT for a rally scheduled for noon. When the gates opened to let fans enter the park, the dash for spots was as wild as the seventh game of the World Series.
• Shop for World Series champs gear
Up north at Wrigley Field, where the team's procession of double-decker buses and trollies was scheduled to depart at 10 a.m., men, women and children were 20 deep in some places before 9 a.m. The throng at the corner of Clark and Addison grew from there, stretching almost a block in some directions before the Cubs started their four-mile ride to the rally.
Nobody was talking about a billy goat, either.
Gone, clearly, are the ghosts that haunted past generations of Cub fans. This generation's fans will be able to tell their grandchildren about a team that recovered from a 3-1 deficit in the World Series to beat the Indians, and the magic of Parade Day, otherwise known as the day that the city dyed the Chicago River Cubbie blue and 5 million people were there to see it.
"Welcome to Cubstock, 2016,'' Cubs manager Joe Maddon said, looking out at a crowd of more than one million gathered at Grant Park. "This is overwhelming. The drive from Wrigleyville down through Michigan [Avenue] to here. The one thing that really came to my mind first and foremost is that we've known each other forever. You guys are the best. Congratulations.''
Chicago's often harsh climate is one of the obstacles that the Cubs have always battled, but even that seems to have been impacted by the two-run rally in the 10th inning that gave the Cubs an 8-7 victory for the ages on Wednesday night at Cleveland's Progressive Field. It was 56 degrees and sunny when the Cubs rolled out of Wrigleyville, and it must have seemed warmer when they got to the stage that awaited them at Grant Park, where eight years ago Barack Obama had held his victory rally on election night.
This had to be the exact dream that Tom Ricketts envisioned when he bought the Cubs late in the 2009 season. He told the crowd that he has frequently encountered elderly strangers with one request -- a World Series victory before they die.
"They say, 'Mr. Ricketts, I'm 71 years old,''' Ricketts said. "'Please win the World Series before I die.' Now, I normally say something like, 'OK, do you eat right? Do you take care of yourself? Do you exercise? How much time do I have?' Well, for the thousands of people who have said that to me, and are still with us, there you go."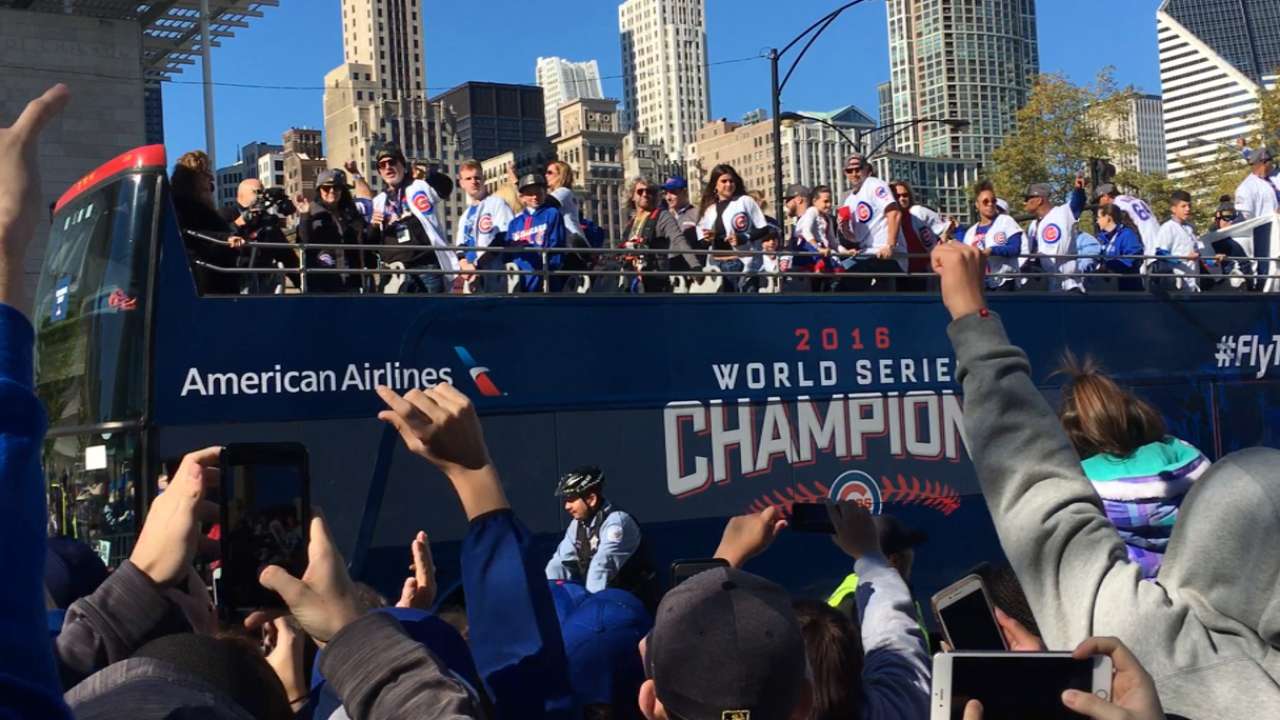 Crane Kenney, the Cubs' president of business operations, has been associated with the organization since the Tribune Company ownership. He praised Ricketts for setting the team up for success.
"There's a saying in business that 'culture eats strategy for breakfast,''' Kenney said. "And there were a lot of strategies over the years. But we proved that culture matters most. The Ricketts family brought a new culture to this organization when they joined us. All of them -- Tom, Pete, Laura and Todd, their father, Joe, and their mother, Marlene. They told us to think big. They told us to stop cutting corners. They said, 'Hire the best.' They said, 'Build the best. Don't settle for second. No one has a time clock on any of you. Do it right, and do it always.' They changed our culture.''
Early in his tenure as the Cubs' chairman, Ricketts spent a lot of time studying the organization. He toured the since-overhauled facilities in the Dominican Republic and visited all of the team's Minor League affiliates, asking questions everywhere he went. He also issued a challenge to players.
"When I used to go to Minor League clubhouses a few years ago, I would tell people that the men who are on the field when the Cubs win the World Series will not just be Chicago baseball players,'' Ricketts said. "They are going to be Chicago baseball legends.''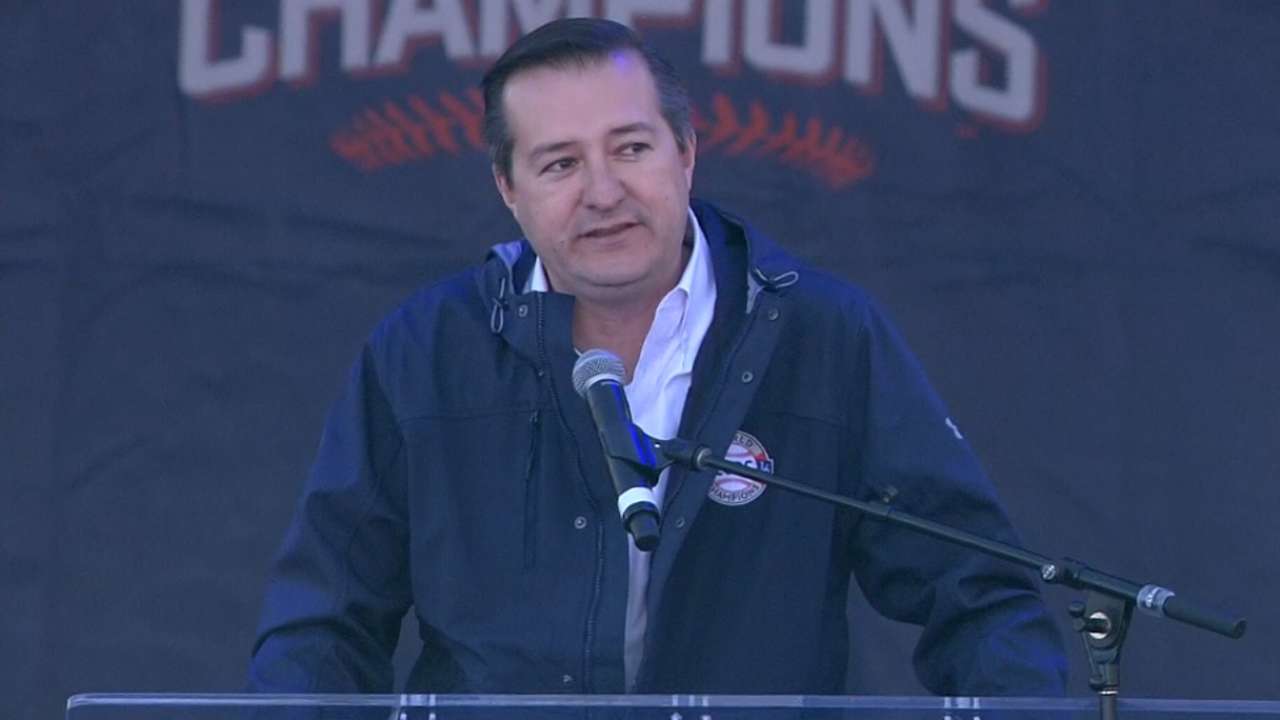 Pat Hughes, the club's play-by-play radio man since 1996, called those players up onto the stage in the park, reading the roll call of a 103-win team that was favored to win the World Series in Spring Training and will likely be favored to repeat next spring.
Ben Zobrist, the World Series MVP from Eureka, Ill., a small town in the southern part of the state, told the crowd that after winning a championship with the Royals last fall, he literally prayed to get a chance to join the Cubs.
"I thought, how can I ever top this?" Zobrist said about winning with Kansas City. "And then I started thinking about Chicago. I started thinking about Wrigley Field, 108 years and I said, 'I want to be part of that.'"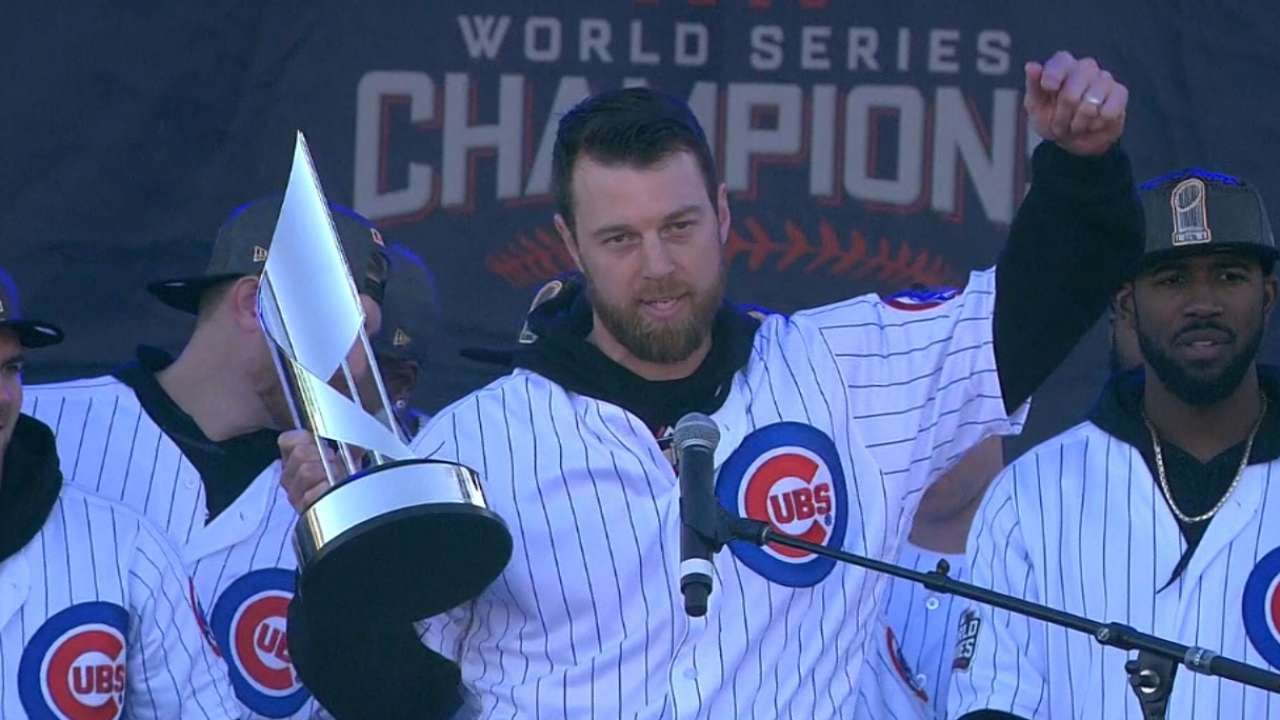 Theo Epstein, the team's architect, likewise was lured to Chicago by the chance to win with a franchise that had grown to expect disappointment. He had built two World Series-winning teams in Boston, his hometown, including the 2004 Red Sox ballclub that captured that franchise's first title since 1918.
Epstein's first Cubs team lost 101 games, but it only took three losing seasons before players like Anthony Rizzo, Kris Bryant, Jake Arrieta, Jon Lester and Kyle Hendricks carried the Cubs to the National League Championship Series in 2015. They were swept by the Mets but gained a belief that they were on the verge of ending the drought.
"That's what's made it such an emotional month,'' Epstein said. "Our players felt it, felt how badly you guys wanted it. Riding around town, seeing all the W flags, seeing you guys sharing this with your parents and your grandparents. All those who didn't quite make it all the way here, how badly you wanted just not to get there, but win the World Series. It was incredibly emotional for everybody. And our players really felt it and dug deep for you."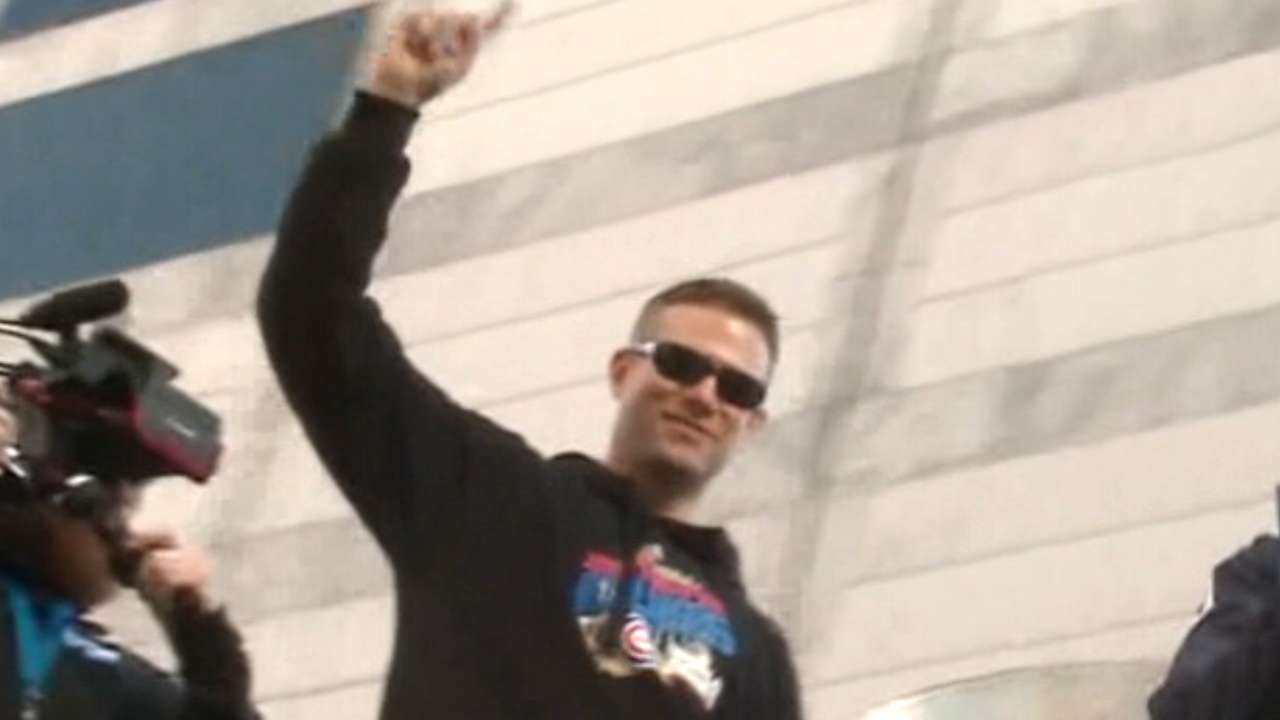 Epstein rode through the streets of Boston in one of the World War II-era amphibious duck boats in the 2004 parade, held on a cold and rainy day, but he said that as grand as that celebration was, this was even better.
"It exceeded my expectations by about tenfold,'' Epstein said. "It was way bigger than Boston, and that was the only point of reference I had. Boston was great, I think equal amounts of passion, but the size of the city, this was overwhelming. I told my wife, we have to go home and change some diapers and do some laundry just to get our feet back on the ground and back to reality.''
The baseball reality has changed on the North Side, forever.
John Cusack, the actor who attended more than 60 games at Wrigley Field this season, was part of CSN Chicago's coverage of the Grant Park rally. He spoke for his fellow fans in saying he could get used to this.
"Our resting state is a big grin,'' Cusack said
Phil Rogers is a columnist for MLB.com. This story was not subject to the approval of Major League Baseball or its clubs.