Joyful fans part of 7th largest gathering in human history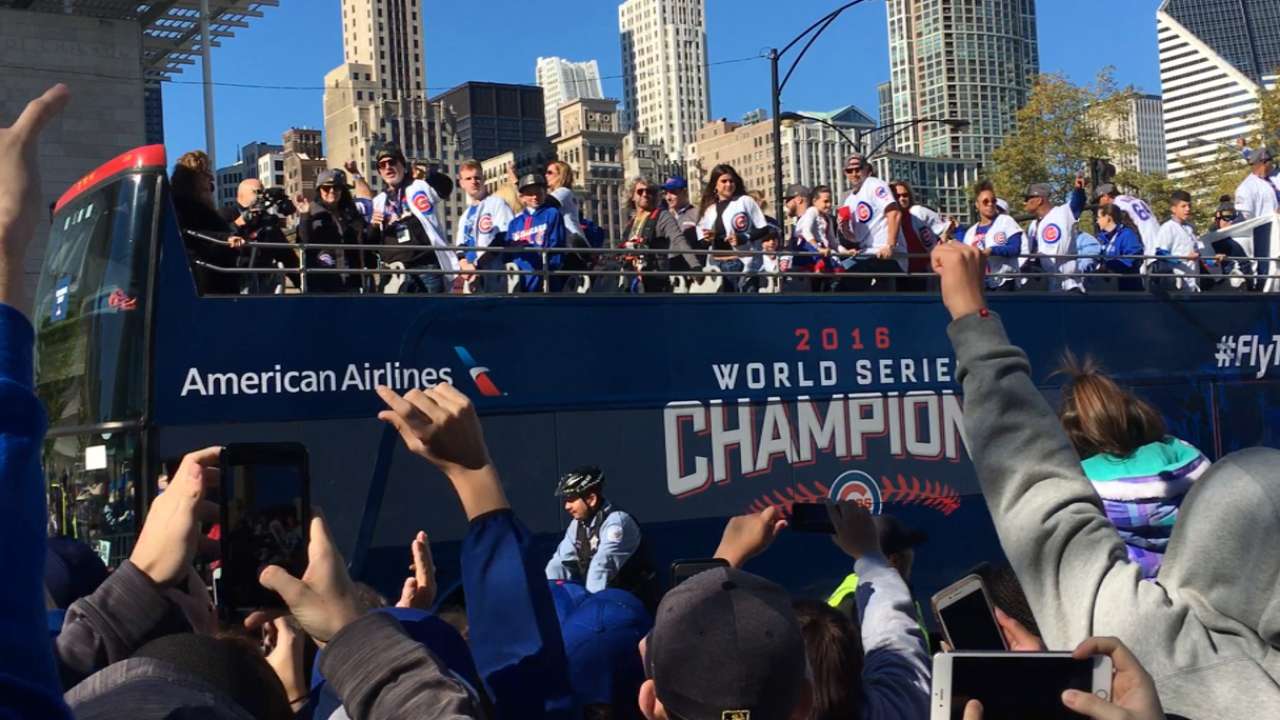 CHICAGO -- It was a blue Friday in Chicago, but it had nothing to do with sadness or any sort of gloomy weather emanating from this great city.
The color was connected to the Chicago Cubs, whose World Series title drew more people to a single event than had ever gathered on U.S. soil.
• Shop for Cubs World Series champions gear
They were on Day 3 of their championship celebration "bender," taking a quote from team president of baseball operations Theo Epstein, after claiming a World Series title with an 8-7, Game 7 victory in 10 innings over the Indians on Wednesday night at Progressive Field. Friday marked the culmination of a party 108 years in the marking, with a parade throughout the city featuring 42 buses holding players, front-office members and various family members, and leading to a party at Hutchinson Field and Grant Park.
Eight years to the day after President Barack Obama stood in front of thousands of supporters celebrating his first election victory in this same venue, history was recognized once again.
According to the city of Chicago, 5 million people were estimated to be part of the parade and victory rally, making it the seventh-largest gathering in human history and the biggest in the Western hemisphere.
Here are the top 10 largest gatherings:
1. Kumbh Mela pilgrimage, India, 2013 (30 million)
2. Arba'een festival, Iraq, 2014 (17 million)
3. Funeral of C.N. Annadurai, India, 1969 (15 million)
4. Funeral of Ayatollah Khomeini, Iran, 1989 (10 million)
5. Pope Francis in the Philippines, 2015 (6 million)
6. World Youth Day, 1995 (5 million)
7. Cubs World Series parade (5 million)
8. Funeral of Gamal Abdel Nasser, 1970 (5 million)
9. Rod Stewart concert, Brazil, 1994 (3.5 million)
10. Hajj pilgrimage, Mecca, Saudi Arabia, 2012 (3 million)
Cubs fans filled the Wrigley Field neighborhood, where the caravan began, and lined the streets on Lake Shore Drive and Michigan Avenue, leading up to the huge congregation at Grant Park.
"This kind of encompasses everything my family has put on to me," said Kevin Serlin of Chicago, who arrived with his group at 5:30 a.m. CT to stake out one of the closest spots near the stage outside of the VIP area. "My grandparents, parents, aunts and uncles, everybody has been waiting their entire life for this. Coming to games with them, that really means a lot to reach this point."
"Absolutely insane," said Shannon Davison, who is Serlin's cousin. "Being so young and not living through the terrible Cubs, it's super cool."
School was out in Chicago, so the crowd had a bit of a younger feel. There were kids playing baseball off to the side, pretending to be Kris Bryant, Anthony Rizzo and/or Ben Zobrist, delivering the winning hit in one of the most memorable World Series in baseball history.
There were numerous signs, from "I didn't come here for a haircut," paying homage to a memorable John Lackey quote, to "Won before I died," with the date of the team's clinching moment. Fans sat waiting for their favorite players to arrive, talking in groups about their top moments from the past season or where they were when a certain moment took place. And once the rally began, they stood and cheered for every word coming from Cubs chairman and owner Tom Ricketts to now iconic backup, and newly retired, catcher David Ross and his one massive group selfie.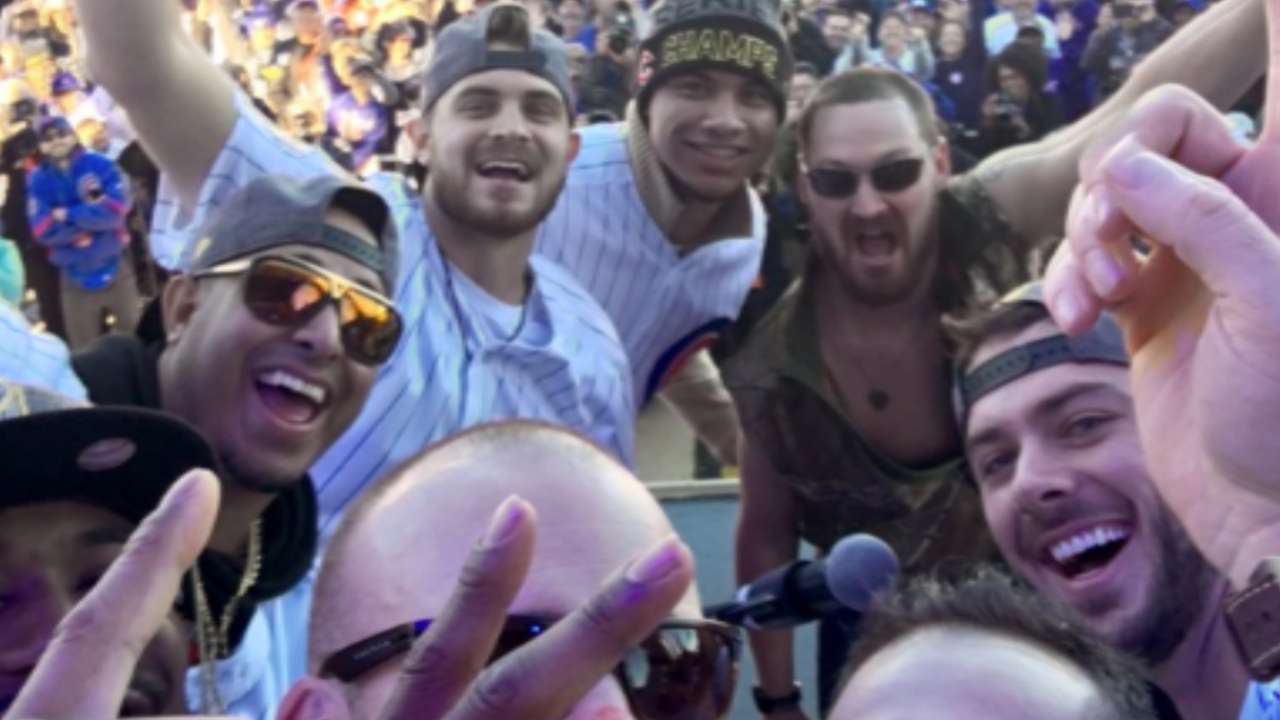 Impromptu choruses of "Go Cubs Go" or "Take Me Out to the Ball Game" erupted seemingly every 20 or 30 minutes. And there was a great deal of blue; even the Chicago River was dyed in honor of the Cubs.
Friday's celebration recognized Ryne Sandberg, Kerry Wood, Billy Williams and the late Ernie Banks and Ron Santo, who had great careers for the Cubs, but never reached the World Series. It was just as much about Joe from Palatine or Mary from Deerfield, as the diehard Cubs fan base, which went through one heartbreak after another, having reason to party.
"My greatest fear was that I would miss being in Chicago for the World Series," said Andrew Johansson, who returned from Finland to Chicago 1 1/2 years ago with his wife. He carried his five-month-old daughter and stood next to his wife at the rally. "It all worked out. It was time for us. It was getting to a point where it was sad we weren't winning. Now nobody feels bad for us when we say Cubs fans."
"We've suffered through 1969 and through the '50s with all the bad teams. And then '84 and '03," Brian Golwitzer Sr. said. "It's good to finally have one where it all comes together. My mother had never seen them win. She's 99 this year. We live about 20 miles from her. We didn't watch the last game with her, but when it was over, she called us at midnight. She said, 'I'm still up.' We're the new Yankees. We're going to keep winning."
Scott Merkin has covered the White Sox for MLB.com since 2003. Read his blog, Merk's Works, follow him on Twitter @scottmerkin, on Facebook and listen to his podcast. This story was not subject to the approval of Major League Baseball or its clubs.