Klentak, Phils positioned for positive offseason
Short-term adds could cushion development of young talent
PHILADELPHIA -- Cubs president of baseball operations Theo Epstein joked early Thursday morning that he planned to step away from his job and celebrate the team's first World Series championship in 108 years until the Winter Meetings begin next month in Washington.
Phillies general manager Matt Klentak does not have that luxury.
"We've spent most of the month of October preparing for the offseason," Klentak said this week. "We've conducted meetings with our pro scouts, our Major League staff, our Minor League staff, our rovers, our medical staff, etc. All of which were designed to put us in position to make good offseason decisions."
The Phillies made some on Thursday, declining the 2017 club options for Ryan Howard and Charlie Morton. They also reinstated pitchers Aaron Nola, Zach Eflin and Matt Harrison from the 60-day disabled list. Nola (right elbow) and Eflin (knee surgeries) are expected to be ready to pitch by Spring Training.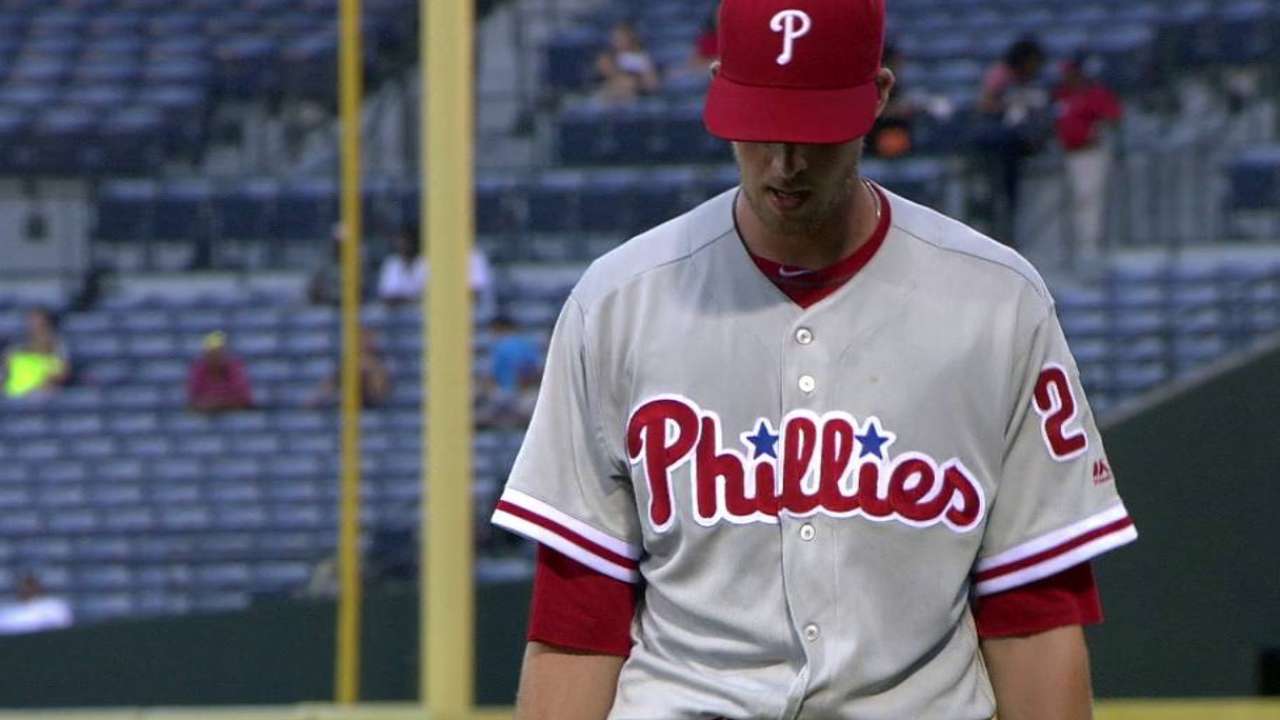 The free-agent market opens Tuesday at midnight ET. The Phils will be searching for a corner outfielder or two and bullpen help. They are not expected to pursue the biggest names on the market. Instead, they could sign players to short-term deals in an effort to give the young players already in their system another year to play and develop.
"We're preparing to identify players we'd like to add, but we're also preparing for how we're going to manage our own roster," Klentak said.
The team has seven players eligible for salary arbitration: outfielder Cody Asche, infielder Emmanuel Burriss, shortstop Freddy Galvis, right-hander Jeanmar Gomez, second baseman Cesar Hernandez, right-hander Frank Herrmann and outfielder Jimmy Paredes. Galvis and Hernandez are locks to be tendered. It would not be a surprise to see both Asche and Gomez tendered, too. Asche could be a left-handed bat off the bench and Gomez led the team in saves last season. While he is not considered a long-term option as closer, the team can afford his $4.6 million salary, as estimated by MLB Trade Rumors.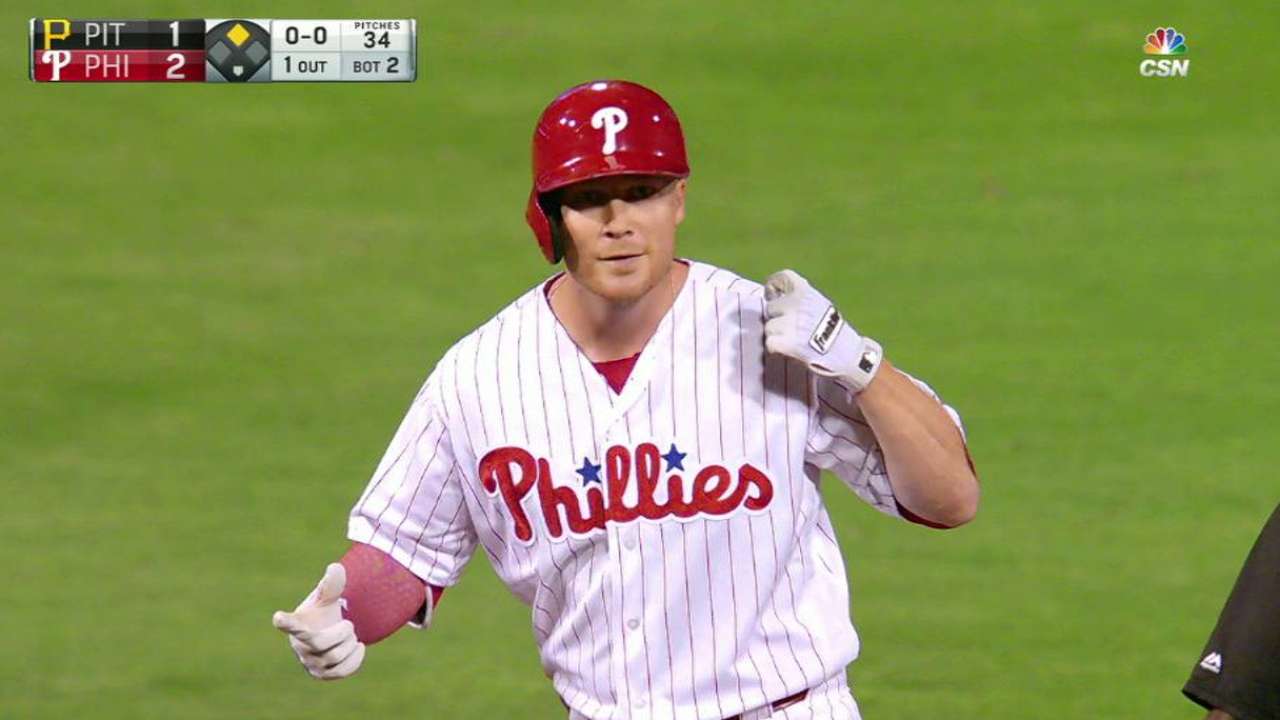 Burriss, Herrmann and Paredes are not expected to be tendered.
The Phillies also have some big decisions to make by Nov. 18, when they must protect Rule 5 Draft-eligible players by placing them on the 40-man roster. Prospects like Nick Williams, Dylan Cozens, Mark Appel, Andrew Knapp, Ricardo Pinto, Nick Pivetta, Elniery Garcia, Malquin Canelo, Carlos Tocci, Ben Lively, Jose Pujols, Alberto Tirado, Andrew Pullin and Jesmuel Valentin are eligible.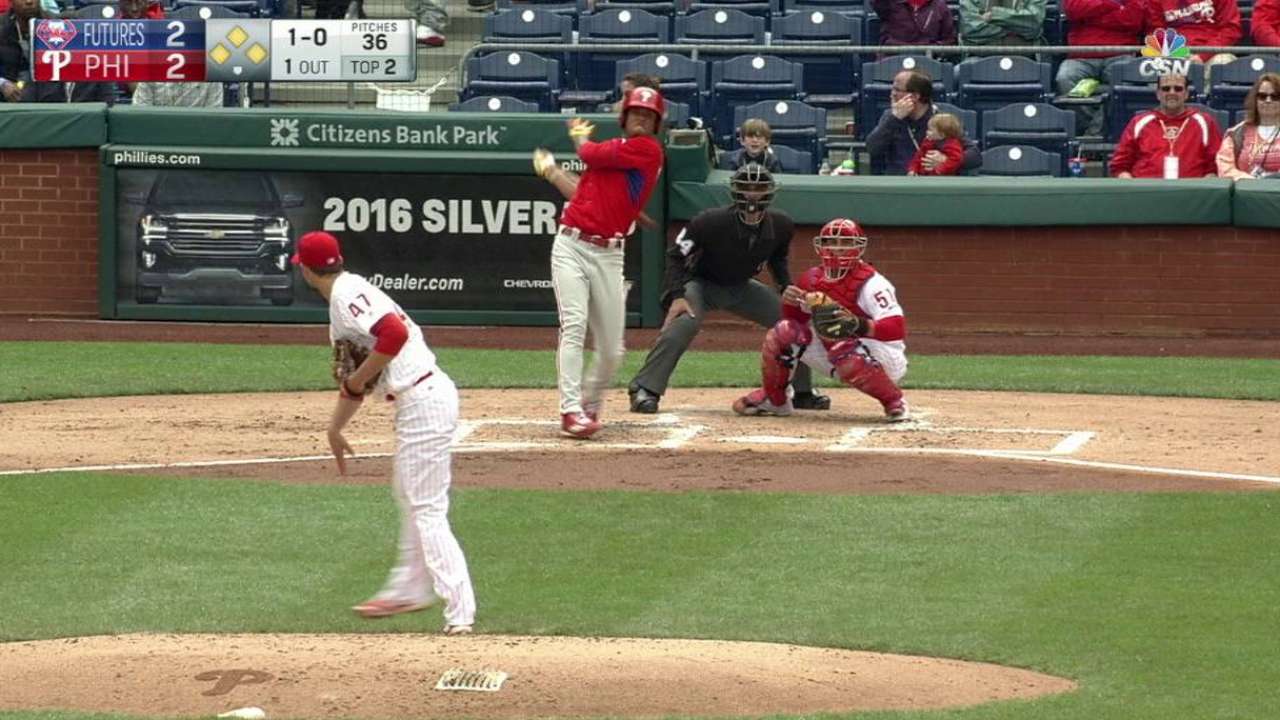 The trick for the Phils is this: How many players do they protect, and which ones? They can't protect everybody, because they need some flexibility for the big league roster. But they can't protect too few, because they would be giving away too much talent.
To make Philadelphia's job even more difficult, the club is also essentially working with a 39-man roster through the offseason because it needs to keep Harrison on the team, even though he will not pitch again. If it releases him, it loses the insurance money on his $13 million salary.
"As we head into the GM Meetings, I feel like we're well prepared to kick off discussions on the very first day of free agency and hopefully have a productive offseason," Klentak said.
Todd Zolecki has covered the Phillies since 2003, and for MLB.com since 2009. Follow him on Twitter and listen to his podcast. This story was not subject to the approval of Major League Baseball or its clubs.