Inbox: Will Braves boost battery in offseason?
Beat reporter Mark Bowman answers questions from Atlanta fans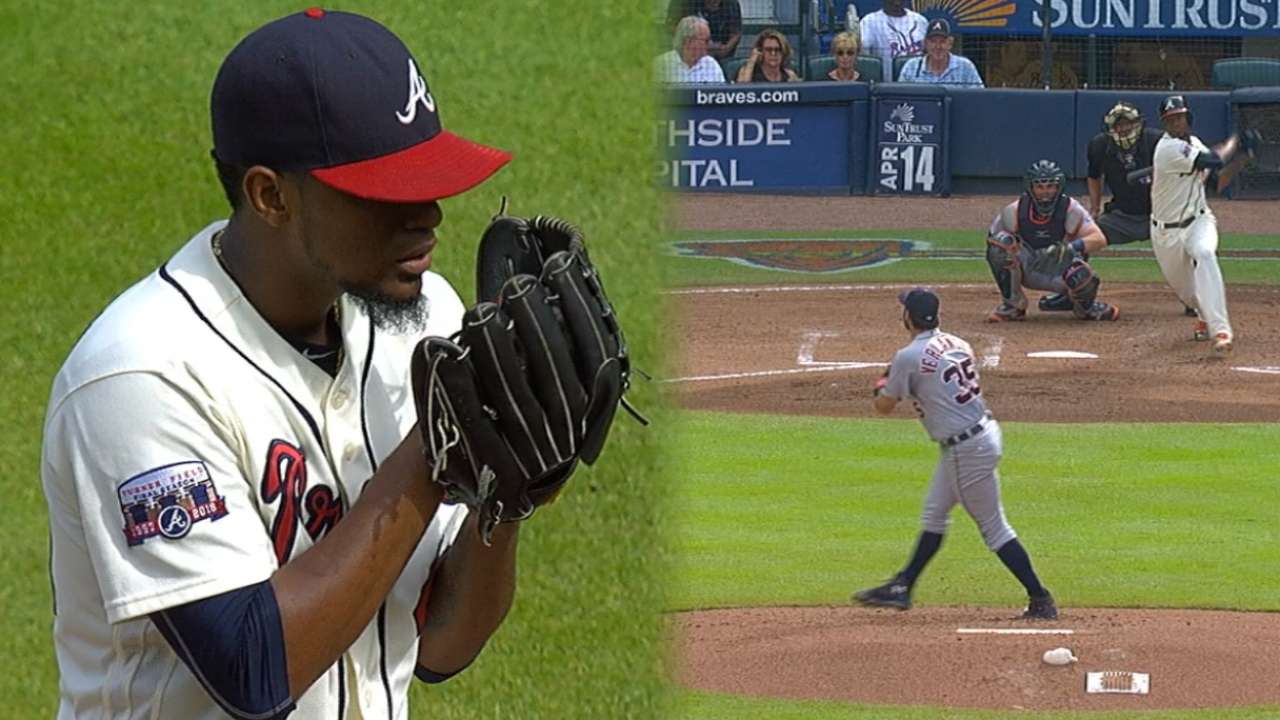 Which starting pitchers and catcher might the Braves target this offseason?
-- Andy B., Montgomery, Ala.
Though the Braves have said and might continue to claim that they would like to avoid trading some of their prospects this offseason, the scarcity of limited options on the free-agent market combined with their desire to be competitive next year will likely lead them to at least evaluate what it might take to get Chris Archer, Sonny Gray or another controllable top-flight starting pitcher via the trade market.
Along with trying to complement Julio Teheran and Mike Foltynewicz with a talented, proven arm, the Braves will also attempt to lengthen their rotation with at least one veteran who is willing to accept a short-term deal and serve as a bridge to some of the other talented prospects projected to reach Atlanta within the next couple years. R.A. Dickey, Doug Fister (rebound candidate) and Rich Hill (if the price is right) are a few pitchers who will be on Atlanta's radar. Bartolo Colon will draw interest, and he has history with Braves president of baseball operations John Hart, but I think he wants to stay with the Mets.
• Submit a question to the Braves Inbox
Last week, I mentioned it would be wise for the Braves to keep tabs on Brian McCann in the event the Yankees would be willing to significantly lower their asking price and would also be willing to eat a significant portion of his remaining contract, but this appears to be a long shot. Instead, Atlanta will likely evaluate other trade options and possibly determine whether it makes sense to take a chance on one of risky free agents or simply allow Anthony Recker to serve as Tyler Flowers' backup.
What is different in the pitching prospects we have now vs. those we had several years ago, like Tommy Hanson, Kris Medlen and Mike Minor?
-- Albert D., Clarksville, Tenn.
While Hanson established himself as one of the game's elite pitching prospects, there is now a greater abundance of top quality arms in the system (four pitchers -- Sean Newcomb, Kolby Allard, Ian Anderson and Mike Soroka rank among MLBPipeline.com's Top 100 Prospects). But the most impressive difference is simply the quantity of high-ceiling arms the club now has in comparison to the recent past, when Kyle Davies, Jo-Jo Reyes and Charlie Morton were considered some of the top up-and-comers.
Inevitably, some of the highly regarded prospects will either not meet expectations, suffer an injury or be used as a trade piece to satisfy another need. So while it's nice to have some of the top pitching prospects, the greater longstanding value will come courtesy of the impressive depth of arms compiled via trades and the Draft selections over the past couple years.
With Ozzie Albies penciled in as the second baseman of the future, what's the word on an envisioned role for Travis Demeritte if he puts it all together?
-- Rob J., Greensboro, N.C.
Once again, depth is a beautiful asset in relation to an organization's overall strength. It's only natural to be excited about Demeritte's potential; he was acquired because Braves general manager John Coppolella recognized the pitching-needy Rangers were hungry enough for arms to part ways with an intriguing prospect in order to get two arms who are no longer on their 40-man roster.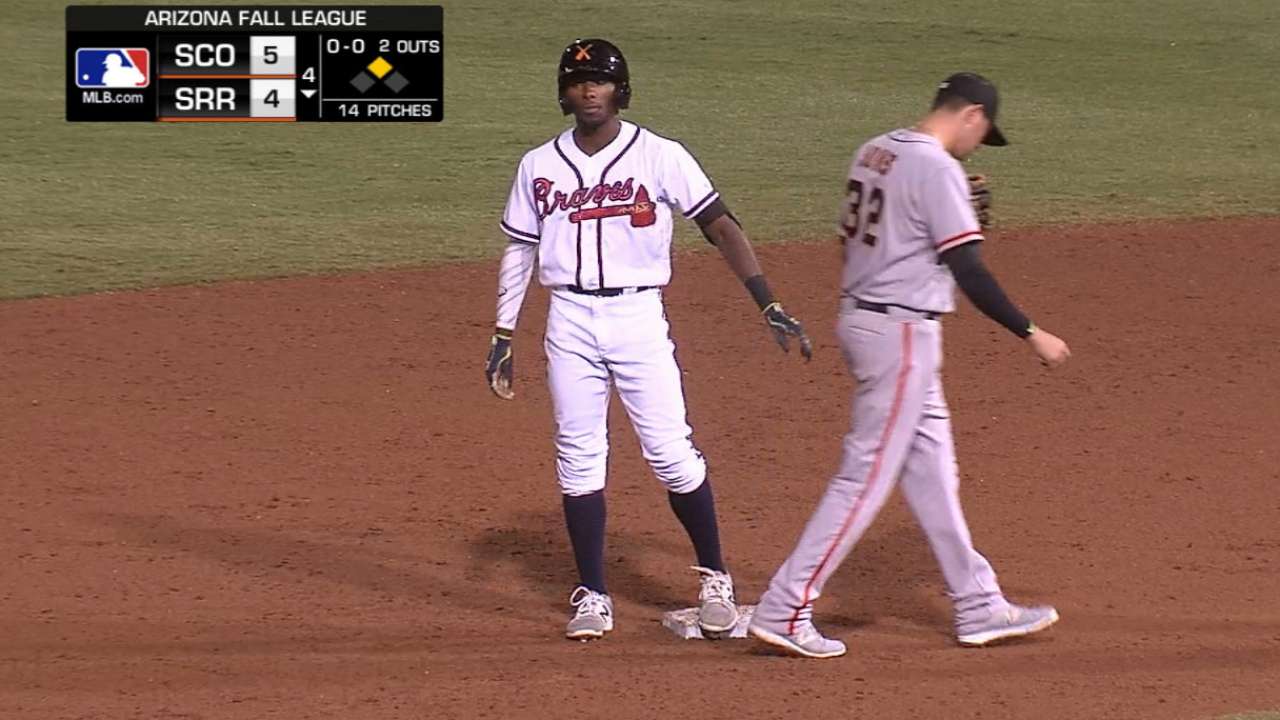 Still, we must remember Demeritte has never played above the Class A Advanced level, and those alarming strikeout totals he has amassed at the lower levels will become more telling once he introduces himself to Double-A this year. At the same time, we don't know how Albies will bounce back from the fractured right elbow he suffered in September. You hope he is young enough to not experience any lingering long-term effects.
Thus, it's nice to have a couple options like Albies and Demeritte, whose value is enhanced by the fact he can play each of the infield positions. We can project Austin Riley as the third baseman of the future and Albies as the second baseman, but we don't know if these plans will materialize.
How do the Braves plan to utilize Mallex Smith next season?
-- Janet P., Charlotte, N.C.
By the end of this past season, it seemed like the Braves were already leaning toward entering 2017 with Matt Kemp, Ender Inciarte and Nick Markakis as their starting outfield trio. Smith missed significant time while recovering from the fractured left thumb this season and seemingly could benefit from some more development, either at the Triple-A level or as Atlanta's fourth outfielder.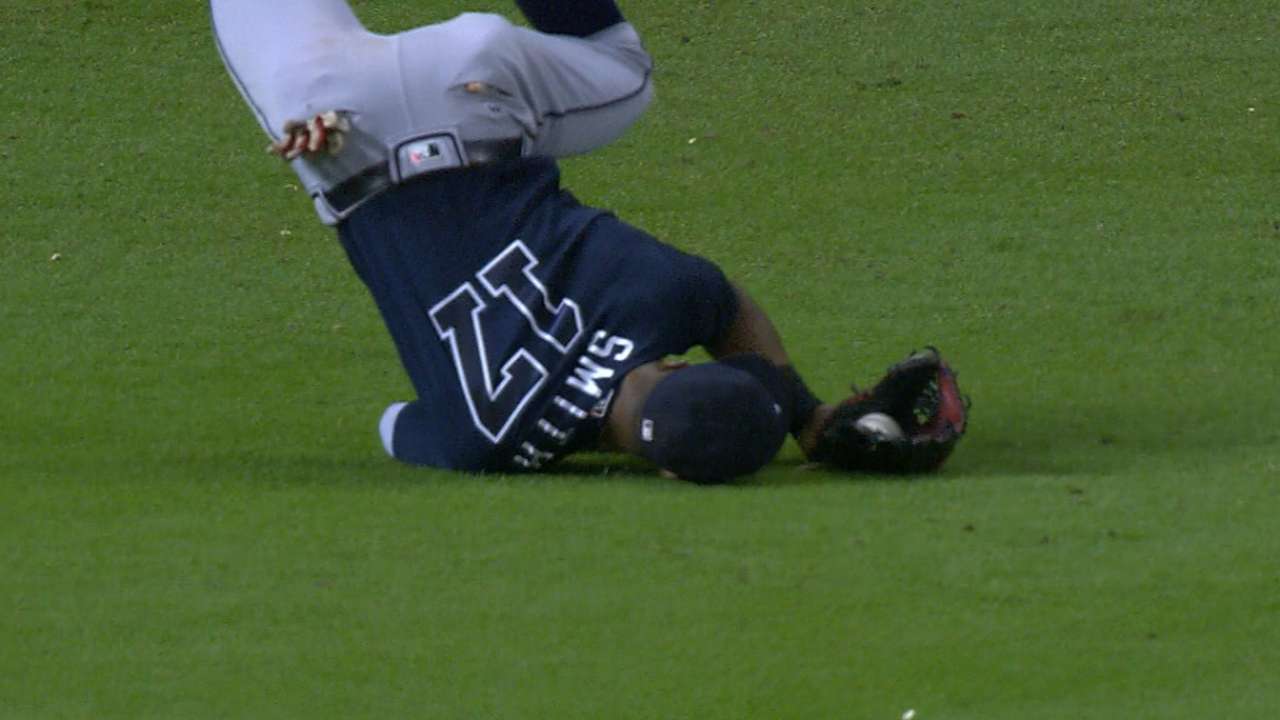 Smith strengthened this argument when he hit .157 and struck out in 12 of 46 at-bats before being released by Hermosillo in the Mexican League last week. But I don't think it's ever wise to put too much stock in Winter League stats, especially for a player like Smith, who compiled just a handful of at-bats in September after being sidelined for approximately 10 weeks.
If the Braves are blown away with an offer for Markakis, there is a chance they could shuffle their outfield and open a spot for Smith. But I think Markakis showed enough this year to prove he has distanced himself from the neck surgery and become exactly the player Atlanta hoped it was getting when the club signed him to a four-year, $44 million deal two years ago.
Mark Bowman has covered the Braves for MLB.com since 2001. This story was not subject to the approval of Major League Baseball or its clubs.