Inbox: Can Bucs compete with Cubs in near future?
Reporter Berry answers Pirates fans' questions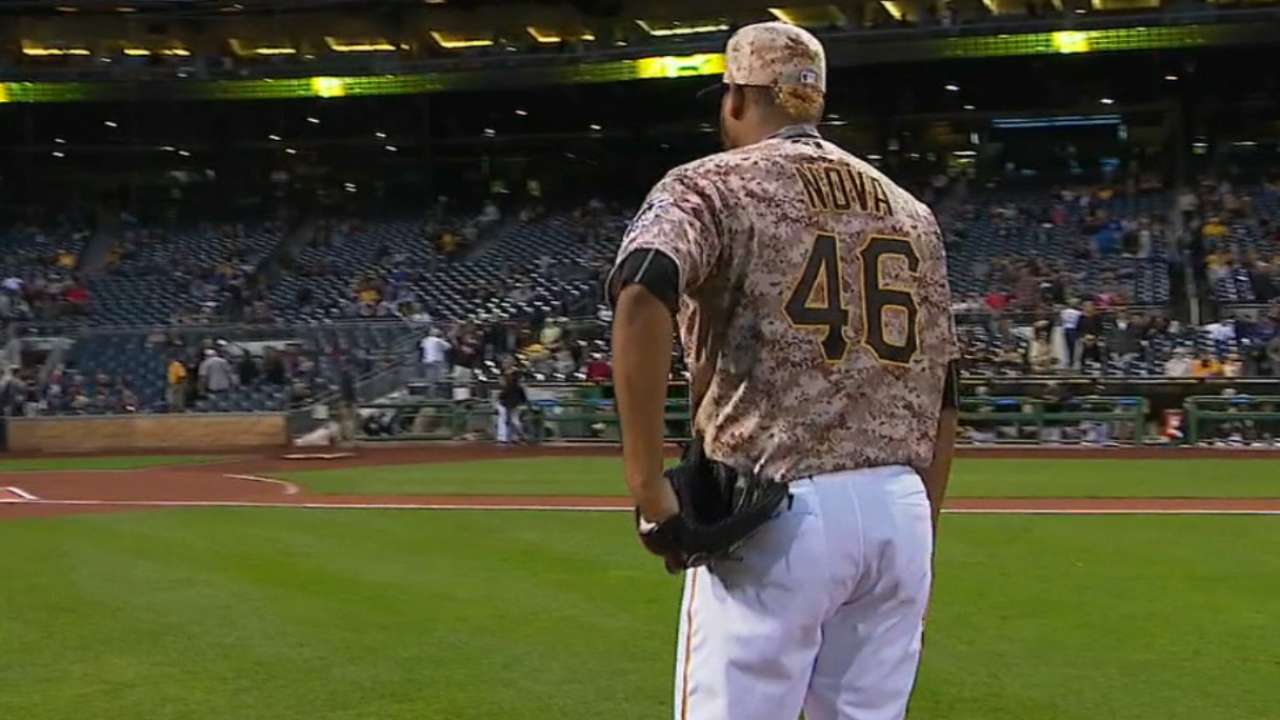 So the Cubs just won the World Series while the Pirates went from 98 wins to 78 wins. And it seems like the Cubs are going to have most of their young hitters for a long time. Do the Pirates have any chance the next few years?
-- Ron D., Pittsburgh
The Cubs are the class of the National League right now, and they have their first World Series title since 1908 to prove it. They're loaded with young talent, especially in their lineup. They're well-managed and coached, run by a smart front office and rich in resources to address whatever weaknesses they might have.
They were the best team from start to finish this season. They'll be the World Series favorites next year, too.
How can the Pirates contend against that? The same way they competed against the Cardinals from 2013-15. Draft and develop well, hit on shrewd signings and make smart trades. Unlike this year, all of their top players will have to stay healthy and perform up to their potential.
• Submit a question for the inbox
That worked for the Cubs, right? They aced the Draft, won a ton of trades and paid up for difference-making free agents to put them over the top. Everyone except Kyle Schwarber was healthy, and they got peak production from everybody but Jason Heyward.
Pittsburgh's budget won't provide margin for error or excess like the Cubs' payroll, but it's not all about money. The Indians live in the same financial neighborhood as the Pirates, and a significant portion of the American League champs' payroll went toward getting rid of Chris Johnson, Nick Swisher and Michael Bourn. Michael Brantley, one of the Tribe's highest-paid players, played 11 games this season.
If the Pirates have one advantage in the near future, it's their young starting pitching, still arguably the most valuable and expensive commodity in baseball. It's easy to sketch out a high-upside homegrown rotation with Gerrit Cole, Jameson Taillon, Tyler Glasnow, Chad Kuhl, Nick Kingham, Trevor Williams, Steven Brault and, in a few years, prospect Mitch Keller.
If the Pirates rediscover their run-prevention roots -- pitching and defense -- they can get back in the postseason mix. They have a strong core with young position players, too -- namely Starling Marte, Gregory Polanco and Josh Bell -- and even more coming through the Minors in Austin Meadows, Kevin Newman, Ke'Bryan Hayes and so on.
It won't be easy to keep up with the Cubs, but it's not impossible.
How likely is it that the Pirates try to bring Mark Melancon back to the organization due to Tony Watson's struggles as a closer?
-- Travis M., Butler
I don't think they're looking for a closer. At the end of the season, general manager Neal Huntington said the Pirates' belief in Watson as a closer has "never wavered."
Watson's struggles may have been more about his workload than his role, especially down the stretch. The 31-year-old has pitched in at least 70 games each of the last three years. Over the past five seasons, he ranks second in the Majors with 360 appearances and third among relievers with 345 1/3 innings pitched.
At some point, fatigue has to become a factor. That may help explain Watson's occasional pitch execution issues throughout the season, and it's something the Pirates will keep an eye on next year.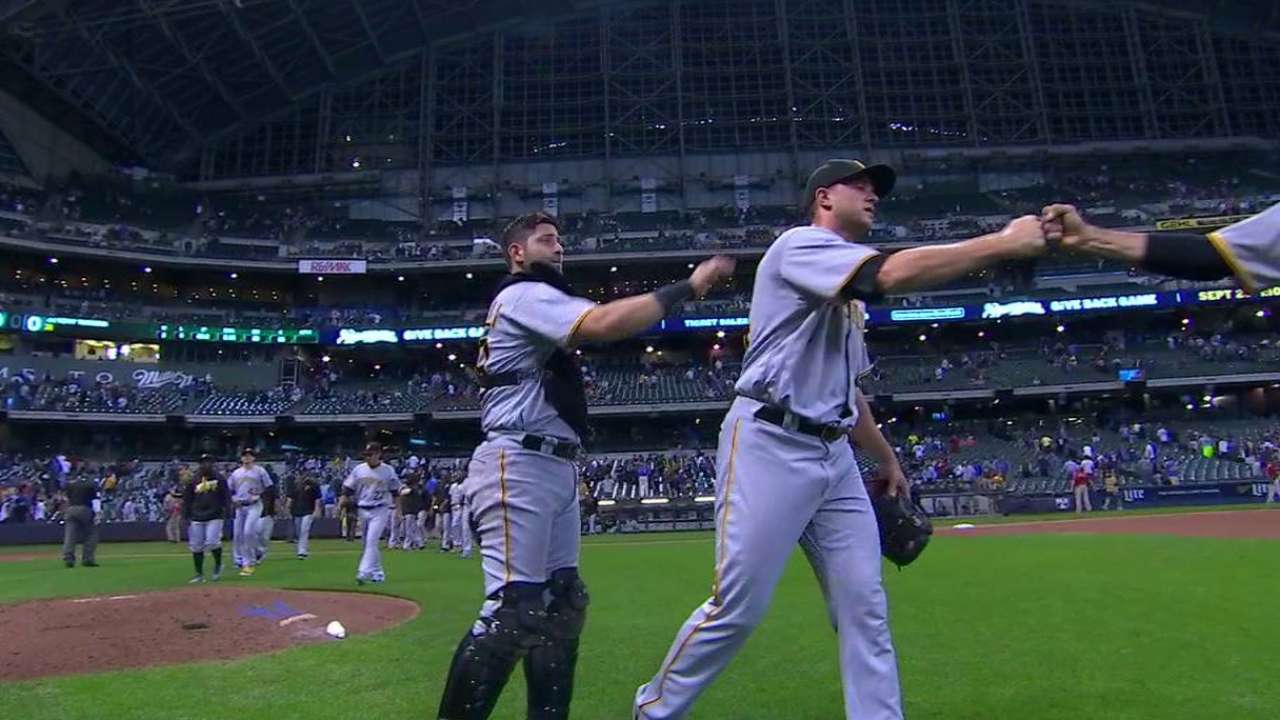 Melancon would be a no-brainer if he's available, but it's more likely he'll get a multi-year deal elsewhere. To name two possibilities: The Nationals may want to keep him, and the bullpen-needy Giants tried hard to get him before the Trade Deadline.
What pitchers are the Pirates targeting in free agency and trades?
-- Athen O., Nashville, Tenn.
This conversation should begin with the Pirates' own free agents: Ivan Nova and Neftali Feliz. The Pirates' interest in Nova is well-documented. So is his desire to remain in Pittsburgh. So is the weakness of this free agent starting pitching class.
Nova would be an ideal fit if the Pirates believe his second-half success is sustainable. If the Bucs can't retain Nova, they may be better off looking to the trade market for a mid-rotation starter. Otherwise, they'd have to take their chances on a reclamation project like Andrew Cashner or re-reclamation projects like old friends Edinson Volquez and Charlie Morton.
Pittsburgh will also be searching for a late-inning right-hander -- someone to fill Feliz's role, pitching between lefties Watson and Felipe Rivero. It very well could be Feliz, a hard-throwing, high-strikeout reliever with closing experience.
Feliz enjoyed a strong bounceback season, and it would have looked even better if not for an inflated 19.2 percent home run/fly-ball rate, by far the highest of his career. He'll surely get plenty of attention on the open market, which figures to be full of options, but he'd be a good fit if he stayed put, too.
Adam Berry has covered the Pirates for MLB.com since 2015. Follow him on Twitter and Facebook, read his blog and listen to his podcast. This story was not subject to the approval of Major League Baseball or its clubs.