Tribe coaches critical to postseason pitching
Despite injuries, Cleveland's staff had 2.69 ERA in playoffs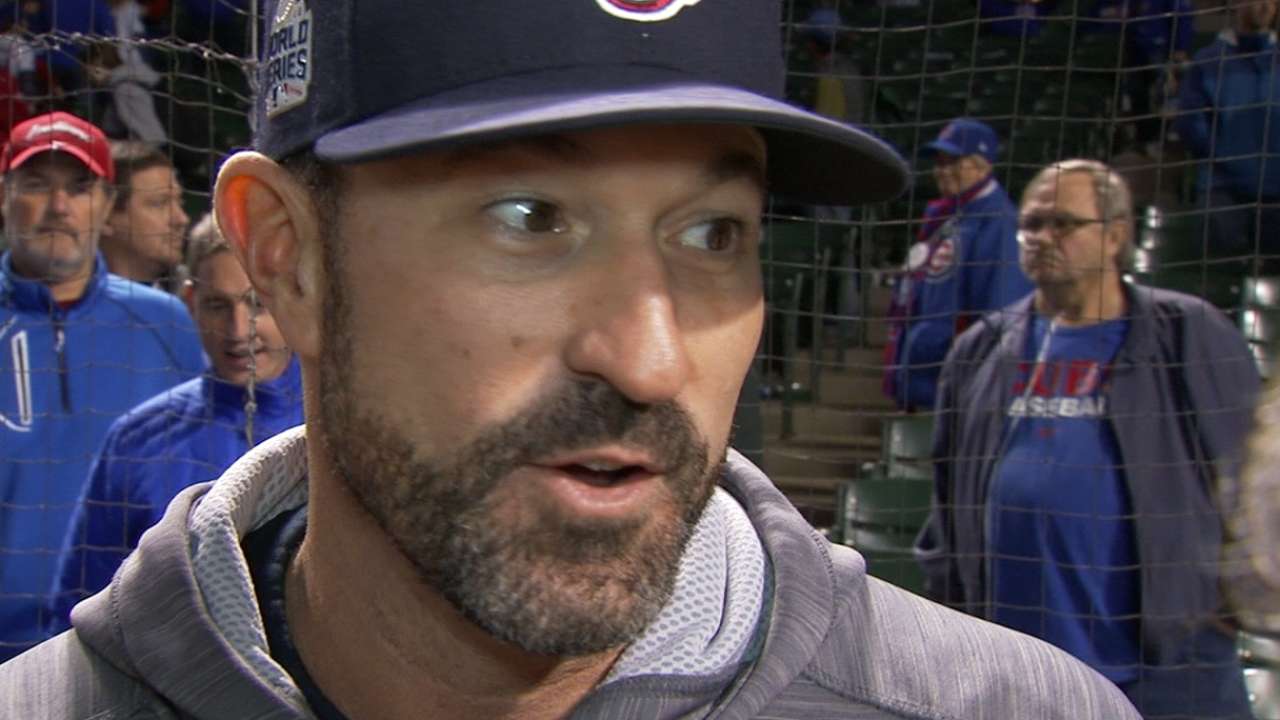 For all the discussion about the Cubs breaking their historic curse, the other half of the World Series equation was the Indians, and the story that seems likely to be remembered for them was how far they got with so relatively little. The team with the super-rotation at the beginning of the season was left short-handed at the end.
Yet despite missing two of their three best starters in Carlos Carrasco and Danny Salazar, Cleveland held three of baseball's most threatening lineups in Boston, Toronto, and Chicago to 42 runs in 15 games, good for a 2.69 ERA, while tossing a record-setting five shutouts. They rode starter Corey Kluber and relievers Andrew Miller and Cody Allen as far as they could, but even starters like Josh Tomlin and Ryan Merritt handed the ball off to Miller and Allen with a lead, more often than not.
• FanGraphs' Jeff Sullivan shows how the Cubs got value from Mike Montgomery
Throughout the postseason, every Indians pitcher was quick to mention the game plan, the approach, and the way catcher Roberto Perez attacked the hitters. Part of that is typical athlete-speak, sure. Almost always, these guys are going to deflect and give credit to their teammates. But what does that really mean? What goes into a pre-series, or even pre-game scouting report? Who's the brains behind that operation? And what happens when it makes its way out onto the field?
It started on Opening Day. The Indians opened the 2016 season at home against the Red Sox, and they were already gathering their first bits of information on the team they would face in the American League Division Series. Each time an Indians pitcher faced a Red Sox batter throughout the season, that was one more data point, one more piece of film that could be reviewed later on.
On a more granular level, though, it starts in the advance scouting department in the bowels of Progressive Field, weeks in advance, even before the club knows which teams it will be playing. This is where data is being pulled, heat maps are being generated, swing tendencies are being revealed, and relevant film is being reviewed. In the regular season, this work is being divvied up and begins five to seven days before a new series begins. In the postseason, it's a team of a half dozen advance scouts, all surveying the same club, for as much time as they can.
"We dive into it a little deeper [in the postseason]," Indians pitching coach MIckey Callaway said. "We look at everything we can and we have more time to do it, especially given the days off and things like that. Especially leading into the series that we've had to play, we've been fortunate enough to have a few days off to be able to look at everything we possibly can."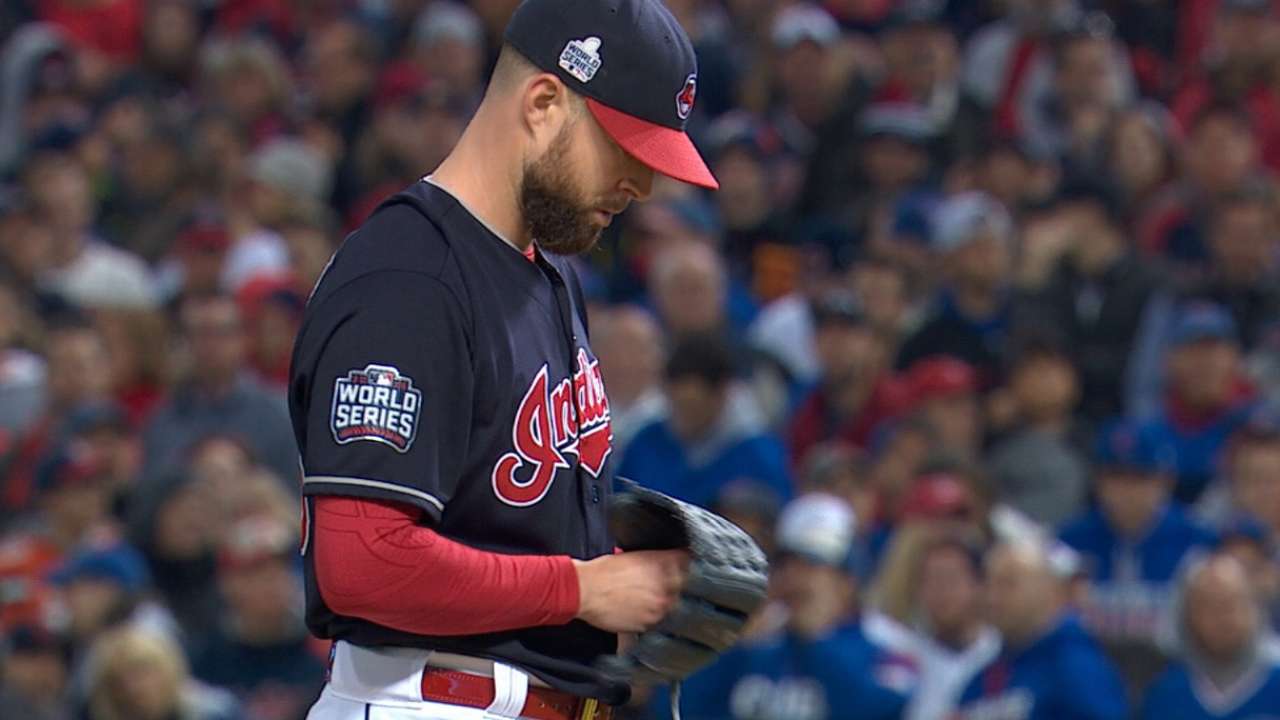 While the advance team is going to work with the hard numbers, so, too, is Scott Atchison, who pitched for the club in 2014-15 and was brought on to serve as a hybrid assistant pitching coach/on-field advance scout. Atchison acts as a complement to the guys in the front office, putting together general, advanced reports on hitters' weaknesses based on their tendencies and swings, informed by film, and sometimes even his own experience pitching to them.
"I send the advance guys our cheat-sheet that we have, that base report that I've put together, and they put it in the full advanced report with all the numbers and the computer stuff that I don't know enough about," Atchison said with a laugh.
Once the advance team, Atchison included, has exhausted all possible avenues and put together their final report, Callaway shows up to work one morning to an 80-page packet of information on his desk. It's his job to disseminate it.
"Getting the information is easy," Callaway said. "Breaking it down to be usable for each individual pitcher is the tough part. That's where I come in."
The notes on the opposition provided by Atchison and the front-office members are exhaustive. Nothing gets left out. And so the majority of it isn't applicable to every member of the pitching staff. A certain hitter might struggle against a certain arm slot, but there might not be an Indians pitcher with that slot. There might not be an Indians pitcher with the particular shape or spin of a pitch that matches the report. So Callaway begins to weed out information, leaving only the most relevant bits of data that mesh with the strengths of his own pitchers.
From there, Callaway meets with bullpen coach Jason Bere, and they split up the staff. Callaway takes the starters, Bere takes the relievers, and they begin to form the individual, pitcher-specific reports based off what Callaway has gleaned.
Bere spends much of his time in the video room. Using the information from Callaway's trimmed-down report, he'll begin to watch video of the holes in hitters' swings, to ensure that what he sees jibes with the numbers. When there isn't video of his pitchers facing the opposition, as was often the case with the Cubs, he enlists the help of the team's video coordinators.
"Our video guys, you'd be amazed," Bere said. "You can get any information you want. They can dig up at-bats against right-handers that throw like [Bryan] Shaw, with runners in scoring position with two outs in a day game. You could go as deep as you want."
The video staff identifies pitchers around the league who most resemble the members of the Indians' bullpen, based on arm slot, velocity, pitch spin and shape, and provides Bere with a digital folder full of clips of those "simulated" Indians relievers facing Cubs batters. To see how Shaw might attack Kris Bryant, Bere watched video of Kenley Jansen facing him from National League Championship Series, played just a week earlier. Knowing the intricacies of his own pitchers so well, even when he's watching video of these Indians bullpen imposters, he's visualizing the subtle differences and taking note of how Allen's knuckle curve might move differently than Craig Kimbrel's, and how that might change what he's seeing on the screen.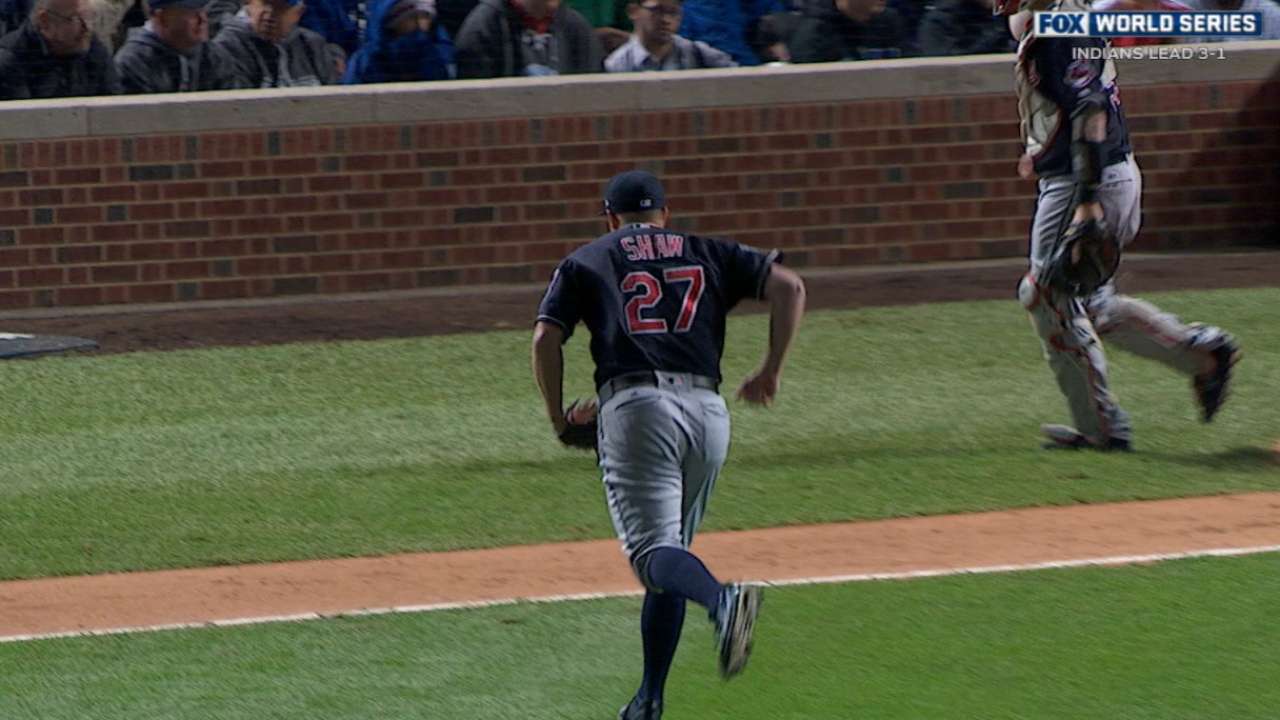 "As I'm watching it, I'm trying to take note of, 'Oh, OK, the cutter is going to work here, or it isn't here.' We have other guys who throw a cutter too; it might not be Shaw's cutter, it might not be Jansen's cutter, but it's a cutter nonetheless. You're just watching it and paying attention and kind of digesting the whole thing and regurgitating it out on paper," Bere said. "Through the course of that whole day or two days leading up to the series, Mickey and myself talk and Atch is in there, and we're just bouncing stuff off each other and just making sure that we're feeling comfortable about what we're going to tell a guy."
Once Bere, Callaway, and Atchison have all done their individual homework, it's time for the pre-series game-plan meeting. The meeting takes place in the coaches' office in the clubhouse, and consists of the three pitching coaches, catchers Perez, Yan Gomes, and Chris Gimenez, and each starting pitcher in the series, in this case, Kluber, Tomlin, and Trevor Bauer. Callaway leads the meeting.
"We just sit down real informally in the coach's office in a little circle and just spitball and talk," Callaway said.
By that point, Callaway has taken the 80-page report, broken it down, combined it with Atchison's notes, Bere's notes, and condensed them into "a sentence or two" specifically tailored for each pitcher, regarding exploitable weaknesses in members of the opposing lineup, or the lineup as a whole.
"There are patterns you'll see," Callaway said. "Like, 'Hey, if you don't make a mistake on the inner-half, especially down-and-in to someone like that, you're going to be OK.' Or, 'When you go in, make sure it's elevated, just for effect, and when you go away, you can't let it leak back.' Stuff like that."
"You'll have things that are pretty glaring," Bere said. "Like when we faced Toronto [in the ALCS], they had trouble with spin, with breaking balls. It wasn't like we strictly went out there and threw just breaking balls, but we knew we had more situations where we could go breaking ball, whether it's early in the count, or certainly to put guys away."
Breaking balls wound up factoring heavily into the approach against the Cubs, too.
The catcher's main contributions to the meeting come off past experience, and what they've seen from their vantage point behind the plate while calling the pitches, and how it pertains to what they're hearing from Callaway, Bere and Atchison.
"I'm looking at swing paths, I'm looking at takes, I'm looking at where they foul balls off," Gimenez said. "A lot of times guys will make adjustments in the box. If guys have a real heavy sinker to a righty, they'll scoot up in the box and try to get to the ball before it comes down-and-in on them. I'm always aware of where that guy is standing. I'm looking pitch-to-pitch, because if I see that guy making an adjustment, I'm going to make the adjustment right back. A lot of times you'll just tap your chest to say, 'Hey, this one's on me,' and you'll call the pitch and they'll execute it."
The pitchers chime in with opinions of their own individual arsenals and how they'll play within the parameters of what's being discussed in the report.
"Depending on which pitcher it is, everyone kind of talks about, 'Hey, you may be able to do this, I think your changeup plays better than your curveball against this guy, whereas my curveball might play better than my changeup against that specific guy,'" Bauer said. "Just depending on the pitcher, it's a collective effort, just sharing information."
It's out of this meeting that the scouting report against the Blue Jays' Jose Bautista was born. The scouting report against Bautista went like this: a steady diet of breaking balls, and nothing on the inner-half. The results looked like this:
Cleveland's pitchers never went away from it the entire series. Bautista never gave them a reason to. He went 3-for-18 in the series, striking out seven times in 18 plate appearances with just one extra-base hit to show for it.
"It was such a clear scouting report," Gomes said. "We threw him so many offspeed pitches, and you could tell that's all we were going with. To make sure that we stay honest, we'd try to pop him in every now and then just to stand him up. And I think Roberto has done a tremendous job of making those slight in-game adjustments you see him making. He can tell from one pitch if he starts getting ready later or you see his eyes going the other way."
The last piece of any plan of attack is how it works in-game, and the adjustments that need to be made on the fly by the catcher and the pitcher. Atchison will meet with Perez in the video room between innings to discuss potential adjustments the two are seeing. Bere will make subtle tweaks to the game plan based on what he sees from the bullpen before his guys enter the game. In the case of someone like Bautista, it can sometimes be difficult to balance sticking with what works with trying to get out ahead of a potential adjustment by the hitter. But only if the hitter shows signs that an adjustment might be coming.
"If guys aren't making adjustments to us, we're not going to adjust back," Gimenez said. "We're going to put the pressure on them to make the adjustment and continue to do what we've been doing. We have some guys with some pretty good breaking balls, and that was just a way of attacking him we wanted to go about until he made an adjustment which, thankfully, he never did. Because if he did, it could have been a completely different series."
The pre-Series game-plan meeting for the Cubs sent Kluber into Game 1 with a plan of pounding Anthony Rizzo in on the hands with two-seam fastballs, and it worked. Bauer took the same plan into Game 2, until Rizzo adjusted. Shaw executed the game plan laid out against Ben Zobrist perfectly in the 10th inning of Game 7, and Zobrist made the adjustment. The game plan doesn't get abandoned altogether at that point, but tweaks need to be made, just as Rizzo made a tweak against Bauer.
"You just go off of what the statistics say, is the dominant strategy, and then you go in and try to read what they're doing in the game," Bauer said.
Of course, all of this is nothing without the pitchers executing, and the most remarkable thing of all is how well Cleveland's pitchers executed throughout the postseason. Everyone adapted one way or another to the game plans laid out through hours and hours of work by members of the front office and the coaching staff, mixing a delicate balance of the pitchers' strengths and the hitters' weaknesses to get them as far as they did while shorthanded.
It all comes down to the pitchers executing, and the pitchers executed, but it's important to remember that the plan that gets played out on the field by two men is a collaborative effort, the work of dozens men over the week prior. It truly is a chess match that goes deeper than the game. Sometimes, it all boils down to the last team that successfully adjusts, wins.
A version of this article first appeared at FanGraphs.com. This story was not subject to the approval of Major League Baseball or its clubs.