Indians in AFL: Zimmer furthering development
MLB Pipeline checks in on Cleveland's prospects in the Arizona Fall League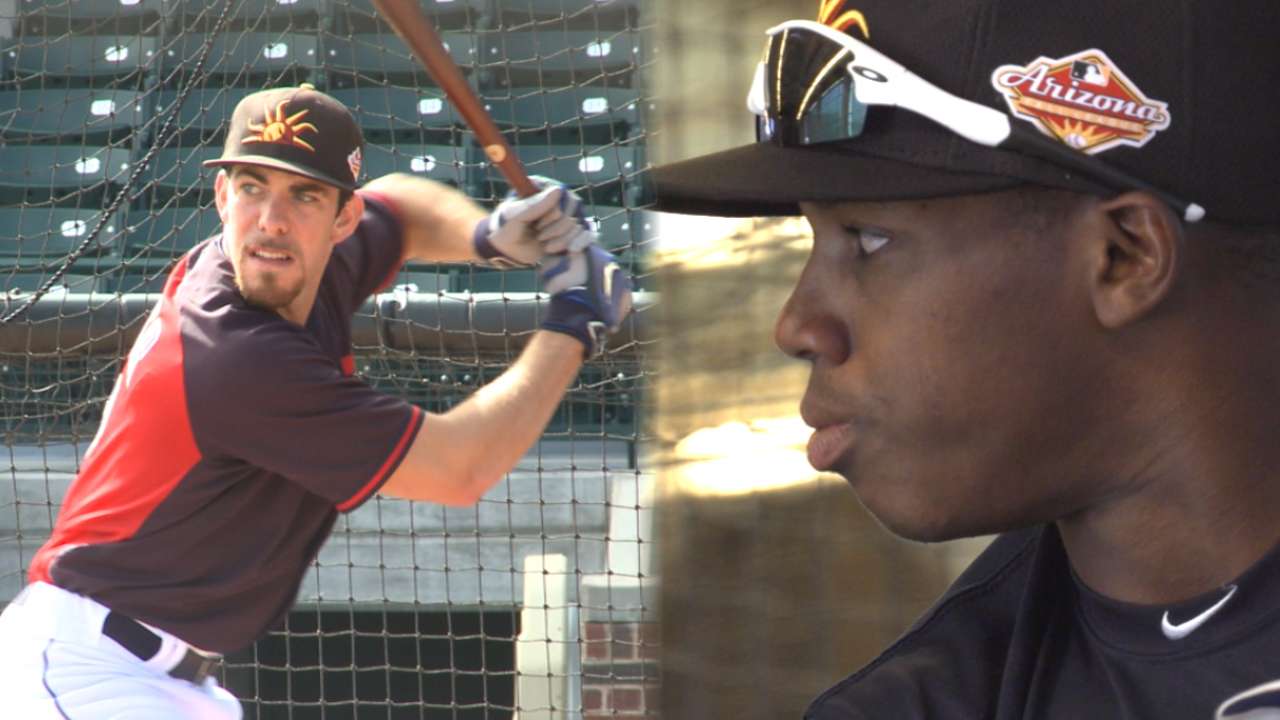 The impact made by homegrown position players such as Jason Kipnis, Francisco Lindor and Jose Ramirez played a crucial part in the Cleveland Indians' quest for a World Series title in 2016.
Another big name could be added to that list in the coming year, too, as the Indians are hopeful that top prospect Bradley Zimmer, the club's first-round Draft pick (No. 21 overall) in 2014, will soon follow in the footsteps of his future teammates after receiving his first taste of the Triple-A level ahead of a trip to the Arizona Fall League.
• Complete Arizona Fall League coverage
Zimmer, No. 25 on MLBPipeline.com's Top 100 Prospects list, returned to Double-A Akron to begin the season following his sub-par showing at the level -- largely the result of a hairline fracture in his foot that also kept him from participating in last year's Fall League -- in his first full season. He fared considerably better in his second tour of the Eastern League, hitting .253/.371/.471 with 14 home runs and 33 steals in 93 games, and received a promotion to Triple-A Columbus in late July.
But adjusting to International League pitching proved to be a challenge for Zimmer, who had his batting line regress to .242/.349/.305 and hit just one home run with five steals over the final two months of the regular season.
• Indians' Top 30 Prospects list
"Honestly, I think you probably see a little bit more velocity in Double-A," Zimmer said. "In Triple-A you're playing against guys who have had small to significant time in the big leagues, so they know what it takes and what makes them successful."
Strikeouts have always been part of Zimmer's game, and it was his penchant for whiffing that led to him being exposed this year in Triple-A, where he fanned 56 times in 37 games. Overall, the 23-year-old struck out at a 30.7 percent clip -- 171 times in 557 plate appearances -- between the two levels.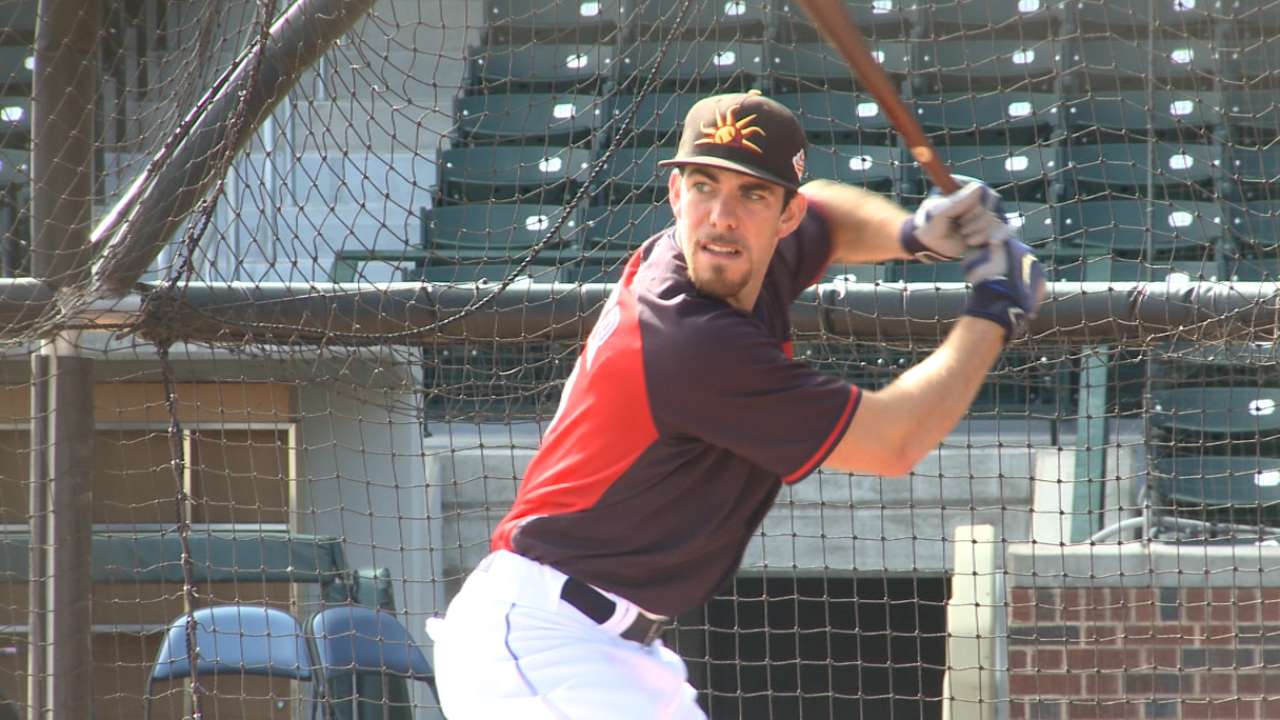 Unsurprisingly, trimming some of that swing and miss from his game is something that Zimmer is now working on in the Fall League.
"Just staying disciplined and staying with my approach and not getting away from that -- sticking to my strengths," said Zimmer about his objectives this fall.
"Every at-bat you treat like you would during the season," he continued, "but, in the back of your mind, you take the stuff you've been working on in the cage into the game and do what you can to work on those things."
Yet the fact that Zimmer still enjoyed such a successful season speaks to his ability to impact games with his other tools, most notably his speed. After swiping 44 bags in his first full season and following it with 38 in 2016, Zimmer has accrued 94 stolen bases in 305 games to open his career.
"I think I kind of put guys to sleep with my size," he said. "They probably think, 'Hey, he's a bigger guy, he's probably not going to run,' and then I take off. And that's kind of been the story of my stolen bases the last couple years."
Zimmer's wheels have netted him another seven steals in the Fall League, where, as a member of a loaded Mesa Solar Sox roster, he's hit .255/.406/.471 with seven extra-base hits and a league-leading 17 runs scored in 15 games. And as he now looks ahead toward the 2017 season, the young outfielder believes he's in a good position to help contribute to the Indians' success.
"I think I'm at the point now where I know myself as a player, and I've been around the [Indians' coaching staff], even Tito [Francona], to have them see me play," Zimmer said. "There's really nothing I need to do to try to impress them but go out there and be myself and play baseball the right way."
Indians hitters in the Fall League
Greg Allen, OF
Yu-Cheng Chang, SS
Eric Haase, C
Bradley Zimmer, OF
A switch-hitter with plus speed and an outstanding glove in center field, Allen, 23, followed up a solid full-season debut with a breakout 2016 campaign. The Indians' No. 19 prospect hit .295/.416/.413 with 37 extra-base hits and 119 runs scored in 129 games between Class A Advanced Lynchburg and Akron. Allen also swiped 45 bases in 58 attempts, giving him 96 steals in the past two years, and was one of nine Minor Leaguers to earn a Rawlings Gold Glove Award for defensive excellence.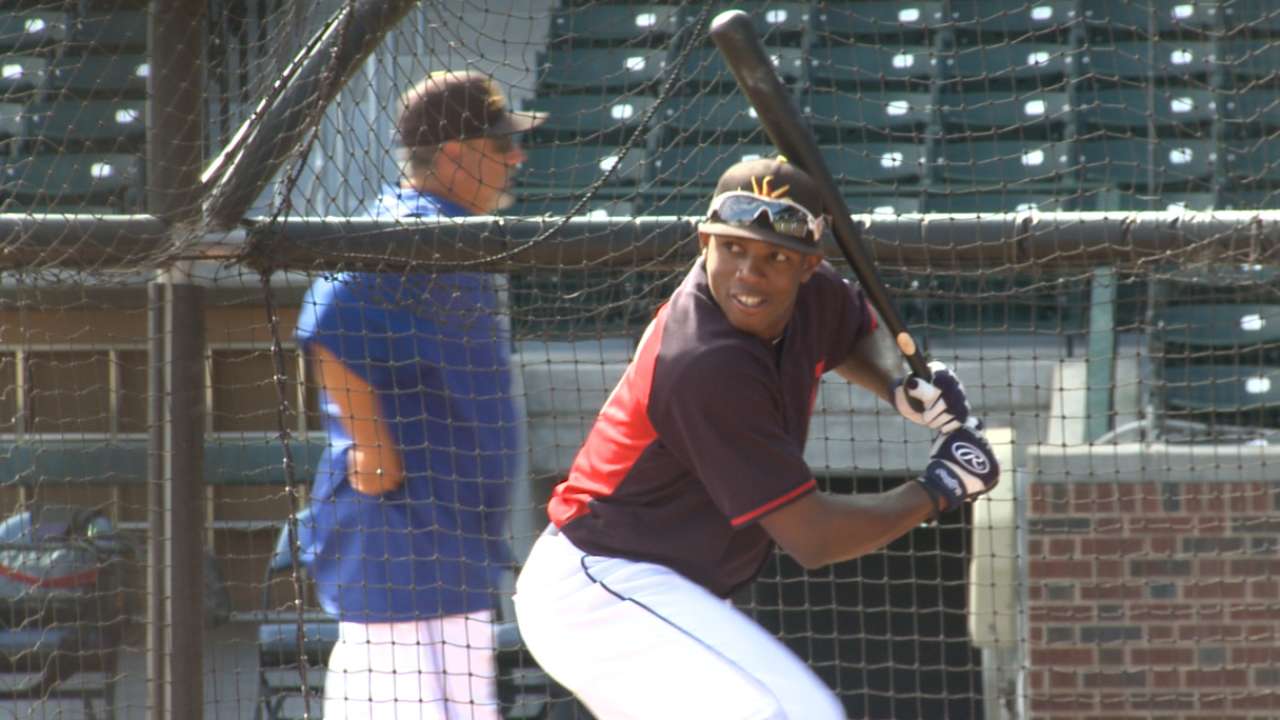 "You may not always get it done at the plate, but if you can find a way to get on base and score a run for your team or take one away on the defensive side, that always helps," the 2014 sixth-rounder said. "Our organization prides itself on having an emphasis and focus on those things -- playing defense, running the bases well and finding a way to help your team win."
Signed for $500,000 out of Taiwan in June 2013, Cheng, Cleveland's No. 9 prospect, took another step forward this year in the Carolina League as he set career highs in a host of offensive categories including home runs (13), doubles (30) and RBIs (70). The 21-year-old has continued to produce in the Fall League, hitting .314 with 11 hits in 10 games, while also winning over onlookers with his defense at shortstop.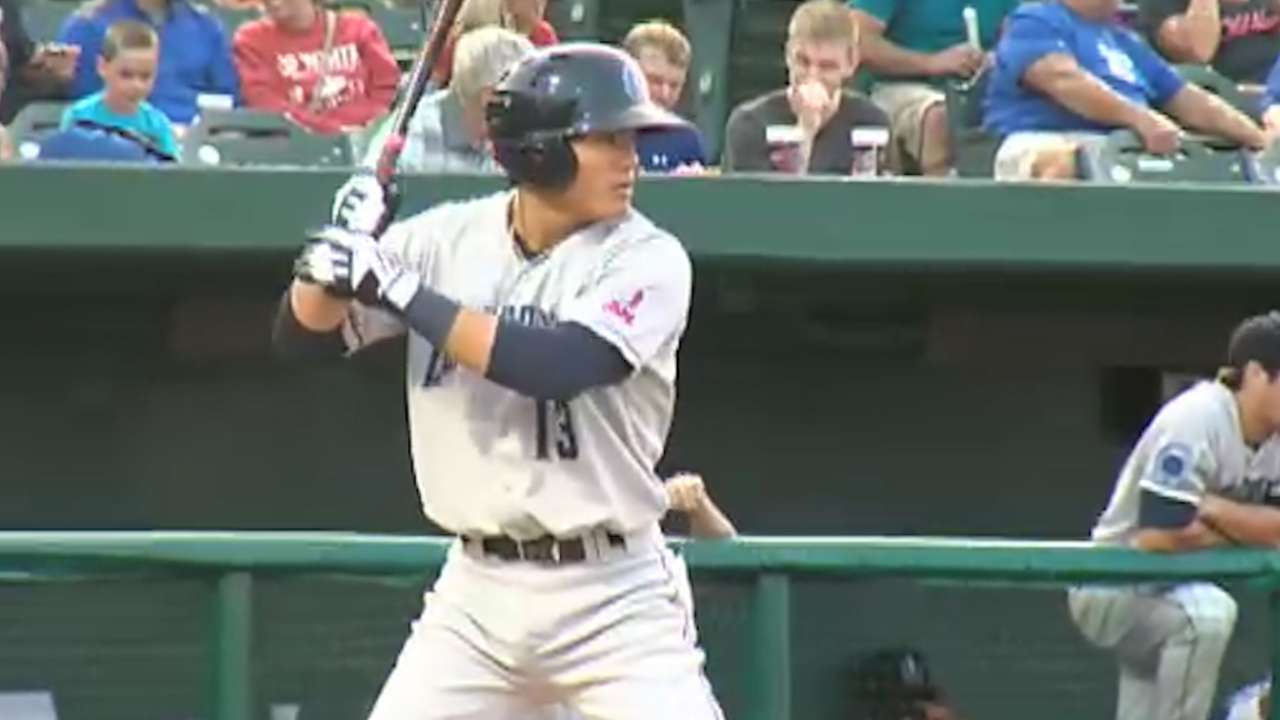 The Indians are using the Fall League to assess whether to add Haase to the 40-man roster ahead of December's Rule 5 Draft. Though injuries limited him to just 63 games in his first Double-A campaign, the 23-year-old catcher's intriguing combination of raw power and catch-and-throw skills resulted in 12 home runs and a 42.5 percent caught-stealing rate.
Indians pitchers in the Fall League

Trevor Frank, RHP
Cameron Hill, RHP
Michael Peoples, RHP
David Speer, LHP
An eighth-round pick in 2013 out of California-Riverside, Frank finished second in the Carolina League this year with 17 saves. He also posted a 2.47 ERA and 0.92 WHIP across 44 appearances, during which he compiled a 43-10 strikeout-to-walk ratio and held hitters to a paltry .191 average. The 25-year-old righty will be Rule 5 Draft-eligible this offseason if not added to the 40-man roster.
Hill, a 17th-rounder in 2014, put himself on the map last year in his full-season debut with Class A Lake County by posting a 1.53 ERA with 70 strikeouts and 36 hits allowed (.173 batting average against) in 59 innings. The 22-year-old righty's surge toward the Majors continued this season with stops at three levels including Triple-A. Overall, Hill pitched to a 2.34 ERA with 69 strikeouts and 16 walks while logging a career-high 73 innings.
Peoples, 25, spent two straight years in the Carolina League before moving up to Double-A and going 12-6 with a 3.65 ERA in 165 innings (28 starts) in 2016. Though he doesn't miss many bats, the 2012 14th-rounder's deep arsenal and natural ground-ball tendencies could help him carve out a role as a No. 5 starter or long reliever should the Indians decide to add him to their 40-man roster.
Speer, a 6-foot-1 left-hander, made it up to Triple-A but spent much of the season in Lynchburg, where he registered a 1.78 ERA and a 0.94 WHIP in 60 2/3 innings (39 appearances). Though capable of getting outs on both sides of the plate, Speer stands out most for his ability to carve up left-handed hitters. During his time in the Carolina League, the 24-year-old posted a 0.42 ERA and .179 batting average versus lefties, with 27 strikeouts and 14 hits allowed in 21 2/3 frames.
Mike Rosenbaum is a reporter for MLB.com. Follow him on Twitter at @GoldenSombrero. This story was not subject to the approval of Major League Baseball or its clubs.